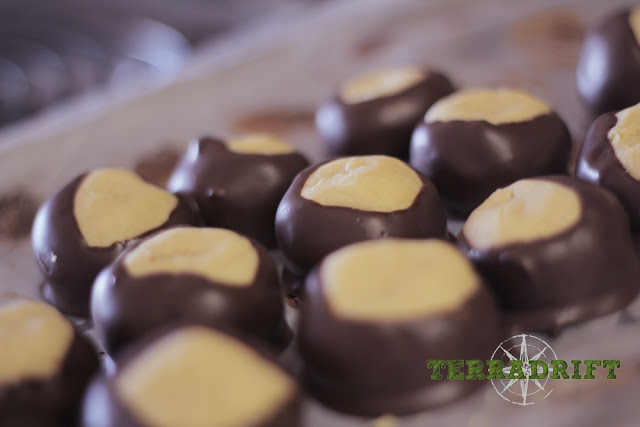 A Buckeye Recipe to Remember
I am obsessed with buckeyes. No, not the tree. Nor the poisonous nut that said tree bears. Not even the collegiate football team that every good Ohio native is supposed to be enamored with. I'm talking about the heavenly peanut butter, sugar and chocolate confection that is made to resemble the afore mentioned poisonous nut of the state tree.
It is a dessert that I always stock up on when I pay a visit to my home state and I highly suggest that you not miss scarfing a few should you find yourself in the buckeye state.
But it doesn't just stop at chocolate-coated peanut butter balls. At Winans, one of my favorite local coffee and chocolate shops in the Dayton area, you can pick up a candy buckeye then proceed to wash it down with my all time favorite caffeinated beverage, the buckeye latte.
The combination of chocolate and peanut butter syrup in steamed milk and espresso is to die for (don't knock it till you try it), and I just assumed that I would be able to imbibe these precious drinks anywhere. Not so. I discovered upon moving to Florida that most people who haven't spent a significant portion of their lives in the Midwestern state of my birth have actually never even heard of a buckeye. Heartbreaking.
So during our last trip to Ohio, I convinced my mom, a professional baker, to whip up a batch and share her secrets on how she gets them so perfect (no one else's buckeyes even come close to hers). So gooey and soft!
All this to say, if you find yourself passing through Ohio (round on the ends, high in the middle), don't pass up the chance to sample the delectable candy buckeye. And if not, here's how to make your own:
Candy Buckeye Recipe:
3 lbs. Confectioners sugar (you won't use all of this)
2 cups smooth peanut butter
1 lb. vegan margarine (4 sticks)
12 oz. chocolate chips
1 to 2 Tbs. vegetable shortening
In a mixer, add peanut butter and margarine and blend. Slowly add confectioners sugar until the mixture acheives a very soft play-do like consistency. It probably won't take all the sugar called for. Form into balls.
Melt chocolate in a double boiler, adding shortening to make it smoother and softer. Dip the balls using a toothpick, submerging 3/4 of the way leaving the top exposed (like a buckeye nut!). Smooth out toothpick hole when chocolate is set. The buckeyes should have a soft, moist, peanut buttery center with smooth chocolate on the outside. Enjoy!
Alisha is a freelance writer and photographer based in Austin, TX. She loves her tiny house, vegan food and experiencing the community of travel in far away places. She's also pretty sure she's addicted to coffee. alishamcdarris.com