The holidays are nearly upon us and for many, that means tis the season for gift giving! Here are the 10 best gifts for outdoor lovers and anyone who enjoys spending time in nature.
•
Listen, when it comes to gifts around the holidays, we think less is more. We don't want special holiday gift sets that come with an ornament declaring the year (it's been a dumpster fire of a year, anyway, and we'd prefer not to commemorate it), bath products that smell like your third grader was experimenting with essential oils, or stuff we neither want nor need. We're not about the materialism of the holiday, but just the same, we love receiving a quality, well-thought-out gift that fits seamlessly into our lifestyle as much as the next guy. And we figure plenty of our fellow outdoor lovers agree. So skip the random Amazon finds and the stuff you found at a craft fair that "made you think of them" (you know who you are, moms around the world), and get them something they'll not only actually like, but can put to good use on their next hike, camping trip, backpacking adventure, or that they'll want to make room for in their trusty van. These are those gifts. So what are you waiting for? Win the holidays this year with less waste and materialism (no matter what holiday you're celebrating).
The 10 Best Gifts for Outdoor Lovers
Hibear Adventure Flask: the Swiss army knife of insulated bottles. Seriously, this thing brews coffee, infused your water, keeps drinks hot or cold, comes with a removable sleeve/cup, turns into a cocktail shaker…seriously, this thing does it all. We'd love one ourselves, so you can be sure you're outdoors will, too.
If there's a skier, snowboarder, map enthusiast or art and outdoor lover in your life, they'll flip over this beautiful coffee table book of artist James Niehues' hand-crafted maps of ski mountains around the world. The Man Behind the Maps features dozens of stunning representations, all painfully accurate. Trust us, anyone who appreciates any combination of art, mountains, ski resorts or page-turning eye candy, they'll appreciate this.
We've never had more fun sleeping outdoors than we have in the Tentsile Connect 2-person tree tent. Yeah, it looks awesome, we know. It's super comfy, too. And not that difficult to hang. Add in the spaciousness and storage pockets and you've got yourself a winner. Also, it's fun. Seriously, it bears repeating. You can't not smile while chillin' in this thing (just watch our review of it here). Your loved one a solo camper? Check out the Una 3.0 1-person tree tent if you prefer. Fun fact: Tentsile plants 20 trees for every hammock you buy, which you could almost count as a second gift…
Nomadix National Park Towel
Every nomad, camper, backpacker, hiker, hot tubber, beach goer–you get the picture–needs a good travel towel. And if they're passionate about parks, namely national parks, they're gonna need this specific Nomadix National Park Towel complete with a map and list of all of the national parks in the U.S. Extra plus: it's made of recycled plastic bottles and dries fast!
Garmin Instinct Solar GPS Watch
Here's the problem with GPS watches: the batteries die too stinkin' fast to be of any use at all on backpacking trips longer than a night or two. Enter the Garmin Instinct Solar GPS Watch. Because there's a tiny solar panel on its face, you can trickle charge it via the sun on longer trips, which offers up to 54 days of battery life (compared to the Fenix 6 Multisport GPS Watch that only gets 14 hours). That means less charging and more adventuring! Huzzah! Which means it makes a great gift for outdoor lovers and adventurers.
Osprey Archeon
It's no secret that we love our Osprey packs (all of our Osprey packs…). Not only are they supremely comfortable and all-around useful, Osprey as a brand has big plans for becoming one of the most sustainable outdoor brands on the market! And the Osprey Archeon 25 is one of the most sustainable bags in their lineup. Made of recycled nylon canvas, it's just as well suited to road trips and urban adventures as it is to travel and rugged trail hikes, meaning it might just be the only daypack they'll need! Find the men's Archeon 25 here and the women's Archeon 25 here.
Xero Shoes Z-Trail Sandal
We weren't sure we'd like the whole "barefoot sandal" thing, but once we wore the Z-Trail sandals from Xero Shoes around for a few weeks (watch our review of the sandals on YouTube), we were sold and haven't swapped them out for our once beloved Chacos since! These minimalist sandals will be an especially big hit this holiday season with those who like to travel light but still want to bring along footwear that encourages adventure. They make great hike/camp/beach/trail/travel/shower shoes. Find the Z-Trail sandals here.
Grayl Water Purification Filter Bottle
I know, two drinking vessels in the same holiday gift guide! But hear us out! Every outdoor lover needs a good water filter for backcountry hydration. But if you read our post on water filters, you know that they don't usually purify your water, meaning there are still badies in there that can make you sick. But not with the Grayl! It filters and purifies with one plunge! We like it because with one press we can gulp an entire bottle of water without having to slowly suck through a filtration straw when we're really thirsty. The original Grayl GEOPRESS Purifier is great, but if you're looking for a gift for a backpacker, check out the ULTRALIGHT Compact Grayl.
Sea To Summit Sleeping Bag Liner
Outdoor lovers tend to have more than one sleeping bag. Sometimes a lot more than one sleeping bag. There's the warm weather bag, then the cool weather bag, the bag and sleeping pads for winter camping…It's too many bags. And bags take up a lot of space and materials. Get them a sleeping bag liner instead. They can be used on their own in warm weather, then used as extra insulation when they're camping in colder climates. The Sea To Summit Reactor Extreme Liner adds up to 25ºF, the Reactor Thermolite adds up to 14ºF, while the Reactor Plus Compact boosts their bag's rating by 20ºF. And if you want to learn more about sleeping bag temperature ratings, read our post about it here.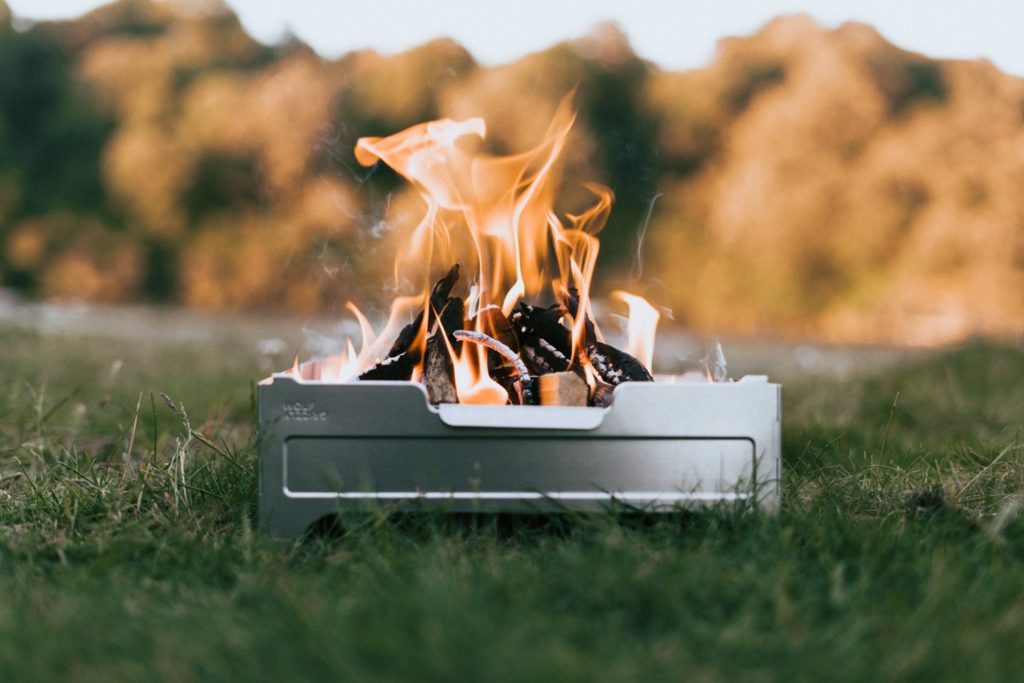 Wolf and Grizzly Fire Safe and Grill
Give the gift of fire! But, you know, that they can take with them wherever they go. The Fire Safe offers a pop-up place to build a campfire (in the woods, at a campground, or in their backyard) then folds flat, while the grill makes grillin' up some veggie burgers and kebabs a cinch. You're on your own when it comes to s'more roasting sticks, though. Find the whole Campfire Trio (with fire starter tools) here.
•
Need more ideas? Check out our many other holiday gift guides full of gifts for outdoor lovers. And be sure to check out what sites and retailers are offering epic Black Friday sales on Outdoor gear here!
•
*This post contains affiliate links, which means when you do your holiday shopping, we may receive a teeny percentage of sales that you make after click-clicking on those links. And that means you're helping us keep the outdoorsy content coming! Thanks, and happy holidays!
Alisha is a freelance writer and photographer based in Austin, TX. She loves her tiny house, vegan food and experiencing the community of travel in far away places. She's also pretty sure she's addicted to coffee. alishamcdarris.com