It's the holiday season! Which means most of us will be participating in some kind of gift-giving ritual. But if there's an outdoorsy person (or several) in your life, I'm told we can be tricky to shop for (especially if they're obsessed with sustainability like we are). So we went ahead and rounded up 10 awesome and sustainable outdoorsy gifts that definitely won't result in disappointed fake smiles when it comes time to unwrap. As per usual, these are all gifts that we've tested and loved or totally wouldn't mind receiving ourselves. So get shopping! And gift with confidence with our holiday gift guide for outdoor lovers. Happy Christmahanukwanzanalia!
Holiday Gift Ideas for Outdoor Lovers: 10 Outdoorsy Gifts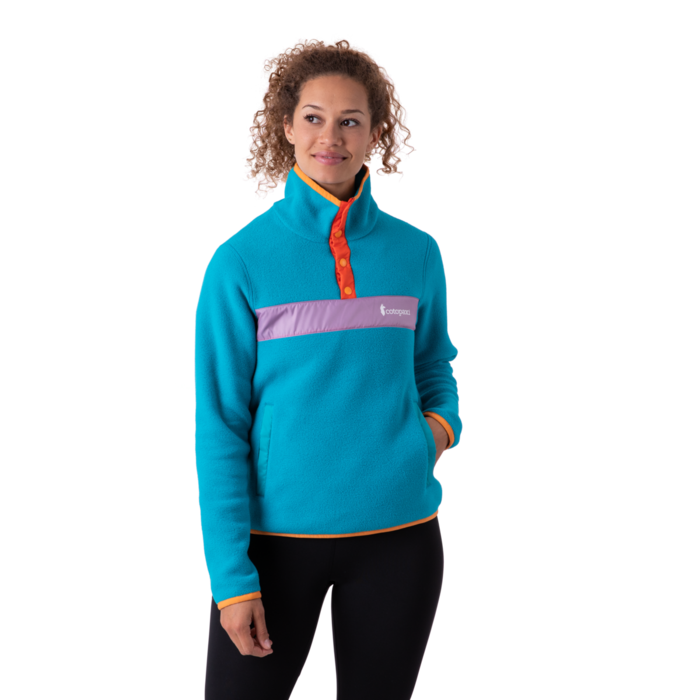 Cotopaxi Teca Fleece
Everyone needs a cozy fleece for around the campfire (or the fireplace…anybody else's in-laws keep the thermostat at near Arctic levels?). Well, the Cotopaxi Teca Fleece is just the thing, especially if they love bright colors and sustainable design. Yup, this fleece is made of recycled and upcycled materials, plus Cotopaxi puts major emphasis on fair trade manufacturing and social equality. And that kangaroo pocket! It's a super fun fleece they may never take off. Find the women's here and the men's here.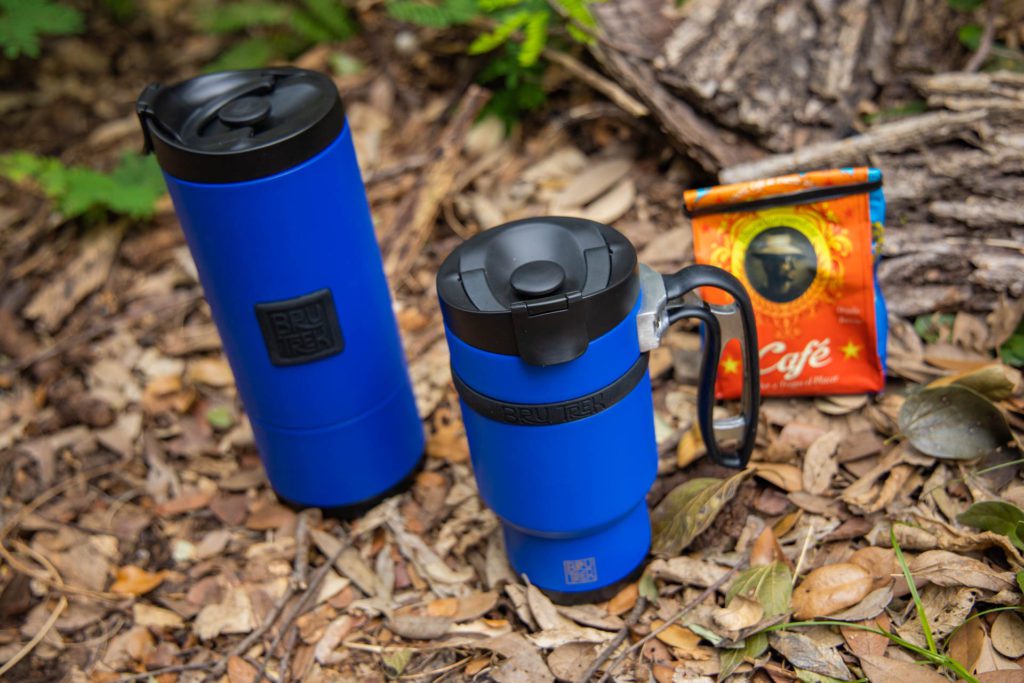 BruTrek Travel Press
What? You thought there wouldn't be a coffee-making device on the list this year? Who do you think we are?! But a French press? Surprised you there, didn't we? But here us out, because the Double Shot 3.0 from BruTrek makes actually good French pressed coffee. How? Via BruStop technology that keeps the grounds separated from the water after you press. So no bitter coffee or silty grounds in the bottom of your mug. Huzzah! Oh, and did we mention the bottom unscrews and offers a place to store more grounds for a second and third cup?! I know. Told you. Find the whole line of travel presses here. And watch our video review here.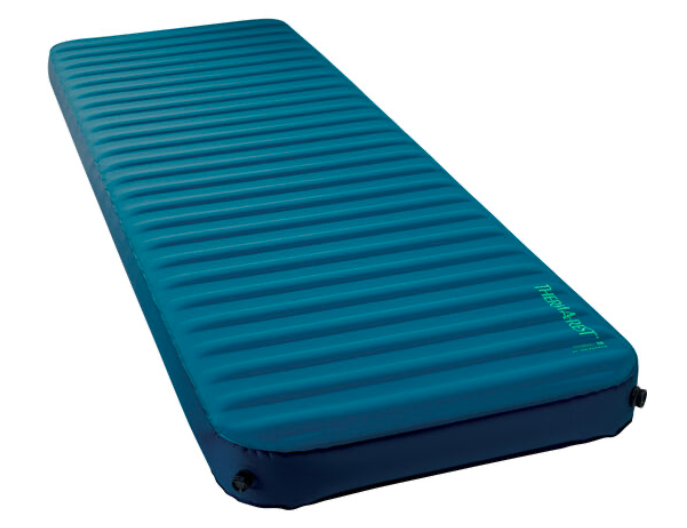 Therm-A-Rest MondoKing Self Inflating Sleeping Pad
This one's for the luxury campers who demand a comfy sleeping surface, even if they ARE spending the night in a tent. We promise they won't be disappointed in this monstrously thick, monstrously comfy, but NOT monstrously heavy self-inflating pad that's super thick and super plush. Good luck getting them to crawl out of their sleeping bag in the morning, though…Find the MondoKing here and check out our video review here.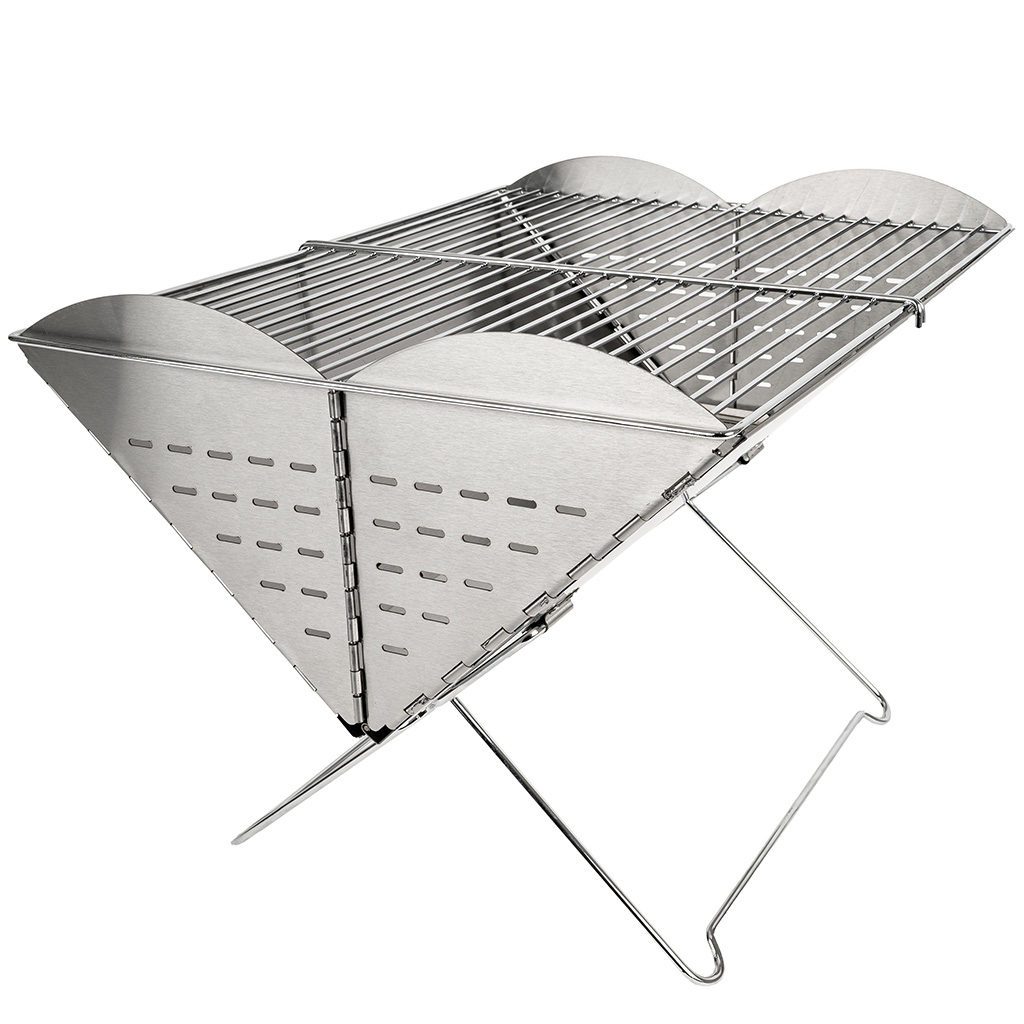 UCO Flatpack Portable Grill & Fire Pit
A portable fire pit that's actually big enough to feel like a proper campfire? AND that functions as a grill?! Yes please! That's the UCO foldable fire pit. It collapses flat for easy storage and portability and the large version is long enough to hold a regular bundle of firewood, so no creative wood-stacking required. What's not to love? Find the UCO Flatpack here and check out our video review here.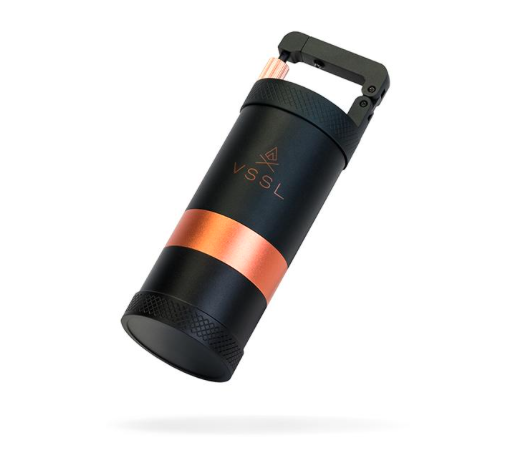 VSSL Java Coffee Grinder
Again with the coffee, I know, I know! But we outdoorists love it, and if your outdoorist loves it freshly ground no matter where they are (campground, tricked out van, home kitchen), the VSSL Java's got them covered. It features a clip handle that also functions as an extendable crank, consistent grind size thanks to a stainless steel burr and precision manufacturing, and doesn't require nearly as mush cranking as most other hand-crank grinders (thank goodness). It's also super durable so no need to baby it. Find the VSSL Java here.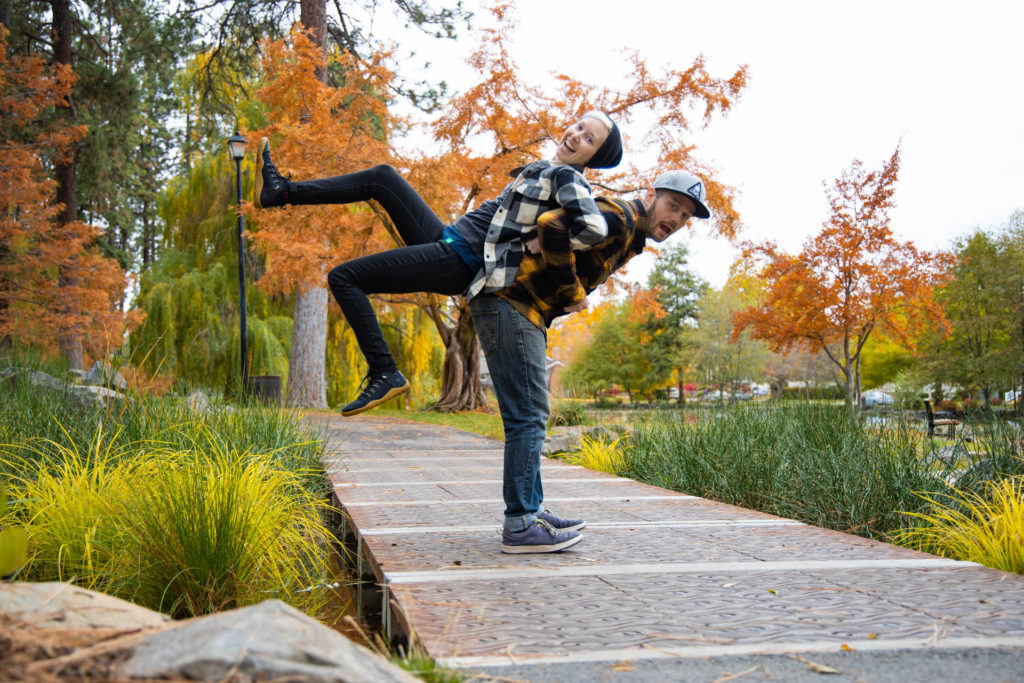 United By Blue Responsible Flannel
We don't think we could love a flannel more than the Responsible Flannel from United By Blue. The cozy winter versions for men and women are super soft, super thick and warm, and come in a plethora of rad colors (including my fave: classic black and white). Plus, they're made out of organic cotton and recycled polyester and for every item you purchase, UBB will clean a pound of trash from public waterways. Huzzah! Find the men's here and the women's here.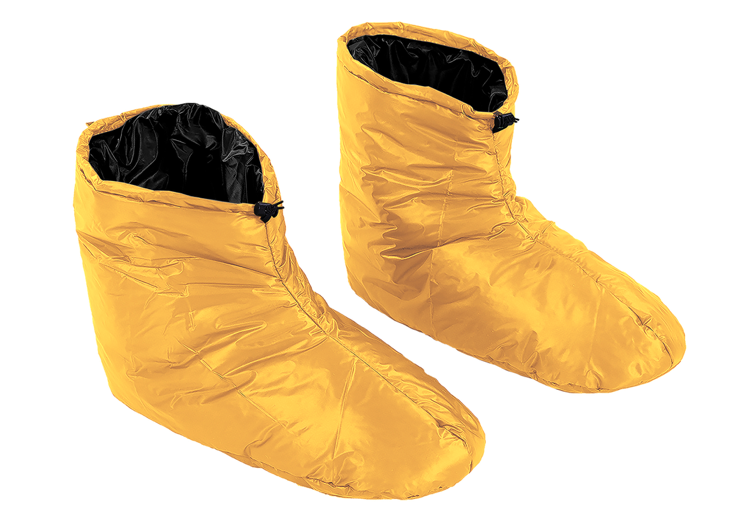 Enlightened Equipment Synthetic Booties
Listen, booties designed for camp that don't contains down (read about why we say no to down in this article) are hard to find. But find 'em we did! And if your happy camper tends to get cold feet (literally, not figuratively) on chilly overnights in the outdoors, they'll treasure these booties and think of you every time their little tootsies don't freeze off in the middle of the night. And these from U.S. brand Enlightened Equipment are handmade and you can even customize them to the gift's fave color! Order a pair here.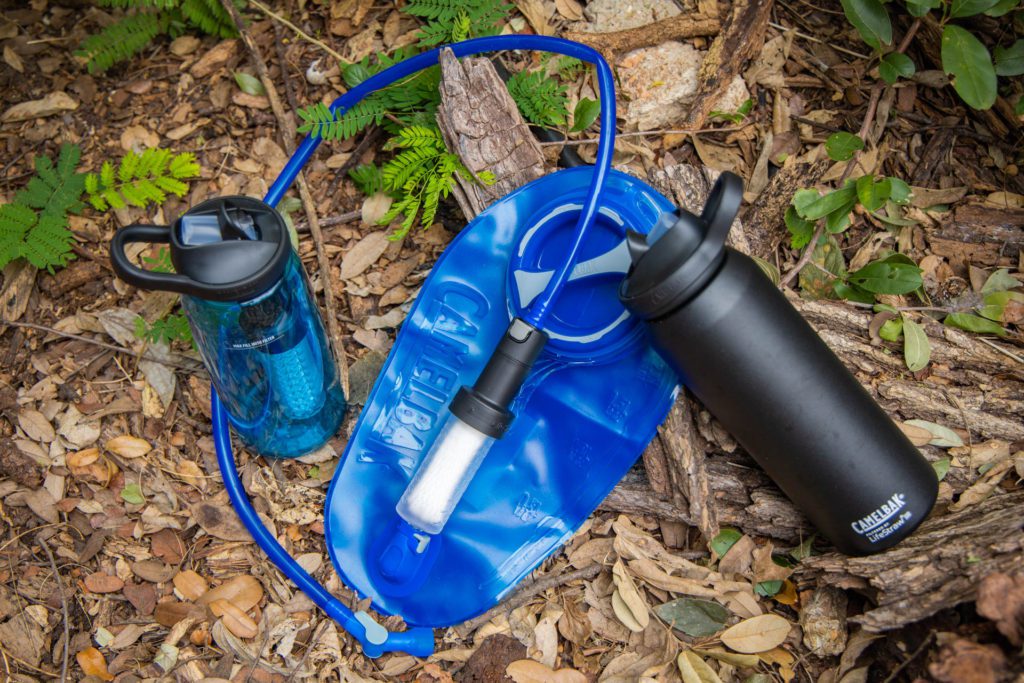 Camelbak + Lifestraw Filter Hydration Reservoir
Love a hydration reservoir when you hike but don't love having to boil water or filter it before you pour it in on long hikes? We feel you. That's why we were stoked to find the Camelbak + Lifestraw filter reservoir. Just fill with water from dubious sources outdoors and sip away! The in-line Lifestraw filter will eliminate most of the gross stuff. But if you're also worried about viruses, you can drop in a purification tablet, too for purified and filtered water in the backcountry. Yay! Find it on Backcountry here. And watch our video review on YouTube here.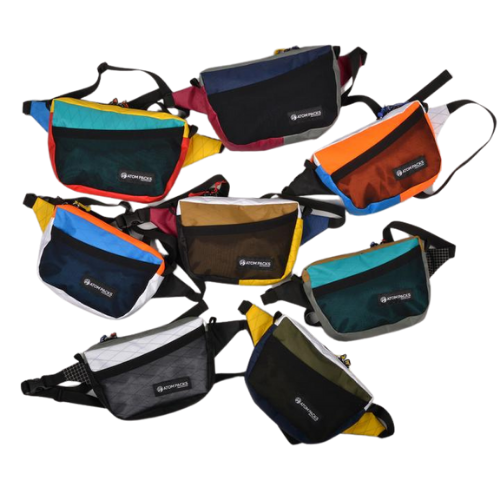 Roo Fanny Pack by Atom Packs
We're gonna go ahead and call this a hip pack from here on out in consideration for our British-English speaking friends (that includes you, beloved Australia). Look it up if you're not sure what we're talking about. Or don't. Your call. In any case, we recently got on board with the hip-pack-around-camp mini trend that you've probably never heard about for one reason: the ability to keep all the essentials (matches, hand warmers, headlamp, spork, hat, etc.) within reach at all times. What a great idea, am I right? So whether you're on a leisurely family camping trip or deep in the backcountry, snag one of these colorful and ultralight hip packs from Atom Packs and never wonder "Where did I set my lighter down?" again. Bonus: they're made of off-cuts (leftover fabric) from other product runs, which makes them super sustainable. Find the Roo Fanny Pack here.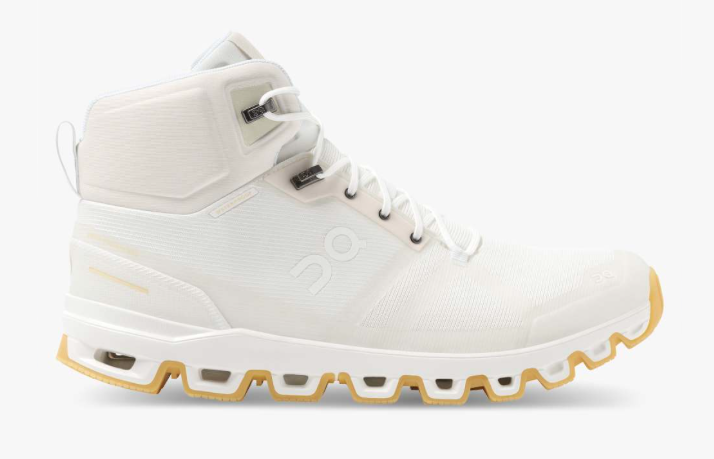 On Cloudrock Raw Hiking Boots
Their feet will never be happier on long hikes than they'll be in these super sustainable hiking boots. Not only are they entirely free of all animal products, they are made of recycled and undyed materials, meaning the footprint of these boots (no pun intended) is as light as can be. And since On is big on sustainability, you can feel good about supporting an eco-friendly brand when you gift a pair. Order them on On's website here or on Backcountry.com here. And check out our review of these On boots in this post and read more about undyed gear in this post.
•
Need more ideas? We got you. Check out our other gift guides for outdoor lovers here for even more outdoorsy gifts, including big ticket items for you big spenders and budget-friendly stocking stuffers! Then get out there and wander on.
•
This post contains affiliate links, which means when you make a purchase, we may receive a small percentage of the sale. But don't worry; you won't pay more, you just help support more great content like this from Terradrift!
Alisha is a freelance writer and photographer based in Austin, TX. She loves her tiny house, vegan food and experiencing the community of travel in far away places. She's also pretty sure she's addicted to coffee. alishamcdarris.com