If you know anything about us here at Terradrift, you know we're a.) vegan and b.) we love to eat. So yeah, we do a lot of cooking at home, so stocking our fridge with high quality fruit and vegetables is like, really freaking important. So imagine how stoked we were to discover Kitchen Pantry, a plant-based grocery delivery service based near Austin, Texas that will deliver fresh, shelf-stable, nutrient dense, and even pre-cut fruits and vegetables right to your door.
Kitchen Pantry Delivers
Full disclosure: as of recording, this service is only available in most of Texas (plus a teeeeeny bit of Oklahoma, Arkansas and Louisiana), but if that's you, buckle up, because this is gonna change your kitchen game for sure whether you're looking for long-lasting produce or a way to spend less time cooking and more time eating.
Because frankly, we hate grocery shopping. It's time consuming. There are always too many people in too small a space. The produce is often sub par. I would rather do dishes AND the laundry AND clean the bathroom AND let my 6-year-old nephew throw a ping pong ball at my face for an hour. Seriously.
Plus, I hate chopping vegetables. Josh is a pro, but I'm slow and have been known to damage my digits when I'm not being careful enough. So it goes. Be we hafta eat, so we hafta cook ('cause no way do we have the budget to order in every other night). The solution: Kitchen Pantry.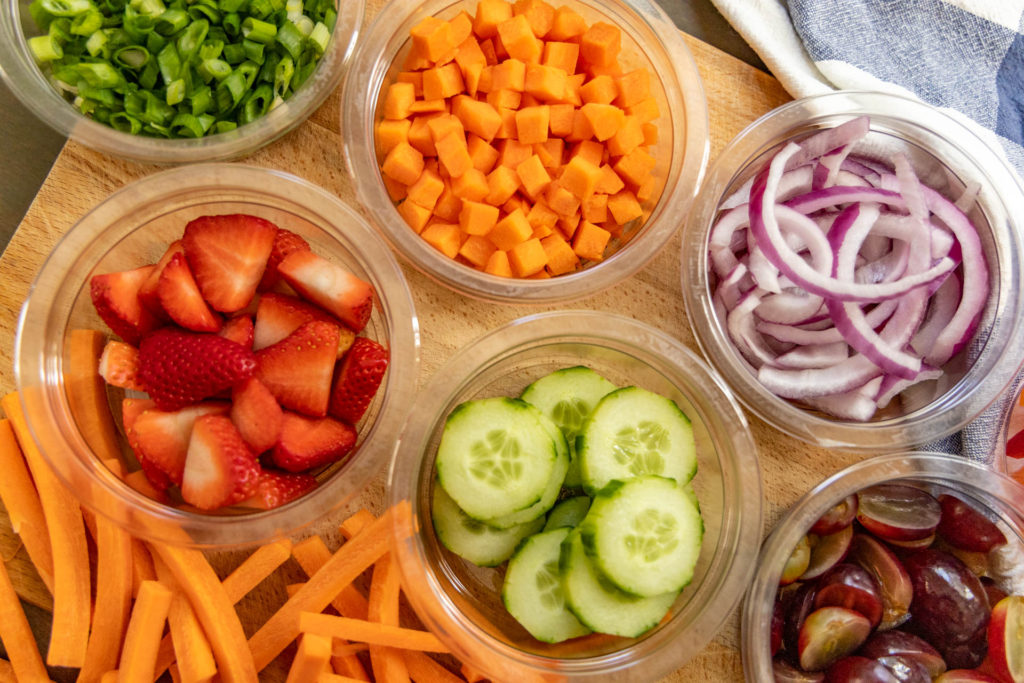 Too Easy
It's a completely plant-based online grocery delivery service that specializes in fresh, pre-cut, nutrient-dense produce that arrives washed, cut, and ready to eat.
And I mean cut however the heck you want. Sliced. Diced, juilienned…in a small container or large, totally ready to just throw in a skillet, blender, lunchbox, you name it, and eat. Too easy.
The fruit and veg is even packaged without preservatives, but is still guaranteed to last for up to 10 days! That's way longer than the pre-cut veg you can buy at the grocery store! That's because Kitchen Pantry sucks out the oxygen when they package your food and they replace it with carbon dioxide to really extend the shelf life without altering flavor or nutrition. Rad, right?
Bonus: it's not any more expensive than purchasing pre-cut fruit and veg at your local grocery store. So huzzah for that!
There are even multiple ways to get inspired and order. You can just hop onto kitchenpantry.co and browse their list of available fruits and vegetables, select what sizes and type of cut you want, and add to cart.
Or, you can take a look at Kitchen Pantry's recipe page to get a few ideas for family dinner nights. There are links right there in the recipes for all the products Kitchen Pantry offers so you can easily add them to your order, then whip up a fast, easy meal once everything arrives. It's all plant-based, so, win!
Frankly, if you don't buy pre-packaged backpacking meals (we don't) it's also a stellar way to stock up on ingredients for DIY backpacking meals (check out the cookbook we wrote with our favorite plant-based backpacking recipes here) if you have a dehydrator and don't want to spend hours chopping. You can just throw those bad boys straight onto the dehydrator trays and hit the power button! What? Too easy. (Check out what we eat on a 3-day backpacking trip here.)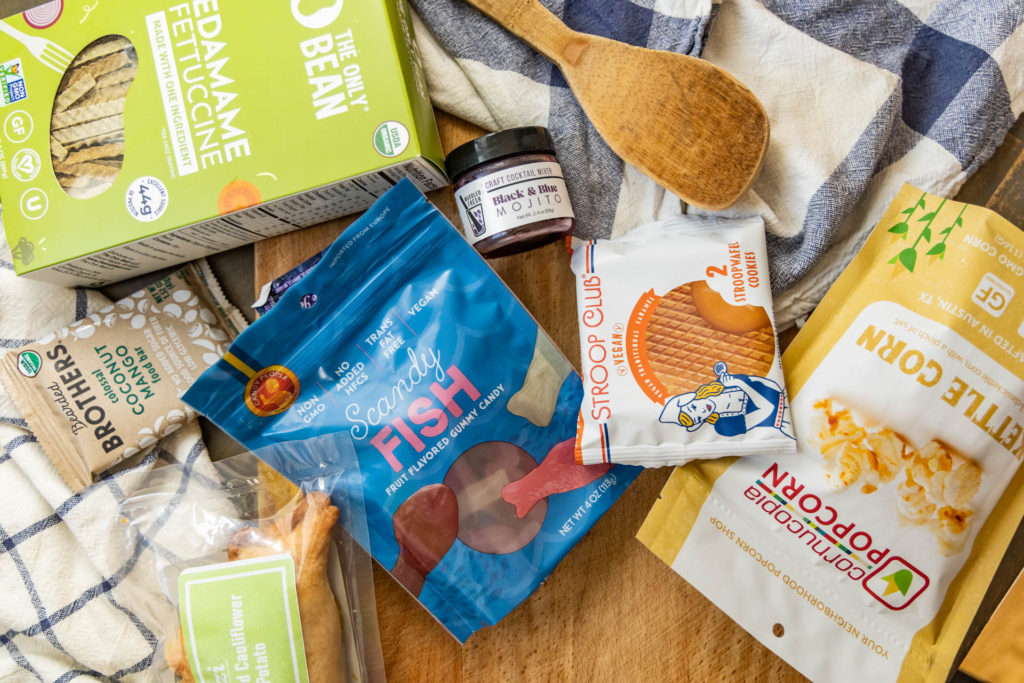 More than Veg
There are also a solid handful of fun and funky snack and pantry items you can add to fill out your box, like vegan stroop waffles (a great trail snack), meal bars, candy, and noodles, many of which are from Texas-based small businesses, all of which are plant-based (most are fully vegan). The selection of non-produce items is currently limited, but more are added all the time, so keep an eye out. Just know that you'll still need to pick up supplies like herbs, pantry items, etc. from your local grocery.
How to Order
All you have to do is order by Sunday at 9 pm central time, and Kitchen Pantry will prep and package your order and ship it on Thursday. Your order will arrive the next day via UPS, packaged in a recyclable and compostable cardboard box and padded with recyclable packaging. That's it. You're ready to cook!
The only downside: there's a lot of plastic involved in keeping all that produce fresh (no more than there would be if you purchased pre-cut produce at the grocery or got meal kits delivered, of course.). So make sure you recycle and reuse responsibly. Craft projects, anyone? The plastic containers are fully recyclable, but the plastic film that seals in freshness isn't. Fortunately, Kitchen Pantry says they're working on a solution.
Anyway, there's currently a $35 order minimum plus a $15 shipping fee. But shipping is free if your order totals $75 or more. If you live near Kyle, TX, you can even pick up your order and avoid paying shipping! Plus, there's no subscription required.
They also offer a 10% discount for active military, veterans, and first responders all year round with code MVFR10 AND Terradrift readers and first-time customers can score 25% off their ENTIRE first order with code FIRST25 at checkout.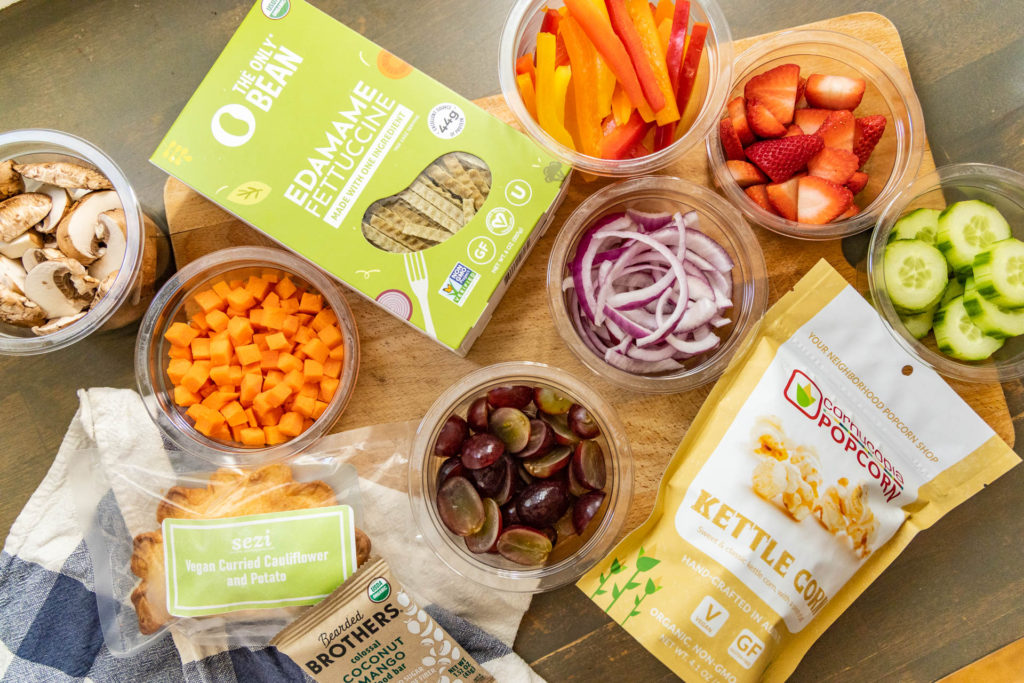 Bottom Line
Voila! You have fresh, healthy, ready-to-cook or eat produce on your doorstep that's good for over a week and arrives as often as once a week, all with less hassle and more time savings.
Win. So check out Kitchen Pantry here and fill your fridge with stellar produce whether you want to support a small business with your grocery purchases, enjoy the convenience of not having to pick out, wash and cut all your produce, discover some cool new local food finds, or just eat a healthier, processed-food free diet.
Now, if you'll excuse me, I have some baller lemon lentil soup to scarf.
Alisha is a freelance writer and photographer based in Austin, TX. She loves her tiny house, vegan food and experiencing the community of travel in far away places. She's also pretty sure she's addicted to coffee. alishamcdarris.com