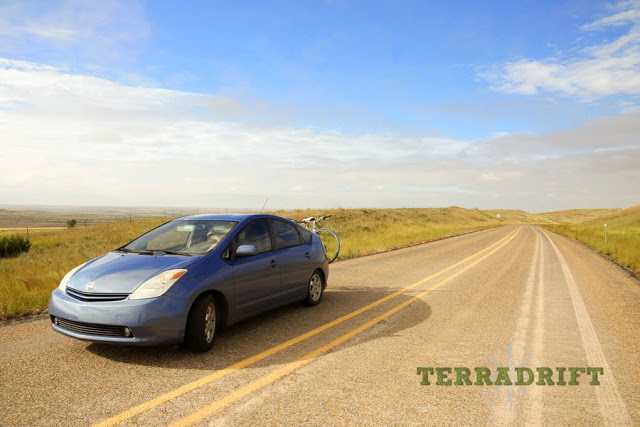 We talk a lot about saving money on Terradrift. Indeed, budget-friendly travel is one of our cornerstone principles. It's how we travel, it's how we recommend others travel, and it's how we show that travel doesn't have to be just for the wealthy. But a lot of folks still think travel, especially international travel, is out of their reach. So we've compiled this handy guide to help you on your way to understanding that you, too, can see the world, even if your last paycheck didn't contain any commas.

Accommodation
Save on hotels
This is one of the largest costs when traveling. Hotels, even cheap ones at $60 a night, add up quickly when you're vacationing for a week or more. Most people are familiar with Priceline and Kayak and hotel price comparison sites, but you often won't find a better deal than can be found on the hotel's website.
Stay with a local
If you're open to it, try Couchsurfing instead, a website where you can browse profiles of all kinds of people in all kind of places around the world who offer to open their homes to you for free! It often provides for much more immersive travel experiences and you're not always sleeping on a couch. We've stayed in some really nice guest rooms, too! Find the profiles of a few people with which you have something in common and send a request. It's that simple!
Book a room or an entire place
Not the type who wants to share your space with a stranger? That's fair–it's not for everyone. But instead of a hotel, check out AirBnB.com. You can rent a room in someone's house, a mother-in-law suite in their backyard, or even a whole house or apartment for the duration of your stay and it will often be cheaper than nearby hotels, especially in big cities.
Flights
Try a new search platform
Again, skip priceline and orbitz type sites for Google Flights or Skyscanner.com, sites that simply lists all the flights from your current to intended destination along with prices. It's more comprehensive than many other price comparison sites as some airlines like Southwest don't participate in those listings and it's more straightforward without all the bells and whistles. But often taking the time to search on individual airline's websites will be more productive, especially if you know what airlines call which cities home. Tickets to and from airline hubs are often cheaper. And when you search online, do it incognito (which doesn't save your search history or browser cache and cookies). Often prices will go up the more you search.
Get on the list
Sign up for emails from budget airlines. Airlines like WOW and Frontier aren't only cheap, they often run specials to key destinations across the U.S. and Europe. While you're at it, if it's a specific destination you have in mind, plug it in on AirFareWatchdog.com and let them send you an email when flights are on sale.
Join the club
Sign up for air miles programs and use them religiously. Pick just one or two airlines you use the most, preferably ones that offer the most flights at the best rates from your local airport (Jet Blue air miles aren't a lot of good if you live in Dayton, OH). After you sign up, find out what partner airlines your account number covers and try to fly with only those airlines, even if they're a few bucks more. You'll rack up more points that way and save a lot more in the future.
Pack light
Especially when flying with budget airlines like Allegiant or Frontier and the like, but most airlines charge extra for checked bags these days, meaning a flight that seemed like a good deal at the get go can quickly become $100 more for two people checking bags. So if at all possible, travel with no more than a carry on and a personal item. Some airlines even charge for a carryon on domestic flights, so make sure to do your research on your airline and then master the art of packing in nothing larger than a daypack.
Be flexible
Frequent fliers know that the key to finding the cheapest flights is to be flexible with the dates you want to fly. One flight we recently booked was only $97 from Austin to Orlando. It wasn't exactly on the dates we would have preferred to fly, but taking wing on those dates would have cost us $560! Leaving a few days earlier or later could literally save you hundreds. Also, avoid booking flights to destinations' high seasons. Holidays, spring break and summer are often more expensive than only a few weeks before or after.
Credit Cards
Get one and use it
If you have good credit, don't be afraid to apply for a new credit card every once in awhile. do your research to choose one that's best for you and make sure the card offers a large points-based sign up bonus. The last card we got offered 50,000 points if you spent X amount in the first three months. That's the catch. Most cards will require you to spend $1,000-$5,000 in the first couple months of having the card in order to get that bonus. If you either can't spend that amount or can't pay it off right away, find another card. Once you have it, use it for everything to accrue the most points and be sure to pay it off at the end of the month. Paying interest rates negates the benefits of any points you might earn. Also, don't be afraid to sign up for airline-specific cards. They often offer perks like free checked baggage, high points rewards for using it to purchase airline tickets, and plenty of bonus points.
Food
Eat on the cheap
Feeding yourself can also be a large portion of your expenses when traveling. You can save hundreds over a 1-2 week vacation by eating out for just one or two meals a day. Instead, head to your local grocery store and stock up on snacks (this goes for airports, too) and supplies to cook your own food at your place of lodging (so make sure to book a room with a kitchen). Keep the feel of the locale by selecting ingredients and making regional dishes the locals are having across town. Cook breakfast in your hotel or apartment kitchen, bring a homemade sandwich and some fruit with you to the beach, then pick a budget friendly restaurant for dinner. But we love food, so we're not telling you to deprive yourself; food is a big part of culture. Splurge on one or two meals a week, max, so you don't feel like you're missing out.
Attractions
Find free tours
Instead of going on expensive tours, find a free audio tour or guide map online before you go and take a self-guided driving or walking tour instead. Some cities like Boston, Massachusetts; Sydney, Australia; and Dublin, Ireland even offer free guided walking tours most days of the week. Hostels and visitors centers often advertise these sorts of deals, so take advantage of them.
Search for savings
If you're hell-bent on visiting an expensive attraction (like Hobbiton in New Zealand), look for discounts online and in local tourist brochures before buying tickets. Sometimes you can score a discount. On the other hand, you can often find free events and attractions in those same booklets and in free local papers. For example, instead of paying $80 for a luau in Hawaii, pack a picnic and enjoy a free show at the beach. You'll often find free music, art exhibits, farmers markets and more. Check Groupon and LivingSocial (and similar sites) for special deals on activities like shark diving or theatre. Often museums and galleries will also offer free admission during one night a week or month.
Ditch the guidebook
Instead of going everywhere the guidebook tells you to go, ask a local. They often know where to have the most fun for the least amount of money. After all, they live here and aren't spending every day like they're on holiday. You might even find some amazing hidden gems that not a single other tourist would know about.
Souvenirs and Spending
Collect memories
We're not the kind of people who feel the need to buy $20 gifts for ourselves and everyone we know when we travel, but our parents are. Spend less by foregoing pricey knick knacks by collecting memories instead of things. Take lots of photos and make an album, collect stickers or napkins from your favorite bars or restaurants instead of a T-shirt, find shells on the beach or fallen leaves from native trees. And if you must bring back something for yourself or family, make it simple and small. We've brought back keychains from foreign countries or snacks that you can't get in the States. For ourselves, it's rarely anything more than a flag pin from the country we visited.
Don't get fee-ed
If travelling internationally, you're best bet for paying for just about everything will be a credit and debit card. Make sure neither charge foreign transaction fees and don't charge for using non-network ATM's. Use your credit card when you can, which will often have the best exchange rates, but if you need cash, withdraw it from a local ATM. Usually it will even be a better rate than at the bank before your trip. And whatever you do, DO NOT exchange foreign currency at an airport or bus station kiosk. They are in it to make money and offer the worst exchange rates imaginable.
Transportation
Figure out how to get around
If you're flying to your destination, chances are you'll need a way to get around while you're there. The destination will determine the mode. If you're going to Asia you'll probably want to forego your own car in favor of taxis and pedicabs. In London buses and the Underground are probably your best bet. In most U.S. cities you'll probably want your own set of wheels or if staying in a larger city, rideshare services like Uber or Lyft, a cheaper alternative to taxis, might do just fine. Do your research beforehand to figure out whether you need a rental car or will be utilizing public transport. (Public transport is usually cheaper.)
Rent early
If a rental car is required, book in advance, at least a couple weeks, to get the best rate. Before you book, search online for the best deals. Most car rental companies have a page on their site dedicated to deals and coupons. Spend a few extra minutes comparing to find out who's going to offer the best deal. As for added insurance, some personal car insurance covers a rental car, too, so check your policy before spending extra money. And if given the option, fill the car up with gas yourself before you bring it back. Paying in advance or when you return it may seem like a quick and easy option, but it will likely cost you much more.
Use an app
In most major first world cities you can find transportation services like Uber and Lyft. These taxi-alternative companies are most prolific in the States, but Australia and New Zealand are warming up to them, too. You use an app to hail a ride and payment is taken care of digitally, no tip required. It is often cheaper than a taxi and there are often coupon codes for free or cheap rides.
Catch the bus
If you're in a city where public transport is king, say NYC, London, Melbourne, and walkability is high, your best bet and cheapest option may be a combination of buses, subways and trams. Some cities still offer the option of per-ride tickets while others insist you obtain a travel card that can be reloaded as you use it. Sometimes those cards cost money. Other options include unlimited ride passes. Before you decide, do some math to find out if you'll be using public transport enough to warrant a week or month pass and whether it's worth it to buy a card and pay discounted fares or pay a slightly higher price per ticket. Don't just assume, actually work it out.
Alisha is a freelance writer and photographer based in Austin, TX. She loves her tiny house, vegan food and experiencing the community of travel in far away places. She's also pretty sure she's addicted to coffee. alishamcdarris.com