Ah, Santa Monica. A beachy Southern California suburb (neighborhood?) of LA. We spent a couple of days in the vicinity during our epic one-month road trip down the west coast. But there's more than surfing and sunbathing in this happening city. So we hopped on a pair of bikes from Ride Venice! and took ourselves on a self-guided bike tour of Santa Monica, California to find the 13 best things to do (and places to eat) in the city. See? You can enjoy the outdoors even if you don't leave civilization.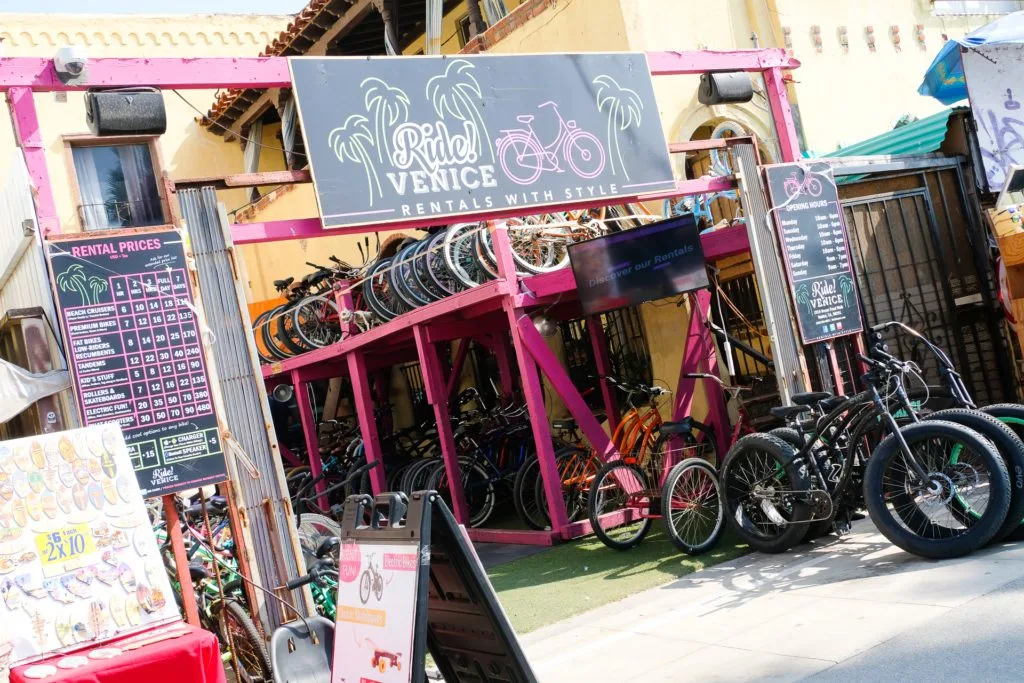 The Bikes
We grabbed a pair of bikes from Ride! Venice, which is technically in Venice Beach, not Santa Monica. But it's a pleasant beach walk, easy bus ride, or quick scooter ride (beware the restrictions on electric scooters–I think the entire city actually hates them) from the heart of Santa Monica. We picked Ride! Venice because they were cheap–just $6 per hour for beach cruisers–and had a range of options from skateboards to electric bikes to sit-down scooters. So take your pick and get on your bikes and ride!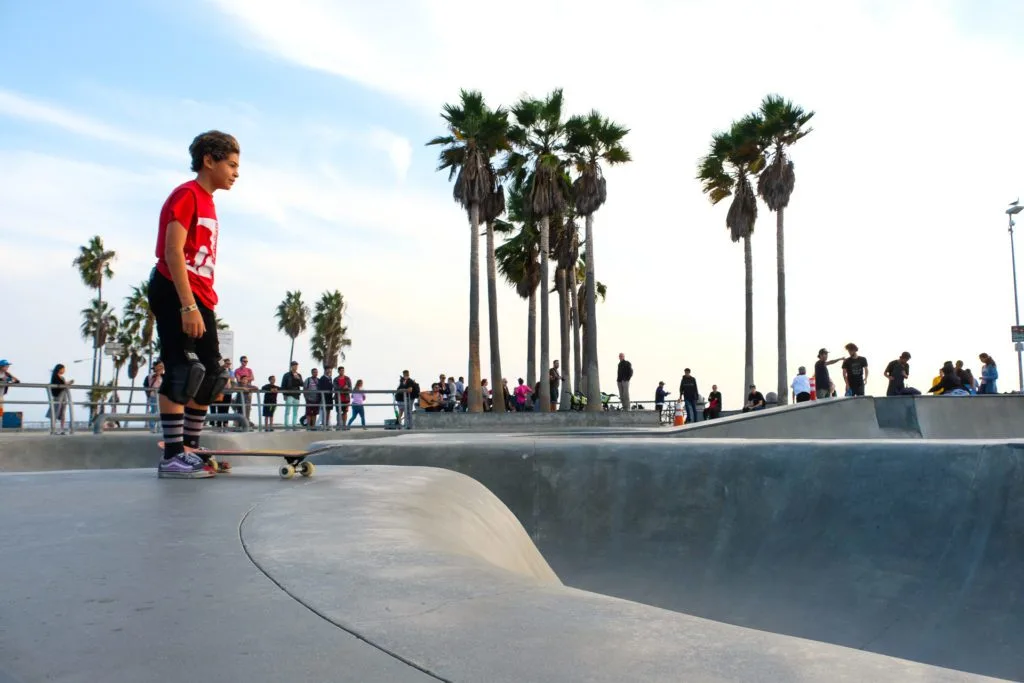 If you like touristy shopping strips and kitschy souvenirs, the Venice Beach Boardwalk is the place to be. You can also stock up on paintings by local (read: not classically trained and possibly homeless, not that it matters) artists and maybe catch some street performances. There's also a skate park nearby and even if you don't skate, it's fun to watch from the sidelines.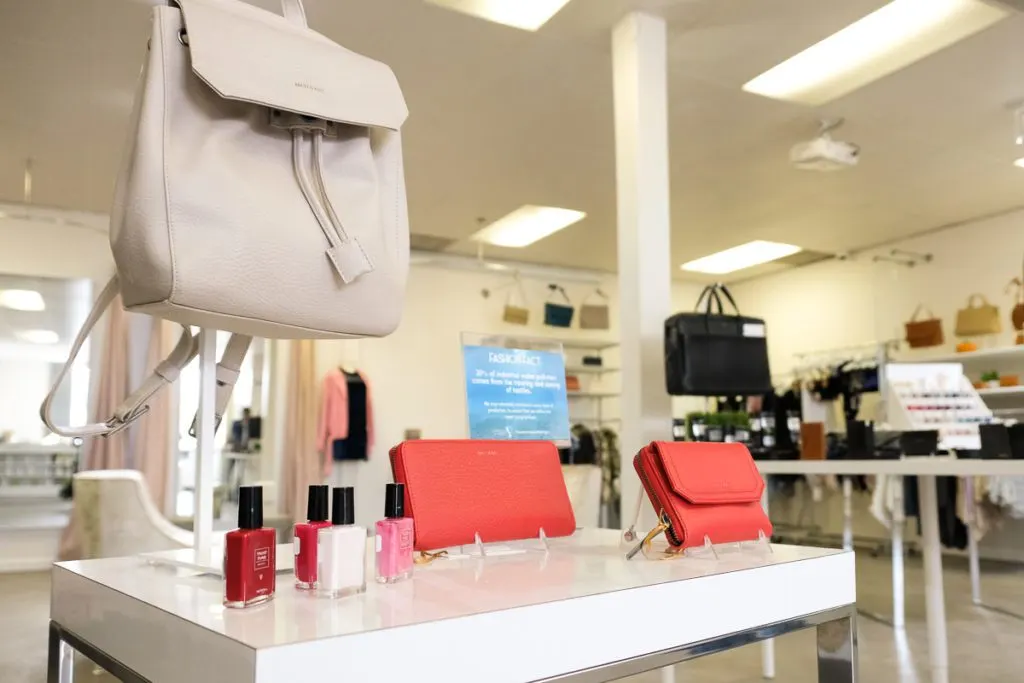 Ride to Vegan Scene or pop in before or after you return your bike, but stop in if only to browse and say hello. It's an all-vegan boutique store with mostly clothing, but accessories and cosmetics, too. The owner designs most of the items herself and they are made from recycled fabric remnants, so they're uber eco-friendly (also uber stylish).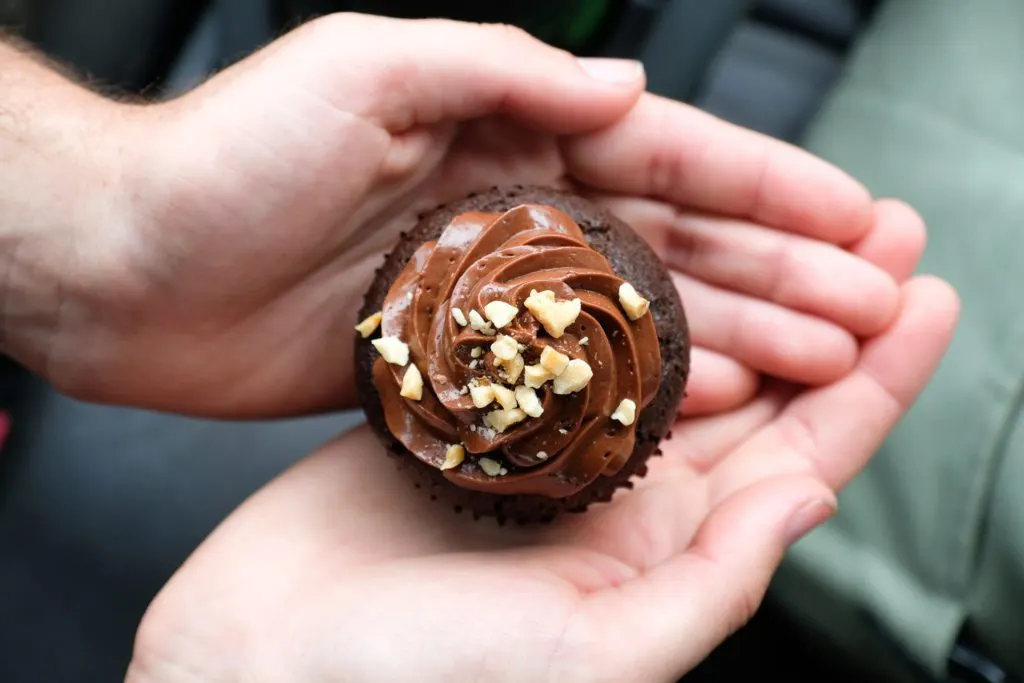 Down the street from Vegan Scene is Sinners and Saints Desserts. The little bakery has conventional baked goods, but also vegan and gluten-free varieties, including cupcakes, which you know we're all about. And trust us when we say they are worth the trip. That chocolate icing…yes, please!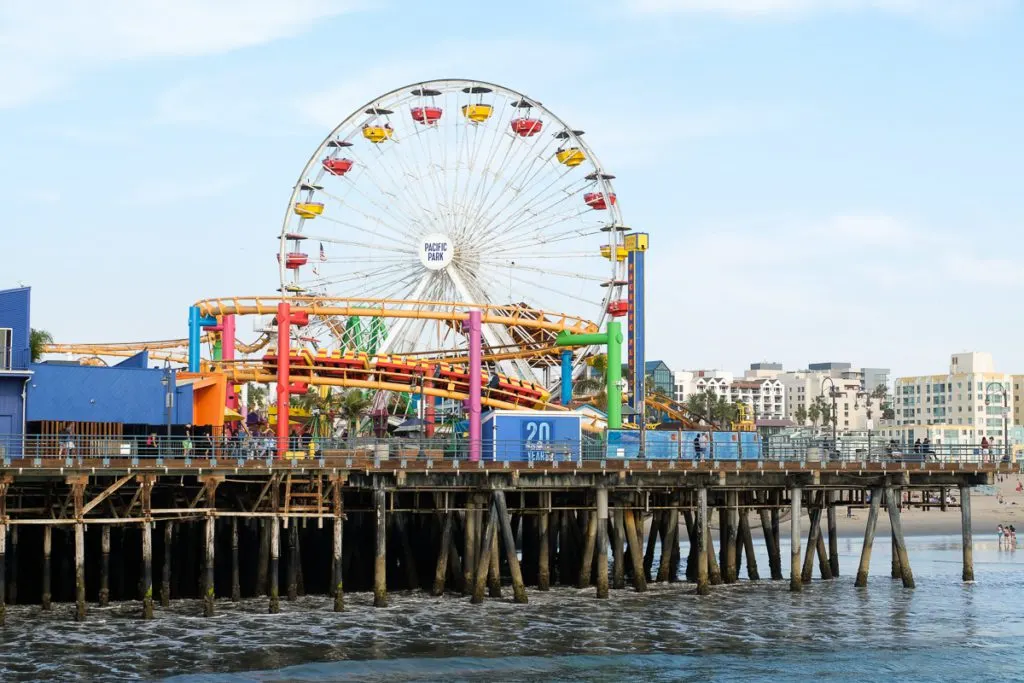 Overrated tourist traps and mediocre food aside, the Santa Monica Pier is both lively and entertaining. There's an indoor carousel, carnival games, restaurants (none of them terribly vegan-friendly), and of course the famous Ferris wheel. It's $10 per person for a ride, so be prepared, but you can also get a wristband for $17 and ride everything from the roller coaster to the spinny rides as much as you want!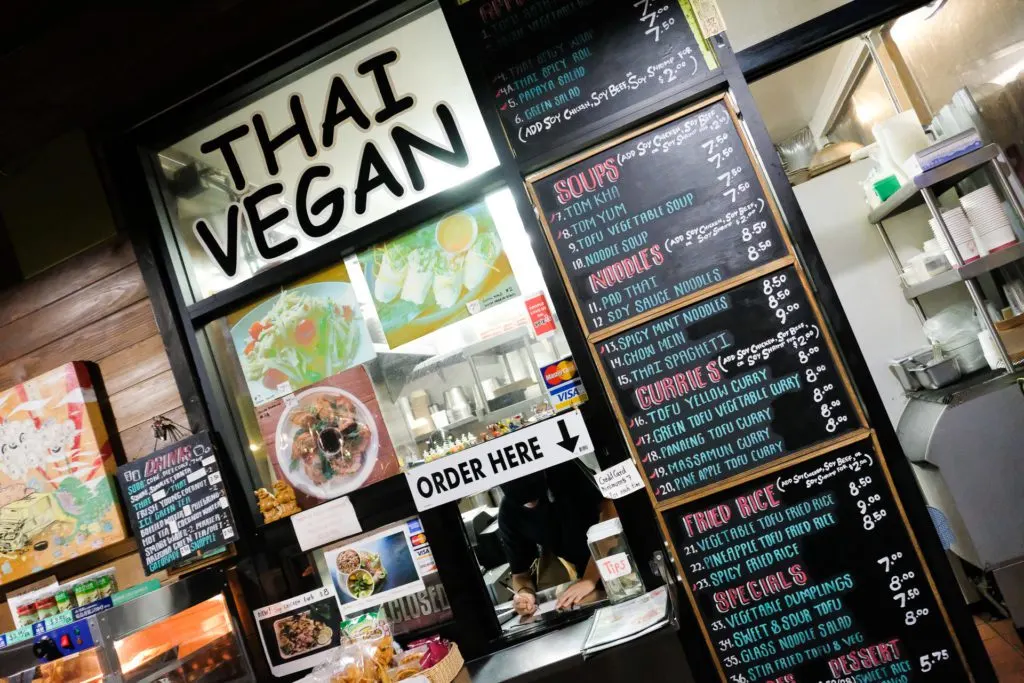 We love Thai food. We love it more when we don't have to worry about whether someone snuck fish sauce into our dishes. Well, there's no chance of that happening at Thai Vegan because, as the name would imply, it's all vegan. Prices are reasonable, the food is tasty, and you can even browse a little nook of handmade and Thai bits and baubles while you wait for your food. Dine in or take it to go.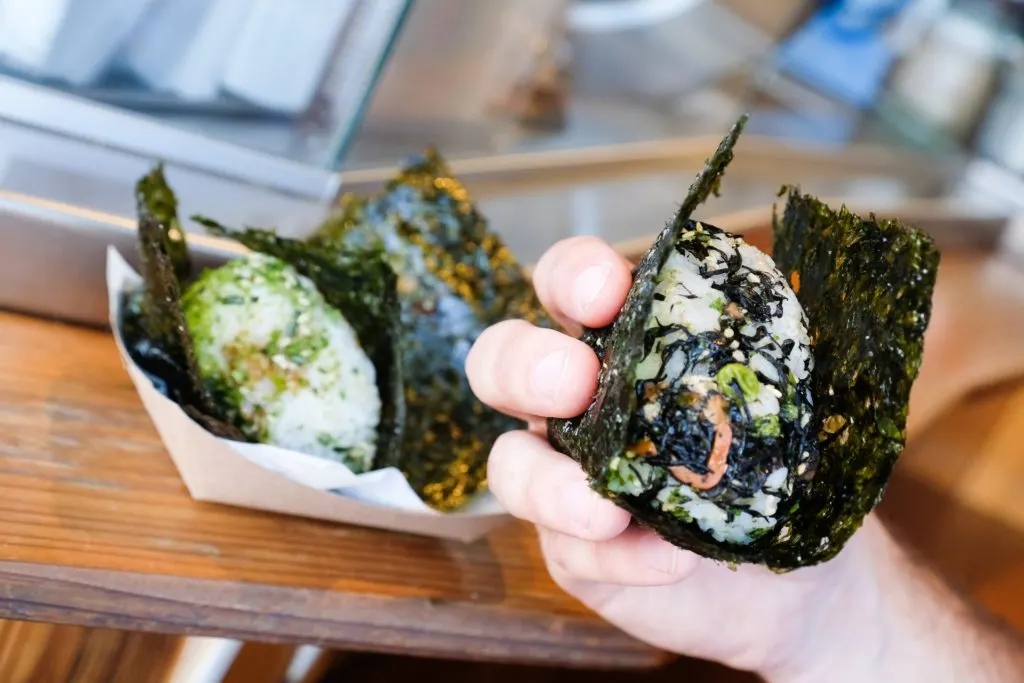 If you've never had omusubi, (Japanese rice balls wrapped in seaweed) you need to go to Sunny Blue. If you have had omusubi, you need to go to here. You just need to go to here. They offer 5+ vegan options in addition to more "traditional" omusubi, and they are a delightful late morning or mid-afternoon snack. And at $3-$4 a pop, you can grab a couple.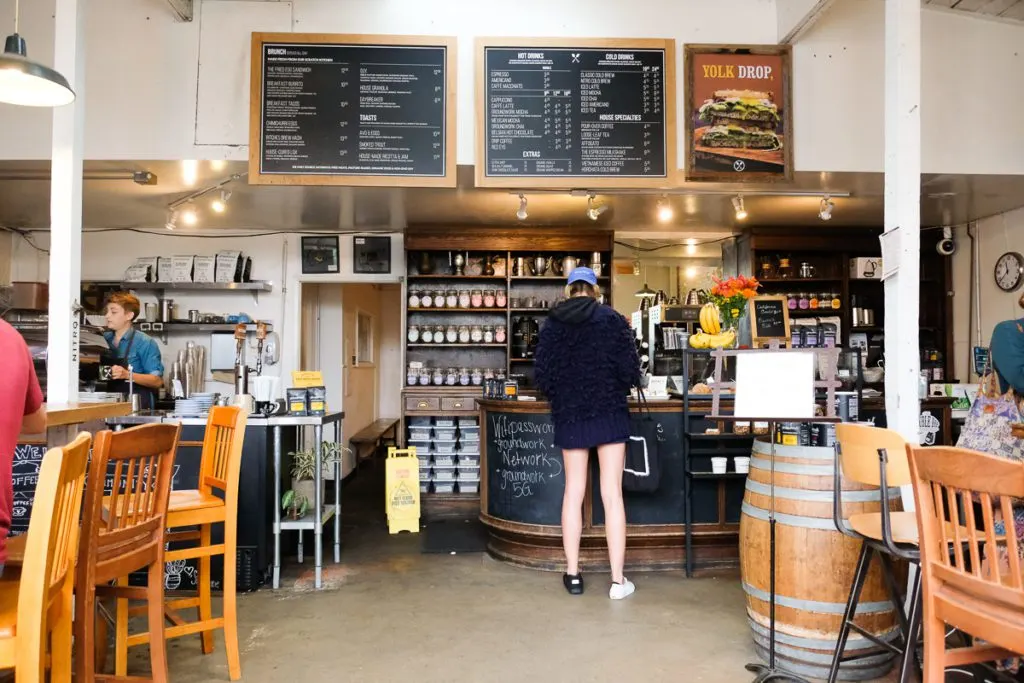 I love nothing more than a coffee shop that doesn't up-charge for non-dairy milk in my latte. Except maybe one that also cares about the environment and the community and serves up organic, fair-trade coffee and tea. That's Groundwork Coffee. Get yourself a cuppa to ward off that afternoon slump.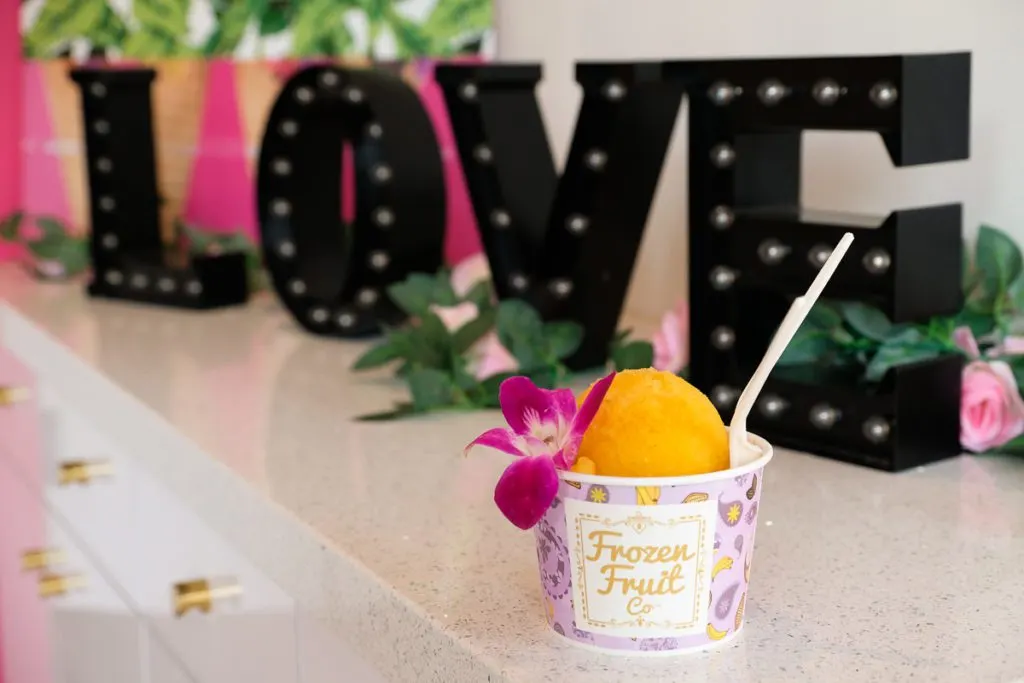 It's California! You're near the beach! You neeeed frozen dessert! Fortunately, Frozen Fruit Co. has it and it's all vegan. The flavors are also all only four or five ingredients. Several are made from creamy frozen bananas while others more closely resemble sorbet. And they. Are. Delicious.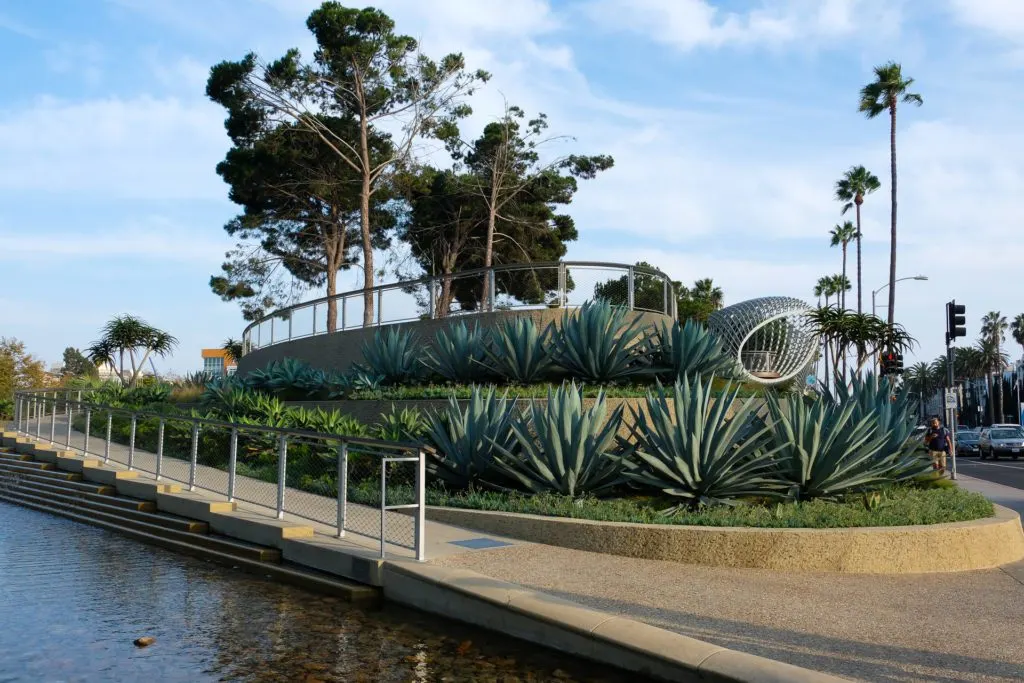 It won't take long but have a wander through Tongva Park. Gaze toward the beach in the weird metallic pods, enjoy the art installations, play in the splash pad if it's warm (I love a good splash pad), or take a picnic and enjoy the sunshine.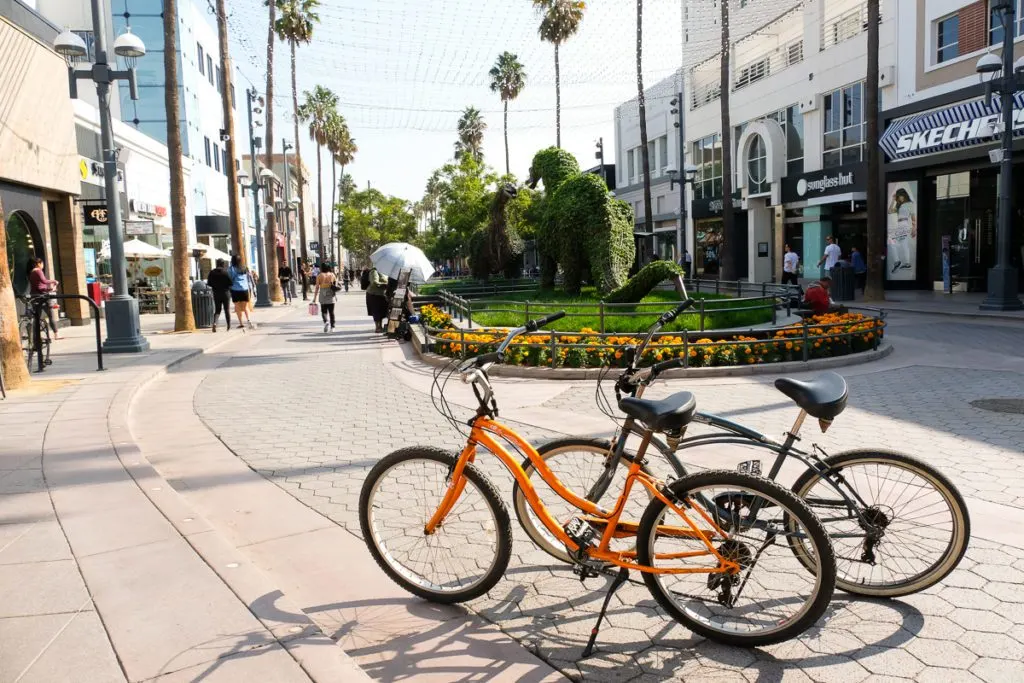 As the name suggests, you'll have to dismount and walk your bike through the 3rd Street Promenade pedestrian area (or lock it up and have a browse), but it's worth a stop if only to window shop at the boutique stores and restaurants, enjoy the scenery (including dinosaur-shaped bushes), and maybe do some people watching.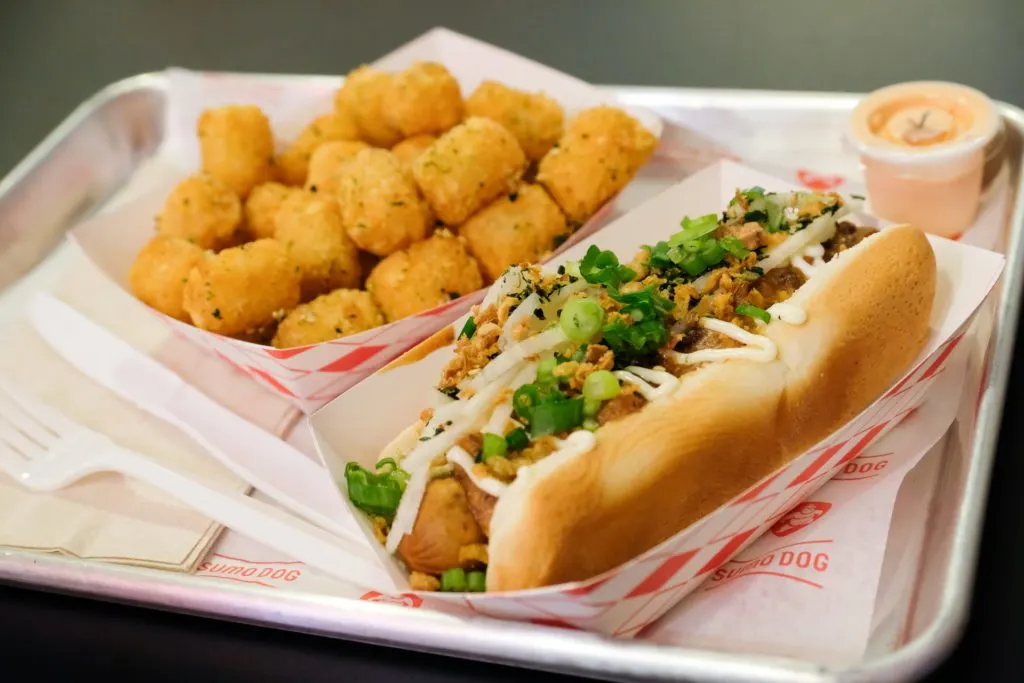 While you're near the Promenade, stop in for a bite at Sumo Dog. They have traditional hot dogs, but they also make their own vegan dogs, have tons of vegan toppings, and are absolutely delicious. You'd be doing yourself a disservice if you didn't cram one in your face. We recommend the Spicy Tofu Chili and seasoned tots.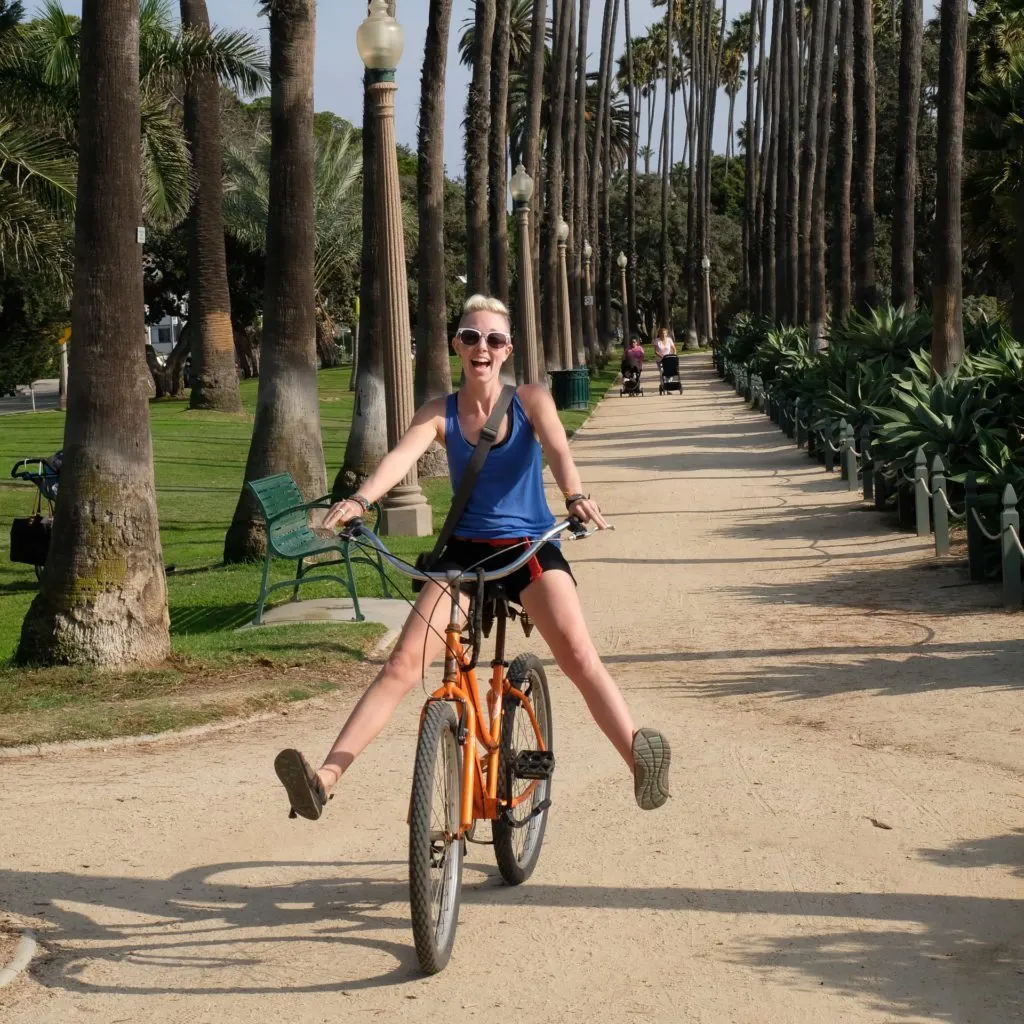 Full disclosure: I'm still not entirely positive if we were allowed to ride in Palisades Park. There were almost no pedestrians, no other bikes, and no signs that said bikes weren't allowed, but at one point, one of the Santa Monica Ambassadors (basically glorified safety patrol for walkable areas) suggested we dismount. But give it a go anyway, because it's a lovely palm tree-lined park with views of the beach. and it's even better on two wheels.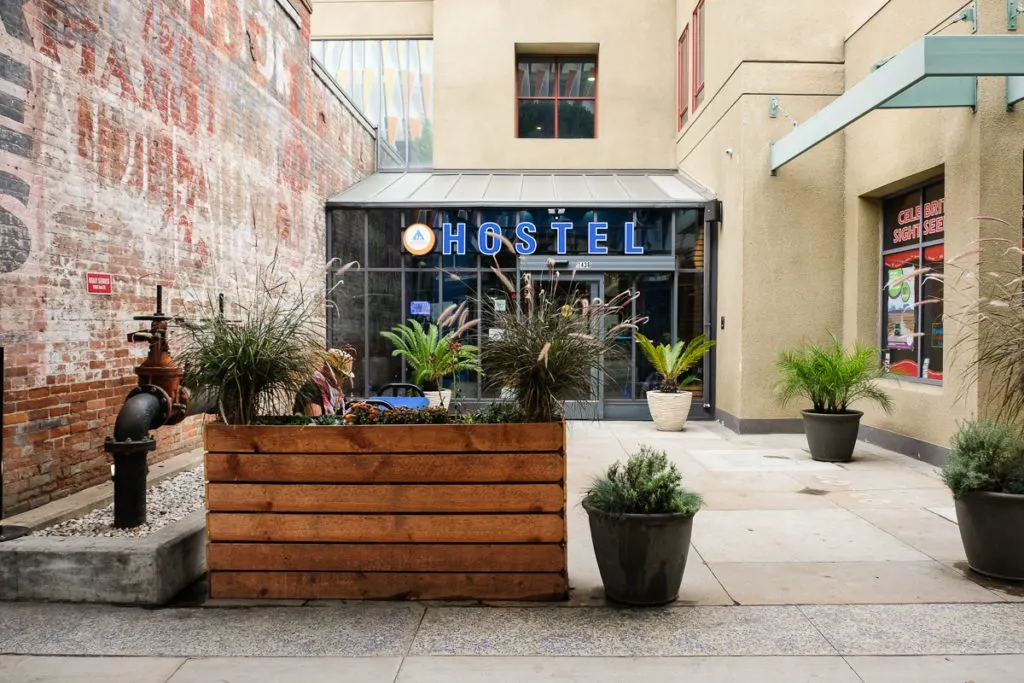 Need a place to stay? HI (Hostelling International) Los Angeles Santa Monica has you covered. They have dorms and private rooms in their multi-story building, free breakfast (including a few vegan basics like bread, cereal, and jam), and now they also have color-changing shower heads to encourage guests to save water as part of their Million Gallon Challenge. Huzzah for eco-conscious showers!
That enough to get you started? Let us know if we missed any amazing spots and wander on!
Alisha is a freelance writer and photographer based in Austin, TX. She loves her tiny house, vegan food and experiencing the community of travel in far away places. She's also pretty sure she's addicted to coffee. alishamcdarris.com