You'll have to forgive me for this shameless plug, but I just can't contain my excitement! You see, Josh and I have finally done it! We have designed a yearly planner specifically with freelancers in mind. I'm pretty sure up until now, it didn't exist. And if it did, I couldn't find it. But it's here! And now freelance writers can rejoice in a planner made just for them.
The 2016 Freelance Planner is the hottest new tool on the market for freelancers of all kinds.
See, your normal run-of-the-mill planner just has space for to-do lists, maybe a few notes pages, a month overview, and a place to keep track of birthdays if you're lucky. Ours has all that plus tons of pages to keep track of article ideas and pitches, personal projects and goals, months and weekly assignments, and a place to list all of your favorite editors' contact info. And lots of pages for notes.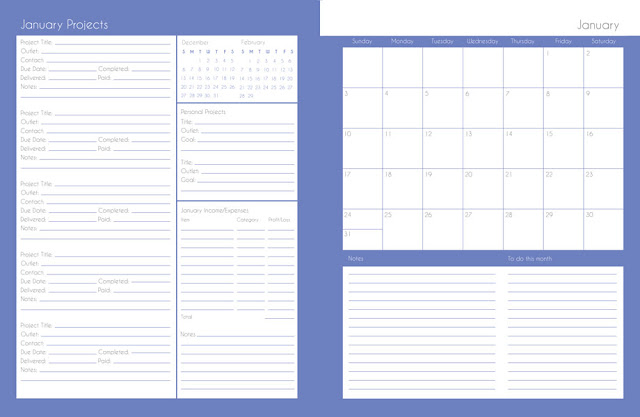 Monthly overviews offer a place to see what you have going on in the current month, including projects due, money made, and personal projects you'd like to accomplish.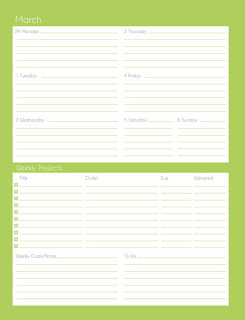 Weekly overviews offer ample space to keep track of daily
tasks and assignments and projects with quick turn arounds.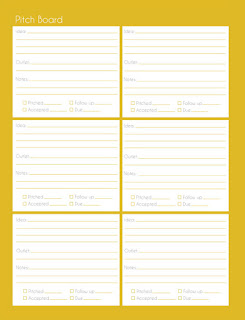 Keep track of what projects you're pitching and when on the many pitch board pages.
Awesome, right? Having tested the planner for a little over 6 months, I have to say I love it. See, I have this obsession with paper planners. While Josh is perfectly content to keep track of all his comings and goings and project due dates on Google Calendar, he's not a writer. Writers like paper. We like books. We like cracking something open, holding it in our hands, and using a real pen to write real letters. But before this planner I had papers, notebooks, sticky notes, and a calendar all stuffed in random drawers and such all over the house. And I still felt like I never quite had a handle on all my projects and assignments.
I now have everything in one book. My daily to do lists, monthly overview, project tracking, goals, deadlines, editors, notes and everything! Check out some of the photos for an idea of what's on the inside and if you happen to be a freelance writer trying to keep the 700 things you have to do and finish organized, buy yourself a copy. And then one for every one of your friends. *wink*
It's available on in Create Space's bookstore and on Amazon, so check it out!
Alisha is a freelance writer and photographer based in Austin, TX. She loves her tiny house, vegan food and experiencing the community of travel in far away places. She's also pretty sure she's addicted to coffee. alishamcdarris.com