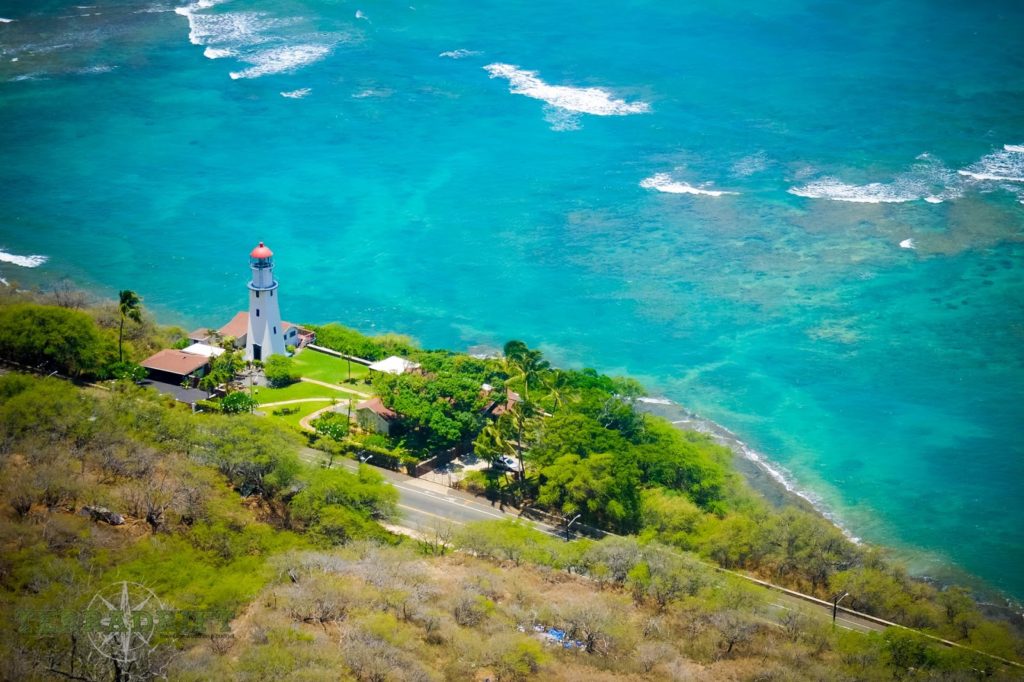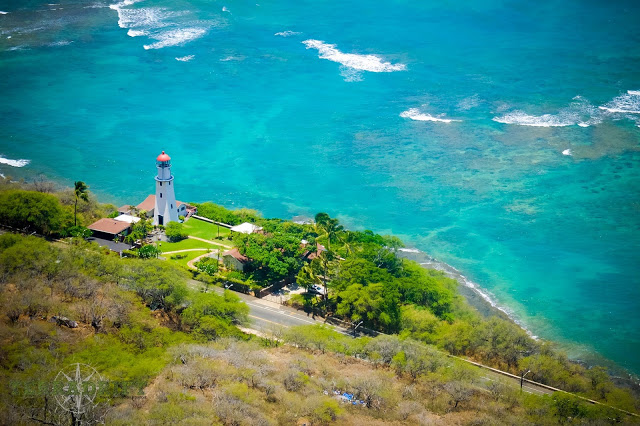 Hawaii is a dream destination for many. The turquoise waters, volcanic mountains, surfing, luaus, beaches, not to mention the laid back atmosphere. No wonder everyone dreams of a vacation on the Hawaiian Islands. Unfortunately, most people think you have to scrimp and save for decades, or that Hawaii is no more than a tropical pipe dream. Not true! You can absolutely visit Hawaii on a budget! So grab your snorkel gear and sun hat and find out how to enjoy a relaxing holiday on O'ahu for less!
Above: The View from the top of Diamond Head on the island of Oahu.
Getting Around O'ahu
The Bus: No, it's literally called The Bus here. And while buses pretty much run the length of the island, they do take a while to get very far, so if you're hopping on, plan plenty of time for the ride there and back.
Tour buses: There are scads of tour operators that will take you around the island in an afternoon, a day, or a weekend, but you'll pay a pretty penny for them and will have to abide by their time schedule, not yours.
Rental Car: A rental car is your best bet if you want to explore the island in its entirety, on your time. The earlier the book, the better your rate will be, and since the island of O'ahu isn't all that big, fuel costs won't break the bank.
Free Things to do in Honolulu and O'ahu
Wander Waikiki: If you can bear the blatantly kitschy touristyness of it all, take a walk through Waikiki, the tourism epicenter of the Honolulu area. Every other shop is overflowing with souvenirs, there are retailers and smoothie shops everywhere, and if you do want to book a tour, you're likely to get a discount by chatting up one of the hawkers on the sidewalk.


Waikiki Beach: Rent a surfboard, take a swim, or just lay on the beach. Waikiki Beach is the most popular tourist beach on the island. There are virtually no waves, lots of palm trees, food and drink just across the road, and plenty of Hawaiian festivities throughout the week.
Hawaii is literally surrounded by beautiful beaches and turquoise waters
Beaches: It is an island, after all, so there is a beach literally around every corner. Pick one that suits you and prop open your umbrella. Remember that surfing and bodyboarding are better suited to the wavy windward side of the island while snorkeling is usually easier on the leeward side. But that's not a hard and fast rule, so check the forecast before you go.


Snorkeling: If you have your own snorkel gear, then taking a swim to scope out some fish is totally free! (If you don't have your own, check our recommendation in the next section). Our favorite beaches for fish and turtle spotting are Sharks Cove on the North side of the island and Kahe Point Beach Park.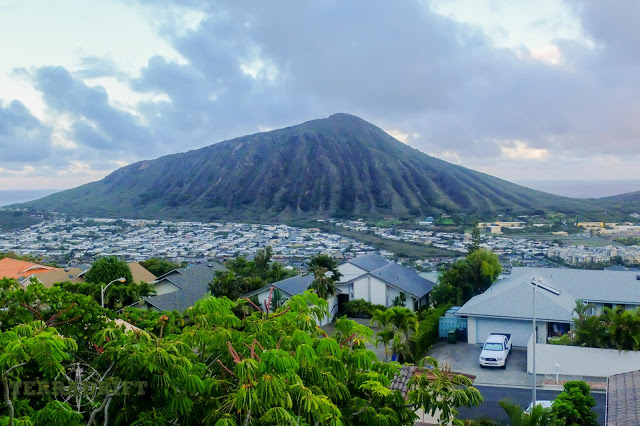 Koko Head on Oahu, Hawaii is a challenging and impressive climb just a short drive from Waikiki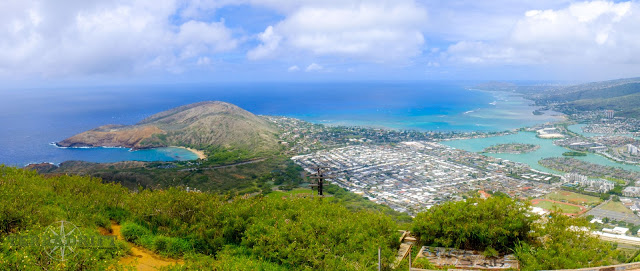 The view from the top of Koko Head on Oahu is totally worth the effort to get there
Koko Head: If you fancy a bit of exercise (and I say exercise instead of hike because it is more intense than leisurely), take a walk up Koko Head. It's a long climb straight up a set of old railroad ties and there's a lot of huffing, puffing, and stopping to rest involved, but your efforts will be rewarded with stunning 360 views of the island and the coast once you reach the top. Totally worth it.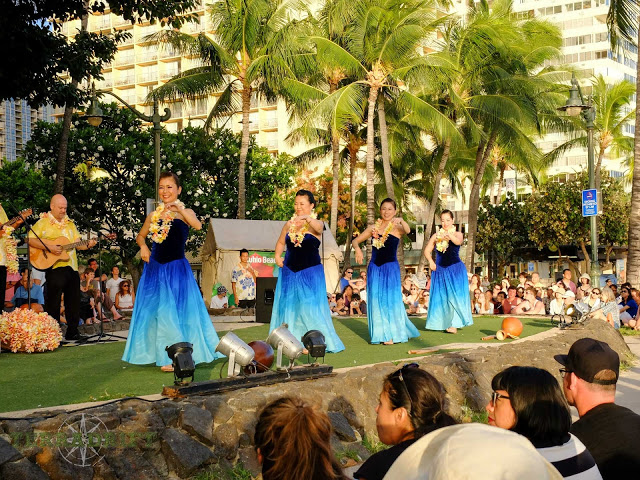 Free hula shows happen several times a week in Waikiki
Kuhio Beach Hula Show: Don't shell out $80 for a luau (especially if you're meat free) when you can see a hula show for free four days a week in Waikiki. On Tuesday, Thursday, Saturday and Sunday at 6:30 pm a variety of dancers take turns performing different style of dances to a live band. Get there early for a good spot on the grass and bring a blanket or towel to sit on. You can even bring dinner and have your own luau.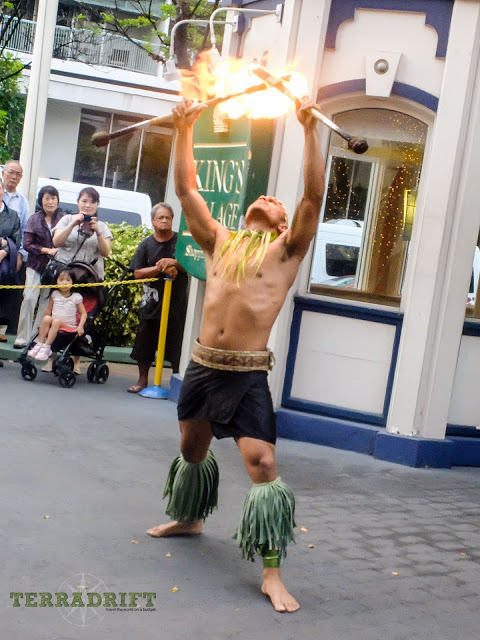 Catch a free fire dance in Waikiki for a taste of Polynesian Culture
UPDATE: King's Village is now closed permanently.
Polynesian Fire and Drum Show: Once a week on Thursday, a handful of Hawaiians will dazzle with fire dancing to the beat of a drum outside King's Village Shopping Center at 6:30. And it's free! There's also ukulele playing at the same time on Sundays.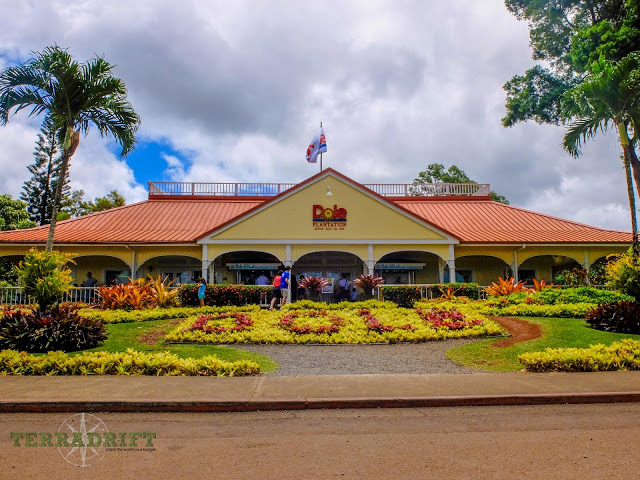 The Dole Pineapple Plantation may be a tourist trap, but an interesting one
Dole Pineapple Plantation: The shop, cafe and gardens are free to visit and you can browse through rooms and rooms of pineapple paraphernalia, order pineapple ice cream, and maybe even get a pineapple cutting demo. There's also a maze and train ride where you can learn about the plantation, but those cost extra and are overrun with tourists. It's not the most exciting stop if you're not paying for anything, but if it's on your way, it's interesting at the very least.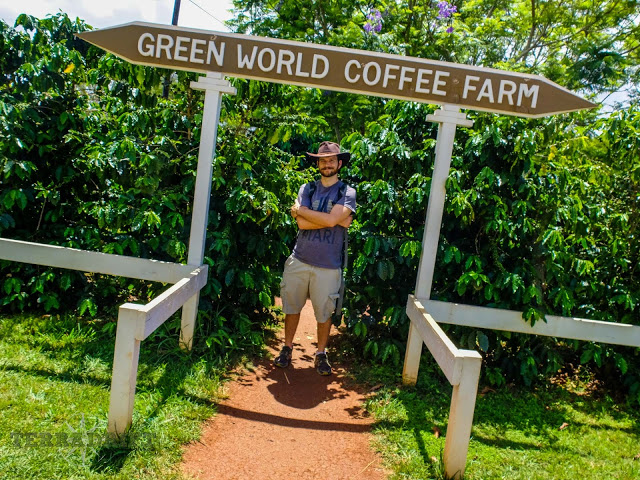 Fancy coffee? Take a stroll through Green World Coffee's coffee garden after you have a cup
Green Mountain Coffee Farm: Just down the road from the Dole plantation is this little coffee farm. You can taste samples, walk through the coffee garden, buy some bean and sit down for a latte. It's small, so like Dole, don't go out of your way for it unless you're really into coffee-related stuff.
Farmers Markets: They are scattered everywhere around Honolulu. If you are walking or driving around just about any day of the week you will likely stumble across one or another. There's one in King's Village, at the base of Diamond Head, and in Honolulu. You'll find everything from fruit bowls to coconut milk tapioca pudding to fresh ahi tuna.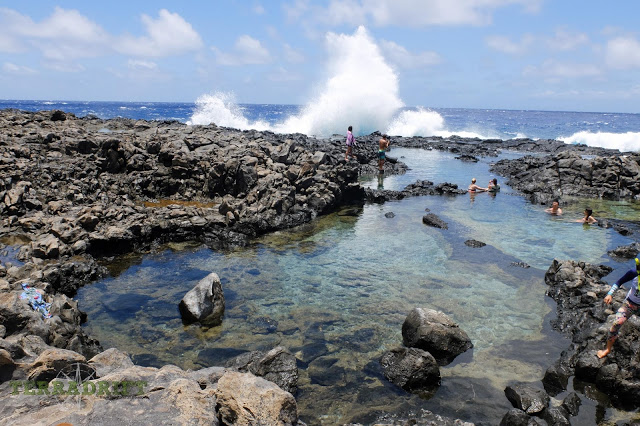 The Makapu'u Tidepools are beautifully picturesque and worth the hike down to get to them
Makapu'u Tidepools: Tidepools might be my absolute favorite thing of all time. And these do not disappoint. It's not a trek for the faint of heart; it's rocky and steep and treacherous, but totally worth it. Park at Kaiwi State Scenic Shoreline and hike up the paved trail to the Makapu'u Lighthouse. When you get to the whale watching platform, head off trail down a winding, rocky landscape. A few minutes of careful navigation will bring the tidepools in view and they are stunning. Feel free to climb down and take a dip in the clear, turquoise water, but be careful! Waves can crash up into the pools and quickly overtake unwary swimmers.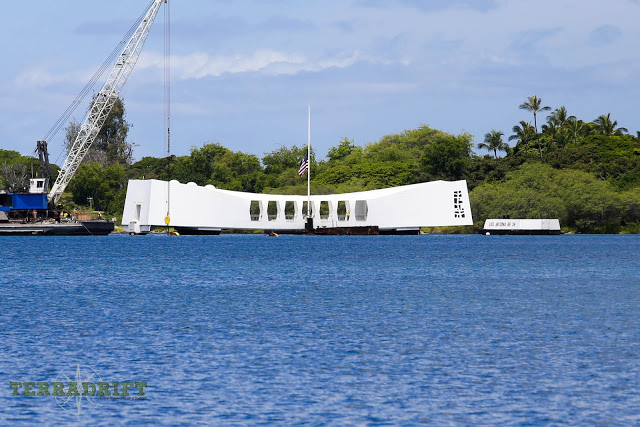 The U.S.S. Arizona Memorial is a free tour available at the Pearl Harbor Historic Site
U.S.S. Arizona Memorial: It's free to see the memorial, but it's jam packed with tourists so you either have to show up super early to get in line for a showing later in the day or pay the low $1.50 processing fee to reserve tickets online at least a day in advance. You'll watch a film about the bombing of Pearl Harbor, then take a ferry out to the Arizona Memorial. There are other attractions there at the harbor, but they cost extra.
Royal Hawaiian Center: This organization offers many free Polynesian cultural programs throughout the week. Make a lei, learn to hulu, or try your hand at playing a ukulele!
Cheap Things to do In Honolulu and O'ahu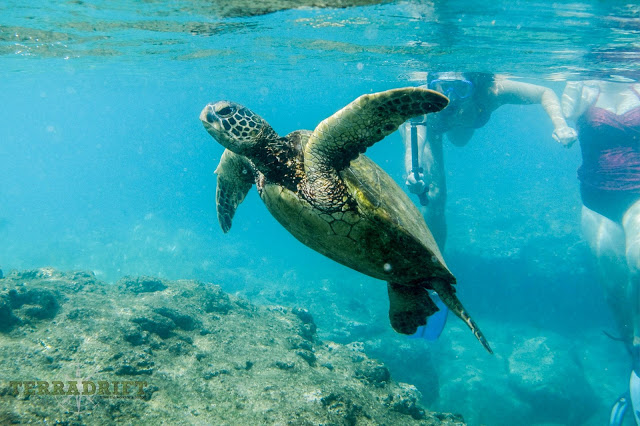 Spot sea turtles while snorkeling on Oahu, Hawaii. This one was at Shark's Cove


Snorkel: If you didn't bring your snorkel gear, fear not. You can buy your own, of course, from Walmart or some such place, but for only $9 per person you can rent a set (with flippers!) from Snorkel Bob's. The cheap option isn't the newest, most stylish model, in fact it looks like a 60's James Bond kind of deal, but they work and they're only $9, so who cares?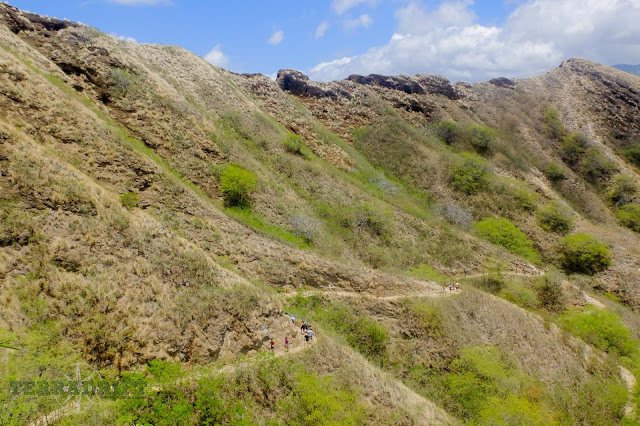 The trail up Diamond Head is less arduous than Koko Head, but enjoyable and worth the time and effort
Diamond Head: This is the second of the epic mountainous hikes and the more touristy one near Honolulu. It costs just $5 per car to get into the "park," but if you park at the base or at the little lot outside the tunnel and walk a few extra minutes, it's only $1 per person. It's an interesting, winding walk up and offers some cool views of the city and coastline from the top.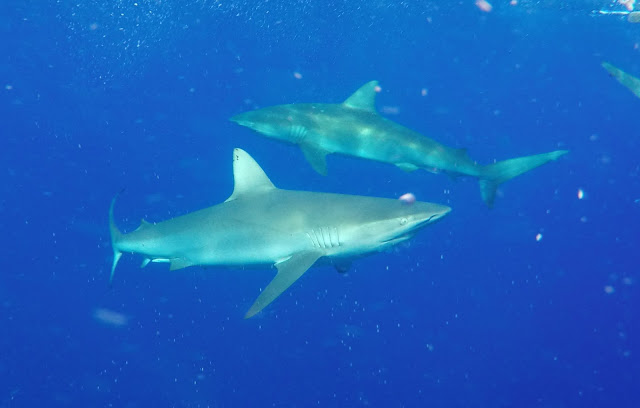 Shark diving may be a once in a lifetime opportunity! So book a tour and bring your waterproof camera!
Shark Diving: OK, so it's not a cheap option, but there are ways to get it cheaper. Hawaii Shark Encounters offers a good option and if you check Groupon for a few weeks before you book you might score a discount so you can snorkel with sharks for under $90.
Pearl Harbor: While taking a cruise out to the U.S.S. Arizona is free, you may want to get more historical and check out the U.S.S. Missouri and the U.S.S. Bowfin while you're at the harbor. Tickets are $27 and $12, respectively. You can also visit the Pacific Aviation Museum for $25 or buy a package that includes all three for $65.
Polo: Sunday is Polo day on O'ahu! So if you're interested in seeing a match, head to one of the fields and grab a seat. Honolulu Polo Club is on the island's windward side and tickets are only $5. Hawaii Polo Club is on the North Shore and tickets are $12.
Cheap Eats in Honolulu
Blue Tree Cafe: For a delicious smoothie (including vegan protein varieties like chocolate almond butter cherry) or a snack or sandwich, head to this little cafe in Honolulu. The musubi (seasoned tofu on top of sushi rice wrapped in seaweed) was probably the best I've ever had and at only a few dollars was a great afternoon snack. Sandwiches and other baked goods are also available.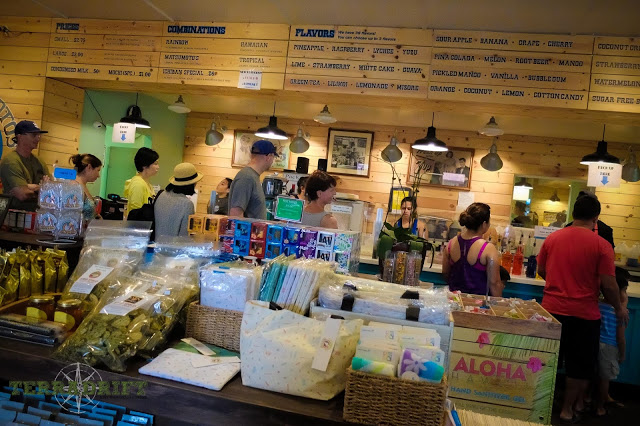 Matsumoto's Shaved Ice on the North Shore of Oahu shouldn't be missed!
Matsumoto's Shaved Ice: Apparently the original and the favorite, this shaved ice joint on the North side of the island always has a line. You can get mochi, ice cream or even delicious adzuki beans (for the vegans) under your shaved ice that comes in a delectable variety of tropical flavors. I have to admit I was a bit dubious on the shaved ice and adzuki beans thing, but it was hella delicious! And a small only costs $3.50!
Chinatown: A slightly shady but jam packed area in Honolulu, Chinatown offers all manner of Asian food for cheap. I got a full container of Asian noodles with veggies and various vegan proteins from a random corner store for $3.50 and Josh got one of those whole fried fish (eww!) for the same from the food court. There are also plenty of cheap souvenirs there and we picked up a bag of 100% Kona coffee for $5! It's also a good place to score Asian food staple like noodles and tofu as well as fruit and veg for cheap.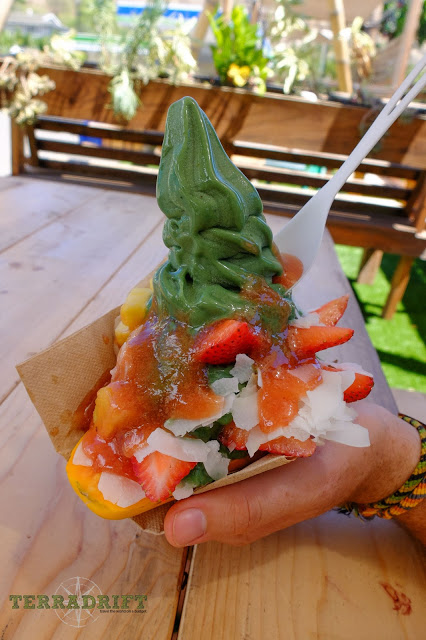 Like Soft Serve? Banan in Waikiki should be a regular stop. Look at that guava jam!
Banan: Vegan ice cream lovers delight! Banan is a banana soft-serve truck with delicious flavors (besides banana) including green tea, greens and ginger, acai, and more. Top it with your choice of delights (coconut, fudge, honey, strawberries, pineapple…) and even get it served in a papaya bowl. So good on a hot Hawaiian afternoon.
Down to Earth: Not a restaurant, but this health food store offers some delightful options for meals and snacks for less than a restaurant, and you can pick them up and take them to the beach if you like! There's a hot bar, pizza, sushi, deli, baked goods and more for vegan and omnivores alike.
Whole Foods: Much like Down to Earth, Whole Foods is a convenient place to pick up a meal of snack to go. They also boast a hot bar, pizza, and all sorts of other freshly made food in addition to pre-packaged meals, vegan (and non-vegan) donuts, and even single serve mochi and dairy free ice cream bars to grab on your way to the beach!
Peace Cafe: Though prices hover around and just over $10, it's totally worth it for the killer sandwiches this vegan restaurant serves. They are packed with fillings like tempeh, sauerkraut, veggies and more and are big enough to last for two meals!
Govinda's: An all-you-can-eat world-wide vegetarian Hare Krishna restaurant chain, fill up a plate and eat your fill for $13. So go on an empty stomach to get your money's worth!
Loving Hut: Another world-wide chain, this vegan restaurant has several options at or around $10, including snacks and desserts, burgers and veggie buns.There are two locations in Honolulu.
Ruffage Natural Foods: Not really what I would call a natural food kind of place, but they do have veggie burgers and vegan chili dogs, so that's a plus! They also serve fish and some meat for the omnivores.
Jamba Juice: Located right on the Waikiki strip, Jamba Juice is a quick and easy place to pick up a refreshing beverage for the afternoon. Add some vegan or whey protein for an extra boost of sustaining energy. Smoothies are mostly between $6-$8.
Ways to Save in Honolulu
On the Street: Just walking down the strip in Waikiki you'll pass dozens of people handing out flyers with discounts and coupons for tours and such. If you see one you're interested in, stop and chat with the hawker; they may give you a better rate just to (presumably) up their commission. But make sure to check prices online, too, to make sure you really are getting a deal.
Groupon: This may be a given for saving money in US cities, but as a reminder, if you're spending big on an attraction or two (a luau, shark dive, or parasailing, for example), you could save big bucks by checking to see if there's a Groupon going.
Booklets and Brochures: Whether you pick one up at the airport, at a car rental office, or in town, any of the guides to O'ahu will include discounts for various attractions an often list free things to do while you're in town. This Week in O'ahu is an especially timely publication.
Visit off Season: Lots of things will be cheaper if you choose to visit outside of June-September, including the big ticket items like accommodation and airline tickets. Flight prices, especially, are drastically different depending on weather you fly in July or January. Pick an off-peak season and you could literally save hundreds!
Alisha is a freelance writer and photographer based in Austin, TX. She loves her tiny house, vegan food and experiencing the community of travel in far away places. She's also pretty sure she's addicted to coffee. alishamcdarris.com