Terradrift is all about sustainable travel and outdoor adventure, from exploring new places to sampling new vegan fare to finding the best animal-free and eco-friendly outdoor clothing and gear. Because the world is wide, there are vegan cupcakes to sample, and finding hiking socks not made of wool is easier said than done. We'll help you figure out how to travel, what to eat, and what gear you can't live without, both in the US and abroad, all while leaving a lighter footprint. So gear up, get out, and wander on!
About Josh & Alisha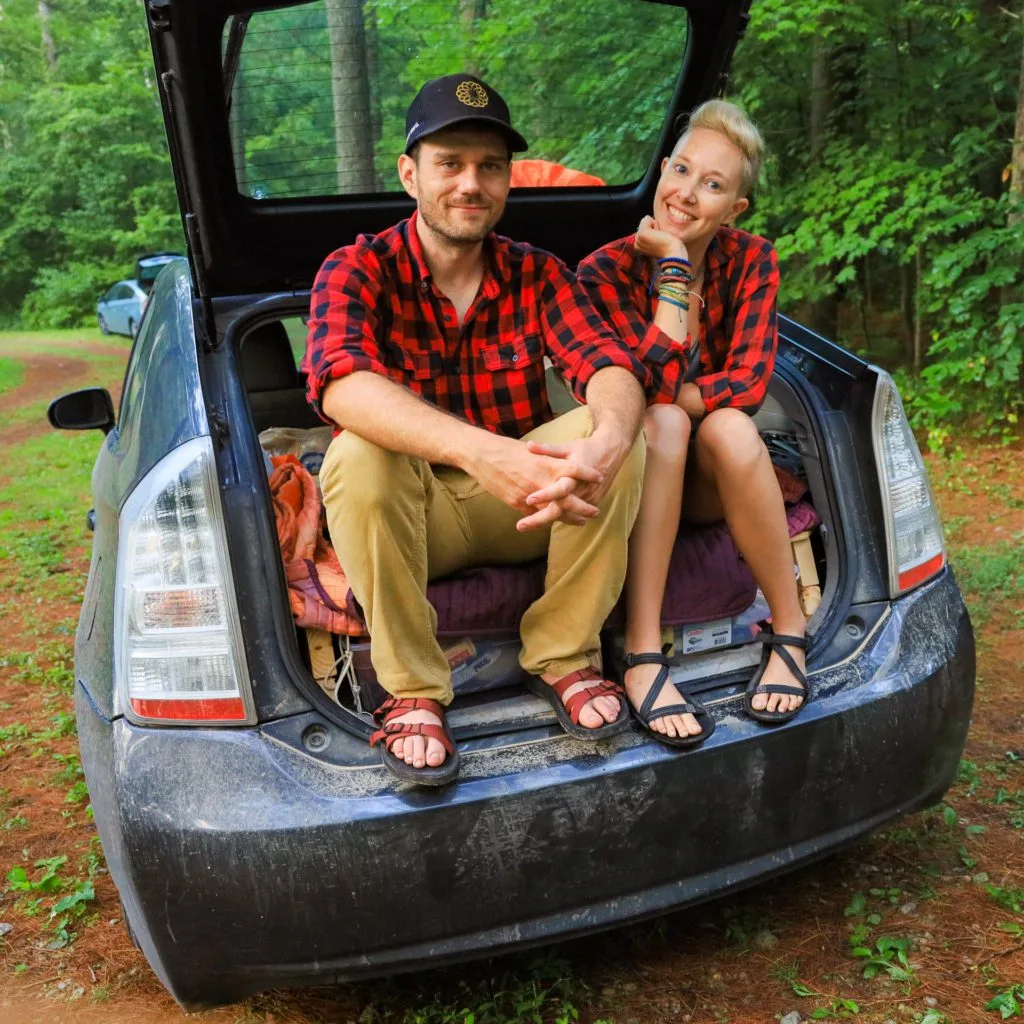 Alisha Is a writer and photographer, plus a vegan donut enthusiast, self-proclaimed coffee addict, Kurt Vonnegut fangirl, and travel obsessive. She freelances for publications like Backpacker, PopSci.com, NerdWallet, Eater and more (in addition to this dope blog), all from her tiny home base in her fave city in the U.S.: Austin, Texas. She will saw her toothbrush in half to cut weight in her backpack but will always make room for a four-pound camera. Obsessed with leaving the smallest footprint she possibly can, she's always on the hunt for the most sustainable brands and outdoor gear. Want to know more? Check out her portfolio at alishamcdarris.com
Josh is Terradrift's freelance video producer and editor extraordinaire. All those highly entertaining YouTube videos? That's all him. He loves highlighting brands and destinations with footage that makes you go, oooohhh, plus partaking in too much vegan food, especially if it involves gravy. Or mole. Which is a type of gravy, I suppose. Check out more of his work at joshmcdarris.com
Favorite piece of gear: "For making really great wake-up juice on the trail or a road trip, nothing beats the Aeropress."
Favorite trip: "There's hardly been a more epic road trip than our 14,000-mile journey from Austin to Alaska and back!"
Favorite thing about travel: "The adventure of discovering new places and experiences."
Favorite sustainability tip: "Leave no trace. It's something everyone can do wherever they go."
Alisha and Josh were high school sweethearts and got married in 2009 in the woods, by a waterfall, barefoot, of course. Isn't that just disgustingly adorable? And now they create content from gear reviews to informational articles to quirky videos together, all about sustainable travel and adventure. Life is good.
Why Sustainability Matters
We talk about sustainability and veganism a lot here on Terradrift because it matters. In fact, it should matter to all outdoorists. And those who wouldn't identify themselves as outdoorists in a million years. And those who are like, "What's an outdoorist?" It matters because every decision we make as consumers and human beings affects the natural world around us, and we have a responsibility to make sure that impact is a positive one, especially if we want to keep enjoying the outdoor places and spaces we all love.
It's up to us to reduce single-use plastic, encourage companies to make more sustainable practices, ditch materials like wool and down that are cruel and unsustainable, vote with our dollars when it comes to supporting brands doing great things for the planet, keep as much gear and clothing out of landfills as we possibly can, and leave no trace when we head outdoors, all in the name of protecting and promoting the health and preservation of the outdoors so we can all enjoy the beauty and healing nature has to offer.
So whether you're new to the outdoors or sustainability, or you've been carrying the banner for decades, join us to learn about how to gear up and get out there more responsibly (and safely). And you know, have a few cups of quality coffee in the backcountry together along the way. Because a few small changes can go a long way.
Want to read more about sustainable travel and outdoor adventure? Check out our latest content over on our homepage!