I've been backpacking for over two decades now. And over that time, I've become more and more of an ultralight Backpacker. Meaning, I prefer to carry as a little weight as possible, no matter how long of an excursion I am embarking upon. So I decided to go all in. I upgraded my entire backpacking kit to include only the most ultralight gear I could find to test it out and see if it was worth the weight savings, the cost, and the lack of feature-rich gear.
So I took it all out on a recent weekend trip, and will break it all down for you right here, right now, and let you know if some of the most ultralight backpacking gear in existence today makes for a better backpacking experience or a more miserable one.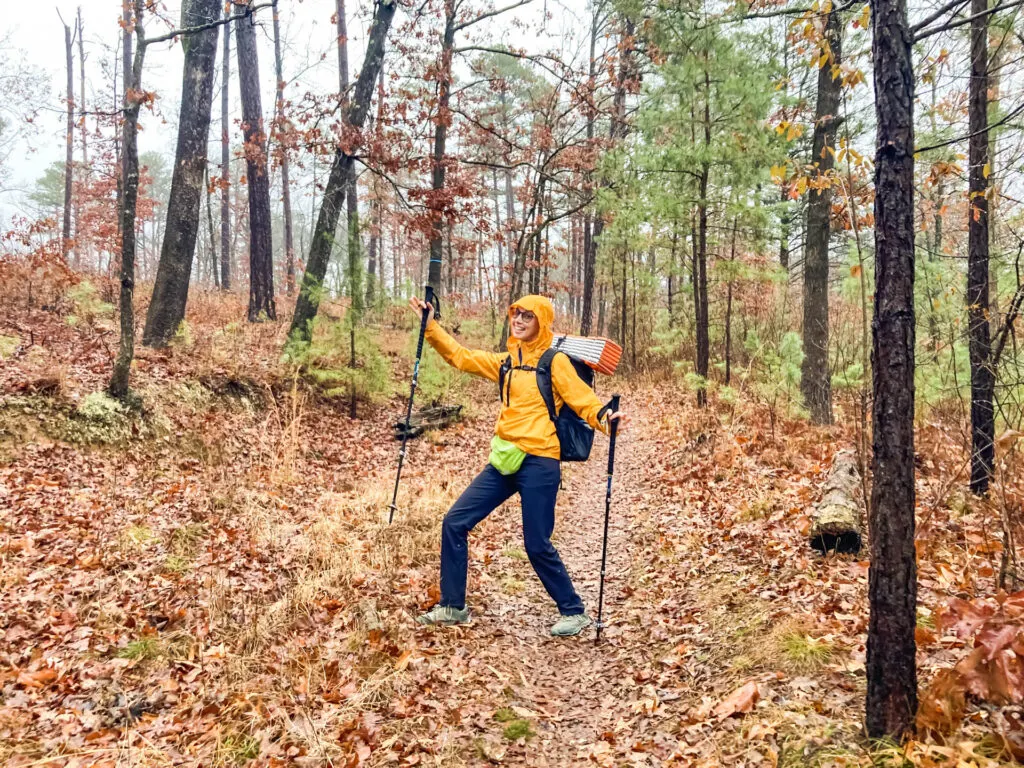 What is Ultralight Backpacking?
First things first: What is ultralight backpacking? It's maddening is what it is. It's constantly obsessing over how much gear weighs, what's out there that weighs less, debating about what you can live without in the name of weight savings, and occasionally making rash decisions that bring you to cut your toothbrush in half or leave you sitting at camp regretting your decision not to bring that extra layer.
And while it can absolutely make backpacking more comfortable and enjoyable by lightening the load on your shoulders, back, hips and knees, it's not for everyone. It's more minimalist, sometimes involves giving up certain comforts, and the gear is often less feature-rich. It's also typically a lot more expensive than traditional backpacking gear where every gram isn't counted and assessed, then re-assesed, and stripped down to its bare bones of functionality (and then some, in some cases).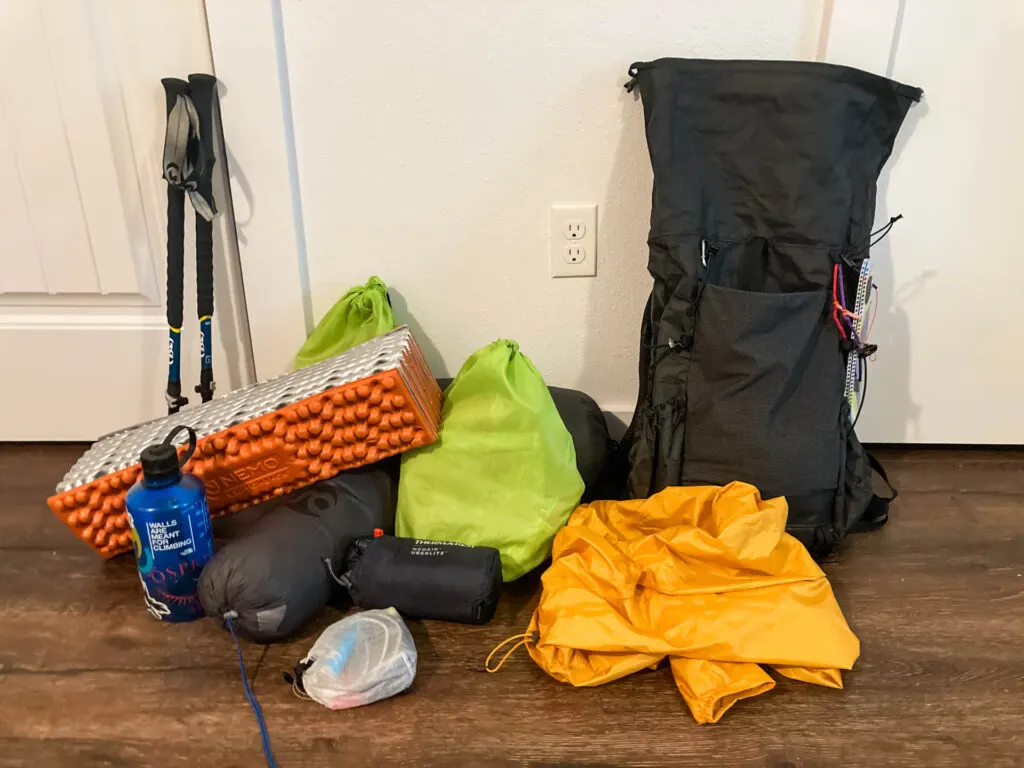 There are degrees of ultralight backpacking, of course. Not all of your gear has to be ultralight to make long hikes in the wilderness more pleasurable, but many backpackers go all-in eventually, not just thru-hikers.
But let's get to the ultralight gear we tested and whether it passed or failed on the trail.
Ultralight Backpacking: The Ultralight Gear Test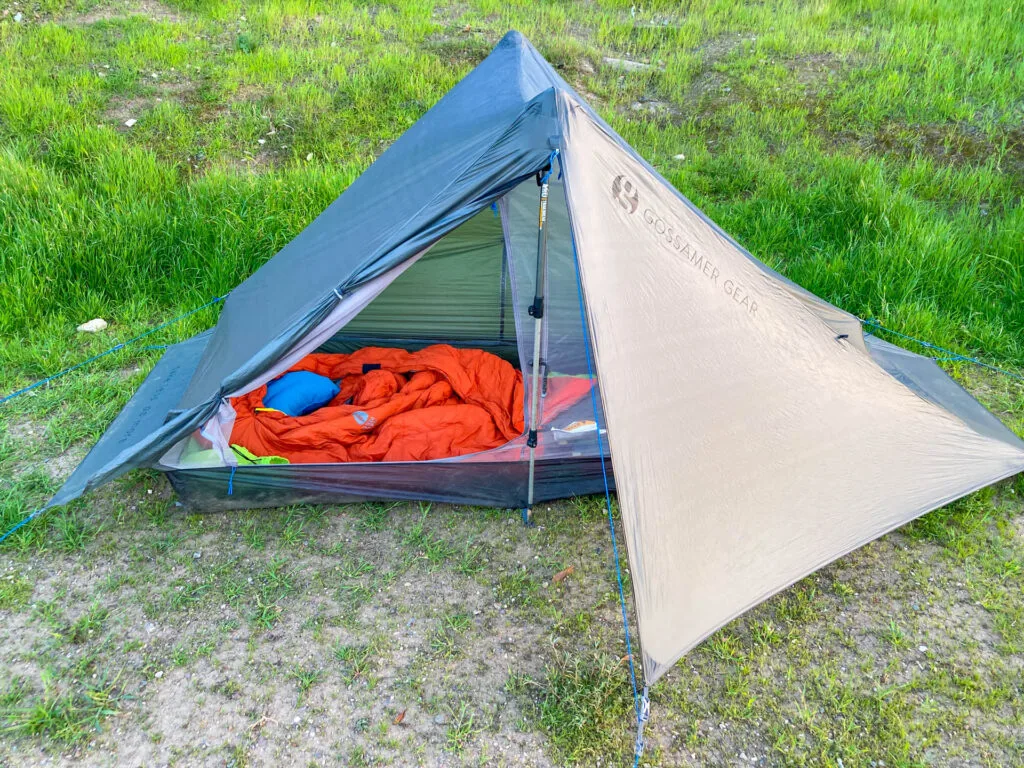 $299.25, 17.7 oz
The One from Gossamer Gear is one of the most ultralight one-person tents on the market today. Sure, you could go even lighter with a tarp or a bivy, but most folks prefer a tent so they have a safe space to store all their stuff and a reliable shelter from the weather.
I've reviewed the Gossamer Gear The One in the past and I love this tent. So it gets a thumbs up from me. It's spacious, packs down super light, and reduces a ton of weight by pitching with trekking poles instead of tent poles. I can wholeheartedly recommend this tent for any ultralight solo adventures. Find The One here.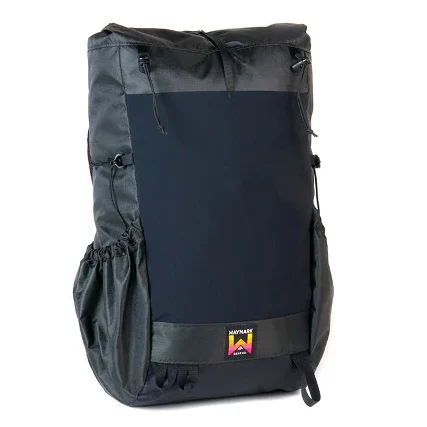 $224.99, 13.9 oz
The Waymark EVLV has been stripped down to be as light and streamlined as possible and has very few bells and whistles, with one notable exception: the straps have precious, precious load lifters. Which I really appreciate. A lot of ultralight backpacks don't have load lifters, so you're limited as to how much you can adjust where the weight sits on your back.
There aren't a ton of extra pockets or zippered compartments, and there is no frame, but I think I would prefer load lifters to a top compartment zipper pocket on most days. So this pack also gets a thumbs up. *With an asterisk. Because if I were going to carry this pack on a regular basis, I would definitely add on a few accessories, namely, the padded hip belt and a hip belt pocket, both available as add-ons from Waymark
Because even though my pack weighed so very little, it still would have been nice to be able to shift some of that weight to my hips. Especially on hikes that involved scrambling or precarious cliff edges when even a webbing strap would be useful to stabilize the pack and keep it in place in the middle of your back. Find the EVLV here.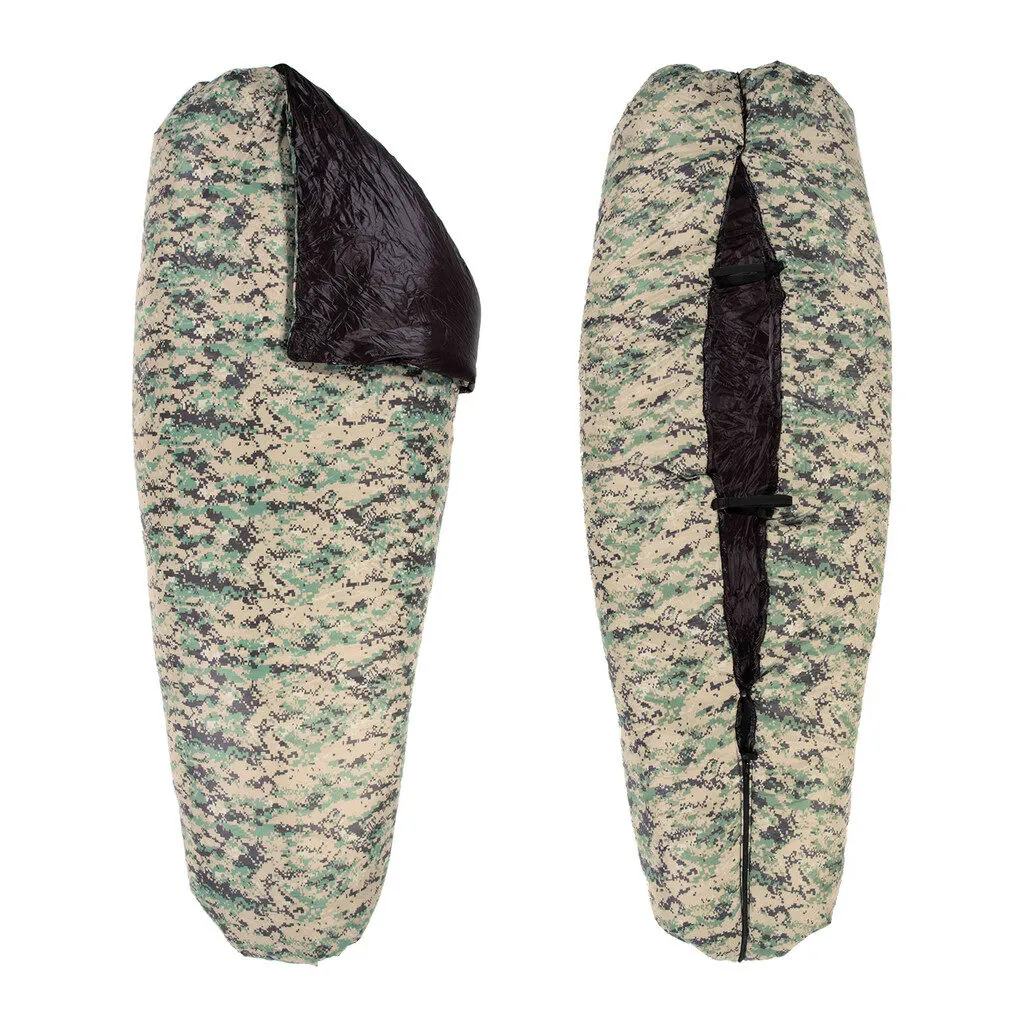 $200, 18.75 oz
I used a Revelation APEX quilt from Enlightened Equipment instead of a traditional sleeping bag because quilts cut the excess weight of hoods, bottom fabric and insulation and full-length zippers to reduce weight (read about what makes a warm bag in this post about sleeping bag temperature ratings). I chose this quilt specifically because it was the lightest synthetic quilt I could find.
Yes, I could've cut a few more ounces and gained a smidge more packability by opting for a down quilt, but we are vegan here at Terradrift, so we don't use down (read why here). I also prefer synthetics because when down gets wet, it is effectively useless at insulating.
This particular quilt has a foot box that you can cinch and zip up for extra warmth for versatility in different temperature conditions. And while I liked it most for warm to mild overnight lows, it does the job nicely almost all the way down to the temperature rating that it claims, in this case, 40ºF. So it gets a thumbs up.
The only thing I didn't love about it was the lack of baffles. No stitching means there aren't any cold spots in the quilt, but because the fabric is so delightfully soft and light, it's easy to get tangled in it. And I personally wouldn't use a quilt in much colder temps than 40º, but I sleep cold. Find the Revelation APEX here.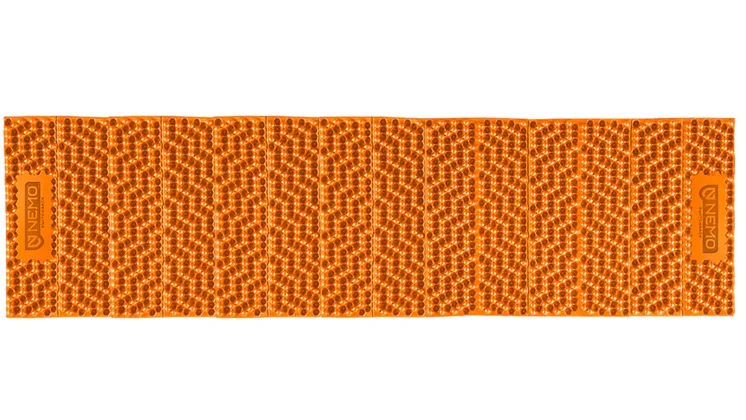 Ultralight Sleeping Pad: Nemo Switchback – PASS
$54.95, 14.5 oz
After going on several backpacking trips with a thru-hiker friend of mine (including on California's Catalina Island), I may not ever backpack without a closed cell foam pad again. Frankly, they're an absolutely wonderful thing to have for simply sitting on the cold ground, keeping your food and bowls out of the dirt, And having a comfortable place to lay in the sun during afternoon naps, not to mention an insulating sleeping surface (read more about sleeping pads and why insulation matters here). It's such a Multitasking piece of gear.
So it gets a thumbs up and is an indispensable piece of gear for any ultralight backpacker. And while I hope to wean myself off of inflatable pads over time and just take the Switchback, I layered it under an inflatable pad. Find the Switchback here.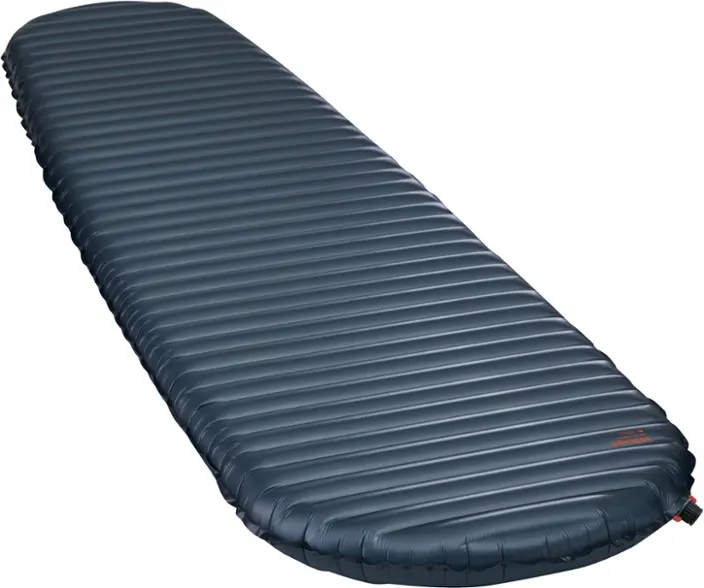 $219.95, 8.8 oz
Like I said, I did a not vary ultralight thing and doubled up on sleeping pads on this trip. That is partially because of the overnight lows I was expecting, which was at the very bottom of my quilt's temperature rating and tw pads are more insulating than one, but also because this is the lightest inflatable full-length sleeping pad on the market, so there was no reason not to bring it.
And while I expected it to be extra loud and crinkly, it wasn't any noisier than any other inflatable sleeping pad I've ever used, so it also gets a thumbs up for comfort and weight savings. Find the NeoAir UlberLite here.
$39.95, 1.6 oz
I brought along the big Agnes AXL as my ultralight inflatable pillow. And while I love so much big Agnes gear (like the Impassable 20L Daypack), this pillow gets a thumbs down, though a soft one.
I've used it before, but it's really not that comfortable. There's not much stretch to it and it's small, so it's very easy for your head to just roll off the side. If it were between this pillow and a stuff sack full of clothes, I think I'd rather just have a stuff sack full of clothes, and that doesn't weigh any extra. Find the Big Agnes AXL Air Pillow here.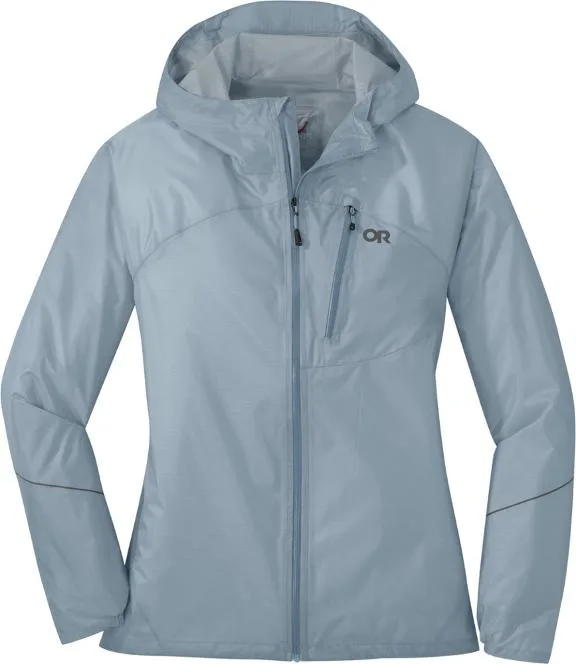 $159.00, 5.6 oz
The rain jacket I wore on this trip was also ultralight: the Outdoor Research Helium. And what it lacks in features it makes up for in lack of weight.
It may not have hand pockets, but it does have a zippered chest pocket and a very well designed cinch bungee on the hood. More well designed than many of the heavier, more robust rain jackets I've tested over the years.
While it isn't built for winter conditions or probably multi day downpours, it absolutely gets a thumbs up for any ultralight adventures where you may or may not be expecting some rain and even if there's no precipitation, you won't regret having it your bag because it weighs so little. Find the Helium rain jacket for men and women here.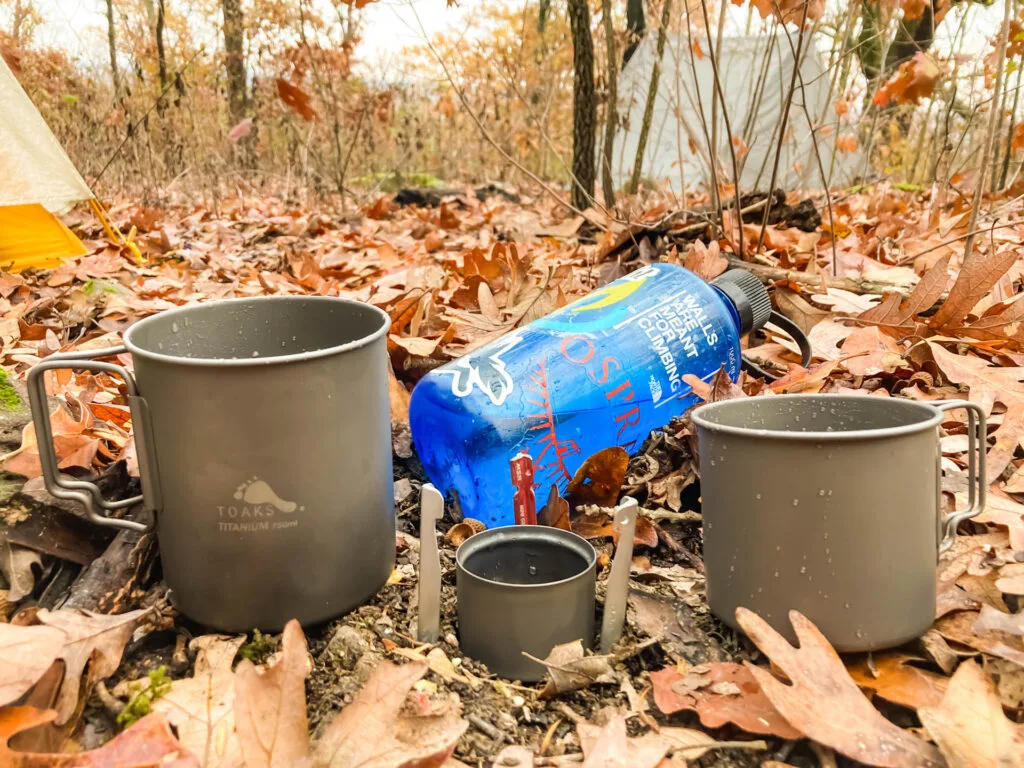 Ultralight Stove and Cook Set: Toaks – PASS
$18.95-$36.95, Stove: 20g, pot: 2.8 oz, cup: 2.2 oz
When it comes to preparing and consuming meals on the trail, stoves and fuel can be very heavy. Which is why many extreme ultra lighters choose to cold-soak meals instead of make hot meals. But with this Toaks titanium Siphon alcohol stove and cook set, there's no reason not to bring a stove, a pot, and a mug.
The Siphon is one of the absolute lightest alcohol stoves on the market, but packs some serious punch in the functionality department. As in, I was impressed how fast it heated up and then made quick work of boiling water for our dinner and drinks, which I boiled in my 650ml pot and drank out of my 375ml mug.
I may never go back to a canister stove again. Alcohol stoves, and the fuel they require, are just too dang light and I love it. So again, another thumbs up for all of it. Though if you're doing more than rehydrating meals or cooking for more than one or two people, this probably won't be the stove for you. Find the alcohol stove here, the pot here, and the cup here.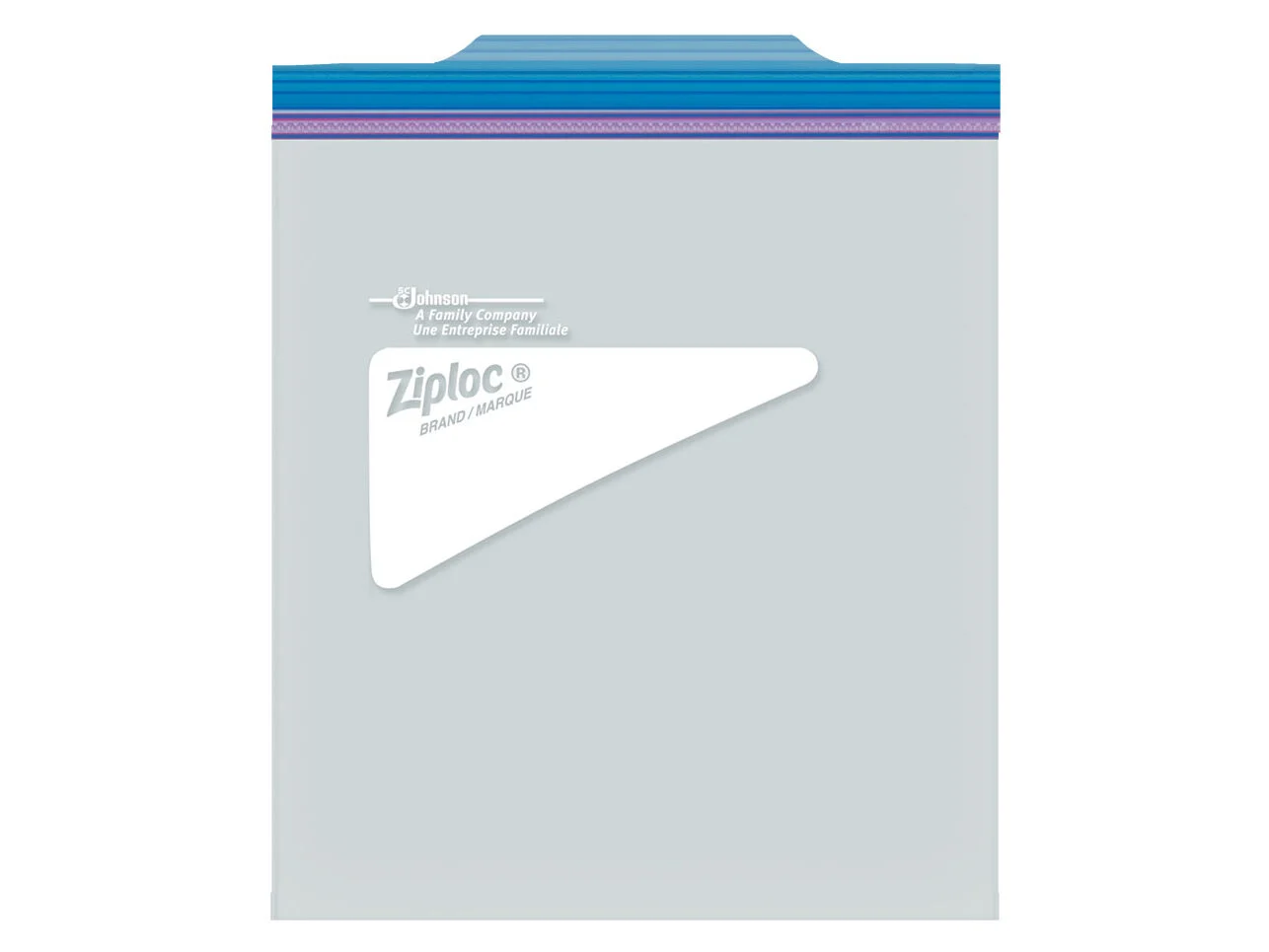 Ultralight Cooking: Freezer Bag Cooking – FAIL
Less than $10, 6.4 g per bag
I used to utilize freezer bag cooking all the time (where you rehydrate meals with hot water directly in a zip-top freezer bag), but now I hate it. It's wasteful–you're just going to throw the bag away when you get home–it's probably not healthy–freezer bags weren't meant to contain boiling water–and plastic bags are stupid annoying to eat out of. So just don't do it. Bring a dang ultralight bowl or pot (see above) and eat out of that.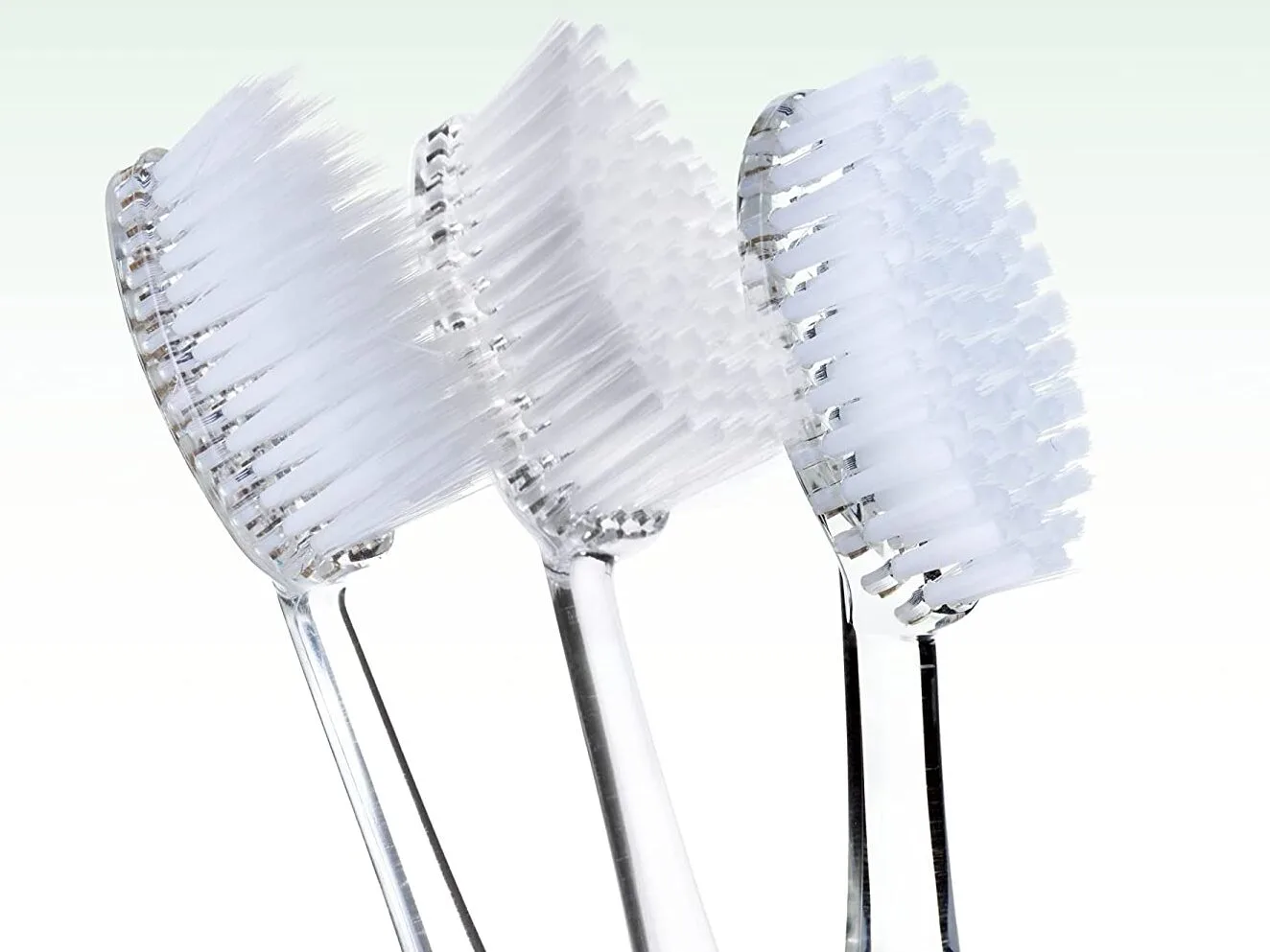 Less than $10, 3.7 g
Let's get this out of the way now: You cut the most weight by replacing the heaviest items items in your pack (bags, pads, tents, and packs) with lighter items, not cutting your toothbrush in half.
That said, I did bring half a toothbrush, or rather, replacement toothbrush heads, which get a big thumbs down. Honestly, half a toothbrush hardly saves you any weight at all, but does take usability way down. So just don't do it. Pack a whole dang toothbrush. But feel free to check out the Radius heads here.
Less than $10, .8 g per two tablets
What I can recommend are toothpaste tabs. Instead of bringing a travel tube of toothpaste, drop a few toothpaste tabs, just in enough for the length of your trip, in a tiny zip top or other ultralight container. Easy peezy and ultralight. Find Hello brand toothpaste tabs here.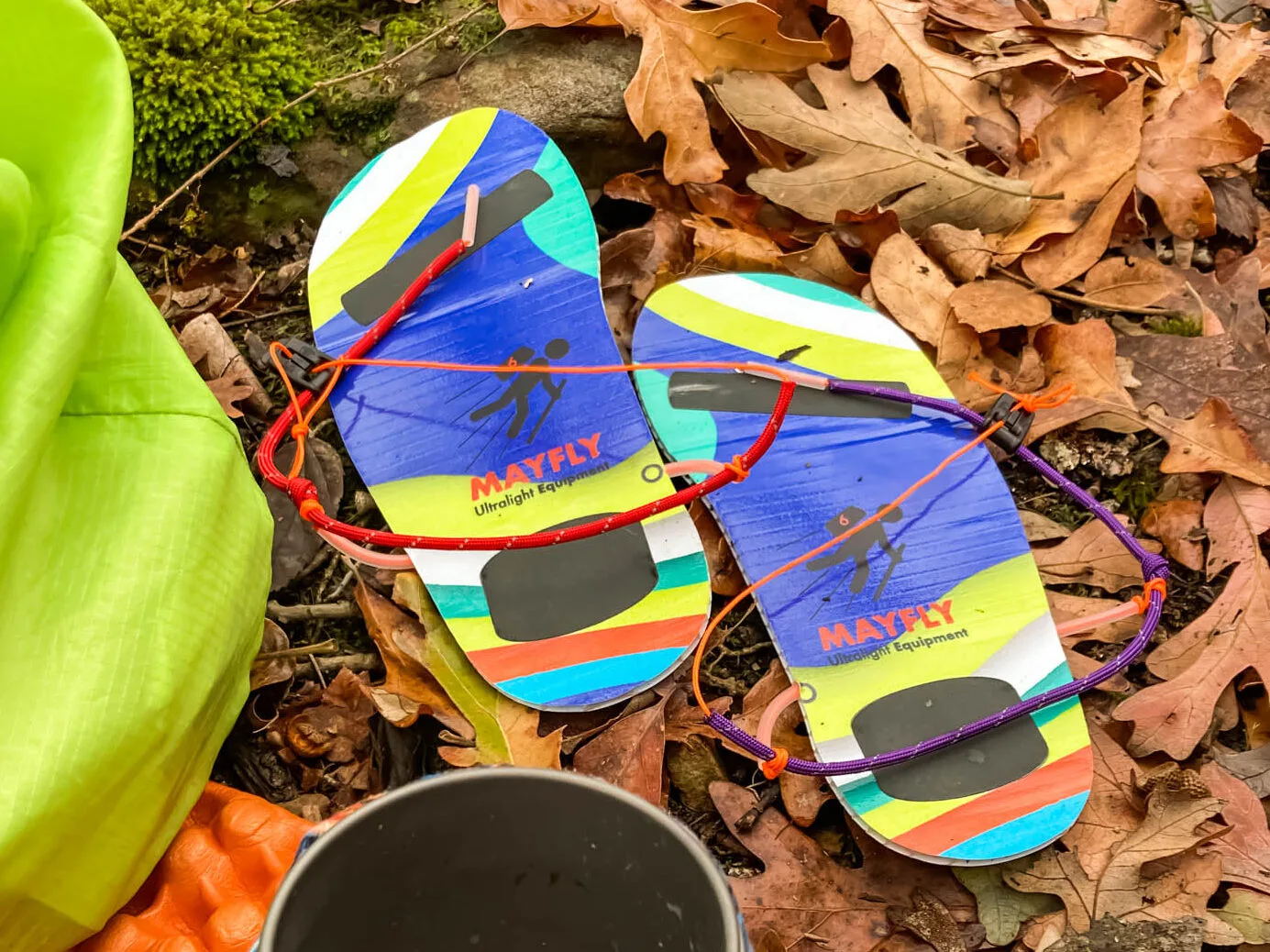 $38.99, 1.7 oz
I also bring along camp shoes when I go backpacking. As in, some sort of sandals that allow me to remove my boots when I get to camp, let my feet breathe, and possibly even change my socks. I usually take my Xero Shoes Z-Trail sandals, but while they are light, they're not even close to this light.
These Mayfly Equipment sandals are stupid light. That's because they're made of nothing more than a few pieces of thin cord attached to what is essentially a plastic yard sign. But they're surprisingly functional.
They stayed on my feet when I walked around camp, the sandpaper on the bottom kept me from slipping around too much, and most importantly, they weigh virtually nothing. But I don't love how disposable these are, as in, they are not recyclable and are strictly camp shoes: I don't think it would be advisable to hike in them or wear them as your everyday sandal.
So these get a surprising thumbs up if weight was the only thing keeping you from packing camp shoes, but if sustainability is your goal, I would recommend just carrying a few extra ounces for sandals that are going to last longer and that you are more likely to wear in real life. Find the Mayfly Equipment Nymph sandals here.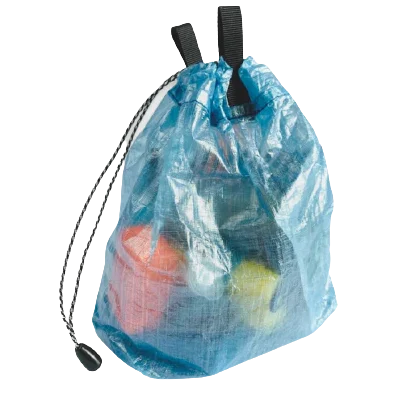 Ultralight Stuff Sacks: Allmansright – PASS
$17-$38, 4g to 1.25 oz
As for stuff sacks, I do love water resistant and ultralight varieties like these from Allmansright. So they get a thumbs up for functionality. But stuff sacks are another category of item where you're going to be cutting grams, not ounces compared to non UL varieties, so they're not the most important thing to update in your gear kit.
I've been using these stuff sacks that I made myself out of upcycled fabric for years, and they work just fine. If it ain't broke, as they say. Find Allmansright stuff sacks here.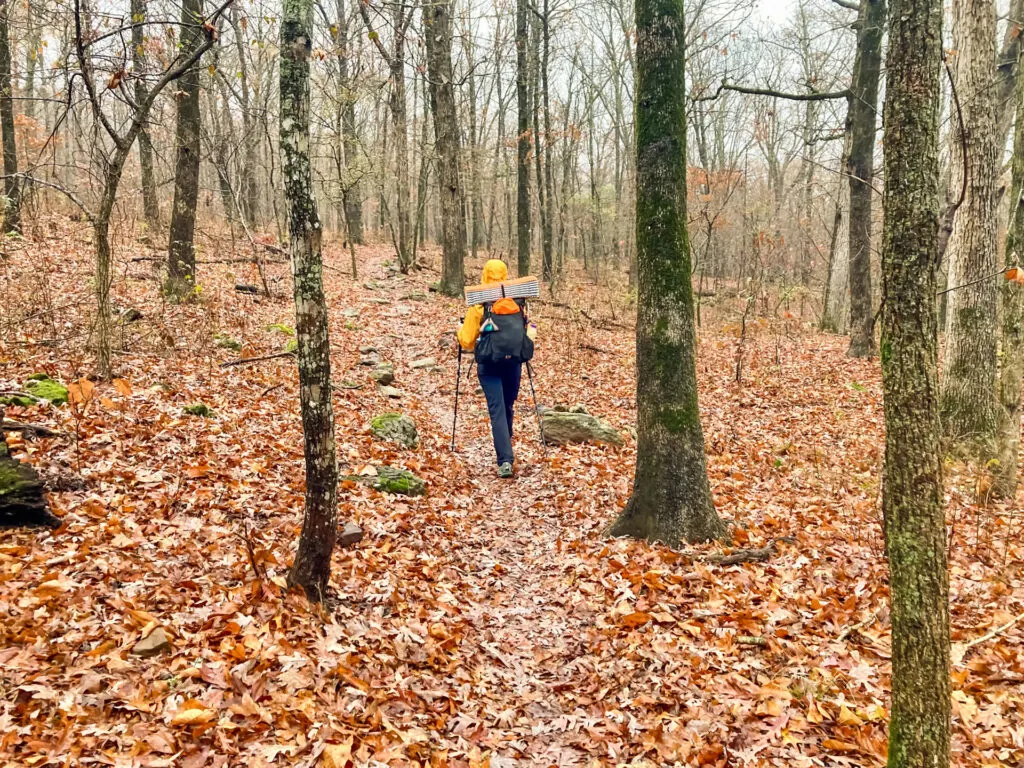 Bottom Line: Ultralight Backpacking Gear Kit
So that's it, guys. My ultra ultralight kit put to the test. Would I carry this kit again? Absofreakinlutely. With maybe one or two adjustments. But the big stuff? It all performed beautifully. And I didn't feel like I was giving up much of anything. Not that I couldn't live without, anyway.
So there you have it. Ultralight backpacking kits for the win! Want more ultralight backpacking tips? Check out this post!
Do you have other ultralight gear that you're absolutely obsessed with? Or a brand you think we should test out next time? Or do you think ultralight backpacking is the most ridiculous thing to be invented since crocs? Either way, let us know in the comments below.
Then pack light and get out there and wander on.
•
This post contains affiliate links, which means purchases you make after clicky-clicking may help support Terradrift! But don't worry! You won't pay a dime more for your dope new ultralight outdoor gear.
Alisha is a freelance writer and photographer based in Austin, TX. She loves her tiny house, vegan food and experiencing the community of travel in far away places. She's also pretty sure she's addicted to coffee. alishamcdarris.com