We freaking love hiking sandals here at Terradrift. (OK, I love hiking sandals…Josh is less obsessive than I am.) If given the opportunity, I will always hike in sandals, kayak in sandals, wander around town in sandals, travel with sandals…If it's warmer than 65ºF, you better believe I am in adventure sandals. Even in the southwest where spiders, snakes, and cacti abound, you'll still find me in hiking sandals.
So you better believe I've tested out a few of them and have some opinions. So whether you're an avid sandal adventurer or just looking for the perfect pair for close-to-home activities, we tested 6 of the best hiking sandals on the market and broke down the pros and cons of each to help you figure out which ones are right for you. (Bonus: They're all sustainable and vegan, too!)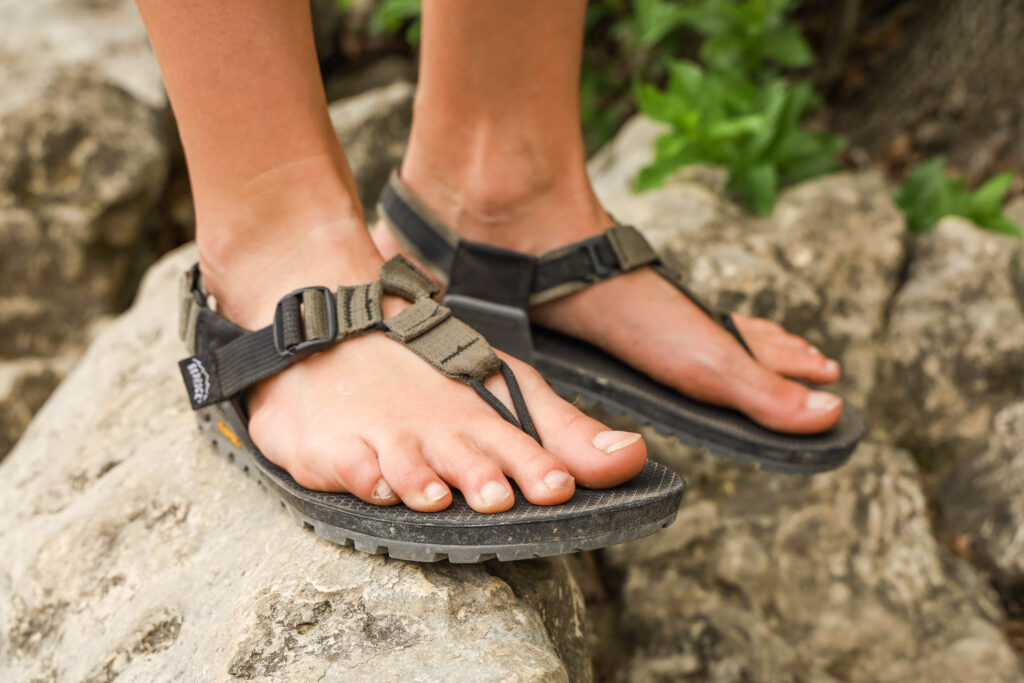 Bedrock Cairn Sandals
Bedrocks may be the closest thing to a Goldilocks hiking sandal that exists. They feature aggressive tread with deep lugs, a sole that performs on wet and dry terrain, and they're highly adjustable while still being fairly light, packable and minimalist.
These have frequently been my go-to sandals when I can only pack one pair of sandals.
That said, I don't love the sturdy thong bit. You know, the strap that goes in between your toes? Yes, it helps the sandals feel super secure on your feet, but no matter how hard I tried, I couldn't get them to stop irritating the spot between my toes.
Now, that's largely a personal problem. Maybe my toes are just too short. I mean, have you seen my feet? That's entirely possible.
But honestly, other than that, these sandals are great. They do it all, plus are durable and sustainable. As in, Bedrock offers a Rock Solid warranty that lasts for the life of the soles and a repair program so you can fix your kicks instead of buying brand new ones. Yup, the shoes are re-soleable and the straps are replaceable.
Check out our full review of the Bedrock Cairn sandals here and get yourself a pair of Bedrock Sandals here.
Pros
Sturdy
Aggressive tread
Pro versions feature sticky rubber perfect for wet rocks and trails
Super secure on your feet
Re-soleable
Do-it-all sandal
Easily packable
Highly adjustable
Cons
Toe thong might be irritating for some
Not super flexible
The footbed isn't super squishy or comfortable
There's no arch support
Who they're for
Bedrock Cairn sandals are perfect for outdoorists who don't require a lot of under-foot support or cushion. They're rugged, durable, functional, repairable, and can handle any terrain, plus have a slim profile so are packable and great for travel.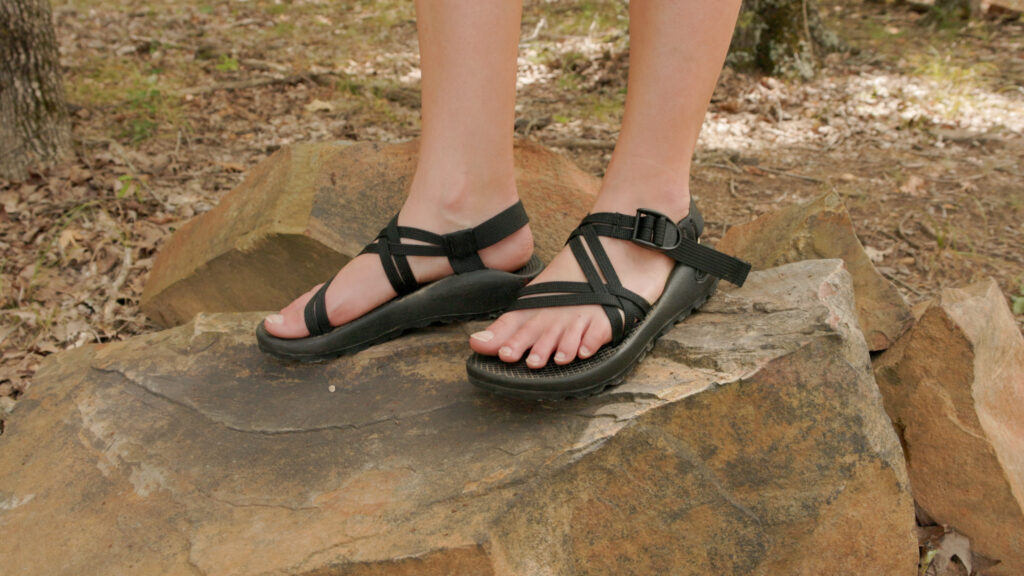 Chaco Z/Sandals
Chacos were our first pair of hiking sandals ever and they're very popular. And for good reason: they're sturdy, durable, and you can customize the fit. See, all these straps go through the footbed so that they're all interconnected and you can adust them all to really dial in the perfect fit.
There are a few different syles of this flagship Z-sandal, including a few with a toe loop. I like it without, but that's just me.
Now, Chacos are dense and rugged, meaning they're not light, but they can handle some rugged terrain without causing your feet a lot of fatigue. They're also very supportive. As in, they've got some serious arch support and are really designed to cradle your foot. Whether that's a good thing depends on your preferences. I like barefoot style shoes, so Chacos seem really hefty and clunky.
But, like I said, they can handle any type of terrain–rocks, dirt, mud, asphalt, you name it–without having to be so aware of where you're planting your feet.
Plus, the straps are made of recycled plastic bottles, and Chaco offers a Repair, Rewear, ReChaco program to fix or replace worn or damaged soles, webbing, you name it. Find the whole line of Chaco Z/Sandals here.
Pros
Sturdy and supportive
Solid tread
Thick sole protects feet from getting fatigued on uneven terrain
Super secure on your feet
Re-soleable
Highly adjustable
Customizable
Cons
Heavy
Not flexible
The footbed isn't super squishy or comfortable
There's no arch support
Who they're for
People who want or need arch support, aren't worried about packability or weight, and want a sturdy sandal with a rugged build made to last. (Also people who like to wear socks with sandals and enjoy made-up words: socks with Chacos are colloquially referred to as sockos, lol.)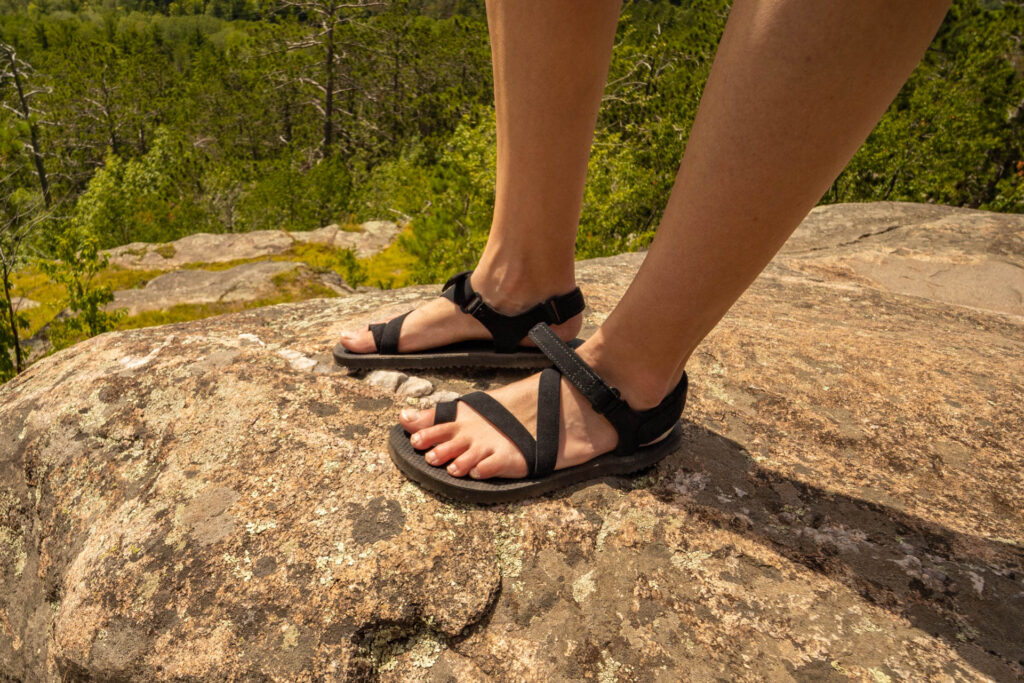 Shamma Sandals TrailStars
Shamma Sandals is a small cottage brand (aka: small business) that makes all their sandals in the U.S. They have several styles available, but the TrailStars caught our eye because they're part of Shamma's performance line, aka: they're designed for hiking (plus they're one of the leather-free vegan options).
The Trailstar Alphas, which we tested, have a 12mm sole thick enough to offer protection when hiking around rocky terrain, but are still super minimalist. That said, the TrailStars Maximus offer a thinner sole–just 9mm–if you really want that barefoot feel. The Trailstars Omega features a 15mm sole.
Now, the soles may not look super tractiony, but the sticky Vibram rubber does the job nicely. And the UltraGrip footbed keeps your foot from sliding around and I found they fit well on my narrow feet.
The straps are simple, but fully adjustable as they're all connected through the sole of the shoe, just like with Chacos, and the addition of that toe loop really helps keep your foot in place.
As for sustainability, Shamma offers a repair and replacement program to reduce waste and extend the life of their sandals. Plus they re-sell used sandals if they can instead of just throwing them out. Order a pair of Shamma Sandals TrailStars here. And use code TERRADRIFT10 for 10% off!
Pros
Secure on your feet
Sticky rubber
Available with thinner barefoot style soles and thicker more protective soles
Re-soleable
Highly adjustable
Made in the USA
Cons
Only available in one color

The footbed isn't super squishy or comfortable
No arch support, which some might be bothered by
Some might find the toe loop irritating
Who they're for
Those who prefer minimalist, versatile footwear that is secure on your feet on trails but also looks good with casual clothing when wandering around town. They're also very packable, making them perfect for travel. Bonus: because they come in two sole thicknesses, there's an option for barefoot enthusiasts and those who prefer more traditional footwear, but don't need a slushy footbed or aggressive arch support.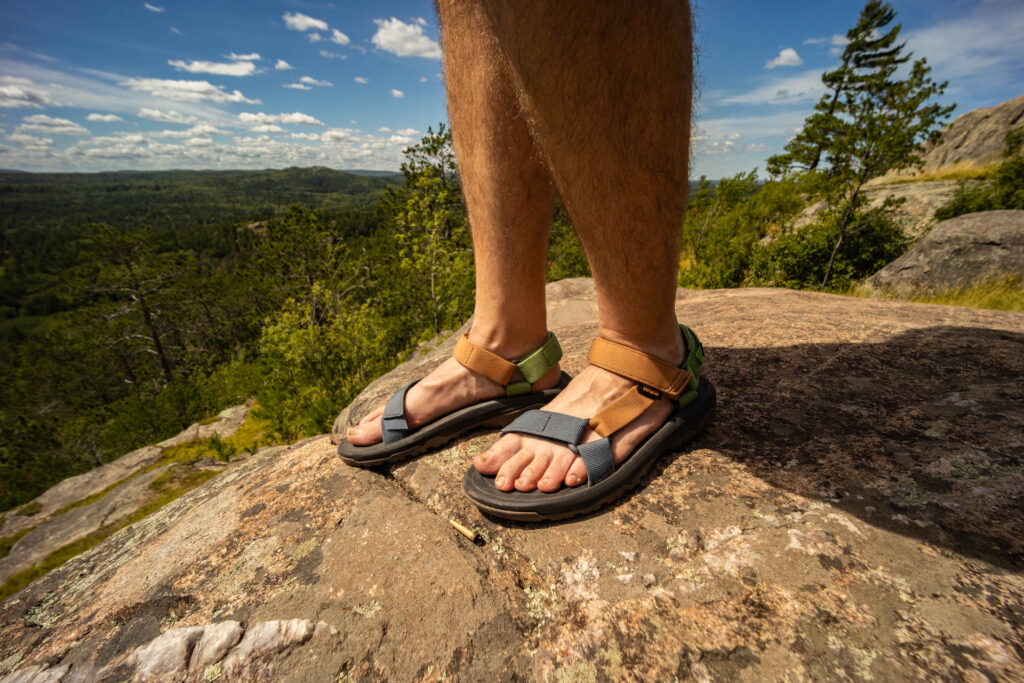 Teva
First things first: yes, it's TEH-vuh not TEEE-va. And this is another very popular adventure sandal that tons of people love, and for good reason: They're comfortable, the style has absolutely made a comeback, and they're a solid do-everything sandal.
We tested the Hurricane XLT2 and the Universal Trail sandals. Both are made of partially recycled materials–the straps are Repreve, which is made of recycled bottles–AND are recyclable, which is huge.
You do have to send them into Teva to be recycled, you can't just throw them in your curbside bin, but they work with the recycling brand Terracycle to turn sandal materials into stuff like running tracks, playgrounds and more.
They're also working on creating new sandals out of materials from old sandals, so that's gonna be really exciting when that happens. That's circularity and it's a huge deal when it comes to reducing waste and eliminating the need to create new virgin materials.
The sandals all feature a super comfy footbed, though the Hurricanes are a bit less cushy as they're designed for more dynamic water- and land-based adventures, have arch support, and wide, comfy straps. The Hurricanes are more fully adjustable than the Universal Trails, so take that into consideration when choosing a pair. That said, the Universal Trails have more comfy material around the straps to help prevent rubbing and chafing.
Find the Hurricane XLT2 here and the Universal Trail for men here and women here.
Pros
Good tread
Super cushy and comfortable

Recyclable

Trendy

Available in a wide variety of colors

Wide, secure straps
Versatile: seamlessly transition from town to trail
Cons
Not as fully adjustable as other hiking sandals
The footbed on the Universal Trail sandals can be slick when wet and gets sweaty easily
Not super packable
Who they're for
People who prefer leisurely day hikes to aggressive ascents and who prefer a sandal that can go from trail to music festival without missing a beat. Plus folks who prioritize comfort and support over minimalism or packability. Also, because there are so many colors and patterns available, you can get a pair that suits your tastes and style.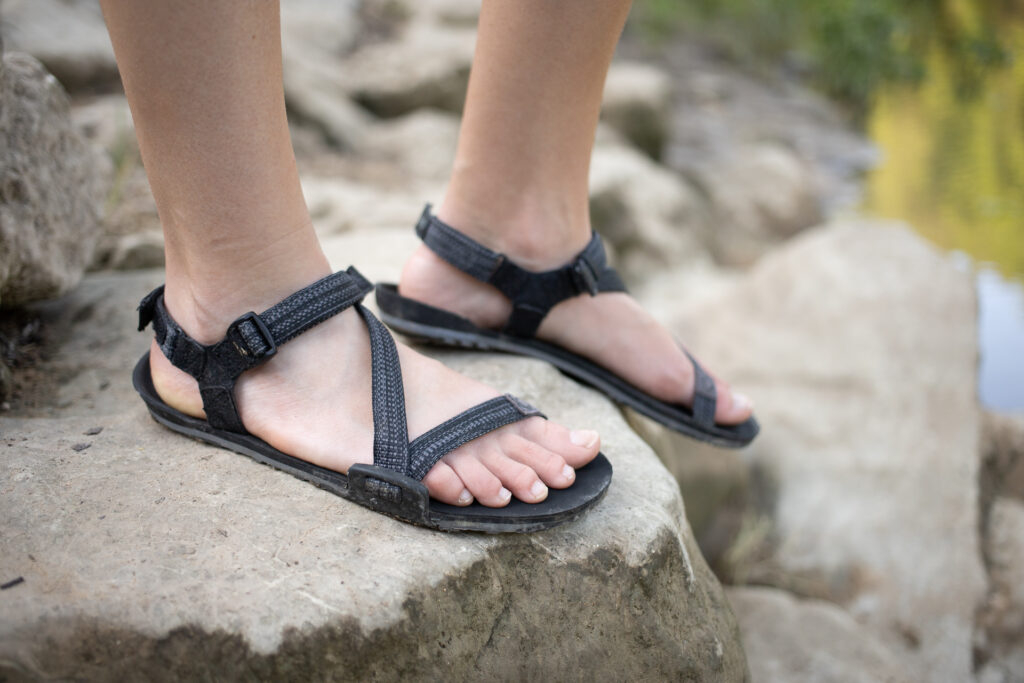 Xero Shoes Z-Trail EV
I love barefoot sandals and am a big fan of Xero Shoes in general, so these Z-Trails are my most frequent go-to sandals for hiking, water activities, and travel. They weigh nothing, take up almost no space in a suitcase or backpack, and look decent with hiking shorts or more casual wear.
But these, together with the more minimalist Z-Treks, are definitely barefoot sandals and take some getting used to if you're used to more supportive, built-up footwear. There's no arch support or cushioning here. But that means you can really feel the ground beneath your feet when you're walking, which I prefer.
I've taken these backpacking as my camp shoes, as my only pair of sandals when traveling internationally, done very aggressive day hikes in them, and the soles are still in pretty good shape a year later for how frequently I wear them.
That said, Xero offers a 5,000 mile warranty on their sandal soles, which means if you wear out the soles prematurely, they'll repair or replace them for a fraction of the cost of buying a new pair. Bonus: they come with a 2-year warranty against manufacturer defects. That's a long time in the world of shoes.
They're also fully adjustable as all the straps are connected so you can dial in the perfect fit. Note: the new Xero Z-Trails (the blue pair in the video) have a slightly more aggressive tread than last year's model (the black and gray pair), making them even more durable, but still highly minimalist.
Find the Z-Trails for women here and men here.
Pros
The most easily packable and lightest sandals on this list
Super flexible

Come with a warranty

Stylish enough to wear around town and on trail

Available in several colors

Highly adjustable straps
Secure on most trail surfaces
Cons
Some may not prefer the minimalist barefoot-style
Doesn't lock in your foot as well as some other sandals on this list
Not supportive or cushioning
Who they're for
These are for barefoot and minimalist shoe enthusiasts only, or those interested in transitioning (which I've done and regret nothing). They're perfect for anyone looking to pack light when traveling, plus make excellent ultralight camp shoes when backpacking. Check out our reviews of some of Xero's other shoes here or their boots here.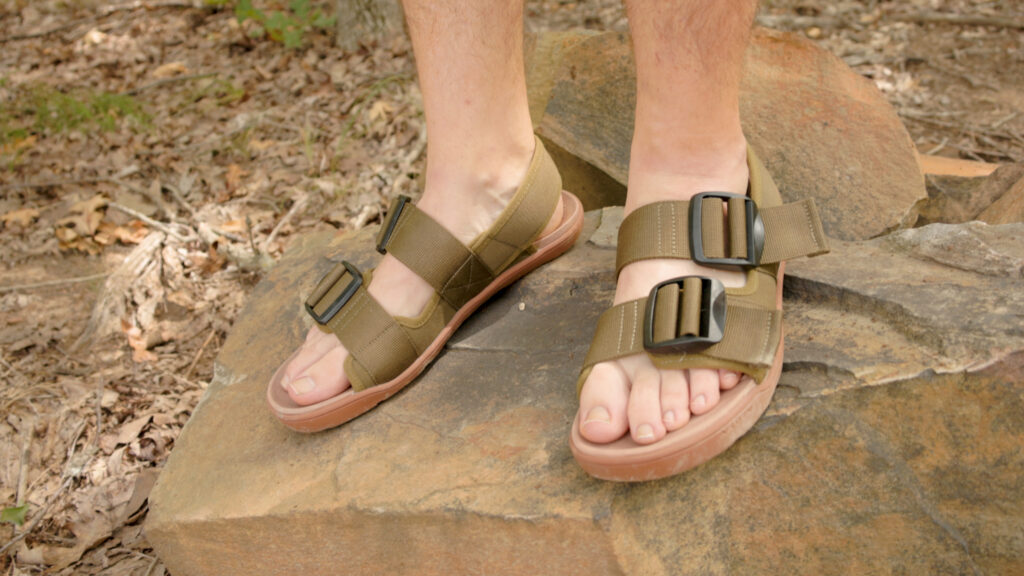 Astral
Now, if your outdoor adventures tend to involve more water than mountain summits, might we recommend the Astral Webber? The straps and webbing on these puppies are made of 100% recycled materials and the sole is a nice, grippy, flexible rubber.
They're zero-drop, and while not super minimalist, are soft and flexible enough to feel like you're still in contact with the ground. Basically, they're comfy without being over-built. The footbed is more or less the same as the brand's popular Loyak shoes, which I have (and reviewed here) and find very flexible and comfortable.
The soles are siped because they're made for water-based activities, but they're just as secure on rocks and dry ground.
The straps are secure, so no need to worry that you might lose a sandal in the drink. But only the front two are adjustable, not the heel strap, so buying the right size is extra important since you can't tighten or loosen that back piece of webbing.
The buckles are also Bluesign approved, and the sandals come with a lifetime warranty, so, bonus. Find the Astral Webber sandals for women here and men here.
Pros
Fairly easily packable and lightweight
Flexible

Come with a warranty

Available in several colors

Several adjustable straps
Comfy but not over-built
Cons
Not super supportive
Not all straps are adjustable
Not as stylish as other sandals on this list
Who they're for
Anyone who spends more time in, on, or around water than on trails (though they make decent hiking sandals, too). Rafters, kayakers, swimming hole enthusiasts, anyone who prefers a comfy, flexible, dedicated water sandal will likely love them.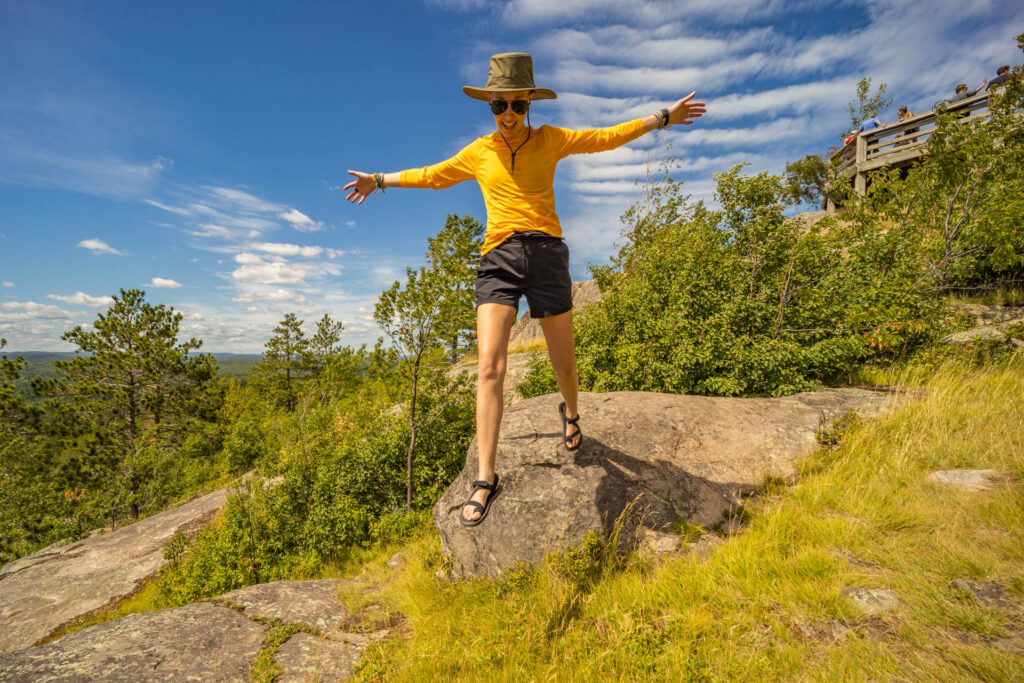 Bottom Line: Hiking Sandals FTW!
Hopefully we've helped you pick out the very best hiking sandals for you and your adventures. Obviously adventure sandals aren't for everyone, but if you're looking for a solid pair that can tackle trails in addition to the urban jungle, you can't go wrong with just about any of these. So try out a few, find the ones that are perfect for your feet and adventures, and wander on in comfort!
•
This post contains affiliate links. That means you help support Terradrift when you clicky-click and make a purchase. It won't even cost you any extra! Win-win!
Alisha is a freelance writer and photographer based in Austin, TX. She loves her tiny house, vegan food and experiencing the community of travel in far away places. She's also pretty sure she's addicted to coffee. alishamcdarris.com