Looking for a minimalist hiking boot that offers support where you want it and a minimalist, barefoot feel where you don't? We got you. This is the newly updated Xero Shoes Xcursion Fusion and it's a barefoot-style hiking boot that's built for adventure.
So here's the thing. I (Josh) am not a big barefoot shoe fan. They're okay in certain situations, but for the most part, and especially when it comes to serious hiking, I like a mid- or high-top boot with plenty of cushion.
But despite my reticence, I started trying out some minimalist shoes this spring (like the Merrell Trail Glove for both running and hiking), and long story short, I started to kinda like them after about a month of use. Makes sense, because a month is about the amount of time they say it takes for you to get used to barefoot style shoes.
In any case, after that mostly positive experience, I thought I'd try out a true hiking boot of the barefoot variety, namely the Xcursion Fusion from Xero Shoes. Xero does have several hiking boots and shoes in its lineup, so why specifically the Xcursion Fusion? Well, mostly because it's waterproof. And when you're hiking or backpacking and have a few creek crossings here and there, it's nice to have that feature. But before we get into what I thought of these boots, let me break down the details for you.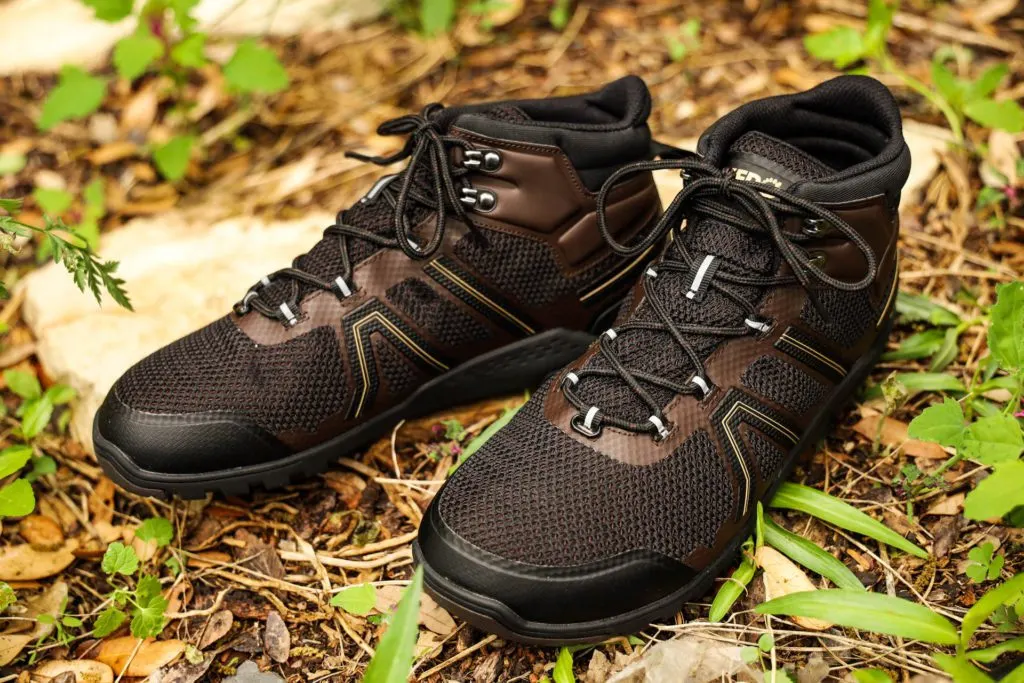 Xcursion Fusion: The Deets
Because we know you want features and specifics, here they are:
The Xcursion Fusion is a technical hiking boot
A true barefoot shoe with no arch support and a zero drop heel
Includes a thin, removable foam insole and an embedded foam layer for extra comfort on the trail
Large toe box allows toes to naturally splay
Rugged toe cap
Mesh upper
Heel loop on the back to help you get the shoes on
5.5 millimeter sole
Super flexible
Promotes natural foot movement and posture
Integrated, adjustable midfoot and instep straps
Waterproof
Lightweight
Vegan
Allow me to expound. Starting with the whole barefoot aspect. Those who get it know, but if you're new to the whole minimalist footwear thing, without getting too deep into it, studies suggest that ultra cushy, "supportive" shoes actually DO NOT protect you from injury. In fact, barefoot-style shoes may actually be better for your feet, spine, knees, and ankles as they promote more natural movement. As in, your feet can move and flex the way they're actually designed to.
A barefoot sole also lets your feel and your feet conform to the ground beneath your feet, aiding in stability. Now, the Xcursion Fusion's outsole is slightly thicker than some of the brand's other shoes, but still plenty flexible and the 3.5 millimeter lugs in a dual-chevron tread pattern are nice and grippy, helping you stay sure-footed on the trail.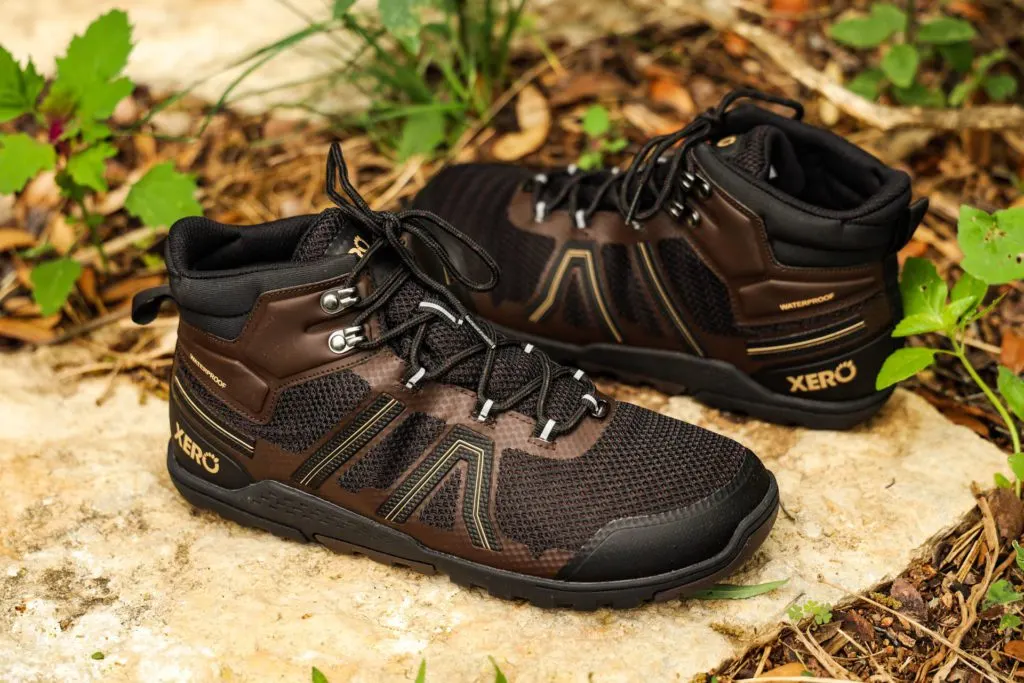 The boot also has integrated, adjustable midfoot and instep straps, which are hiding behind the outer layer of the shoe, meaning the straps move with the shoe when you're tightening your laces, bringing the sides of the shoe in for a more secure fit.
Probably the biggest selling point of this boot, though, is that it's waterproof. Inside of the shoe is a seam-sealed inner bootie that keeps your feet nice and dry. Plus there's a water resistant membrane right behind the outer mesh, so water beads right off. The boot's tongue is gusseted, too, which means water can come pretty high up the boot without spilling in.
And these are probably some of the lightest hiking boots you'll ever own. My men's nine and a half weighed in at 13.3 ounces per shoe.
The shoes are vegan-friendly, of course, and they come with Xero Shoes' 5,000 mile sole warranty — which means if your sole wears out before you've worn them 5,000 miles, the brand will make it right by offering the same shoe at 60% off. Plus there's also a 24 month manufacturer's warranty, so you can trust that you won't wear through the shoes prematurely, despite how minimalist they are.
And having a hiking boot that lasts that long is a big win for sustainability, despite Xero Shoes not really having any other significant sustainability initiatives. So hopefully the shoes will actually last 5,000 miles. If I manage to hike that much in them, I'll come back and let you know how it goes.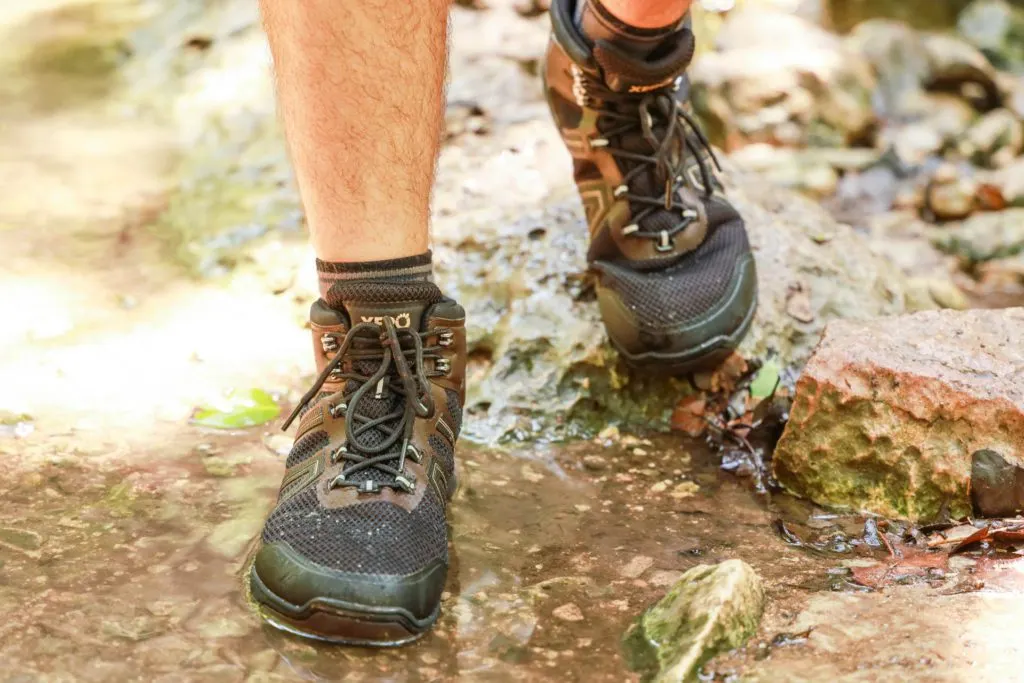 Xcursion Fusion: The Review
But let's get into what I thought of the boots.
Surprisingly, since I tend to prefer heftier, cushier boots, I liked these right off the bat. They felt extremely natural to walk around in with that nice big toe box, and I didn't experience any pressure or rubbing, which is a plus and meant I could hike in them right out of the box.
I found the insole and padding to be just right. It's very minimal, but still enough to make hiking feel great. My first time wearing them I went on a 5-mile day hike with significant elevation gain and very rocky terrain, and I have to say, I didn't miss the extra padding in my old hiking shoes at all.
Of course, If you do want some extra padding, you could always just get yourself some extra plush hiking socks.
One thing I was concerned about was the thickness of the sole. I've worn Xero sandals before and walking on rocky terrain was fairly uncomfortable because they are so thin. Fortunately, these were thick enough to eliminate any pressure points when walking over roots and sharp rocks, but still thin enough that you could feel the earth beneath your feet. To be fair to the sandals, though, they were my first introduction to barefoot shoes, and I could've broken my feet into them a little slower.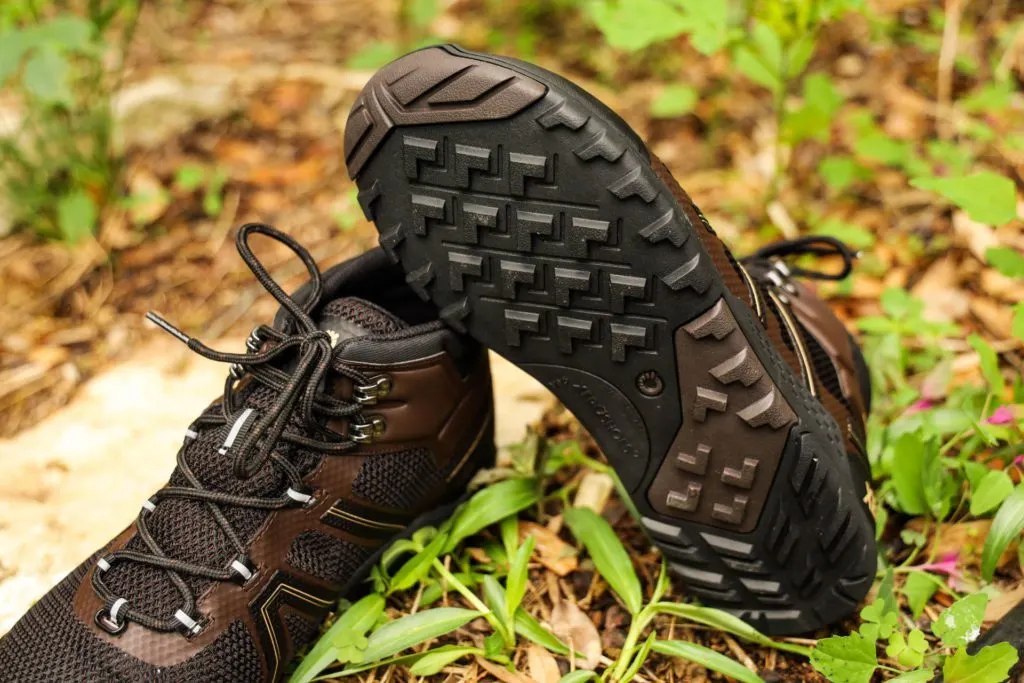 The chevron lugs made walking on rough terrain feel very secure, and while I did slip around a little bit on wet rock, it wasn't anything out of the ordinary from the vast majority of boots I've tested.
When it comes to waterproofing I was thoroughly impressed. Water beads off the mesh upper just as advertised and after splashing around and holding my foot in the water for maybe 20 seconds at a time, there were no leaks to be found. And unlike some waterproof boots that get extremely hot, I didn't have any breathability issues and the boots stayed comfortable throughout my hike.
The one issue I did experience was my toes sliding to the front of the boot when walking down hill. Which, frankly, is kinda my fault for buying the wrong size boot; Xero recommends going up a half a size when buying these boots and I didn't. But if you did and your foot still slides forward, you can always try some problem-solving lacing techniques.
The toe box is, of course, a lot wider than conventional shoes, so if you have narrow feet like me, Xero recommends buying the women's shoes and sizing up! Women's shoes are narrower than men's and so that should take care of the issue. Fortunately, they're all available in neutral colors, so no gender stereotyping here.
You have the option of black and an earthy brown, which, of course, look great with pretty much anything, and wouldn't look out of place with a pair of jeans on city streets, if you were so inclined. As for the women's boots, you have the option of black and a delightful spruce.
Bottom Line
And because sustainability is important here at Terradrift, it's worth repeating that the 5,000 mile warranty helps keep these boots out of a landfill for much, much longer than your average pair of hiking boots. Because, of course, every pair of shoes that gets chucked in a landfill contributes harmful greenhouse gases as they slowly break down over decades, even hundreds of years. On top of that you have all of the materials and emissions related to making new shoes which isn't pretty, either. So yeah, the longer a pair of hiking boots lasts, the better.
And while long-lasting shoes are great, we'd still like to see Xero start using more recycled materials in their products or even become carbon neutral, but they're off to a good start.
Bottom line, the Xero Shoes Xcursion Fusion is an extremely comfortable, well-built boot, perfect for taking out on the trail, wading across creek beds and hiking over rocky terrain, with the added benefit of being vegan, sustainable and long-lasting.
Check out the men's here and the women's here. Now get yourself some comfy, sustainable hiking boots and wander on.
•
Looking for something less robust? Check out our review of the Xero Shoes Mesa Trail here. Or check out our list of other vegan hiking boots here.
Josh is a freelance video producer, DP and editor based in Austin, TX. When he's not out exploring the world, he loves talking movies, tech, and travel. Check out his website, joshmcdarris.com