I hate shopping for new hiking boots and shoes. I don't know if my feet are weird or I'm too cheap or too picky, (it's likely a combination of all of the above) but add in the necessity that my hiking boots contain no animal products, and finding footwear that fits the bill is a veritable nightmare. Fortunately, we've done some of the legwork for you and found 20+ of the best vegan hiking boots and shoes so you can wander on confidently and cruelty-free. You're welcome. And for help finding hiking boots that fit perfectly, check out this post.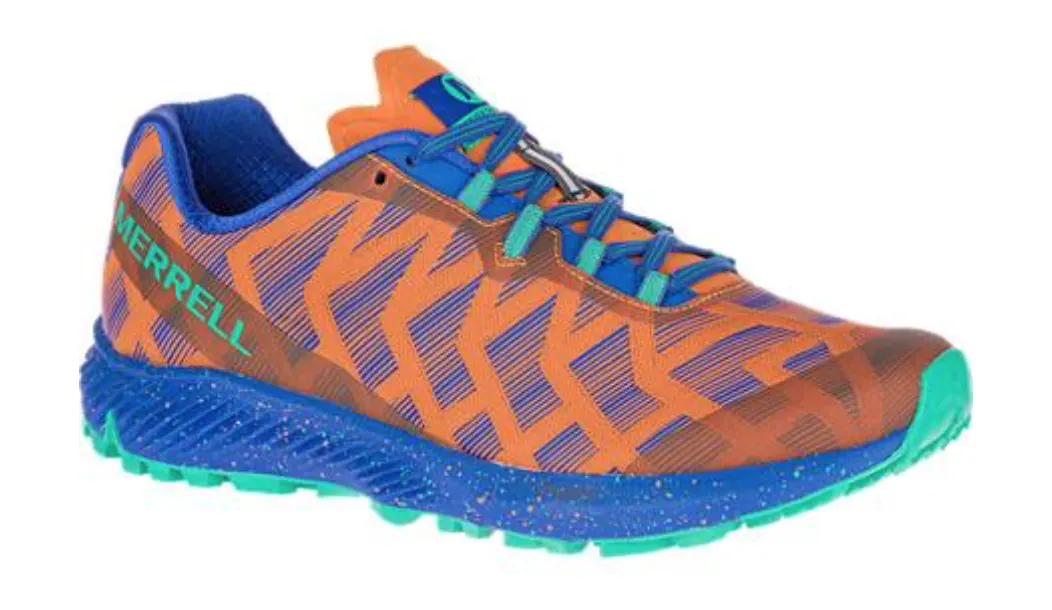 Merrell has tons of vegan hiking shoe and boot options for men and women, all of which you can find here thanks to their easy search filter tool, which has a vegan-friendly search option! For a barefoot/minimalist option, check out the Trail Glove for men women (read our review of the Trail Glove 6 here). But there are also trail runner-type shoes, supportive boots, and everything in between.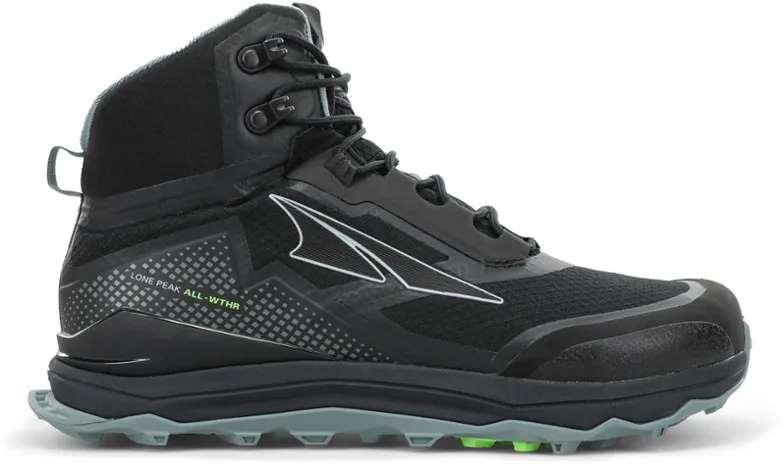 Nearly all of Altra's shoes are vegan (except for the Cayd, Smith, and Commute styles, which aren't hiking boots), but the Lone Peak is the heartiest boot. Altra specializes in hiking boots for women but does have a few men's styles. The Lone Peak All-Wthr mid-rise boot comes in Men's and women's and is waterproof ($170). There's also a low-rise version that more closely resembles a trail running shoe in men's and women's. They're in the $130 range.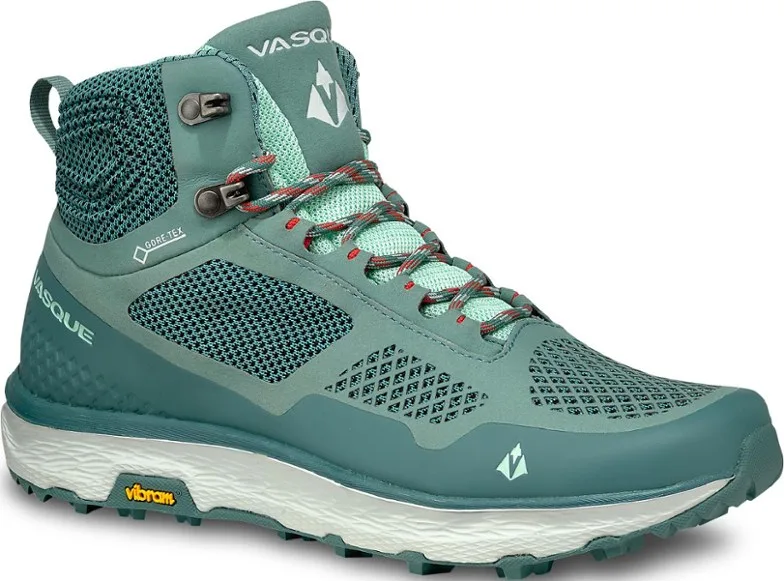 Vasque Breeze LT GTX
Need a supportive hiking boot that's super comfy right out of the box? The Vasque Breeze LT GTX may be the shoe for you. It's also the lightest version of the Breeze family of boots ever, so these kicks won't weigh down your feet. The ankle support is squishy, the arch support is robust, and the shoes are waterproof to boot (thanks to the GoreTex). Plus, they come in a bunch of color options for men and women ranging from subdued to stand-out. Find the women's version here and the men's version here. Prices are in the $180 range.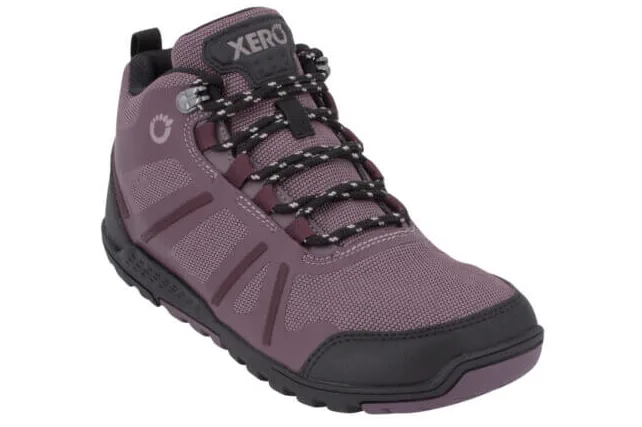 Xero Shoes
Xero is a barefoot style shoe brand making quality footwear for the minimalist set. And they have quite a few to choose from. In addition to hiking sandals, Xero offers many vegan hiking shoes, including the Daylight Hiker Fusion, Xcursion Fusion, the Mesa Trail and the Terraflex, all for men and women. If you prefer to feel the earth beneath your feet in a flexible, barefoot hiking shoe, these are the boots for you. Prices range from $100-$120.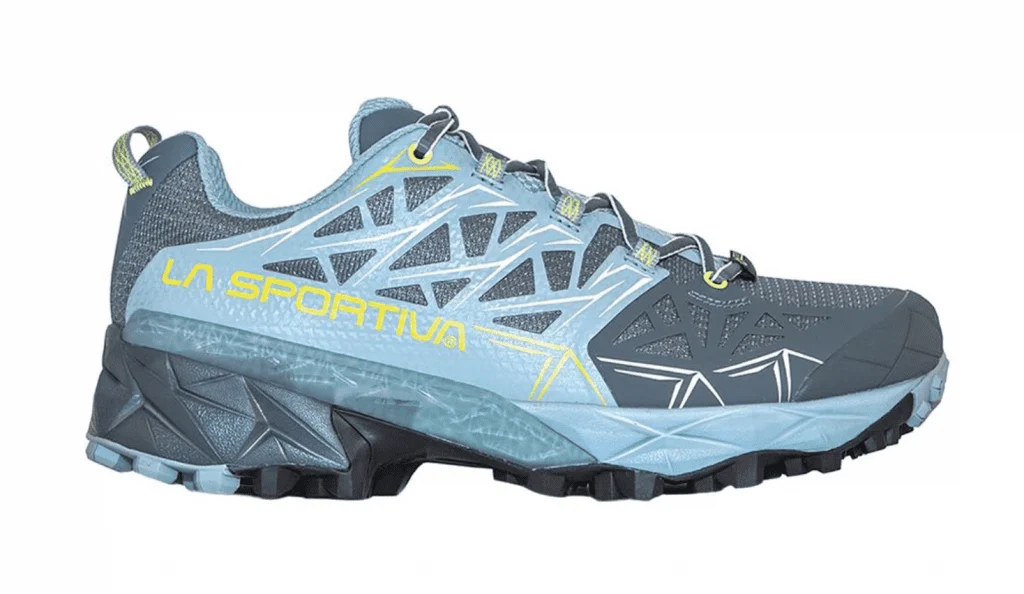 Available in Women's and men's, these are technically trail running shoes. But with an aggressive tread and a lightweight body, they are a solid option for those who prefer less bulk. Prices are around $100-$160. Check out our review of the shoe here. But fun fact about La Sportiva: all their shoes that don't contain leather are vegan! So go nuts! Check out the whole line on their blog and read more about their materials here.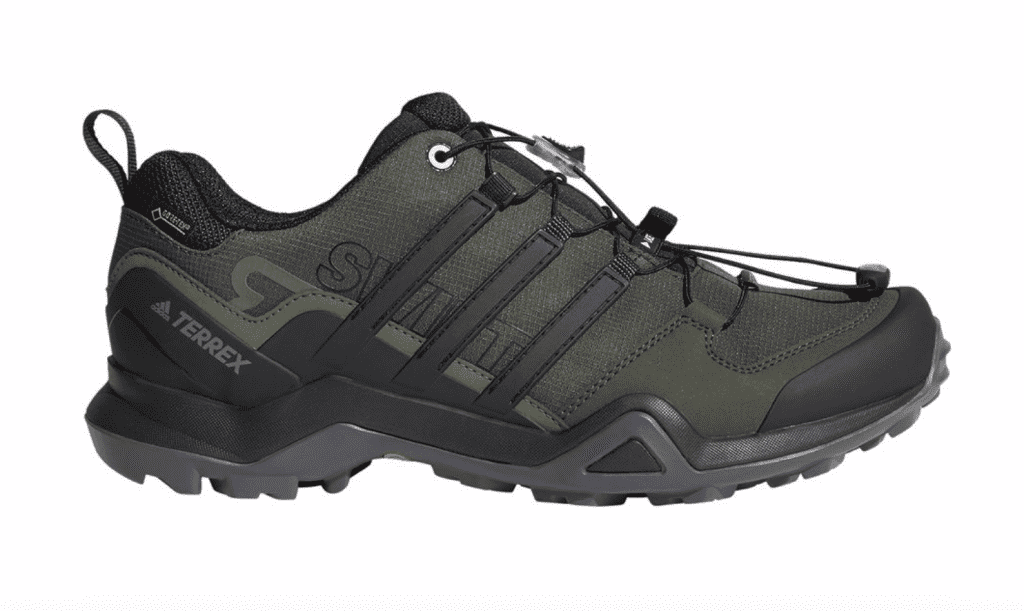 This hiking shoe is solidly built without a ton of weight and is vegan, too. It boasts speed-lacing, is waterproof, has rip-stop uppers, and excellent traction. Men's and women's versions are both available in low- and high-rise and are between $139-$170. Watch our video review here. *These are reportedly no longer vegan*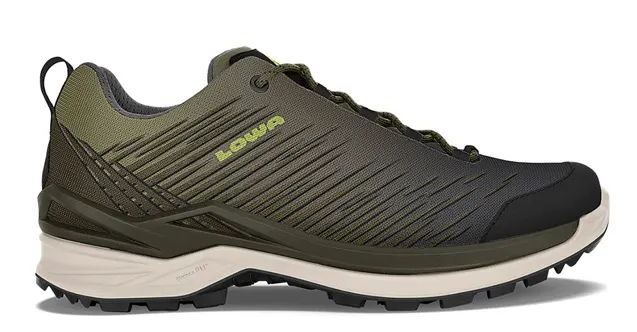 Lowa
Lowa also has a solid handful of vegan hiking boots to choose from. Including the Ferrox Pro GTX Mid, Maddox Lo, Vento, and Zirrox GTX Lo. There are mid-rise options as well as aggressive trail shoes, so whatever your preference, you're bound to find something that suits! They are in the price range of $165-200. Keep in mind that not all Lowa or GTX styles are vegan, but the Lowa site clearly states in descriptions which boots and shoes are vegan, so huzzah!
For a less bulky and more natural-feeling vegan hiking shoe, check out the VivoBarefoot Primus Trail FG shoe in men's and women's. It has speed-laces, serious flexibility (meaning it does great stuffed in a small bag when traveling), and is extra light on your feet, plus it's made from recycled plastic bottles. There's also a lower profile Primus Trail FG.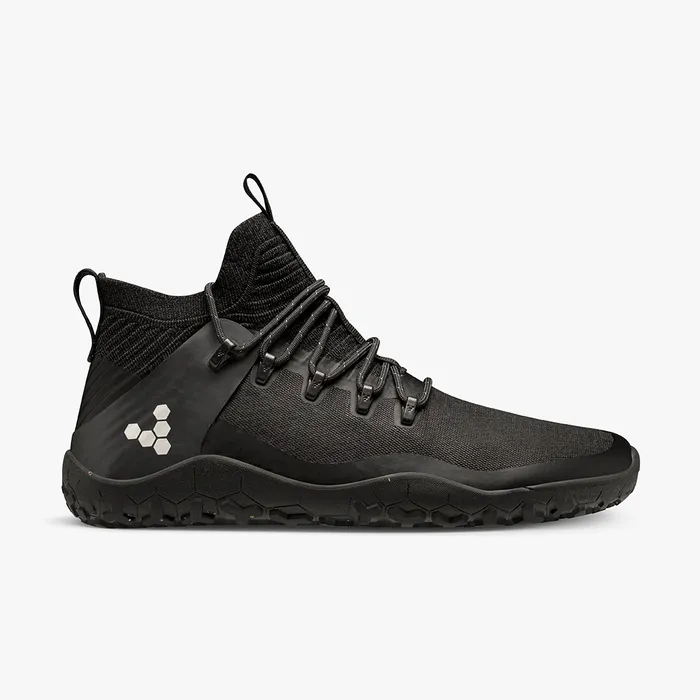 There's also the higher-rise Magna Trail shoe for men and women, which is also made partially out of recycled plastic bottles and looks darn good doing it!! Prices are around $210.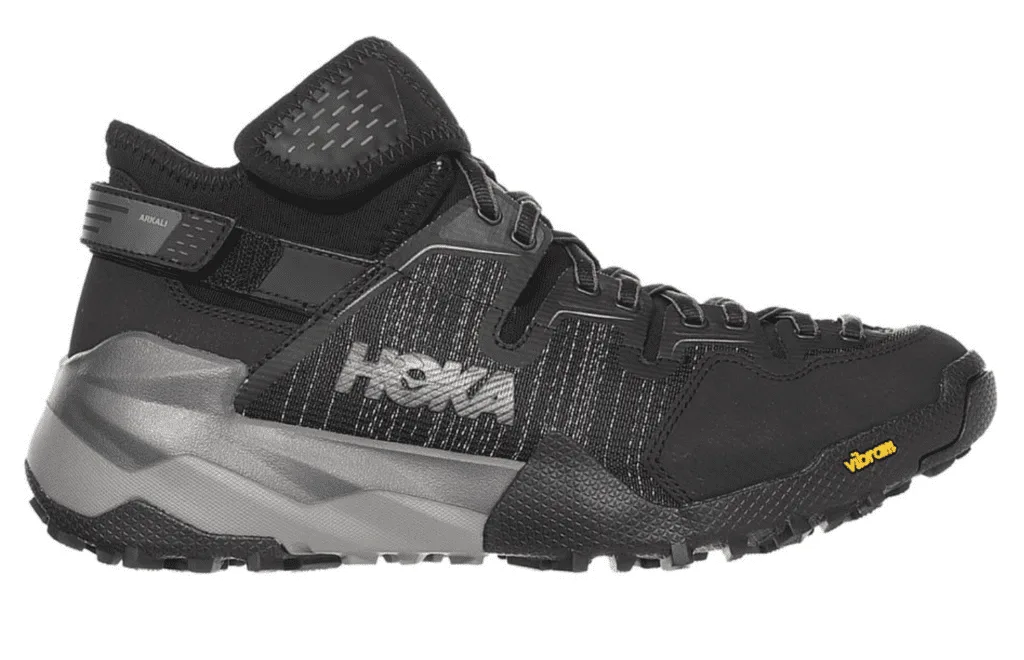 Hoka One One actually has quite a few models that are vegan, and the website will even tell you in the description if the shoes you're interested in are animal-free! But one of their top vegan hiking shoes is the Arkali. It's available in women's and men's versions and is a mid-rise with no waterproofing. It sits around the $200 mark.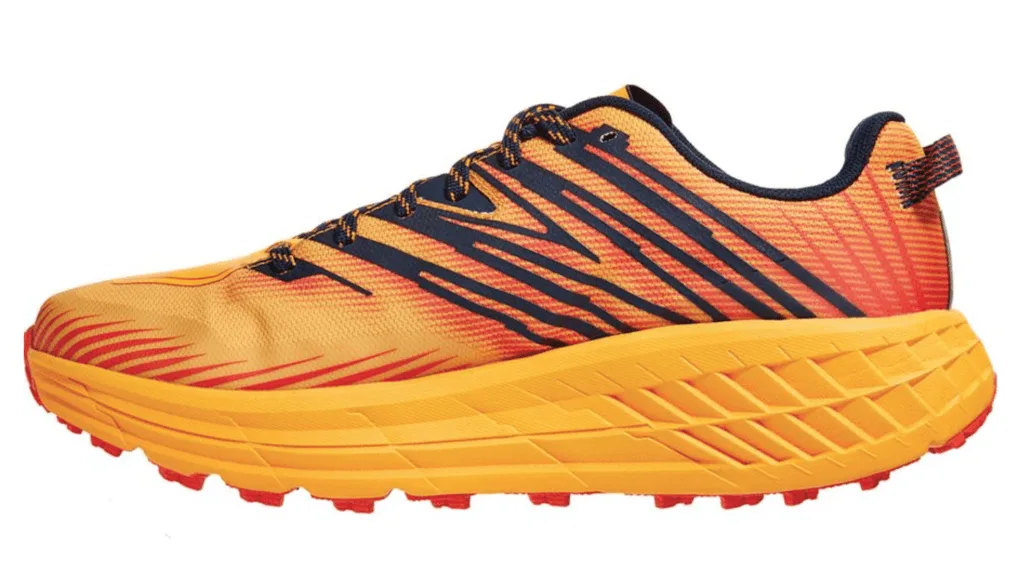 Hoka Speedgoat
Want the Hoka fit but in less of a boot-style? Try the Speedgoat. The Speedgoat 4 is available for men and women in a low-rise trail runner and comes in several colors. For a waterproof version, look no further than the Speedgoat 3 Waterproof in low-rise (men and women) and mid (for men). Exprect prices from $110-$170. Keep in mind that any Hoka versions with Gore-Tex (GTX) aren't certified vegan.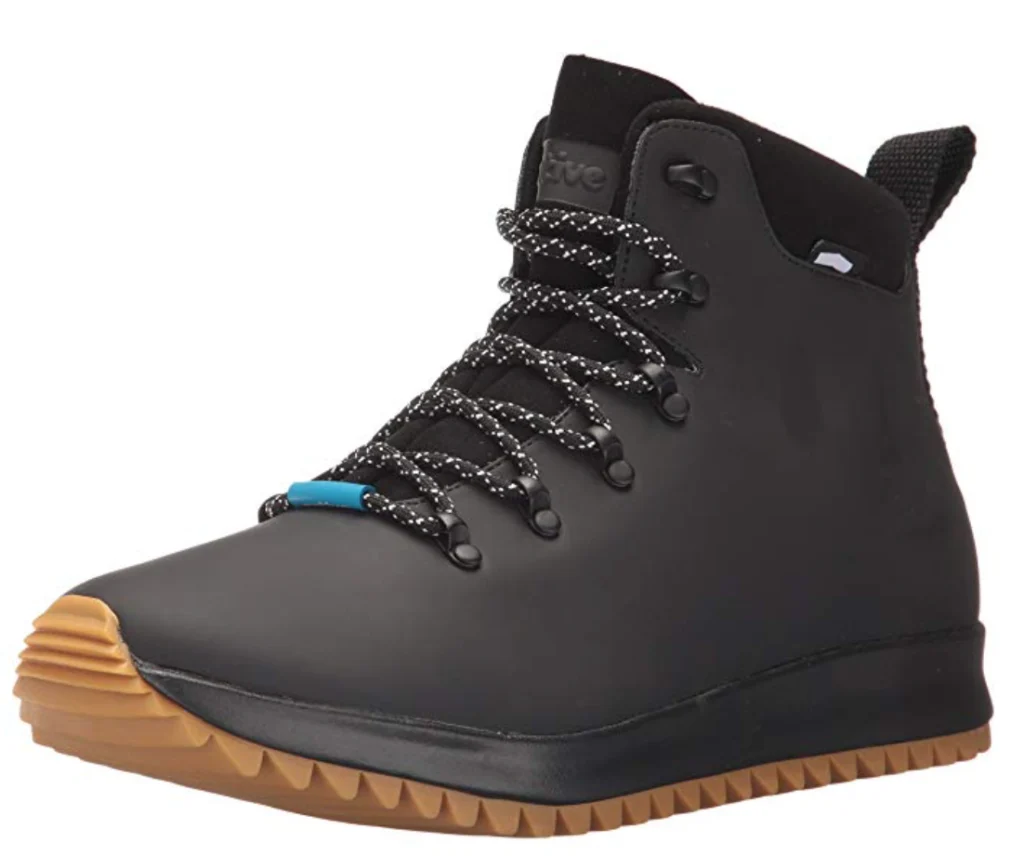 Other Vegan Brands
Of course, there are also several all-vegan brands that make hiking boots. Among them, Eco Vegan Shoes, Wills Vegan Shoes, and Vegetarian Shoes. Native is also an all-vegan shoe company and offers the Apex and Fitzsimmons Treklite, which are perhaps less for days-long treks and more for easy day hikes and urban exploration. These boots are light, water-resistant, and all-vegan. The Apex and Fitzsimmons Treklite both come in men's and women's, but don't always come in half sizes, so be warned.
Need some socks while you're at it? Check out these 6 Vegan Hiking Socks without wool and then learn how to fit your hiking boots properly with our beginner's guide to buying hiking boots!
Did we miss any brands or vegan hiking boots that you know and love? Share them so we can all shop happy (and cruelty-free) together! Wander on.
This post contains affiliate links.
•
Are hiking boots vegan?
Most hiking boots contain leather and therefore are not vegan. Some styles and brands that don't contain leather are not necessarily vegan as they often use glues made from animal bones.
How do I know if hiking boots are vegan?
If there's no leather, fur, or wool on a pair of hiking boots but you're still unsure if they're vegan, contact the manufacturer. Most brands will give you a detailed answer regarding which of their products are vegan and which aren't.
Are vegan hiking boots better for the environment?
Absolutely. The animal agriculture industry is a number one (if not THE number one) contributor to harmful greenhouse gasses and climate change. The manufacture of leather alone is highly resource-intensive and requires harmful chemicals and excessive amounts of water. Synthetics aren't perfect either, but they're much less harmful to the environment.
Alisha is a freelance writer and photographer based in Austin, TX. She loves her tiny house, vegan food and experiencing the community of travel in far away places. She's also pretty sure she's addicted to coffee. alishamcdarris.com