If you want to improve your balance on the trail, actually feel the ground you're walking on, strengthen your feet and feel the breeze on your hot toes, there's no better footwear for the outdoors than barefoot sandals designed for hiking and outdoor adventure.
In fact, I'm all in on barefoot shoes. I've interviewed experts about them, tested them, written about them, and can honestly say that 90% of my footwear is minimalist or straight up barefoot (I just love my Paladium combat boots too much to let them go). And perhaps the most beloved section of my shoe closet is the barefoot adventure sandals.
I hike in them, trail run in them, kayak in them, occasionally cycle in them, and wear them around town. They travel with me (they take up zero space in a backpack or suitcase), go to the beach, I bring them backpacking to use as camp shoes, and I've decided I generally just can't live without them.
So we tested a few pair and if you're on the lookout for the perfect pair for you and your adventures, let's find the ones! Here are our 6 favorite barefoot sandals for hiking and adventure.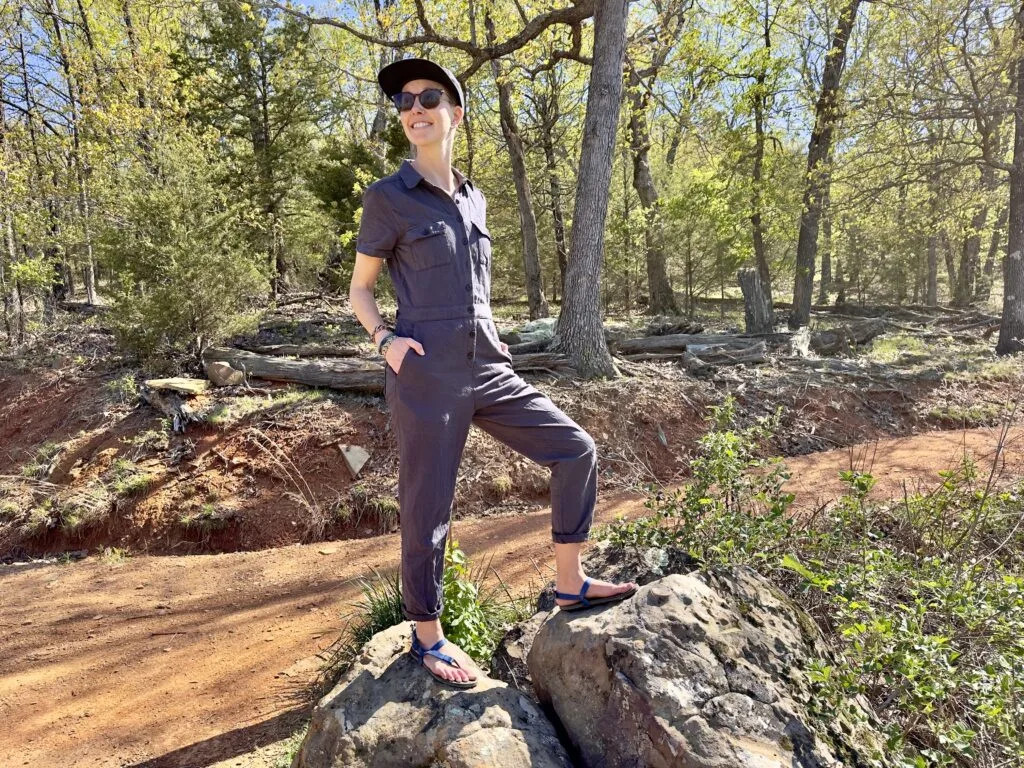 What are Barefoot Sandals?
First things first, though: what are barefoot sandals? Simple. They are sandals with a thin and flexible sole, have a zero-drop footbed (they are level from your toes to your heels), have plenty of room for your toes to spread, and probably have a secure strapping system to keep them on your feet.
They might also be known as minimalist sandals. And yes, they function perfectly as outdoor sandals.
That said, minimalist and barefoot sandals can take some getting used to, so do some research, learn how to do it correctly, look up a few foot strengthen exercises, and prepare to take some time to fully transition. But once you do, you'll never look back. (If you want more traditional hiking sandals, check out this post.)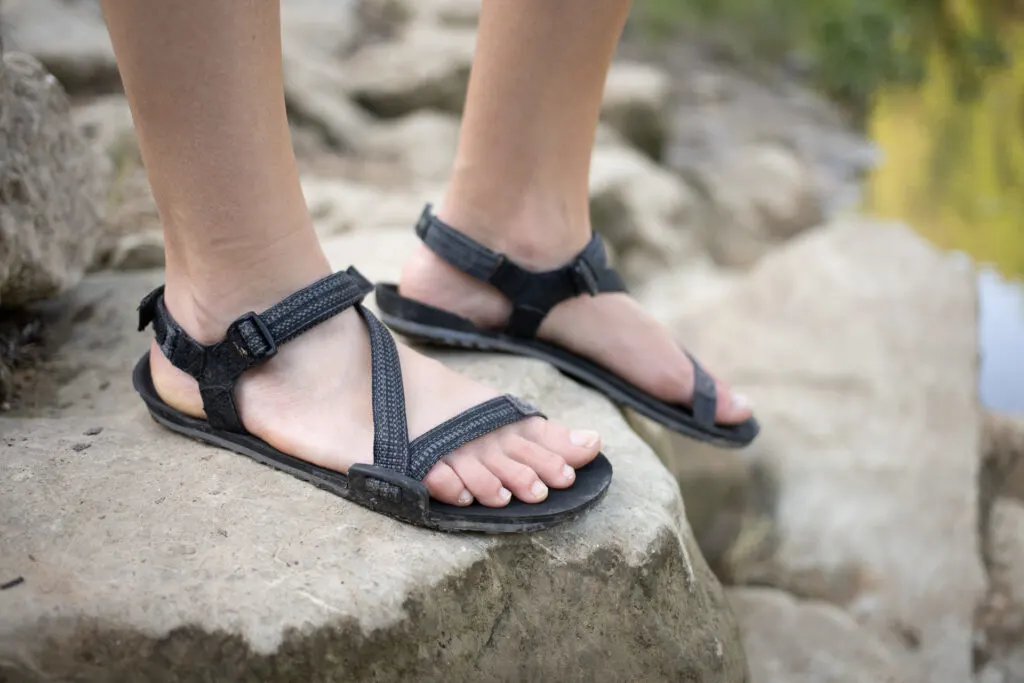 The Benefits of Barefoot Sandals
So if it's tricky to transition, why should you? Well, I could state the tangible reasons I'm obsessed with barefoot hiking sandals: they're comfy, they let your feet breathe (mine get hot fast), it's freeing, and frankly, it feels like childhood, especially when every one else starts nervously rock-hopping across a creek and you just stomp on through.
But there are many more less obvious reasons: They strengthen your feet (yes, feet can and should be strengthened), can benefit your posture, boost your balance, and more.
And when paired with the right hike (which is most every hike in my opinion), barefoot sandals are perfectly designed for hiking.
6 Best Barefoot Sandals for Hiking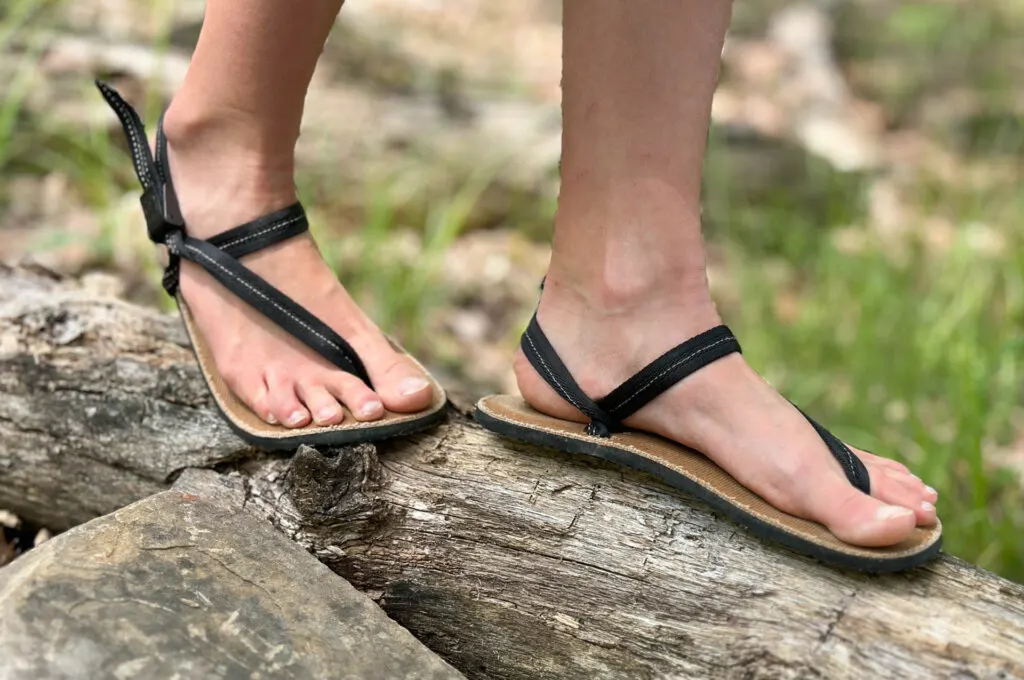 The Chronos sandals with lifestyle laces are maybe the most classic looking but unique sandals on this list. They have fully adjustable straps (they're just one length of webbing that loops through and around the entire sandal) with one simple buckle and they're available in several colors.
The soles are flexible, but not the most flexible we tested. In fact, they're the least flexible of all these sandals, but that's probably thanks in part to the durable outsole. Denser, stickier rubber is often better performing on slick surfaces but not as bendy.
They feature a VERY non-slip cotton canvas footbed, which frankly, I'm a fan of, but what really sets these sandals apart is that they're grounding sandals. Which means, supposedly, they offer most of the same grounding benefits of walking barefoot.
I'm not gonna go into all the health benefit claims (find some info on grounding and earthing here), but suffice it to say that spending time barefoot in nature every day purportedly offers some holistic health benefits. So if you're into that, these are your sandals.
It works via a copper earthing plug that connects to stainless steel thread that weaves through the straps, thus allowing electromagnetic energy to make it through your shoes and into your body. It's all very sciency and cool.
As for how they performed on the trail, they're pretty comfy. I wore them for hours and miles on trails and around water and even when they got soaked, not only did my feet not slip around, the canvas dried out pretty fast. And that dense sole was highly protective against rocks and other irregular trail surfaces. I was rarely worried a wrong step would result in a pokey rock hurting my sole.
I didn't necessarily prefer the EarthRunners to some other sandals we tested when it came to comfort, though, strictly because of the stiffness of the sole. But that's largely personal preference.
They are probably better suited for narrower feet, though, which I have. The webbing on the inside of the arch hits in a weird spot. As long as I had them cinched nice and snug, I didn't have a problem, but if I loosened them a bit, I'd start walking on top of that webbing, which didn't feel great.
I had no issue with the placement of the toe strap, though, so that's a win, and I was easily able to get them nice and sung and secure on my feet.
They were easy to get on and off, even if I didn't loosen the buckles, and they might be the most style-forward sandals we tested. By which I mean that not only were they capable outdoors, but I didn't feel weird about wearing them with a skirt when going out for dinner, too.
I know that probably doesn't sound like much coming from a self-proclaimed dirtbag who lives in hiking sandals, but when I travel, I do like to pretend to be more stylish and try to blend in, and these did the trick perfectly and transitioned seamlessly from trail to town without screaming "I just slept in a tent last night!"
So there's that.
Pros: Lightweight, secure, easy to order the right size, more versatile, grounding.
Cons: Not super flexible
Sole thickness: 9mm (thicker and thinner options are available)
Weight: 10.6 oz/pair (men's 9)
Sustainability: Injection molded buckle made of 25% recycled materials, made in the U.S.A.
Who The Earthrunners Chronos is for: Grounding/Earthing fans and those who want a style-forward sandal for travel.
Price: $79
---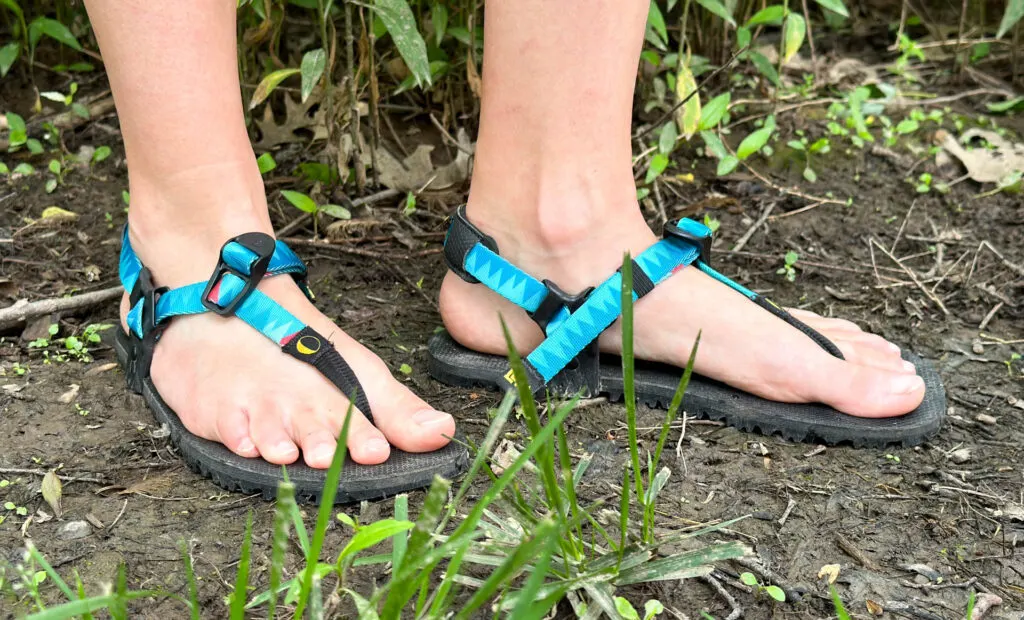 Luna was actually founded by a man some of you may have heard of–Barefoot Ted, who featured prominently in the book Born to Run, which if you haven't read yet and you're interested in barefoot sandals, uh, what have you been doing with your life?
Anyway, The aggressive tread on these is super grippy, they're light, the base feels much thinner than its is because it's so flexible–which is a good thing–and the straps are highly adjustable.
While all of Luna's sandals were made in the U.S.A. when the brand launched, not all of them are now. That said, you can still specifically order made-in-the-U.S.A. versions, which is rad.
This style comes in three colors, including classic black, and they're mostly available online, not at many retailers, so it's nice that, like many of the other sandals we mention here, you can print out foot templates at home to practically guarantee you get the right size the first time around.
The Lunas are super comfy for a barefoot sandal. I dunno if it's the stupid flexible sole, that the thin footbed somehow feels like it's got hidden padding, or if it's the smooth, soft straps, but these feel great on my feet.
They're some of the most flexible barefoot sandals I've tested at this thickness, the toe thong is made of a thinner, softer material than other brands, so it doesn't irritate as much as some sandals with toe plugs, and the padding on the heel strap makes them feel like you're wearing clouds on your feet.
And did you see that super aggressive tread? Win.
They are a bit wide for narrow feet, though. I still went trail running in them without issue, but there's a bit more room between the instep wings than on other sandals, so my feet tended to slide side to side just a little.
This option is a bit pricier though, and the warranty isn't as robust as some other brands at just a year, so there is a downside, but they fit wider feet than some sandals that lace through the sole, feel like they have sturdy hardware, and again, are mesmerizingly flexible for how thick the sole is.
Pros: Comfortable, ultra flexible, secure, easy to order the right size, soft toe plug, aggressive tread, good for wider feet.
Cons: Pricey.
Sole thickness: 11.5mm (thicker and thinner options are available)
Weight: 14.4 oz/pair (men's 9)
Sustainability: Made in the U.S.A.
Who The Luna Iso Flaco is for: Those who might be transitioning to barefoot sandals and prize comfort, plus those who don't usually like a toe plug.
Price: $125
---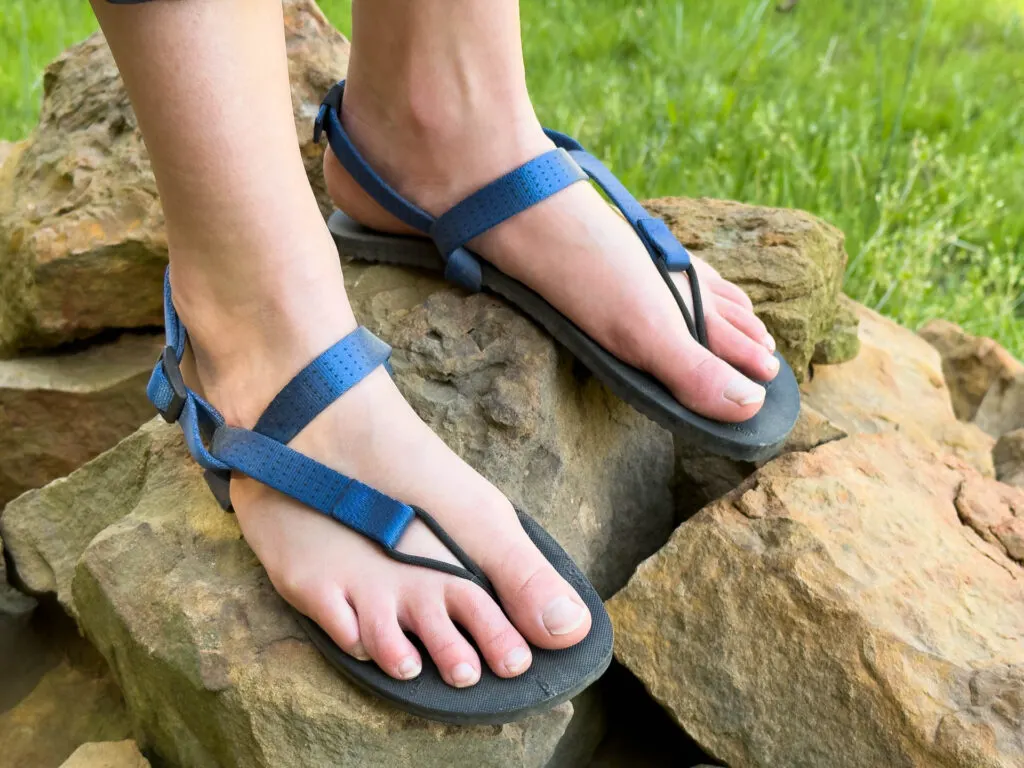 The Pursuit is a thin and lightweight sandal that's also quite flexible. Maybe not the most flexible we tested, but they land squarely in the middle–a happy medium.
They come in a handful of colors, which I dig, and the durable webbing is simple and fully adjustable. Just slide it through the footbed to tighten or loosen wherever you need. And don't worry, the sandals come with instructions to help you.
Speaking of the lacing system, I actually like it better than the EarthRunners system. That's because with these, the laces loop through the footbed and around the outside of the sole, instead of everything looping through the footbed.
That provides a fair bit more space in the instep for wider feet which will probably make them more comfortable for more people. That said, I also wonder if that'll make the webbing deteriorate faster because you're walking on it, but time will tell. I honestly haven't seen any complaints about that online, which is a good sign.
Lacing aside, the footbed is nice and non-slip so creek crossings need not instill fear, and the sticky Vibram soles may not have deep tread, but I never felt like I needed it. But maybe the best thing about these sandals is how they're made and the customizability they allow.
For starters, they're made in a bus in Vermont by a one-man team who does everything by hand. Then, there are several different shapes available for the footbed. As in, if your second toe is longer than your first, there's a foot shape for that. If you have a narrow foot or your toes slope a lot, there's a foot shape for that.
And if you have super wonky shaped feet, you can even pay a little extra one time to send in a tracing or photo of your foot and the maker will cut a custom foot shape to size.
I like the toe plug placement on these and the fact that I could print out sizing templates at home to ensure I ordered the right size and shape. Plus, I dig how they look. Classic, but clean. A good middle ground barefoot sandal that let me feel the ground but still felt protective enough for trail running on rocky Arkansas paths.
Honestly, these might be my new go-to all-rounder adventure sandals because, maybe not surprisingly, they fit the best. They should. They're custom! Get 10% off when you use code TERRADRIFT10.
Pros: Flexible, secure, easy to order the right size, available in several foot shapes, fully customizable.
Cons: A bit spendy.
Sole thickness: 10 (thicker and thinner options are available)
Weight: 12-13 oz/pair (men's 9)
Sustainability: Handmade in the U.S.A.
Who The Deliberate Life Designs Pursuit is for: Anyone with any type of feet.
Price: $114
---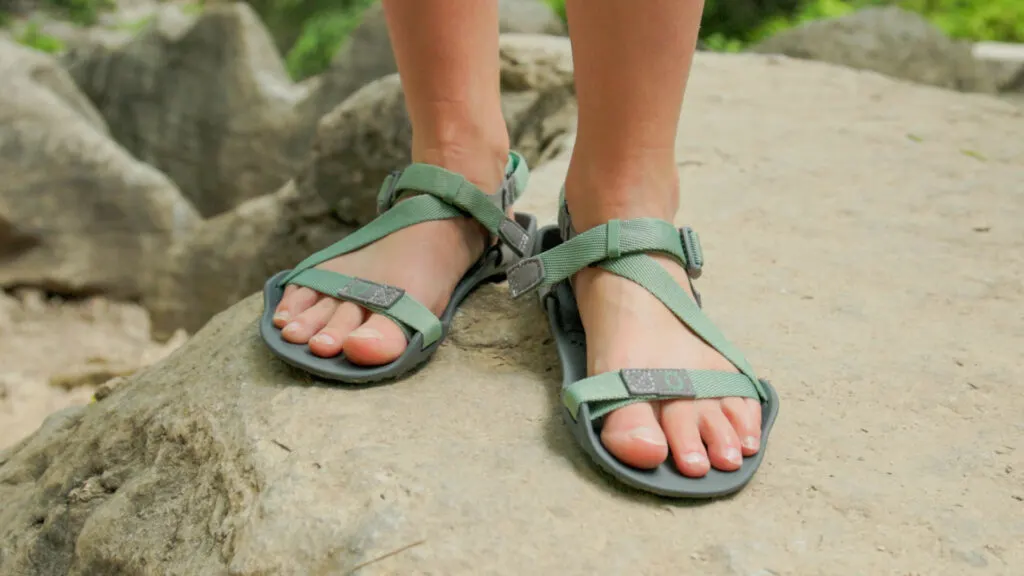 Xero Shoes Z-Trek + Z-Trail: The Ultralight Ones
Maybe one of the most well known brands of barefoot sandals in the U.S. is probably Xero Shoes. And for good reason. We've tested a lot of their shoes over the years (like their Excursion Fusion, Mesa Trail, and sandals) and are big fans. And that includes of the Z-Trek and Z-trail.
The Z-Trek has soft straps made of recycled materials, and are one of the brand's most minimalist sandals. The soles are made of just one solid and supremely flexible sheet of durable material, which means ground feel is as good as it gets.
The tread isn't super deep, but it's perfectly sufficient for all but the muddiest trails. When it comes to wearing, they're highly adjustable–just pull the straps through and tighten via one cinch strap on the top and one velcro strap on the back.
That keeps them sleek and low profile with little to no bulky sections that rub weird, which I like, but it also means thinner and low-volume feet might have a lot of slack in the straps. And the velcro isn't the most robust.
It's the same on the Z-Trail sandals. Though, frankly, I'm happy to put up with it because these are some of my favorite barefoot sandals just because of how thin, light, and flexible they are. That, and they don't have a toe thong. Now, that may make them less suitable for some adventures because there's nothing to stop your feet from sliding forward on the downhill, but if you hate things between your toes, it's nice to have the option.
The sole on the Z-Trail is thicker, but stupid soft and flexible, plus they're the lightest on this list. That's thanks in part to an ultralight, durable layer of dense foam between the footbed and the rubber sole that adds just enough squish beneath your feet to make them perfect for long hours of wear, but still protective.
I will say, though, that because the soles of the Z-Trail are composed of rubber and foam, they're not quite as durable.
But both sandals have the same 5,000 mile warranty, and I haven't fully worn through a pair yet. But the softer material on the Z-Trail soles, even with the alternating patches of tough rubber with beefier tread, haven't stood up to rough wear as long.
That said, they're still one of my favorite pairs of barefoot sandals for everything from errands around town to travel to hiking to camp shoes. Just be aware: the footbed is slippery when wet. But they are comfortable, totally non-irritating, super flexible, and light enough to carry backpacking to use as camp shoes, which I do.
Pros: Ultra flexible, ultralight, serious ground feel, feels like wearing nothing.
Cons: Z-Trail can be slippery when wet, Z-Trek not as suitable for gravel and chunky rock trails.
Sole thickness: 6mm (Z-Trek), 11mm (Z-Trail)
Weight: 11.2 oz/pair (Z-Trek, men's 9); 10.9 oz/pair (Z-Trail, Men's 9)
Sustainability: 5,000-mile sole warranty, webbing made of recycled materials.
Who The Xero Shoes sandals are for: People fully transitioned to barefoot shoes who want ultimate feeling and flexibility with no extra weight.
Price: $70 (Z-Trek), $80 (Z-Trail)
---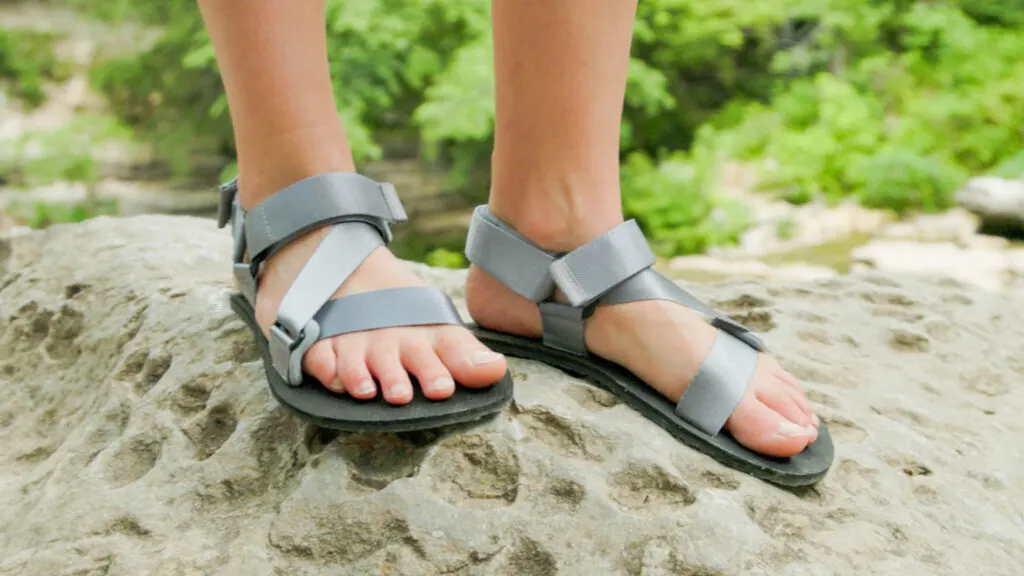 Feelgrounds doesn't bill the Pathway as a hiking sandal, but this thing is still plenty capable for soft adventures. I say "soft" just because of the design, which obviously features nice wide straps and no toe plug, which means there's less to keep your foot secure in the middle of the footbed when hiking.
But frankly, we would totally go on some easy hikes to swimming holes or around the campground in these. And honestly, they make great camp shoes because they're so light. Just throw them in your backpack and when you get to camp after a long day of hiking, get outta those boots and throw these on.
They're especially well-suited for the task because the lack of a toe thong means you can wear them with regular socks. (For those of you who haven't converted to hiking in toe socks, that is.)
Plus, these might be my favorite sandals in the style department. With the z-shaped straps that are all connected, they're not only stupid easy to adjust, they look very Chaco-esque, which I love because I've always been a big fan of that sandal style. Just not their massive, heavy, over-built sole.
So if that's you, too, you're gonna dig these. Plus the soles are ridiculously flexible, there's padding on the heel and ankle strap AND on the loop by your pinkie toe, which is cool because that tends to be a blister hot spot.
Now, I do find the shape of the actual footbed strange. It's very wide at the front there, but it really doesn't look that funky when it's on your foot. And it is fairly narrow at the instep, which works for me, but if you have especially wide feet, they may not be as comfortable.
Honestly, these are probably gonna become my day-to-day sandals in addition to camp shoes and travel sandals when I'm planning more low-key outdoor activities.
Pros: Ultra flexible, light, good ground feel, comfortable, stylish, no toe thong.
Cons: Not as suitable for as many adventures.
Sole thickness: 6.5mm
Weight: 12.8 oz/pair
Sustainability: Straps made of recycled materials.
Who The Pathway sandals are for: Those who don't like toe plugs and want the stylish look of Chacos without the bulk.
Price: $89
---
Bottom Line: Hiking Sandals
After all the testing, do I have a favorite? It's a toughie, but if I had to pick one, it would probably be the Deliberate Life Designs Pursuit. It's basically custom fitted for my foot so fits perfectly no matter what I'm doing.
But that doesn't mean the others don't have their place, and footwear is a highly subjective thing.
The Xero Z-Trek is my all-time favorite for taking backpacking and can tackle moderate hikes while still being super comfy. They are definitely the softest underfoot.
The Xero Z-Trail is the most like wearing nothing at all between the ultra soft straps and thin sole and offers the very best ground feel.
The EarthRunners Chronos is great for travel because of that classic style, so they're maybe the most versatile.
The Luna Oso Flaco feels delightful on and that aggressive tread is just spectacular for hitting all types of trails, plus they're the most comfortable of all the sandals with toe plugs.
And the Feelgrounds Pathway gets major points for simplicity and style for the campground or around town.
Which one is "best" is really up to you.
So let us know which one you're gonna go with. Or if you've tried any and how you feel about them. Then strap on a pair of barefoot hiking sandals and wander on!
•
This post contains affiliate links, which means when you clicky-click and "add to cart" we may receive a small commission. But don't worry; it doesn't cost you any extra. Win.
Alisha is a freelance writer and photographer based in Austin, TX. She loves her tiny house, vegan food and experiencing the community of travel in far away places. She's also pretty sure she's addicted to coffee. alishamcdarris.com