Cyprus is a perplexing destination. One nation, but really two. Two flags, two languages, two currencies, but only one officially recognized country. It has a complicated and war-strewn history, and though that's all in the past (unless you count the complicated politics) it isn't a widely appreciated travel destination except for a handful of Europeans that tend to stick to the Greek Republic of Cyprus (or south side). But the Turkish Republic of Cyprus has mountains, empty but well-appointed trails, rocky beaches, and stunning vistas for those willing to drive up curving mountain roads for a stunning adventure. We laced our boots (and occasionally our adventure sandals) and hit the trail to explore. So here are 3 exceptional hikes in Northern Cyprus we absolutely love.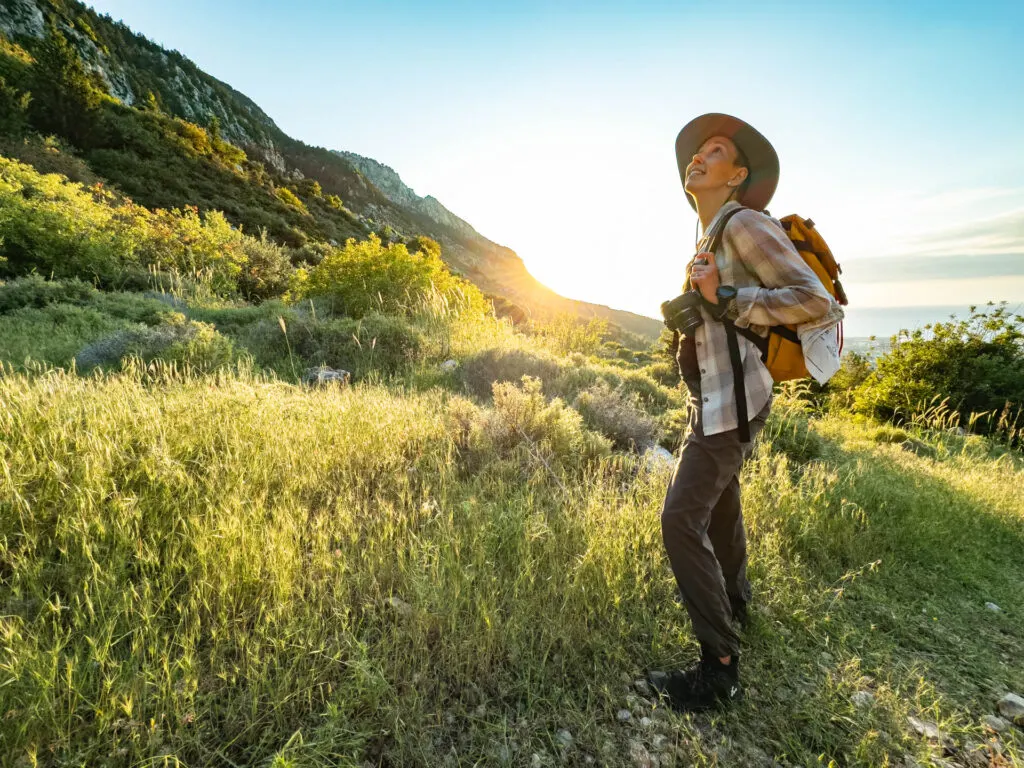 3 Hikes in Northern Cyprus
There are so many more than 3 hikes in Northern Cyprus, but you gotta start somewhere! If you want a challenging thru-hike, check out the Beşparmak Trail, 260 km (161 miles) of rocky route that leads you across most of the Turkish Republic of Cyprus. Otherwise, here are 3 epic hikes to get you started.
Saint Hilarion Castle (St. Hilarion Kalesi)
While there is an admission fee to hike in this park, it's more than worth the small fee in my opinion. Because you get ridiculously expansive views, wildflowers, a variety of trails from dirt paths to stone steps (there are plenty of steps!), and plenty of history. Yup, Saint Hilarion Castle was once a fully functional castle and fort. Royals lived there and everything. Now it's dilapidated and in ruin, but frankly, I think it makes for some pretty rad photos.
Much of the interconnected trails are fairly challenging with lots of ups and downs, but it's not backcountry, so paths are well maintained. There are plenty of overlooks and viewpoints from which to peep the Kyrenia Mountains and Mediterranean far below, and there's even a small cafe if you want to grab a bevy after your hike.
Miles: Varies, choose your own adventure from short and sweet to up to a few miles.
Cost + Hours: 50 Turkish lira (About $2.50 at the time of writing), 9:00am-6:00pm in the summer (last entrance 4:30) and 9:00am-5:00pm in the winter (last entry 2:30).
Tips: A bathroom near the small parking lot costs a few lira to use, so bring extra small bills, just in case.
---
Raven Trail (Alevkaya/Beşparmak Trail)
There are so many trails in the Kyrenia Mountains you could spends days hiking and you'd never retrace your steps. But we found Raven's Route particularly pleasing and challenging enough to be fun. Part of it is in full sun, other sections in the shade of tall trees. Some of the way is wide and flat, other sections steep and rocky. But one thing's certain: You're gonna get views. And not just of the tall grasses and native plant life that flanks the trail; sweeping vistas offer a place to stop and rest and scan the surrounding landscape, including the sea in the distance.
There's also a viewpoint near the gravel parking and picnic area that does NOT disappoint. so take a short stroll down the wide gravel path to stand on the rickety wooden platform and take a minute to really appreciate the color and texture of the impressive mountainous landscape. We only did part of the route (2.66 miles of the 5 miles), but if you do the whole thing, there are monestary and church ruins to explore.
Miles: 2.66, but you can tack on more miles via the many other nearby and interconnected routes.
Cost + Hours: Free, none posted
Tips: Bring a picnic and enjoy an afternoon in the shady grove by the trailhead.
---
Lapta Trail
Again located in the Kyrenia Mountains, but in a different area, this may have been our favorite hike of the trip. Perhaps not surprisingly, it was also the longest and most challenging (what can I say? I like type two fun!). Rocky trails, views that'll bring you to tears, and lots of shade make it an exceptionally enjoyable trek. There's also plenty of history along the way, including a tank leftover from the war just a short distance up the road from the trail proper and a dilapidated monastery, both of which make for great photo ops.
If you can time your hike just right so that you're finishing up around sunset, prepare to be overwhelmed with golden hour beauty (just don't forget a headlamp in case your timing is off). Seriously, when you pop out of the woods and the setting sun gilds the mountains behind you, the town below, and the sea beyond in a warm glow…just…good luck pulling yourself away if you're a photographer. 'Cause it doesn't get better than this.
Miles: 6.8 miles (fairly difficult terrain).
Cost + Hours: Free, none posted.
Tips: Use AllTrials to get directions to the trailhead, but be prepared to park up the road a ways (at least a 1/4 mile) on a gravel pullout as roads get narrow the closer you get to the start and the homes that surround it.
---
Bonus: Alagadi Turtle Beach
If your love the sea as much as the mountains, make sure to pop down to Alagadi Turtle Beach. The area is open to the public and the rocky cove is simply stunning. If the water's not too cold for you, try snorkeling or simply hop from rock to rock to see what sort of creatures you can spot. The water is ridiculously clear and blue and you can walk along the beach from one cove to another for several miles if you fancy a wander.
Bottom Line
Hikes in Northern Cyprus do not disappoint. Sure, the "Greek side" may get all the media attention as a travel destination, but The Turkish Republic of Cyprus is certainly worth a visit for those whose goal is to get outside to play in the mountains. Now, anyone wanna head over and tackle the whole Beşparmak Trail??
Alisha is a freelance writer and photographer based in Austin, TX. She loves her tiny house, vegan food and experiencing the community of travel in far away places. She's also pretty sure she's addicted to coffee. alishamcdarris.com