Croatia is located in the Balkans region of Europe/Easter Europe. And as such, it's got a heckuva lot of mountains. And that means there's plenty of opportunities to get outside and explore! In fact, people travel from all over Europe and the world to hike here (for good reason). We recently spent some time in the country, strapped on our favorite hiking sandals (and occasionally boots), and hit the trails to explore. Here are are favorite hikes in Croatia from across the country, full of innumerable waterfalls, breathtaking sunsets, and impossibly clear beaches.
3 Epic Hikes in Croatia
We don't know if these are the best hikes in Croatia, but they're definitely epic and accessible. Don't see your fave on the list? Tell us about it in the comments! Who doesn't want more hiking destinations?! But these 3 are pretty lit.
Srđ, Dubrovnik
Located right on the edge of the Old Town area is a wild and wonderful forested area on a hill called Srđ perfect for hiking in Dubrovnik. The majority of the trail itself isn't much to write home about–lots of switchbacks and chunky gravel paths–but you do get excellent views of Old Town and the cobalt Mediterranean Sea almost all the way up. And once you do get to the top, you're in for a treat.
There's a massive fort at the top that you can explore, but personally, I'm more interested in what Mother Nature brought to the party than mankind. Wander past the fort and a tumble of footpaths lead over the rocky hill to views of the mountains in the distance, the sea and city far below, and miles of epic landscape. But if you really want to be impressed, time your hike so your summit coincides with sunset (just don't forget your headlamp for the hike down). The warm glow of the setting sun positively sets the entire landscape on fire in the most magical display. 100% worth it.
Miles: 3.6 miles
Cost + Hours: Free, none
Tips: Brink some snacks or a full picnic, a jacket, and stay a while at the top to drink it all in. There's also a gondola that goes to the top and a road on the back side of the hill, just FYI.
---
Marjan Park, Split
Split may be known for it's historic buildings and impressive Diocletian's Palace, but on the edge of the old city (where most of the residents actually live and work), is sprawling and surprising Marjan Park. I say surprising because it has everything: shady trails, rocky paths, abandoned monasteries built into the cliffs, even beaches!
The trails are abundant and wildly interconnected, so you can stick to easy, wide gravel paths or curve up, down and all around on more narrow and verdant single track. One thing you shouldn't miss: the old Crkva (church) and Kasjuni beach, a pebble cove that offers great swimming and snorkeling in the stupid clear water, spigots to refill your water bottles, and even a cafe in the warmer months. But the best advice I can offer for Marjan is to take your time, explore thoroughly, and enjoy an afternoon or a full day in the "lungs of the city."
Miles: 1-8+ miles (we looped the whole park and hiked about 7 miles)
Cost + Hours: Free, none posted
Tips: A map app like AllTrails helps, too, so you can keep track of where you are and where you're headed. You can walk to the park from elsewhere in the city or drive to one of the parking areas.
---
Plitvice Lakes National Park
Ho. Ly. Bananas. There's a reason this park made it onto Outside's Best hikes of the year list. And now that we've been there ourselves, we totally understand why. First of all, it's verdant as all get out. Second, there's a ridiculous number of waterfalls. Third…well, no additional points needed, especially after seeing those photos, am I right?!
The whole park is stunning, but we took Route H, which involved a shuttle ride, hike, ferry, hike, and shuttle ride (transportation within the park is free). We were never out of earshot of a waterfall and the scenery was downright gorgeous, even on an overcast day. But the finicky weather played to our advantage: fewer visitors were on the trails clogging viewpoints and it was magnificent. Most of the path is easy and fairly level with some stairs and gradual downhills (and one big up at the end), and a lot of it is on boardwalks right next to the lakes and falls. Honestly, it was one of the highlights of our adventure in Cyprus and Croatia.
Miles: 5.5
Cost + Hours: Price depends on the season, but spring passes are €23.50 per adult and Sumer passes are up to €39.80.
Tips: If you can, visit the park in the spring or fall (shoulder seasons) if you want to avoid massive throngs of people. We still had to occasionally bypass groups of tourists as large as 30 people strong in May, so just image how congested narrow boardwalks will be during summer.
Getting there: You can take a guided tour from Split, Zadar, Zagreb or other nearby cities, but you can also just buy a bus (coach) ticket. We used Omio to search for bus options from Zadar to the park and to Zagreb after the hike and booked easily through the platform.
---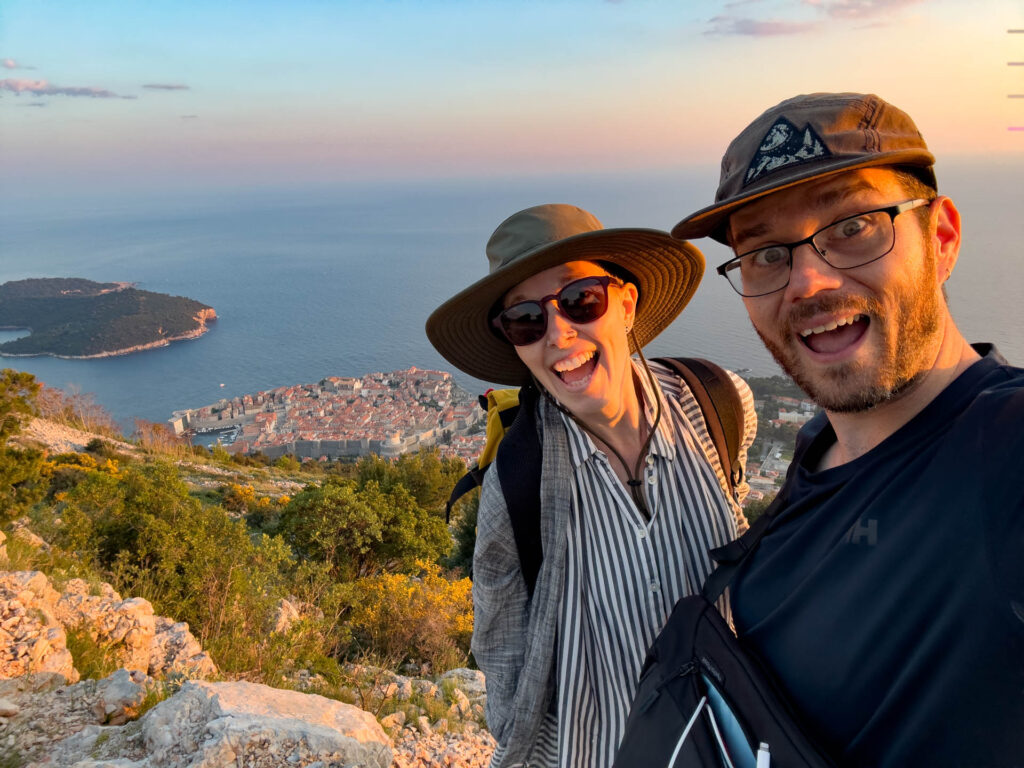 Getting Around
Naturally, these Croatia hikes aren't all in the same region, so you'll have to be able to get around if you want to do them all (and more). You can rent a car, of course, which might be beneficial as long as you're not staying near the old towns of any cities (there's little to absolutely zero parking), but there is also abundant public transportation.
There are plenty of public buses in Dubrovnik, but ferries and coaches are an easy way to get from place to place if you don't want to drive yourself. We used the new website and app Omio (who let us test out the platform by sponsoring a few legs of our journey) to not only search for transportation options, but also book directly within the platform. It was easy and streamlined and let us purchase ferry tickets from Dubrovnik to Split, bus tickets from Split to Zadar, and even a flight from Zagreb to Istanbul. It was especially helpful when it came to keeping all of our booking confirmations in one place and not having to search multiple platforms to find routes, then transport options, then book those transport options. Highly recommend. And it works all over Europe. Check it out here.
Bottom Line
Hiking in Croatia is spectacular. And in many places, you don't even have to leave the city to reach epic views or enjoy challenging routes. So get out there and explore already! Wander on.
Alisha is a freelance writer and photographer based in Austin, TX. She loves her tiny house, vegan food and experiencing the community of travel in far away places. She's also pretty sure she's addicted to coffee. alishamcdarris.com