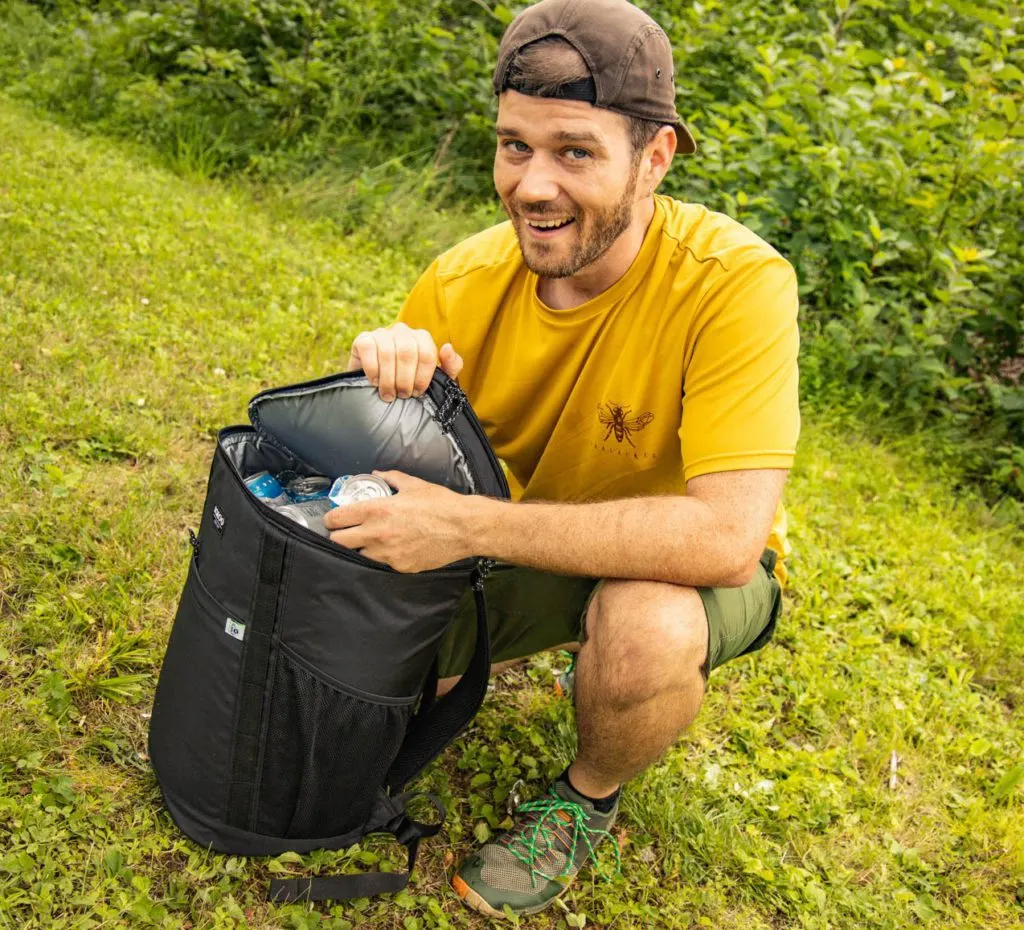 Backpack coolers. Every adventurer needs one. Ideally, it would be made of sustainable materials and from an environmentally responsible brand. But those options are few and far between. Fortunately, we found 4 rad options for every type of outdoor adventure. So whether you're kayaking, camping, hiking, or just hoofing it around an outdoor music festival, these sustainable backpack coolers promise to keep your six packs and tofu wraps chilled for hours, no matter where you wander.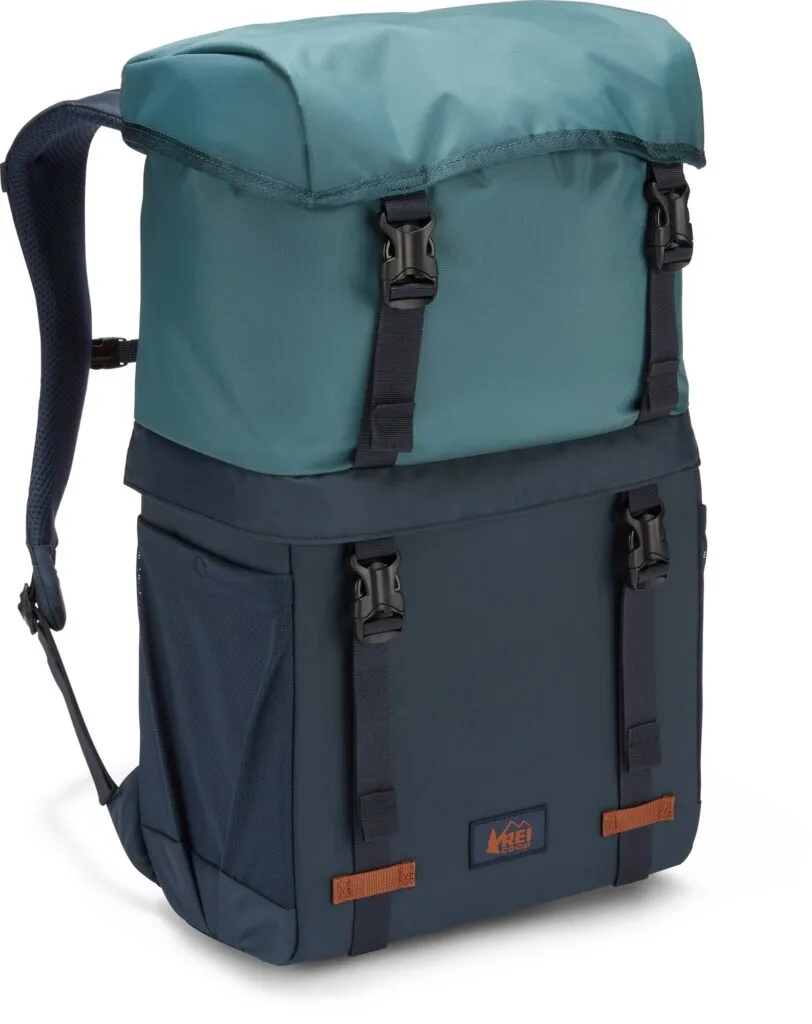 If you don't want another single-purpose backpack designed just to keep your coconut water cold, or you like to carry stuff in addition to that coconut water–like, oh, I dunno, the 10 essentials–THIS is the backpack for you. REI crated a split pack, the base of which opens separately from the top of the pack. Inside the bottom is a small removable cooler insert that fits up to 12 cans. That means you can also use the cooler on its own as a lunch pail or take it out and use the pack as a daypack. Brilliant! The top of the cooler backpack offers plenty of space for necessary items like extra layers or snacks that don't need to be kept cold, and side pockets mean you can stash maps or water bottles with ease. Plus the bag is made of recycled and Bluesign fabrics.
What it's best for: Hiking and anyone who plans to carry additional items they need to keep safe and dry.
---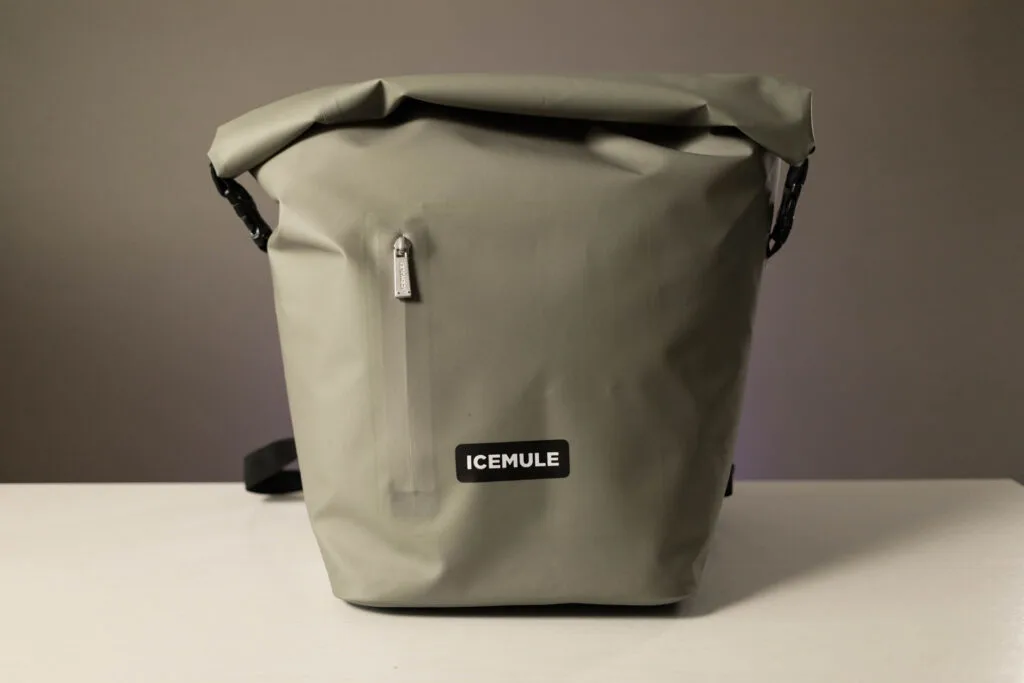 ICEMULE R-Jaunt: The One for Water-Based Adventures
The Ice Mule R-Jaunt Cooler is a sleek and compact option for carrying your hummus wraps and ice-cold hard cider to the swimming hole or strapping to the hull of your kayak. It incorporates sustainable materials, including recycled materials and insulation, has a spacious 20L interior (room for 35 cans), is made of super durable materials, and is even water resistant, so, yeah, you can strap it to your kayak on your next float trip. In our book that makes it a pretty ideal option for everything from picnics, to camping trips, to beach outings to and water-based adventures. The shoulder straps are adjustable and make it super portable, and you can even inflate the bag to increase its insulating power (or deflate it to store it between adventures).
What it's best for: Water-based or water-adjacent adventures.
---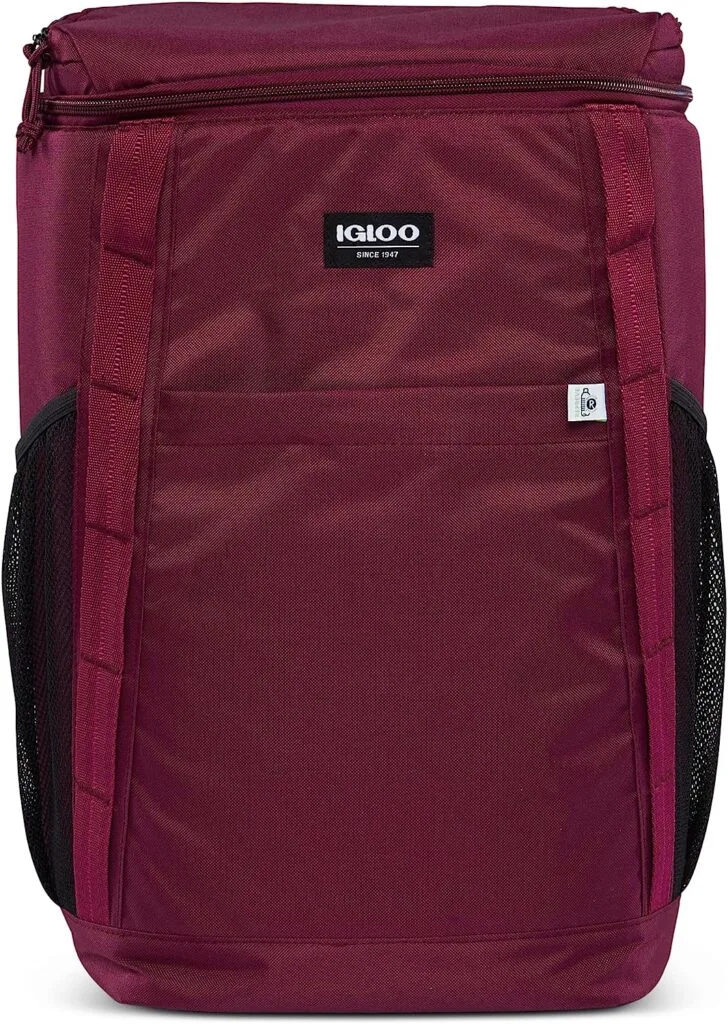 Looking for a sustainable backpack cooler that won't break the bank? This is the one. The soft body is flexible and lightweight, plus is made of REPREVE™, fabric created from recycled, post-consumer plastic. It features a wide zippered opening so you can easily stash whole sixers, has secure zipper pockets on the front and the lid for small valuables, and the adjustable shoulder straps & top grab handle make carting the cooler from camp to the trail to the beach or wherever too easy. There are even MOLLE style webbed straps on the outside for lashing other accessories like jackets or blankets. The inside holds 36 cans and is leak-resistant, but our favorite feature? The exterior pockets, which let you stash extra, easy-accesses necessities like maps, insulated water bottles, sunscreen, you name it.
What it's best for: Hiking, camping, picnics, and anything where you might like to bring along a few extra essentials.
---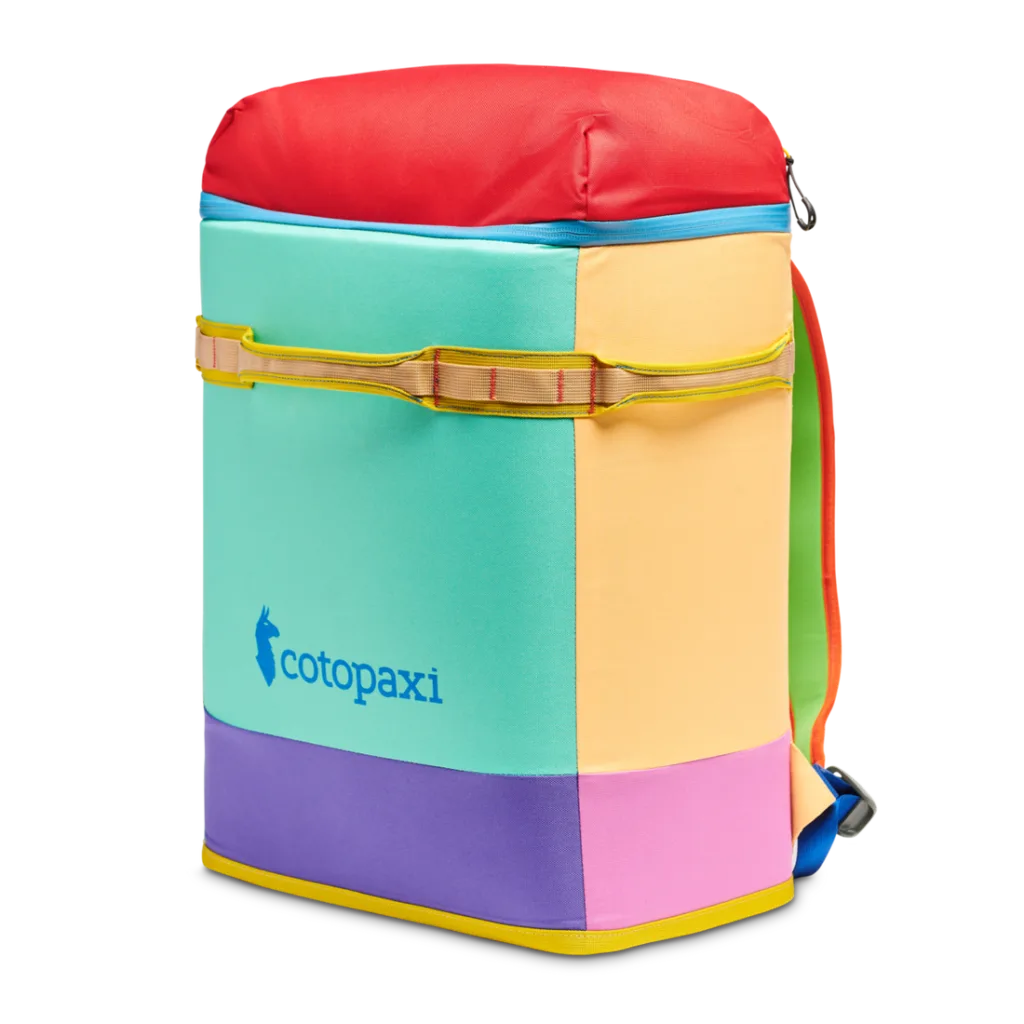 We're big fans of Cotopaxi here at Terradrift. And the Hielo 24L is no exception. Part of the brand's Del Dia line, it utilizes leftover fabric scraps, which means it helps keep waste out of the landfill, but each one is also totally unique and the color combo will be a surprise when it arrives in the mail! It's 24L, has a big 'ol bucket opening on the top for easy access and quick loading (and unloading) of bulky items, and has a waterproof liner. It's made of ruggedly durable nylon and polyester, features a zippered accessory pocket, padded straps and back panel, plus large, easy-grab handles on every side (with daisy chains).
What it's best for: Camping, road trips, picnics, and festivals.
---
If you need to go where wheeled coolers can't follow (even our beloved RovR) and keep your kombucha and summit vegan charcuterie board (just us?) chilled along the way, a backpack cooler is just the thing. Choose a sustainable product from sustainable brands and feel good about taking it on every adventure.
Wander on.
•
This post contains affiliate links, which means when you clicky-click and "add to cart" we may receive a small commission. But don't worry; it doesn't cost you any extra. Win.
Alisha is a freelance writer and photographer based in Austin, TX. She loves her tiny house, vegan food and experiencing the community of travel in far away places. She's also pretty sure she's addicted to coffee. alishamcdarris.com