No sustainable adventure–on the trail or around the world–would be complete without a reusable water bottle and mug. I travel with one of each no matter where I go: an insulated water bottle for hydration and an insulated mug for hot beverages. Packing both helps ensure I never have to use a disposable (and almost always non-recyclable) plastic, paper, or styrofoam bottle or cup.
But not all travel-friendly insulated vessels are created equal. Some aren't leakproof or are made of inferior and unsustainable materials. Others don't fit in cupholders or aren't built to last. Fortunately, there are plenty that deserve a spot in your water bottle cabinet (you have one of those, too, right?). Here are a few of our faves.
The 6 Best Insulated Water Bottles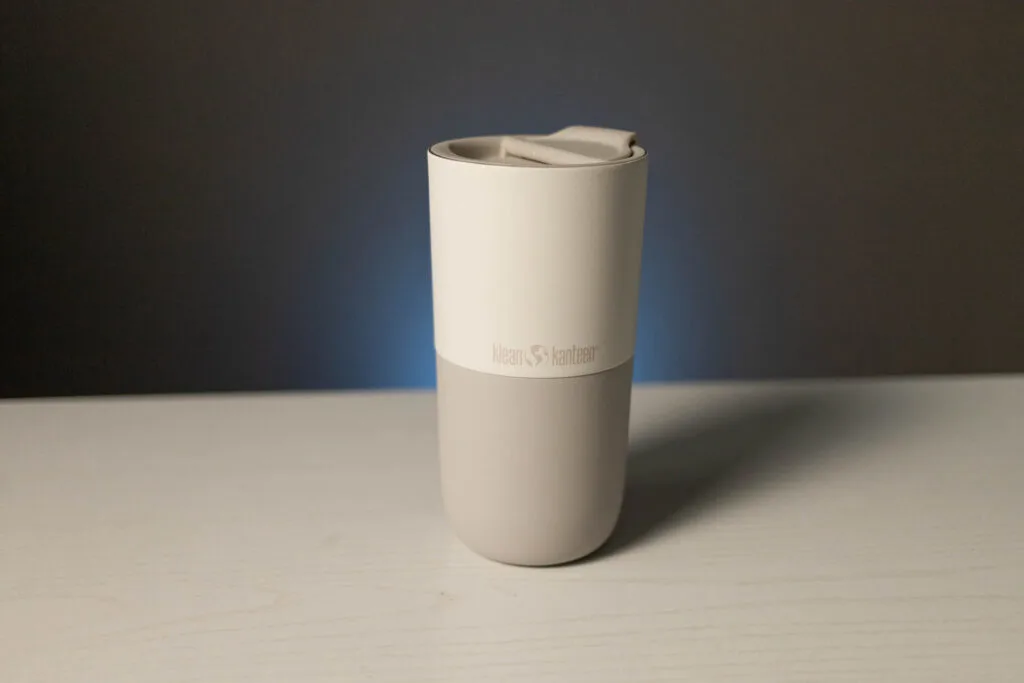 We've said it before and we'll say it again: insulated drinkware doesn't get any better looking than this. Yup, Klean Kanteen has created stylish, functional drinkware that's portable and guaranteed to get compliments. For water, we love the tumblers, which come in two sizes: 16 oz and 26 oz. They hold hot and cold liquids, have a wide mouth opening for easy culpability and plenty of room for a straw, and while they're only spill resistant (not spill proof), the lid design keeps the bit you put your mouth on off of dirty surfaces if you take it off and set it down on a counter somewhere. They come in several lovely earthtones and are almost too pretty for stickers. Almost.
Best for: Jaunts around town
Leak-proof: No
Claims to keep drinks cold for: 23 hours
Fits in a cupholder: Yes
How sustainable is it: Made of 90% recycled stainless steel, plus the brand is Climate Neutral certified, a B Corp, and 1% For The Planet member.
---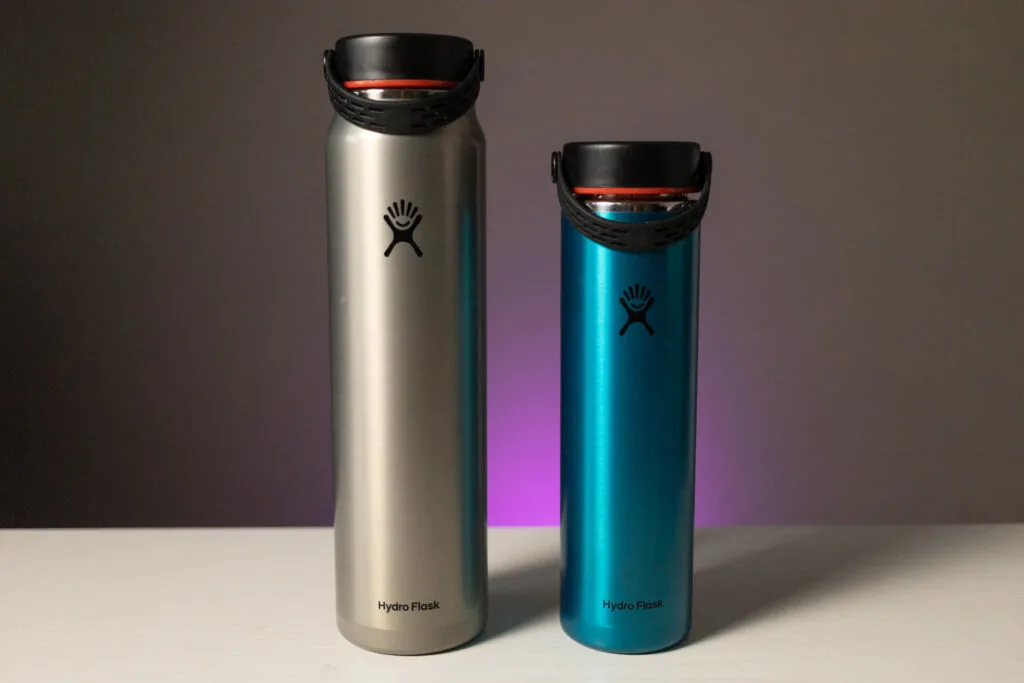 Hydro Flask is a classic, but have your tried their new Trail Series? The insulated bottles in this sleek collection not only look good and keep beverages hot or cold, but they're 25% lighter than the brand's other insulated bottles (as well as many other on the market). That means they're extra great to have for travel, backpacking, and excursions when you need to either keep your drinking water from freezing solid in your pack in the winter or your ice from melting in 3.5 seconds in the summer. Screw-top lids on these wide mouth bottles make them easy to pour into and clean out when your adventure is over. Bonus: they come in 4 sizes from 21 oz to 40 oz. Plus, Hydro Flask just launched a trade-in and recycling program so you can send them ANY brand's stainless bottles and they'll recycle them and give you a store credit. Win.
Best for: Backpacking or hiking in hot or cold temps
Leak-proof: Yes
Claims to keep drinks cold for: 24 hours
Fits in a cupholder: Yes
How sustainable is it: Bottles have a limited lifetime warranty, the brand has eliminated single-use plastic packaging for more than 90% of products, plus they donate to hundreds of outdoor-focused non profits through their Parks For All campaign.
---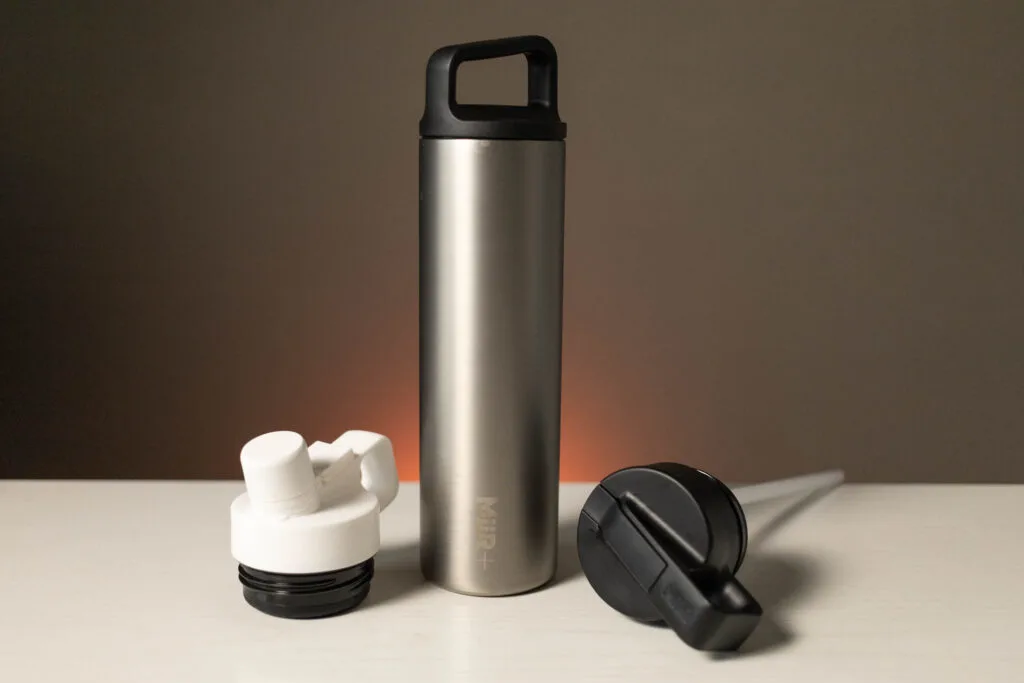 With 25% less stainless steel, no new plastic, and 110% of its carbon footprint offset, the MiiR Climate+ 20 oz insulated bottle might be the most sustainable on this list. While it only comes in two colors–black and matte silver–it's a powerful insulator with a great give-back program: Every MiiR product sold helps fund nonprofit organizations that work to empower communities and invest in the health of our planet. Sleek, modern and leakproof, this wide mouth bottle is also easy to clean. We recommend adding a chug lid if you want to keep actual drinking surfaces clean.
Best for: Everyday use and travel
Leak-proof: Yes
Keeps drinks cold for: Undisclosed
Fits in a cupholder: Yes
How sustainable is it: Made with 25% less stainless steel, no new plastic, and 110% of each bottle's carbon footprint is offset. Every product sold also helps fund nonprofit organizations that work to empower communities, while investing in the health of our natural environments.
---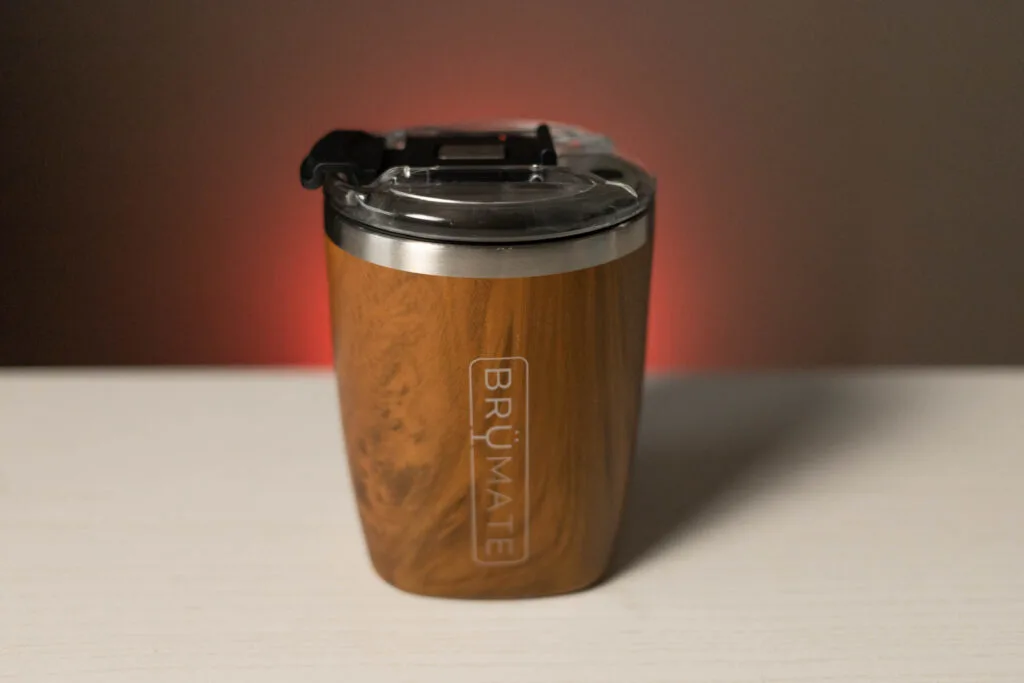 Looking for an insulated bottle that doubles as a mug for hot beverages and definitely, absolutely won't leak (like, really)? Allow us to introduce you to the BrüMate 16 oz Highball and 12 oz Rocks Tumbler. Depending on whether you prefer a compact sipper or a larger reservoir for hydration purposes (or maybe are planning to throw in some more adult liquids at some point), one or the other is bound to be the perfect size. These vessels also have a great non-slip rubber bumper on the base, and yes, the locking lid is totally leak-proof. Yup. Totally. Trust me, I put it to the test. The cap twists on and the mouthpiece cover locks in place so there's practically no chance of it accidentally popping open. They're also available in a plethora of colors and patterns.
Best for: Small sips
Leak-proof: Yes
Keeps drinks cold for: 12 hours
Fits in a cupholder: Yes
How sustainable is it: Cap is made from 50% recycled plastic and is recyclable when mailed back in.
---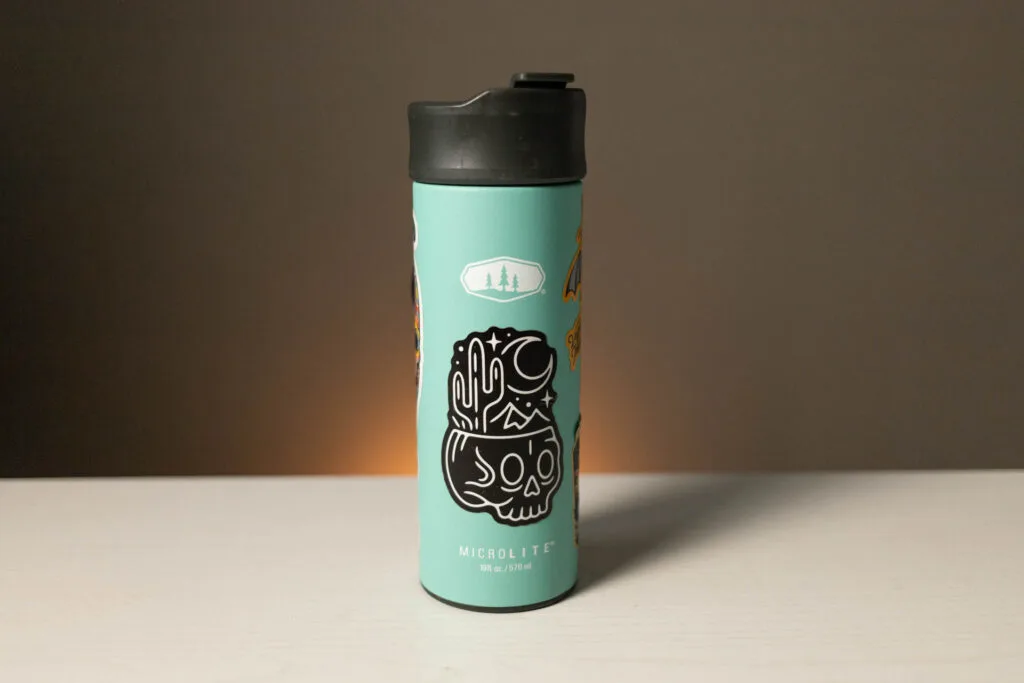 Another backpacking-friendly option is the GSI MicroLite, which comes in a variety of sizes, colors, and lid styles, from wide mouth to flip-top for easy easy sipping of hot or cold bevies. We love the MicroLite because it's lighter than most other insulated bottles, has a rubber plate on the bottom to keep it from sliding around or getting dented, and it features extra thin stainless steel walls, which reduces each bottle's footprint but still keeps liquids hot or cold and is extremely durable (we've had ours for years and still no dents!).
Best for: Hiking and backpacking
Leak-proof: Yes
Keeps drinks cold for: 20 hours
Fits in a cupholder: Yes
How sustainable is it: Made with less stainless steel, also donates to environmental and educational nonprofits through the #GSIGIVESBACK program.
---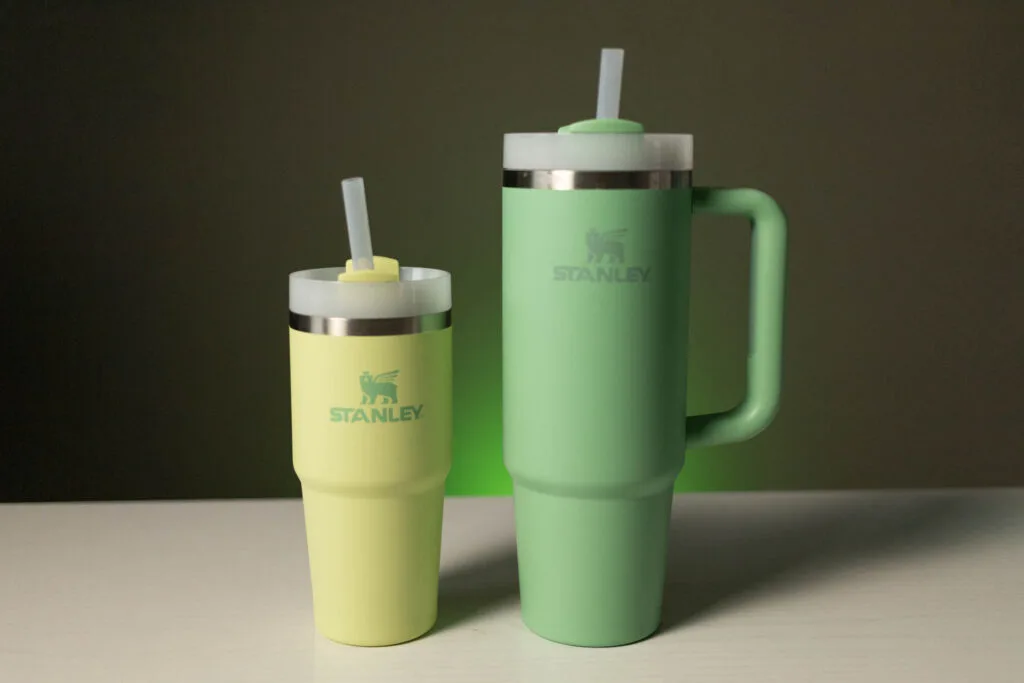 These easy sippers, complete with straws (and handles on larger capacity models), give off some serious soccer mom vibes. But if you're into that and appreciate an insulated water bottle from a legacy brand that truly stands behind its products, then this is the one for you. You can even remove the straw and drink from the narrow opening if you prefer to travel with a more leak-proof lid setup. Plus they're available in three sizes: 14 oz (no handle), 30 oz, and 40 oz, so there's a size for every season.
Best for: Road trips
Leak-proof: Yes
Keeps drinks cold for: 9 hours
Fits in a cupholder: Yes
How sustainable is it: Made with 90% recycled stainless steel, plus with the brand's Built For Life lifetime warranty, they'll replace any product that doesn't stand the test of time.
---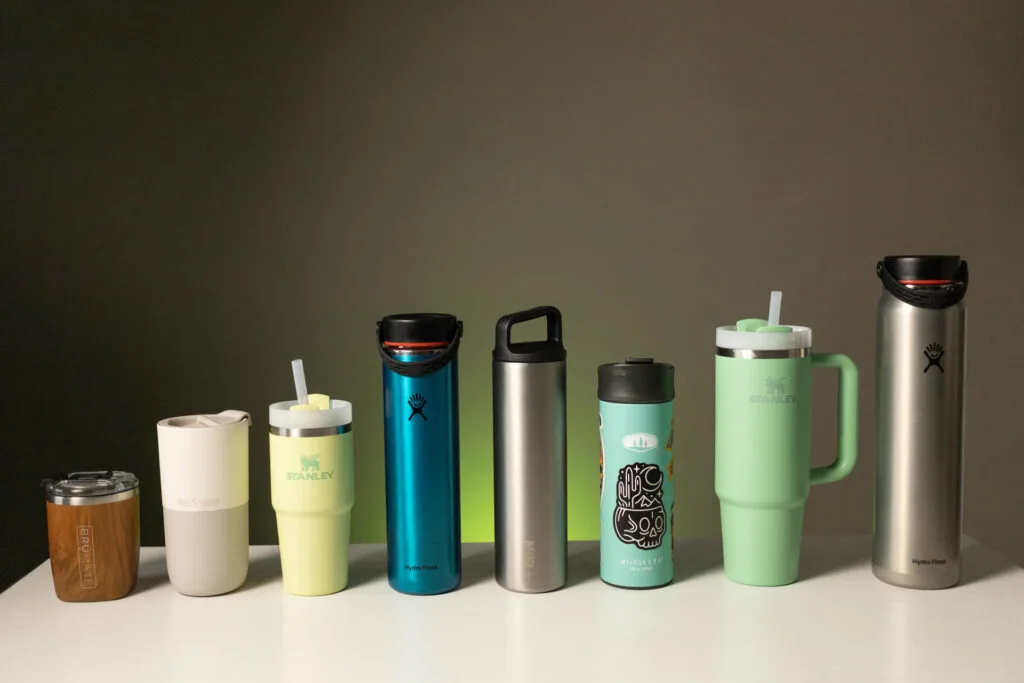 Bottom Line
There's a sustainable insulated water bottle out there for everyone: the road warrior, the coffee addict (check out this portable coffee kit!), the super hydrator (consider one of these hydration mixes that aren't Gatorade), you name it. So claim the one that suits you best and carry it with you everywhere you go. I said everywhere!
Stay hydrated, my friends. And wander on.
•
This post contains affiliate links. That means when you clicky-click and make a purchase, you help support Terradrift. And it doesn't even cost you any extra. Win-win!
Alisha is a freelance writer and photographer based in Austin, TX. She loves her tiny house, vegan food and experiencing the community of travel in far away places. She's also pretty sure she's addicted to coffee. alishamcdarris.com