Trail running: It's one of the fastest growing outdoor activities. Largely because it's one of the most accessible. Mostly because you don't need a bunch of expensive, specialized gear to do it. Just a pair of trail runners and the drive to leave the pavement behind.
And if you think trail running is intimidating, think again. I mean, If you're new to running on dirt or rock and are worried you're gonna have to stop and walk, uh, you absolutely can. 'Cause guess what? That's called hiking, my friend.
And all you need to get started is a half-way decent pair of shoes, trail-specific preferably. Fortunately, we tested out 7 pairs of more sustainable, vegan trail running shoes so you can order yourself a pair with confidence.
We ran at least 10 miles of trail over three separate occassions in each of these pairs of shoes and are gonna break down why each one is great, what types of runners they're for, and who's gonna like them best. Plus, you know, how much they cost and whether we'd run in them again.
Vegan Trail Runners
Reviewer: Alisha
First up, This is the Topo Athletic Pursuit 2 is a trail runner with a wide toe box, zero drop, and is equally suitable for trail running, road running, or ultralight backpacking. They're light, tolerably flexible, and plenty roomy.
But to be clear, they're not barefoot shoes–just moderately minimalist. They do offer a fair bit of arch support and heel stabilization, which is great for long distance runners and makes for a solid balance of cushioning and support.
They performed well on the trail. I felt very stable when running and the tread is more than adequate for chunky, soft, or packed soil. I even wore them on a backpacking trip in Big Bend.
They only come in two colors for men and women, but that's hardly a deal breaker for me (as long as both of those colors aren't pink or purple). But I did feel a little silly wearing these around town because of how large and wide the toe box is–it's kinda got a clown shoe thing goin' on–but that's just me.
Price: $140.00
Sizing: These run a smidge small, so you might want to get a half size larger than usual.
Sustainability: They're made of partially recycled materials.
---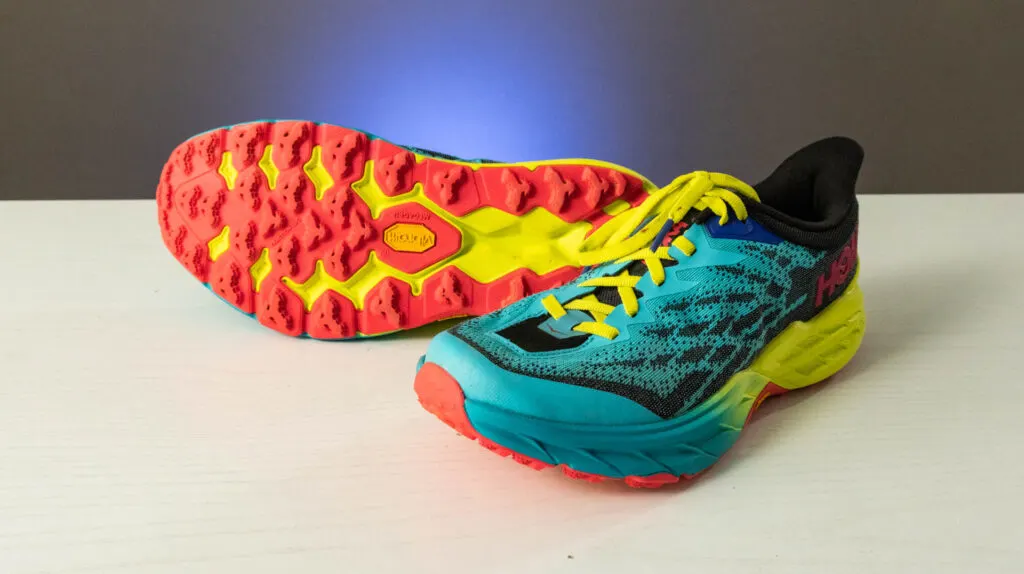 Reviewer: Alisha
The Hoka Speedgoat 5 is a running shoe that seamlessly transitions from road to trail and is nice and light.
Now, I'm not gonna lie, I've never had a desire to try Hokas. That big foam sole and narrow toe box is about as far from a barefoot shoe as you can get, and I like barefoot shoes.
But frankly, after running in them a bit, I didn't hate them as much as I thought I would. The 4 millimeter drop didn't bother me much on shorter runs, and the shoes are extremely light.
They have light to moderate cushioning, but not a lot of support in the footbed. Usually I prefer that, but if you're running long distances, that could lead to some foot fatigue. If you're not running long distances, well, then have at it.
The tread is moderately aggressive and fairly flexible, and you could take these on all kinds of terrain, from packed dirt to rock to asphalt no problem.
They come in screaming loud colors, which is fun, but people will definitely be staring at your feet between the florescent patterns and the chunky foam sole. That said, Hokas have a cult following, proving style is relative.
Price: $155
Sizing: These shoes run fairly true to size.
Sustainability: The upper is made with partially recycled materials.
---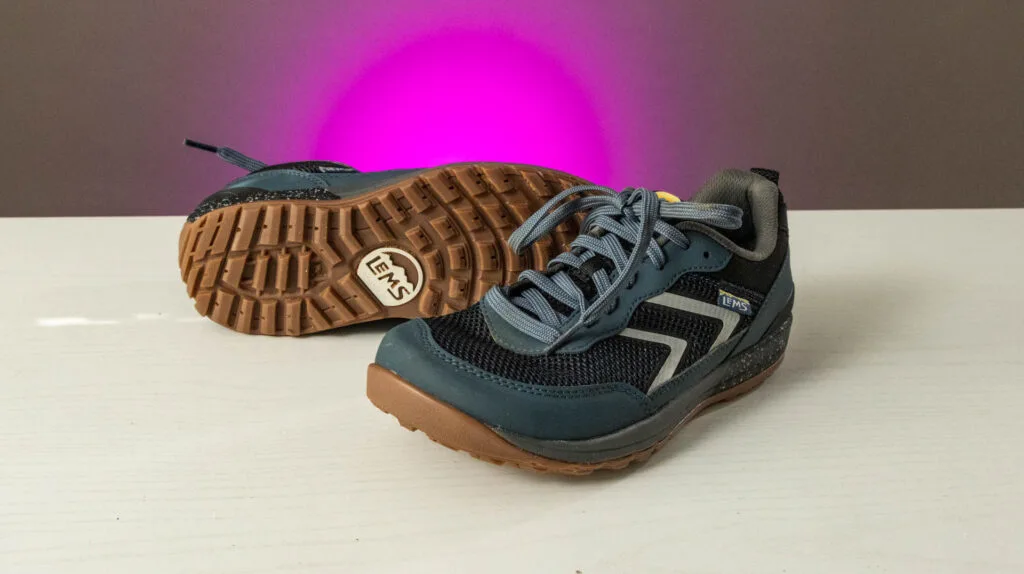 Reviewer: Alisha
The Lems Primal Pursuit is a great option for those looking for one shoe that can do it all: hiking, trail running, wandering around town, you name it.
And I was excited to try out these because I'm obsessed with the Lems Boulder boot and the zero-drop footbed appeals to me. As did the more sneaker-like look and feel of this shoe.
That said, It IS more of a hiking shoe with trail running capabilities. So if you're a die-hard mega-miler, these might not be for you. However, if hiking is your first love but you also like to go on an occasional trail run AND you're looking for a pair of shoes that can do either AND take you to the brewery afterward, these might be your jam. Especially since they have a pretty solid tread.
They aren't super cushy, and have minimal support, but I found them plenty comfortable for for walking or running. Plus the toe box is roomy.
Do keep in mind that the Canyon color is suede, so if you're looking for a vegan shoe, avoid.
Price: $130
Sizing: These run a bit small, so you might want to get a half-size up.
Sustainability: As for sustainability, Lems doesn't use a ton of sustainable materials, but the brand donates unused pairs to Soles4Souls, and encourages customers to do the same.
---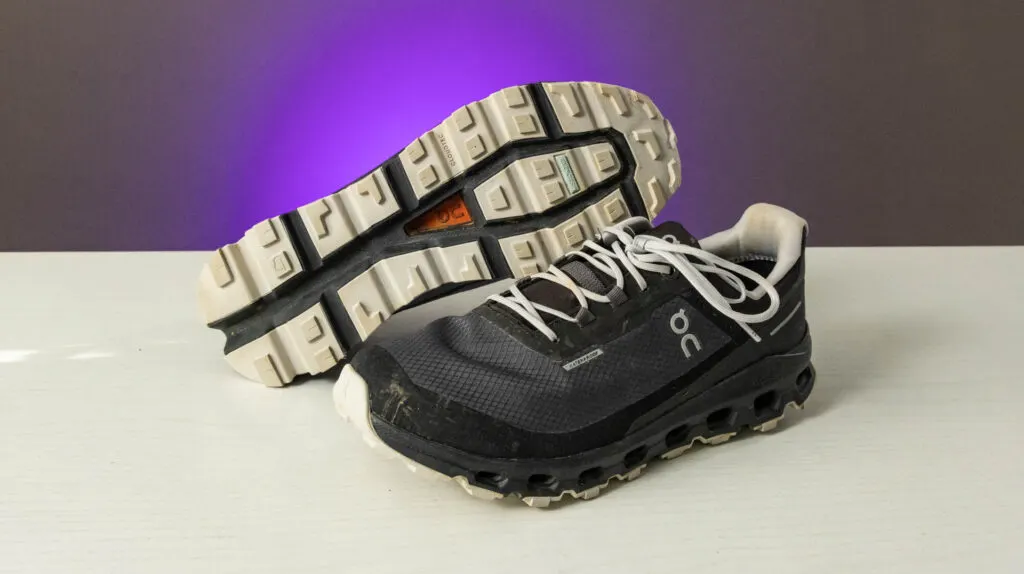 On Cloudvista WP: For long miles and brutal terrain
Reviewer: Alisha
The On Cloudvista WP–which stands for waterproof–is THE shoe for brutally rocky terrain and extended mileage. I mean, you're not gonna feel any sharp rocks under your feet, which means you can just fly down rough trails.
That's because unlike the brand's popular Cloud shoe, the soles on these are much stiffer to help protect your feet. Plus they have a firmmer, more aggressive tread.
Honestly, When I first put these shoes on, I was really surprised by how different the fit and feel was from the Cloud, which are super light and comfortable. But these are designed for more serious trail running, so makes sense that they'd be more solid.
AND! They're waterproof! Which comes in handy if you're regularly running in puddly, dewy, or soggy conditions.
They are quite narrow, though. So if you like a roomier toe box like I do, these probably aren't gonna be for you. My toes felt more cramped in these than in the Hokas, even. And they have a 9 millimeter drop, which is pretty substantial.
Price: $170
Sizing: Narrow, but run true to size.
Sustainability: The shoes are made of about 30% recycled materials, plus On is seriously leading the way in a lot of sustainable shoe manufacturing design, science, and initiatives.
---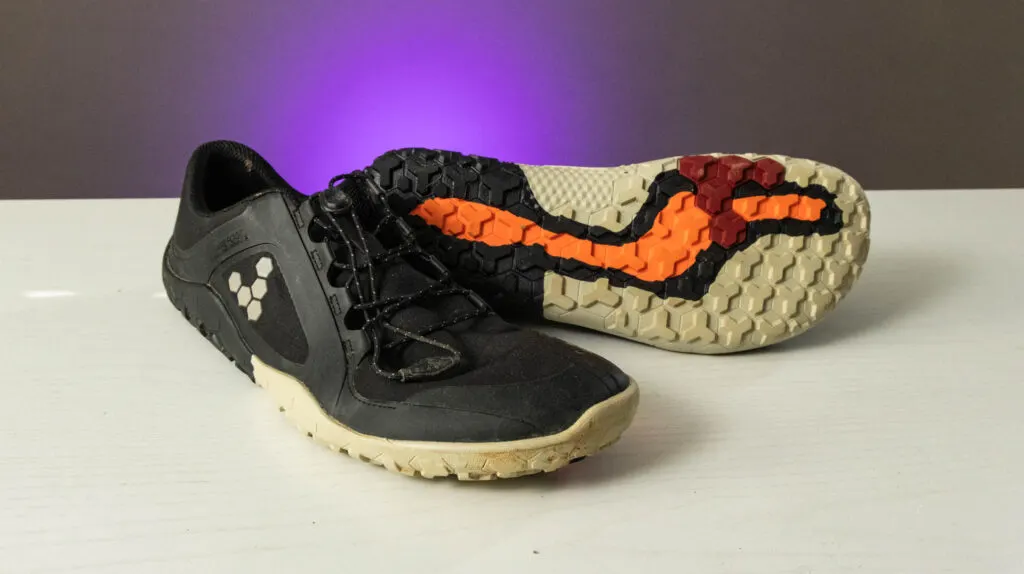 Reviewer: Josh
For true barefoot running enthusiasts, check out the Vivobarefoot Primus Trail III All Weather FG. It's a mouthful, but it's worth the words: It has a foot shaped toe box to let your toes spread out and it's thin and flexible to allow for natural movement, plus offers serious groundfeel.
And in case you're wondering, the FG stands for firm ground. There's also an SG with larger lugs for soft ground.
We reviewed the Primus Trail SG review a few years ago so I already knew I liked this style of shoe for hiking, but had some issues with it overall. But I like the newer version much better. They generally feel great to run in…IF you're used to barefoot shoes. And I do mean true barefoot shoes with little to no cushion. You can really feel the ground through these things which can make running pretty uncomfortable for the uninitiated.
But if you do want to give barefoot running a try, VivoBarefoot has some great resources on their website for getting started.
The waterproofing kept moisture out of the shoe when splashing through small mud puddles on the trail and I had no problem running across wet rock, though always be careful when crossing creek beds.
Price: $190
Sizing: They run true to size.
Sustainability: These shoes are made of recycled materials.
---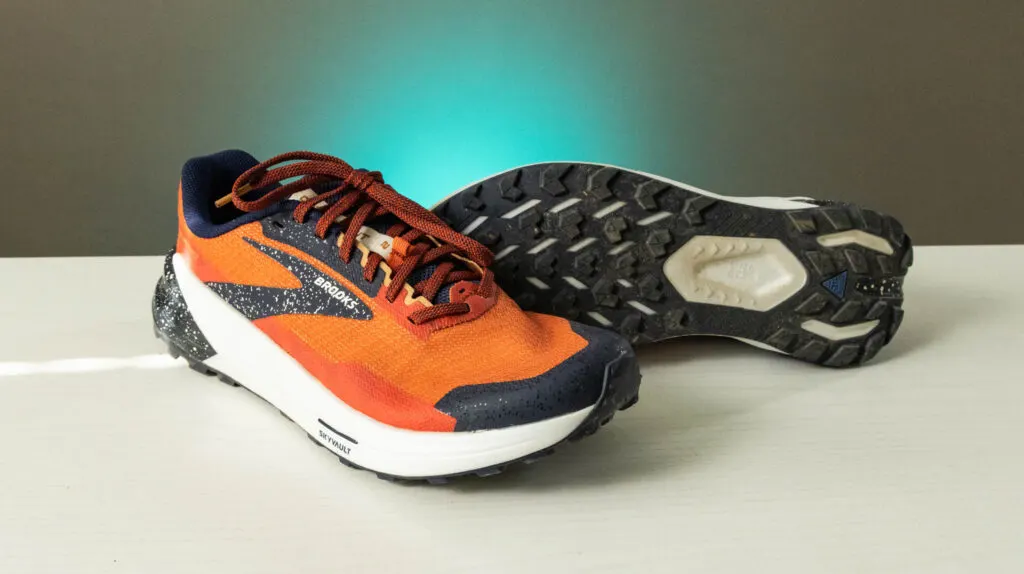 Reviewer: Josh
The Brooks Catamount 2 is for those looking for the Goldilocks trail runner, something a little more traditional. That is, solid cushioning, moderate arch support, and a 6mm drop.
What that translates to is more support when making your way over varied, rocky terrain, and better lift off and speed when making your way down trails, especially uphill.
And even though I tend to lean a little more toward barefoot style shoes when running, I actually really enjoyed running in the Catamount 2 on and off the trail.
They are grippy, responsive, have a big toe cap and mud guard to keep dirt and debris off of my feet, and weigh in at only 9.7 ounces.
Brooks has been a standout brand in the running space for years and these shoes are no exception. Plus I just really like the look of these. The women's shoes, however, are only available in very feminine colors, so be warned.
Price: $170
Sizing: Order a half size up as they run a bit small.
Sustainability: They use 40.3% recycled materials in the upper.
---
Reviewer: Josh
The Merrell Trail Glove 7 is a big departure from the previous generation, in a good way (find our review of the 6 here).
The Trail Glove 7 is a minimalist shoe I would recommend to anyone who wants to transition into full on barefoot shoes. It's a great middle-ground shoe because the Trail Glove keeps your foot in a natural position like a barefoot shoe would, but with a very subtle arch, and it has a stiffer sole than a barefoot shoe, so while you are going to be able to feel the ground, it's stiff enough to protect your feet from rocks and from barefoot fatigue.
The mesh upper is susceptible to moisture, so keep that in mind if you plan on doing a lot of creek crossings, but I love the minimalist design of this shoe, especially the grippy Vibram sole. Plus it looks like it's going to hold up a lot better than the previous generation (that comparison video is coming, so tay tuned).
Honestly, these have become my go-to shoes for walking, hiking and biking in addition to running.
Price: $110
Sizing: They run true to size.
Sustainability: A significant portion of these shoes is recycled and the BLOOM performance midsole is made out of 10% algae biomass.
Bottom Line
There's a trail running shoe for every type of trail runner: barefoot to cushy, stiff to flexible, colorful to subdued, mega-miler to leisurely jogger. Hopefully we helped you find the right shoe for you. If we did, or you have your own thoughts to share on these shoes, leave a comment! Then get outside, hit those trails, and wander on.
•
This post contains affiliate links. That means when you clicky-click and make a purchase, you help support Terradrift. And it doesn't even cost you any extra. Win-win!
Alisha is a freelance writer and photographer based in Austin, TX. She loves her tiny house, vegan food and experiencing the community of travel in far away places. She's also pretty sure she's addicted to coffee. alishamcdarris.com