Anyone who's been hangin' around Terradrift for more than about 10 minutes is likely aware that I'm a big fan of barefoot shoes. I've reviewed lots of them, from sandals to boots to trail runners. And at this point, it's safe to say I'm all in on barefoot hiking boots.
I mean, just take a peek in my closet and you'll have no doubt: I have a ridiculous amount of barefoot shoes in there. Plus a few minimalist boots and shoes like Altras or Lems.
That's because many hiking boots have such a significant drop–that's the measurable height difference between your heel and the ball of your foot–that you might as well be wearing heels. And I've interviewed podiatrists and functional movement specialists and they say that's no bueno for your spine and your balance and your foot and ankle strength.
So long story short, it's only zero-drop boots and minimalist shoes for me. The more minimalist the better.
Which has led me to a closet full of barefoot shoes. And the largest percentage of that footwear just happens to be from Xero Shoes and Vivobarefoot. What can I say? They're my favorite.
So I thought it was high time I compared the two since they both have relatively new hiking boots on the market: Vivobarfoot recently released the Magna Lite SG, while Xero Shoes offers the colorful Scrambler Mid. I tested them both out, so let's dish about how they differ and who's gonna wanna check out which one.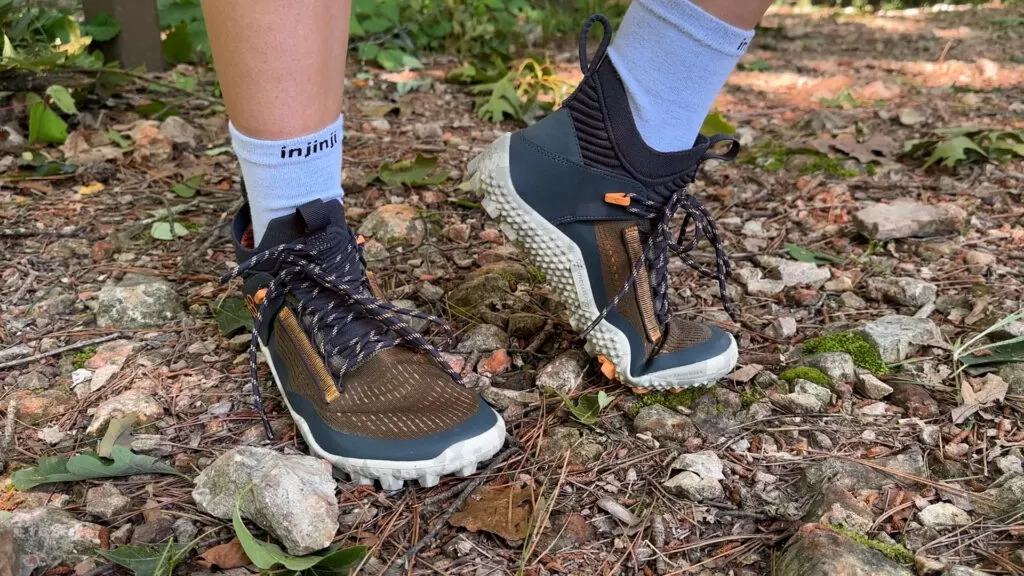 I've tested every version of the Magna Trail FG and freakin' love these boots. The newer Magna Trail FG II is my favorite for its easy-on action, low profile look, extreme flexibility, and excellent groundfeel. It's my go-to travel boot when I'm packing light because it's a functional hiking boot, but also looks baller with a pair of jeans–not hiking boot-y at all, which I love.
The tread isn't super aggressive, though, which not everyone loves. Which is presumably why Vivo created the Magna Lite SG–which stands for Soft Ground, btw.
It's unique for a few reasons. First, those deep lugs offer excellent traction on soft and hard terrain, including in mud.
Second, the upper is super duper breathable. I mean, I hate hiking in shoes. I almost always prefer hiking sandals if the temps are gonna be over 70 degrees. But I did not hate hiking in these in hot and humid conditions. In fact, if I can't hike in sandals, these are the only boots I want. They even breathe better than most of my trail-runner style hiking shoes. Love.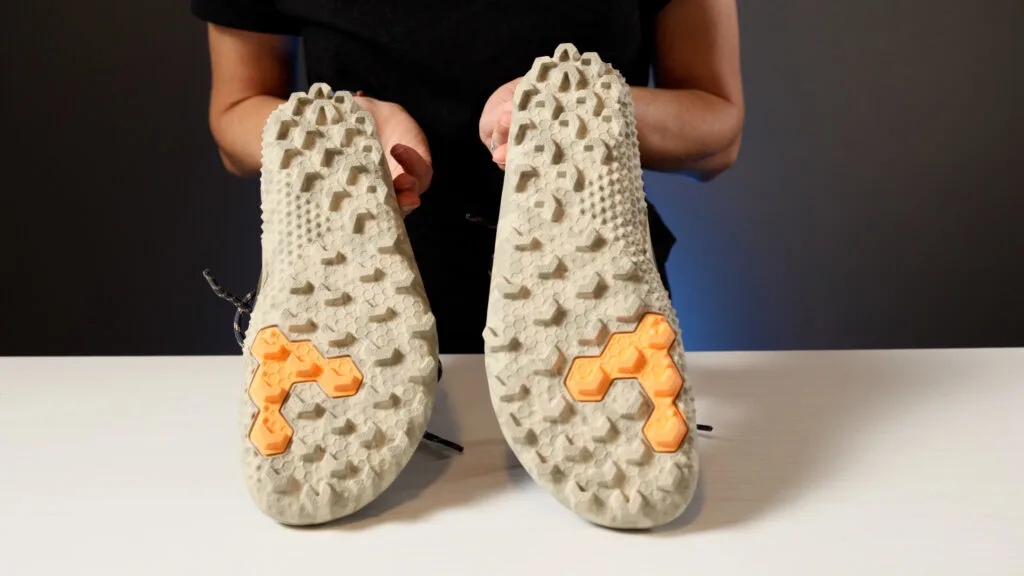 Third, they have a crazy stretchy and flexible ankle that not only makes them easy to slide on–especially with that oversized pull loop on the back and front–but they really move and flex with your foot and ankle, which offers incredible freedom of motion, which I'm all about.
'Cause listen, if your feet and ankles are healthy and as strong as they should be–and they will be if you spend most of your time in barefoot shoes–you don't need ankle support.
But back to the shoes themselves: They're made of largely recycled materials, are completely vegan, and come with a removable ultralight insole so you can choose between slightly more or less protection.
And let me tell you, these babies are flexible AF. I mean, the groundfeel is no joke. My feet felt simultaneously protected and free as a freakin' bird in these. I was honestly surprised when I put them on and they were just immediately comfortable.
They're stupid flexible and lightweight–a size 8 weighs just 9.3 ounces per boot–and they take up almost no room in your bag if you're packing them for a trip.
They're available in two colors for men and women–this green-blue and a grey-teal–and for those of you who crave specs, the sole is just 2.5 millimeters thick and the lugs 5 millimeters.
The rubber sole is sticky, even on wet trails and rocks, and they fit true to size. Though I will say, if there's one downside, it's that these are pretty low volume boots. That works for me because I have narrow and low volume feet, but if you have the opposite they may feel a little snug.
That said, because the uppers are so stretchy and flexible, you may not have an issue like you might with the Magna Trail and its more durable, non-stretch materials. Josh has a very tall foot and he still finds these supremely comfortable.
They didn't rub or irritate in any way, shape or form, and frankly, I think I just found my new favorite hiking boots.
Seriously, I'm rarely this taken with a pair of boots. I guess my crush on Vivo will continue. They aren't waterproof, so do keep that in mind, but they will dry quickly if they get wet.
Price: $210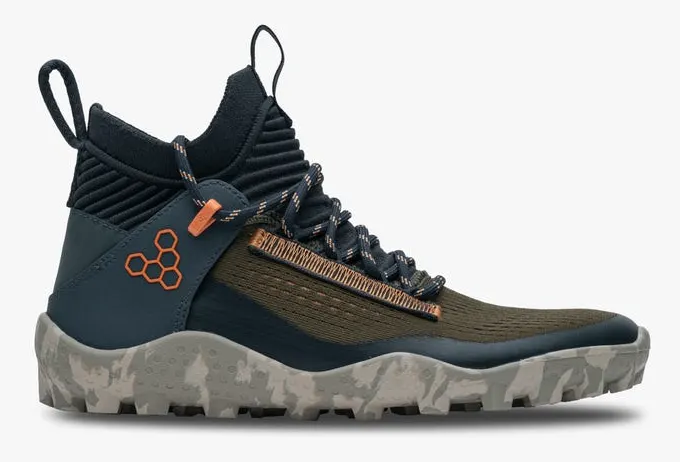 Pros:
Excellent groundfeel
Uber-flexible sole
Supremely breathable uppers
Large, deep lugs
Ultralight
Packable
Available in more neutral colors
Cons:
Not as protective as some barefoot boots
Best for…
Warm to hot weather hikes and those who want good purchase on soft trails but also prize extreme barefoot freedom, feel, and flexibility.
---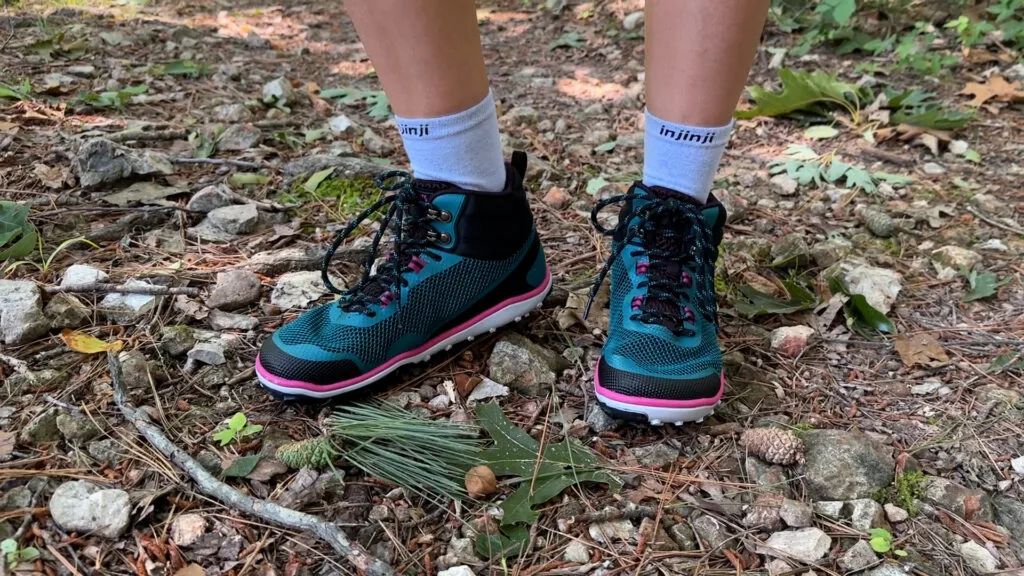 I also have an inordinate amount of Xero Shoes in my closet. I'm obsessed with my Z-Trail sandals, trail run in my Mesa Trail, and my Dillon sneakers are now my one and only decent looking casual shoe.
I love my Xeros. And while Josh has tested the Xcursion Fusion Daylite Hiker, I've never personally worn any of their boots, so it was high time to give these a try.
The Scrambler Mid is designed to be rugged, durable, and sticky as all get-out. It should be; it utilizes Michelin tire rubber for the soles. And yes, the shoe is still included in the brand's 5,000-mile warranty, which is awesome. They're also totally vegan, by the way.
They're nice and light at 9.4 oz for a single women's size 7 and while it's not quite as flexible as the Magna Lite, does offer more protection from rocks and uneven surfaces via a nice dense, solid sole.
Now, that does mean that groundfeel isn't quite as good, but these shoes are still plenty bendy. As in, when hiking in them, I didn't feel like my foot couldn't bend and move like I wanted it to. And I could still feel the ground beneath my feet, just not as acutely.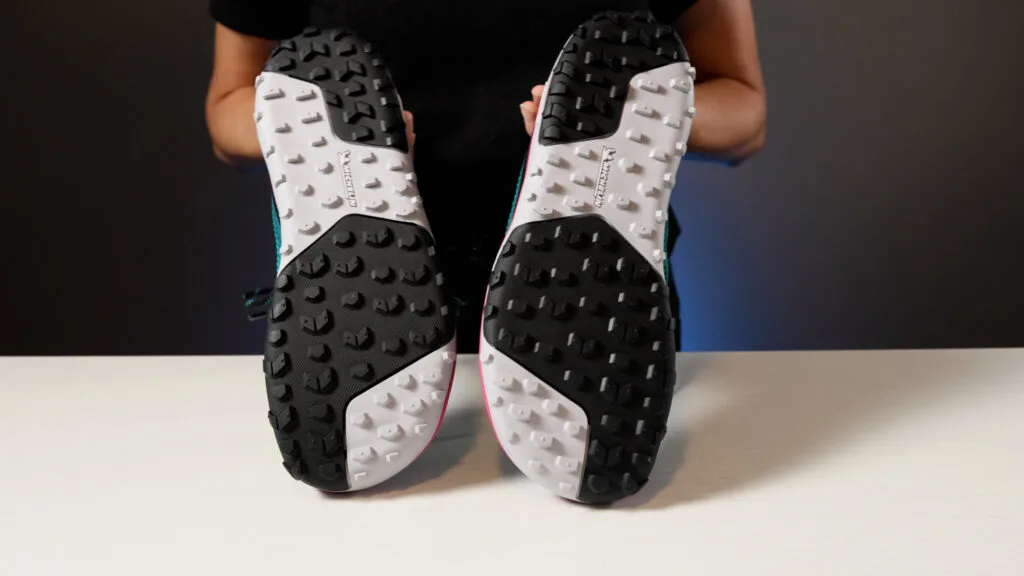 That's partly because of the stiff rubber sole, but also the protective and comfy layer of the brand's TrailFoam between the sole and the footbed. In addition, there's a durable toe cap and the uppers are abrasion resistant and tolerably breathable, though I found them a bit hot for warm weather hikes, especially in the ankle region. That area is thicker and well-padded, so it's not as breathable. But it also doesn't offer support. Like I said, healthy feet shouldn't need that support, but that just leaves me wondering why it's so built up in the first place.
I'm not sure what purpose it serves, especially since this, like the Magna Lite SG, isn't waterproof, so it's not like it's keeping out liquid during shallow creek crossings or dirt and dust since the upper is basically multiple layers of mesh.
That said, it's certainly comfortable. It hugs your ankle comfortably and doesn't rub or irritate, which is great. There's more padding in the footbed, so it does feel slightly more cushioned than being straight barefoot.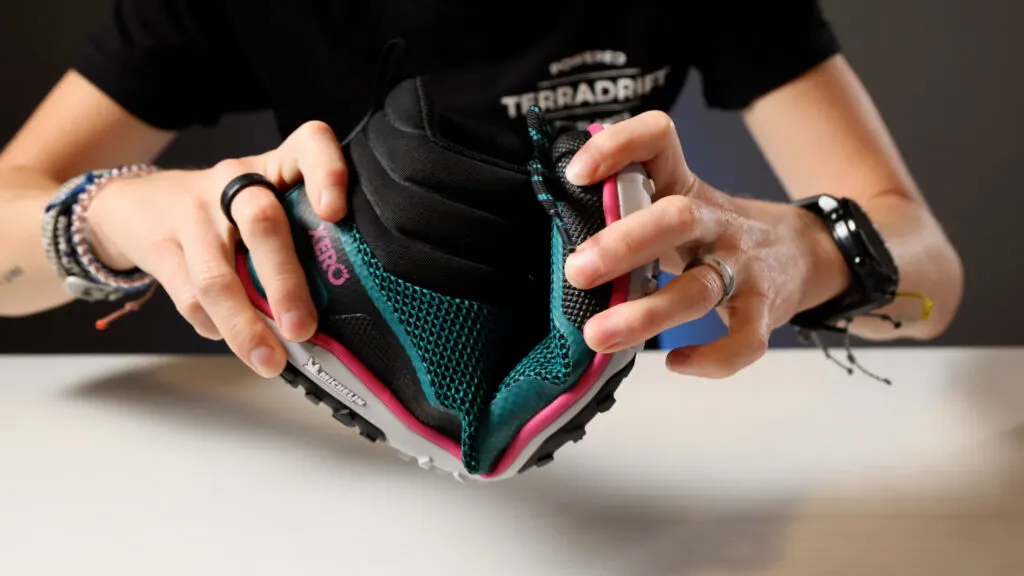 And the Scrambler mid is better suited for wider and higher volume feet. I, with my petite feet, for example, had to cinch the laces so much the upper buckled, but those with larger feet should have plenty of room, even with thick socks on.
It also comes in more fun colors, at least for women, which is obviously a matter of personal preference. I do wish one of the women's options was a more neutral tone though. The men's are available in black and in grey with yellow accents but women are stuck with turquoise and pink or purple.
But these are solid hiking boots that are lightweight and supremely capable and they fit true to size. As in, I wear an 8-8.5 in hiking boots and a size 8 was just the right amount of roomy.
Price: $170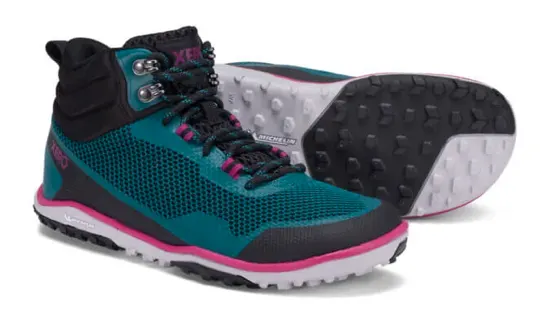 Pros:
Sticky soles
Decently-sized lugs
Thicker, protective footbed
More plush and supportive
Super soft ankle support
Cons:
Best for…
Mild to warm weather hikes and those who want plenty of sticky traction and flexibility but also more protection than extreme barefoot boots or shoes.
---
Bottom Line
Which barefoot hiking boot you prefer is really a matter of personal preference.
The Vivo offers a more barefoot feel and excellent breathability while the Xero offers a bit more protection and comfort. The Vivo feels like it's made of higher quality materials, but it also comes with a higher price tag.
Honestly, both have their place. But if you regularly hike in warm climates and love a true barefoot feel, the Vivo's are probably for you. Whereas the Xero's are perhaps better suited to milder climates and aggressively rocky terrain.
So have you worn either? Keen to give 'em a try? Let us know in the comments!
Then lace up some barefoot boots and wander on.
Alisha is a freelance writer and photographer based in Austin, TX. She loves her tiny house, vegan food and experiencing the community of travel in far away places. She's also pretty sure she's addicted to coffee. alishamcdarris.com