It's that time of year again: summer! Which means it's time to chuck your hot winter boots in the back of your closet and break out the hiking sandals!
Yup, I'm a big fan of hiking in sandals because frankly, I don't like my feet to be hot. Hot feet can ruin a whole hike for me. And many of the options out there are perfectly suitable for hiking.
Not that adventure sandals are just for hiking. I wear them around town because my style is most definitely dirtbag chic, I wear them white water rafting and kayaking, and to family weddings if I can get away with it.
And yes, sandals can totally be appropriate for hiking. Thru hikers have completed the AT and the PCT in sandals. People have summited fourteeners in sandals. I've been hiking for years in sandals (most of them barefoot sandals) all over the U.S. and the world. I've researched and read scientific papers and interviewed podiatrists and biometrics professionals about hiking in sandals, and guess what, they're cool with it.
So if you wanna free your feet on your next hike (make sure to proceed with caution, match the shoe to the hike, and don't forget the first aid kit and sunscreen), do it! We suggest strapping into one of these 5 rad hiking sandals (and check out last year's adventure sandal list here).
Important note: All of these sandals are vegan and yes, I tested all of them. As in, I took 'em outside, hit some trails, and walked for miles and miles in every pair.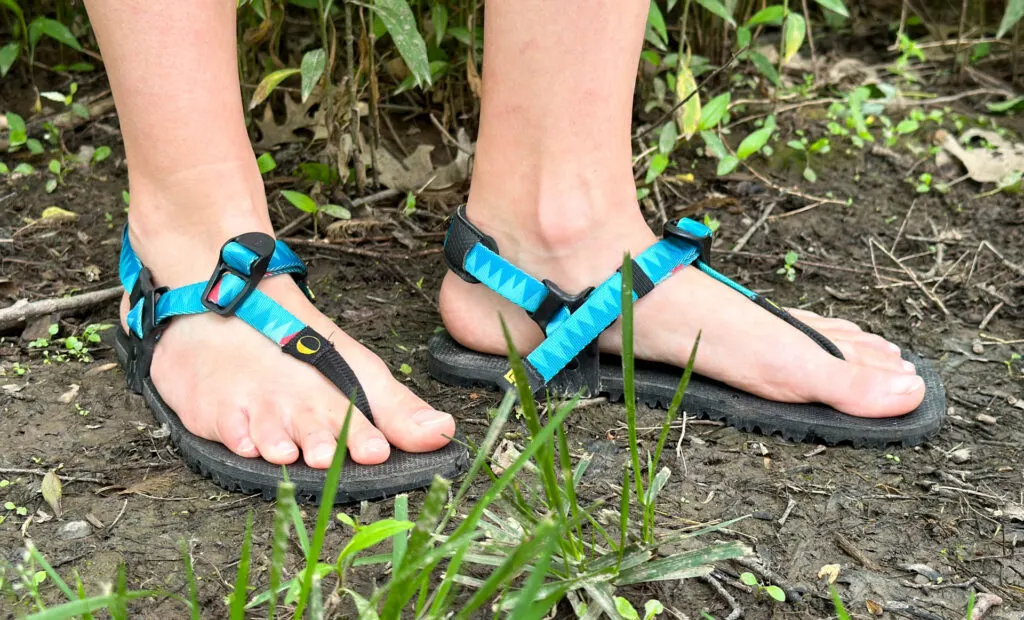 The minute I put these Luna Oso Flaco's on my feet, my feet were happy. I dunno if it's the uber flexible sole, that the thin footbed somehow feels like it's got hidden padding, or what, but these might be my new fave adventure sandals.
But FYI: They ARE minimalist sandals, also known as barefoot sandals, so if you think you need arch support or a super cushy footbed, start looking elsewhere. But if you're open to freeing your feet and actually feeling the ground you're walking on, look no further.
Luna was actually founded by a man some of you may have heard of–Barefoot Ted, who featured prominently in the book Born to Run, which you should totally read, especially if you're serious about barefoot shoes or hiking sandals in general.
But I digress. I dig these sandals because a.) they're some of the most flexible barefoot sandals I've tested at this thickness, b.) the toe thong bit is made of a thin, flexible fabric so it doesn't irritate as much as some other sandals with toe plugs, and c.) that padded heel strap is lit. plus they're highly capable on rough trails thanks to the aggressive tread.
They're just comfortable. IF you've transitioned to barefoot or minimalist shoes, of course.
Anyway, The aggressive tread is super grippy, a men's 9 only weighs 7.2oz, they have an 11.5mm sole that feels much thinner–which is a good thing–and the straps are highly adjustable.
And because they're mostly available online, not at many retailers, you can print out foot templates at home to practically guarantee you get the right size. Love it.
As for sustainability, not all of the brand's shoes are made in the USA, but you can specifically order a pair that are, which is rad. They come in three colors, including black, and frankly, I think they're an excellent barefoot sandal.
Pros:
Uber flexible
Minimalist footbed (which is good for foot and spine health)
Highly adjustable
Padded heel strap
Cons:
A bit on the pricey side for sandals
Only a 1-year warranty
Price: $125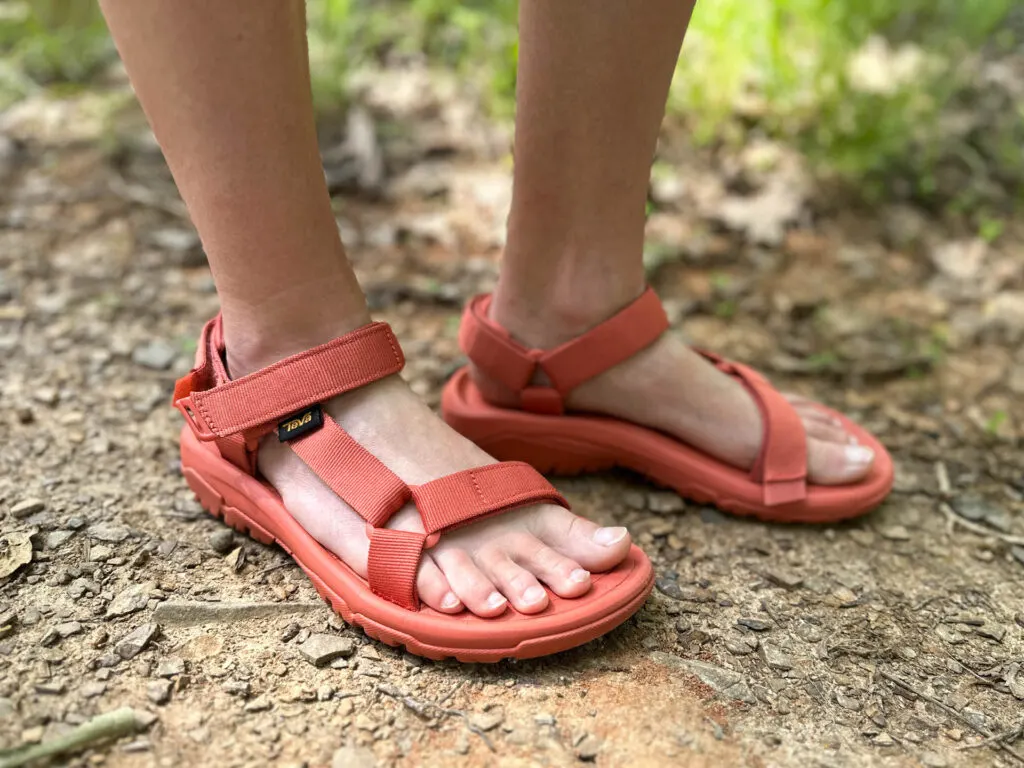 I've loved Tevas since I put on my first pair of flips when I was a teenager. Those footbeds. Oh man. So. Dang. Squishy. I mean, they can't be beat in terms of comfort.
The brand's gender-neutral hiking sandals–namely the Hurricane XLT 2–don't have that exact same footbed, but that's a good thing, because those soft, squishy soles also tend to get slippery when wet with water or sweat.
These guys still feel a bit slick when moisture abounds, but not nearly to the same degree. Plus, the Hurricane has all these wide, secure straps to really lock your feet in. And all three straps are fully adjustable.
And unlike some sandals that require pulling and tugging webbing through the footbed, these are as easy as un-velcro, tighten or loosen, and secure. They're comfy straps, too. And totally in style right now. I mean, the dad sandal look is IN, guys.
But the comfort factor is a real pro here. These sandals just feel nice under your feetsies. The arch support is minimal and they're just the right amount of squishy and comfy for all-day wear whether you're hiking or hoofing it around town.
The sole is nice and solid with tolerably robust tread. More robust than the Universal Trail Sandal, anyway, which I've tested and don't like as much as the Hurricane (check out 2021's hiking sandal review).
They're still pretty light and flexible, though, so while they may be a bit chunky and take up more space if you plan on throwing them inside a bag, they won't weigh you down whether they're on your feet or on your back. One weighs about 7-8oz.
Sustainability-wise, the straps are made of recycled materials AND the shoes are recyclable! You just have to send them back to Teva's TevaForever program.
Pros:
Comfy footbed
Wide, secure straps
East to adjust
No potentially irritating toe strap
Available in tons of colors and patterns (including for wide feet)
Cons:
Potentially not as secure as sandals with toe straps when hiking downhill
Footbed can feel a smidge slippery when wet
Price: $75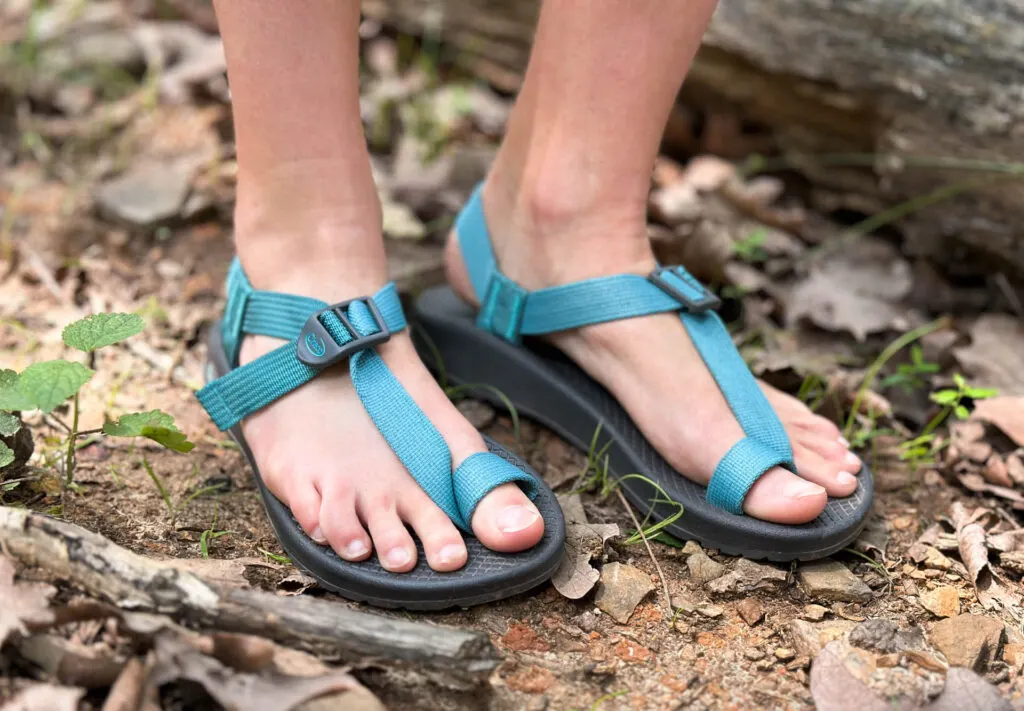 Next up is the new Chaco Bodhi sandal. Chacos were my first adventure sandals and I've always had a soft spot for them even though barefoot shoes are more my thing now.
But these new Bodhis are much lighter than the clunky Z/Sandals, they're fun and stylish, and still trail-ready.
After testing, I realized I'm not a fan of a toe loop. It functions to keep your foot centered on the sandal no matter what, but I found it restricting and uncomfortable. I also couldn't figure out where the heck the straps were supposed to lay and how.
The webbing is wide and it's supposed to lay across the top of your foot in a diagonal direction, but no matter how I adjusted the straps–they're fully adjustable since they weave through the footbed, just like other Chacos–I couldn't get them to feel comfortable or lay flat. And they wouldn't stay cinched down. They just loosened right up on me with every step.
These have gotten some seriously mixed reviews online, so I surmise whether you like these sandals very much has a lot to do with foot shape because some people seem to love them and some people are having the same problem I'm having.
That said, the design and style are modern and fun. Plus there are some great colors to choose from. So if you're able to dial in the right fit, these would be a stellar option.
They're lighter than traditional Chacos at around 7.3 oz, which means they're easier to pack if you're hiking or traveling with them, but still have the same super supportive Luvseat arch and footbed. Plus they look more sleek and stylish if you'll also be wearing your sandals around town.
So maybe find a local retailer where you can try on a pair before you buy. On the upside, Chaco has an amazing warranty and they'll repair your sandals for the life of the product! Depending on what happened to them, you might have to pay a small fee or for shipping, but that's a small price to pay when you've invested in a pair of Chacos, which you'll probably have for a good long time.
The brand even hosts pop-ups where you can show up in person and they'll take your sandals, repair them, and mail them back to you. I did that last summer with my Z's and they look good as new!
Bonus: the webbing is made of recycled materials.
Pros:
Stylish
Secure on your feet
Lightweight
Adjustable
Cons:
Price: $100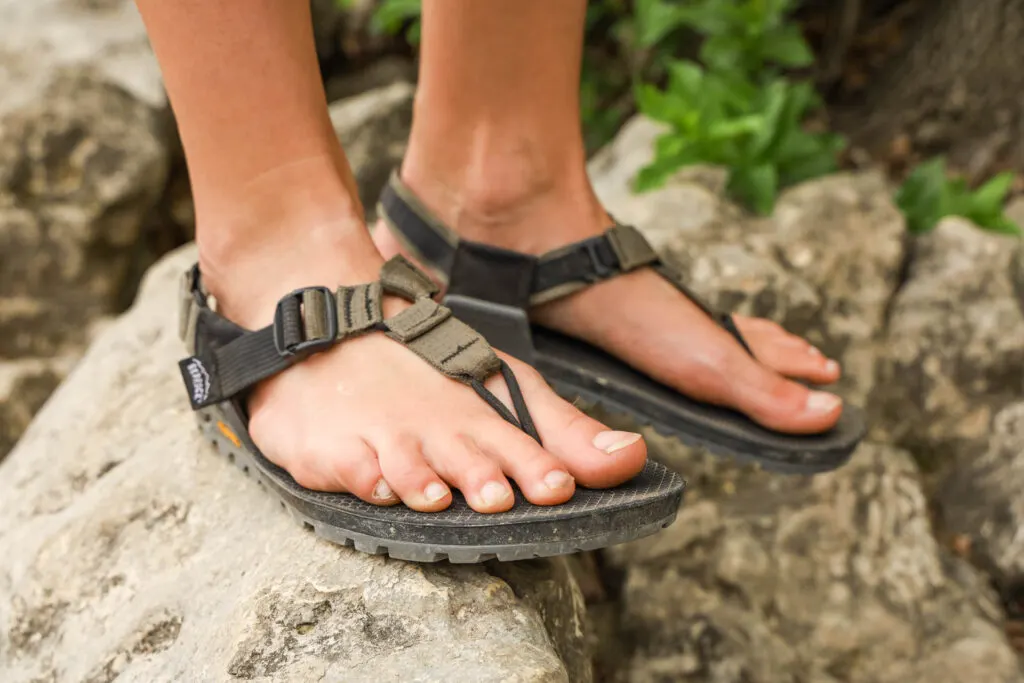 There are a couple of variations on the Bedrock sandal: The Cairn and the Cairn Pro II, both of which come in 3D versions with molded arch support and toe support if you want a less minimalist shoe.
As for the difference between the Cairn Pro II and the Cairn, it's fairly minimal. The pro has hooks on the heel strap that lock in place so they'll stay put better in wet conditions, while the regular Cairn has an easier to adjust hook-and-loop strap at the back.
The Cairn has a slightly more flexible and less sticky Vibram sole, but the thickness of the sole–14mm for the Cairn and 16mm for the 3D–and the weight–about 7.5 oz for the Cairn and 8.5 oz for the 3D–is about the same as the Pro.
I tested out the Pro II and while they weren't my favorite hiking sandal, that's mostly due to personal preference and foot shape, because honestly, I can see the appeal. I say foot shape because I think my toes are just too short for the position of the toe plug. I couldn't get them adjusted comfortably so they didn't jam into that soft flesh between my first two toes.
But these are a beast when it comes to rugged durability. They're not the most flexible, but they can take a beating and they can handle some rugged terrain.
I even dig how they look and they're easy to adjust once you have the fit dialed in. Just loosen and tighten the top strap with a tug. I definitely understand why they have a cult following.
They're also not as well suited for really narrow feet like mine as the wings are pretty far apart, which results in some foot slippage side to side, but if you have at least average sized feet and want a capable sandal that's gonna stay on no matter what and that is made with super durable materials, these are the ones.
There are also minimalist and more supportive footbed options. And thanks to Bedrock's Rock Solid Guarantee, the brand will repair or replace any part of your sandals if they break or wear out before the sole. Which means you can keep your sandals out of the landfill longer.
Pros:
Secure on your foot
Highly adjustable
Available in lots of colors and patterns
Super durable
Cons:
Don't fit narrow feet as well
On the pricey side
Price: $130 (Pro), $115 (Cairn)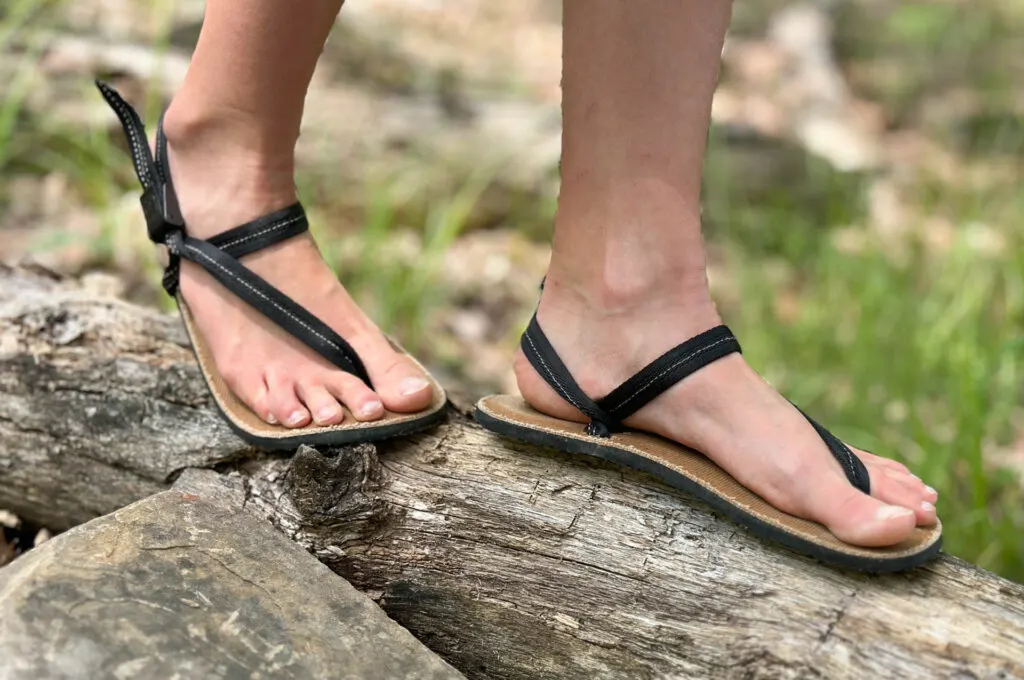 The EarthRunners Chronos Sandals with lifestyle laces are unique because they're more than just sandals; they're a practice in grounding. Which means, supposedly, they offer most of the same grounding benefits as walking barefoot.
Now, I'm not gonna go into all the health benefit claims of grounding, but suffice it to say that spending time barefoot in nature every day purportedly offers some holistic health benefits. So if you're into that, these are your sandals.
That's because in addition to having a moisture-wicking canvas footbed, organically dyed straps, and a lightweight Vibram sole, they have a copper earthing plug that connects to stainless steel thread that runs through the webbing.
But functionally speaking, they're fairly flexible, the footbed isn't slippery AT ALL, these have a 9mm base (but there are thicker and thinner options), and the buckles contain 25% recycled materials and are injection molded, which makes for less waste. They're also made in the USA, which reduces the carbon footprint significantly.
They are barefoot sandals: there's no cushion or arch support here, but if you're used to that or want a pair of flip-flop-esque sandals that can do more and go farther than flip-flops can, these will do the trick.
These are probably better suited for narrow feet. While I had no issue with the placement of the toe strap, the webbing on the inside of the arch hits in a weird spot on my foot. As long as I had them cinched nice and snug, I didn't have a problem, but if I loosened them just a little, I'd start walking on top of that bit. So you do have to keep 'em nice and tight for maximum usability.
But they were fairly easy to get on and off, even if I didn't loosen the buckles, and I had zero complaints when hiking on all sorts or terrain with them, though this sole thickness is not as flexible as I like, and not as flexible as some other barefoot sandies.
The tread isn't deep, but the sole is sticky, and honestly, with barefoot sandals, because your feet are curving around variations in the terrain more than they would be in a stiffer shoe, lack of tread isn't that big of a deal.
What matters more to me is weight–a men's 9 is only 5.3 ounces–and sizing–you can print off sizing templates at home.
They're simple, they're straightforward, they literally keep you grounded, what's not to love?
Pros:
Grounding sandals
Non-slip footbed
A more classic style that goes with everything on and off the trail
Secure on your feet
Cons:
May be better suited for narrow feet
Price: $79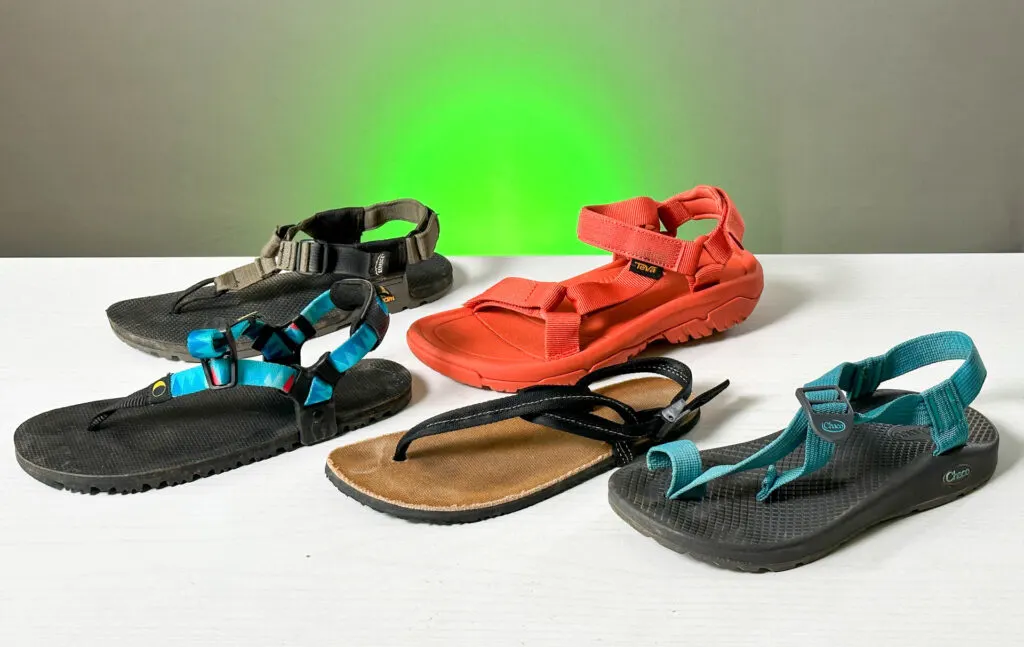 Hiking Sandals Bottom Line
Are there more hiking sandals out there? Yeah, of course (we reviewed a few different ones last year). But these are some of our favorites.
If you have any questions about these rad sandals or we helped you find your next favorite pair, drop us a comment. We'd sincerely love to hear from you.
Then strap on some sandals and wander on!
•
This post contains affiliate links, which means when you clicky-click on a link and score yourself some new sandals, we may receive a small commission at no cost to you. Thanks for supporting a channel you love!
Alisha is a freelance writer and photographer based in Austin, TX. She loves her tiny house, vegan food and experiencing the community of travel in far away places. She's also pretty sure she's addicted to coffee. alishamcdarris.com