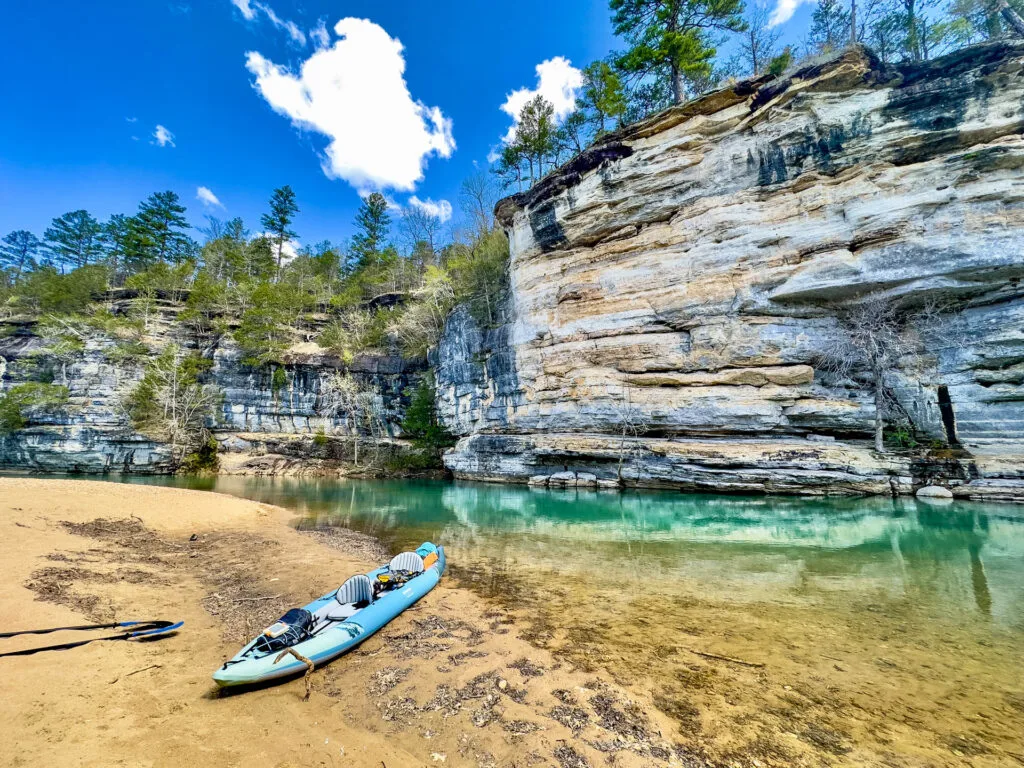 When were moved to Northwest Arkansas from Austin, Texas last summer, we got a lot of confused looks. Which was fair, because what the heck is even IN Arkansas? I mean, besides Hot Springs National Park? If I'm being honest, the real reason we moved is because NWA chose us: we applied for a relocation grant and were one of the chosen few. But we were ready to leave the city anyway. Why? Besides the ridiculously fast-rising cost of living, you mean? Because we wanted more in the way of outdoor adventure: easier access to running rivers, mountains, backpacking trails, and mountain biking. And the crown jewel of NWA's outdoor scene might just be the Buffalo National River, a snaking waterway flanked by a multi-day backpacking trail. So shortly after we moved, I started plotting. We were gonna plan a pack and paddle and kayak down a chunk of the Buffalo River Trail and then backpack back up.
It wasn't easy to plan, but it was a ridiculous amount of fun, especially given how few people complete such a trip every year. Fortunately, we're gonna lay the whole thing out for you here and now so if you get the crazy itch to pack and paddle the Buffalo, you're already one step ahead.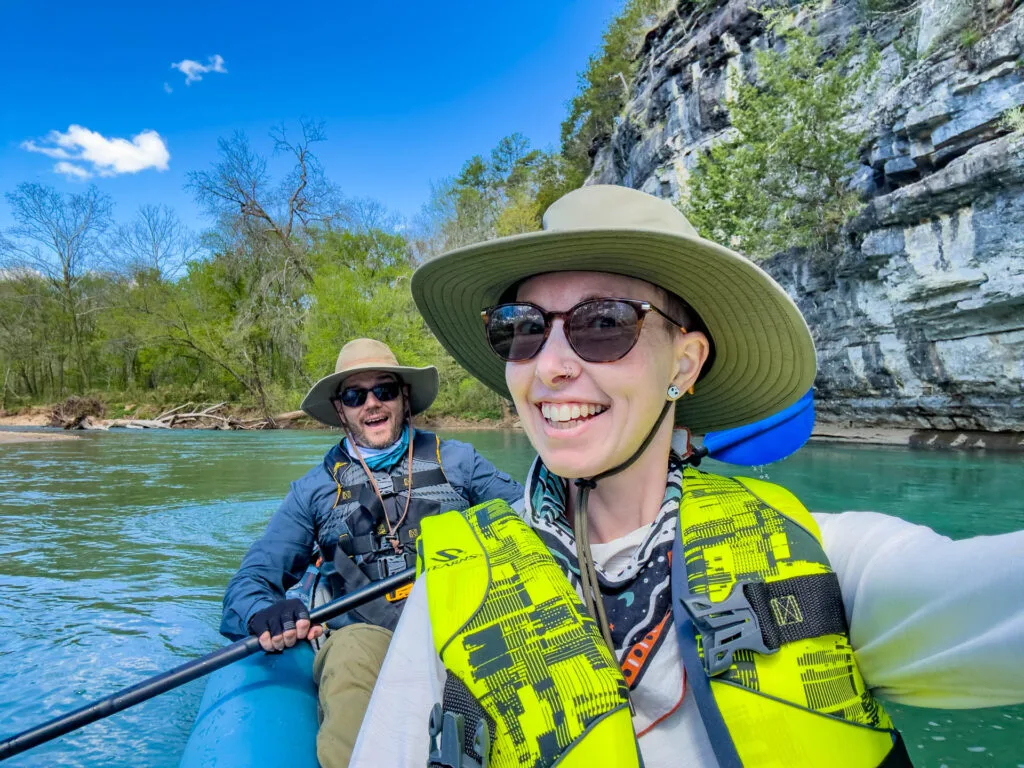 Kayak and Backpack the Buffalo River: The Route
The Buffalo Rive is long, 153 miles total, but most of it isn't accompanied by a hiking trail. The part that is begins in Boxley and ends in Pruitt, which is where the trail begins and ends, all 35.5 miles of it.
However, you may not be able to paddle the whole section depending on river conditions and how much rain the area has seen recently. The section from Boxley to Pruitt, for example, can easily become challenging whitewater after too much precipitation or be much too shallow to paddle if it hasn't rained recently.
The latter was the case the week we ventured out, so we started our paddle adventure in Pruitt instead and paddled all the way to Ponca. It took us two days (really one and a half) to travel the whole 24-ish miles and we camped on a sandbar our first night. We are experienced paddlers, though, and passed many people leisurely floating shorter sections (even after stopping to hike to Hemmed In Hollow Falls). So if you like to take your time or you'll be starting late in the day, consider planning a two-night trip.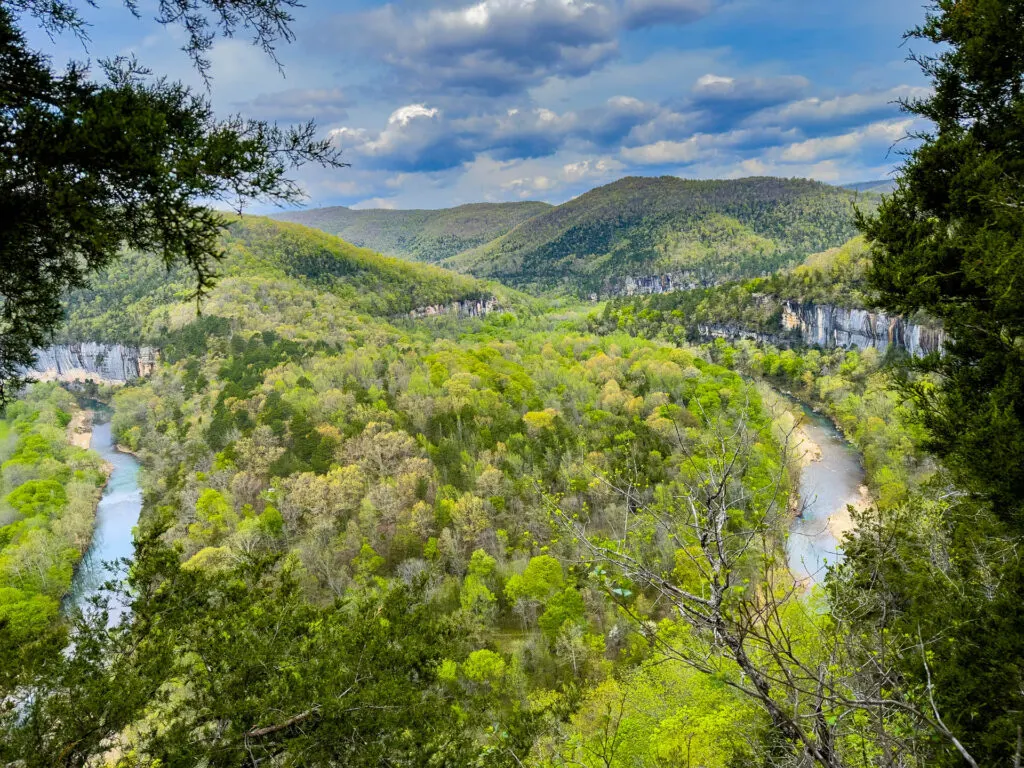 Since we arrived in Ponca around lunchtime, we packed up our burly Aquaglide Cirrus Ultralight 150 inflatable kayak (which is more sustainable than some other models as it's made of TPU that's recyclable but also biodegrades in 3 to 5 years and seams are welded instead of sealed with toxic adhesives), ate lunch, repacked everything in our dry bags into our backpacks and reloaded with snacks from our car, and decided to go ahead and hit the trail to get a few miles under our belts. We made it about 5 before taking a side trail back down to the riverbank to set up camp for the night.
The next day we hiked 12 miles, followed by about 15 miles on day four, and 6 miles to the end on day five when we returned to Boxley and our awaiting car (more on how our one car was in two places in a few minutes).
The trip took five days and four nights total. We paddled 24 miles, hiked 35.5, and enjoyed (almost) every minute of it.
The Experience
I say almost because even though I've done 19-mile days on Catalina Island and 21-mile days on the PCT, Those 12- and 15-mile days felt particularly brutal. It was April, so wasn't too hot or humid yet, but I was wearing pants AND long sleeves, both of which I hate to hike in, because ticks were already out in full force (or so we'd been warned). Read more about ticks and how we learned to protect ourselves in this post.
That, and the trail was often steep, rocky, and poorly graded, which put a strain on my ankles and feet. Also, despite the fact that I had *just* proclaimed the updated design of the Altra Lone Peak 7 equal to or even superior to the 6, I got blisters for the first time in YEARS on the pinkie toes of BOTH feet. Could it have been the two days we spent on the river getting soggy before hiking? Maybe. But either way, blisters are blisters and they suck.
But much of the trail was at least partially shaded in the spring. It would be more so in summer, but summer also means more ticks and higher temps, so I'll take more sun, thanks.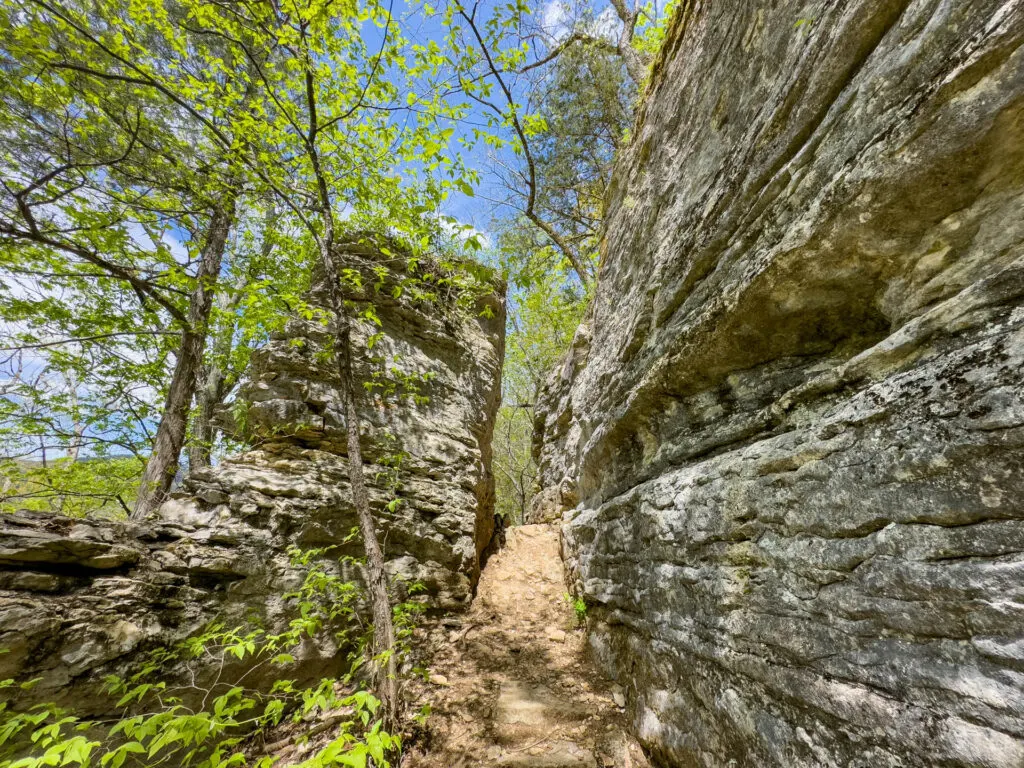 But arriving at camp was always a pleasure. We pulled ashore on a sandbar a little over half way at the end of the first day of paddling (you can camp free anywhere that's not an actual park with a campground) and we again hiked down to the bank on a horse trail to camp the second and third nights. We liked the dispersed waterfront camping because not only do we love to be near water for the soothing sound, but also so we could easily fill and filter water from the river. Plus, since ticks live on plants, and there are fewer plants on sand, gravel, or rock beaches, there are fewer ticks (we didn't see any).
The last night we stayed in one of the many dispersed campsites in the woods that are sprinkled between 5-7 miles from the Boxley trailhead.
We filled water without having to filter at several of the parks and put-ins we hiked through or passed, like Kyles Landing and Steel Creek, otherwise we filtered water we collected from the many small streams along the way or the Buffalo River itself (read about how to filter and purify water in the backcountry here). We rarely carried more than 2 liters at a time.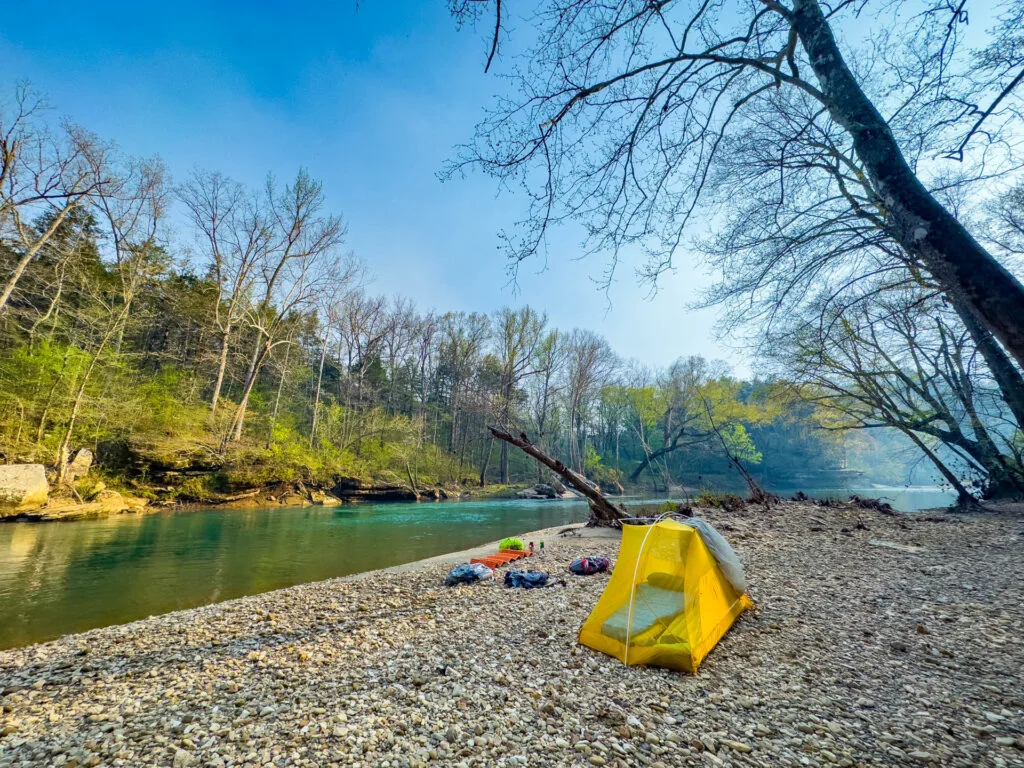 The Logistics
Earlier, I alluded to our car being in two places. How did it get there if we were on the trail? Well, it turns out, if you don't have friends or family members to help shuttle you or relocate your car while you're in the backcountry, or you're a one-car family like we are and you can't do it yourself, a quantity of cash can persuade a handful of local businesses to do it for you.
We hired Buffalo River Outdoor Center to do so. Essentially, we gave them a set of car keys, left our vehicle at the Ponca put-in, they shuttled it to Pruitt where it was waiting for us after our paddle. We threw our inflatable kayak inside, got out our backpacks, and went on our way. They took the car back to their headquarters and then dropped it off at the Boxley trailhead the morning we were scheduled to hike out. Huzzah!
It wasn't cheap. In fact, we paid slightly more to shuttle our car several times (about $200) than we would have to rent one of their kayaks, but it was worth it to us because a.) they only had sit-on-top kayaks, which are neither stable nor fun, and b.) we had to test out the Aquaglide Cirrus Ultralight 150 so we could tell you all about it! Fortunately, while the cost is high, this trip was over my birthday, and since I always allocate extra cash to celebrate (whether I'm snorkeling on the Great Barrier Reef, skydiving, or learning to wakeboard), it was within acceptable parameters, lol.
Unfortunately, it seems than while local companies will shuttle your empty car for you, they will not transport you or your kayak. Seems strange to me since everywhere I've ever kayaked that involved paddling downriver included a ride back to the starting point, but what are you gonna do?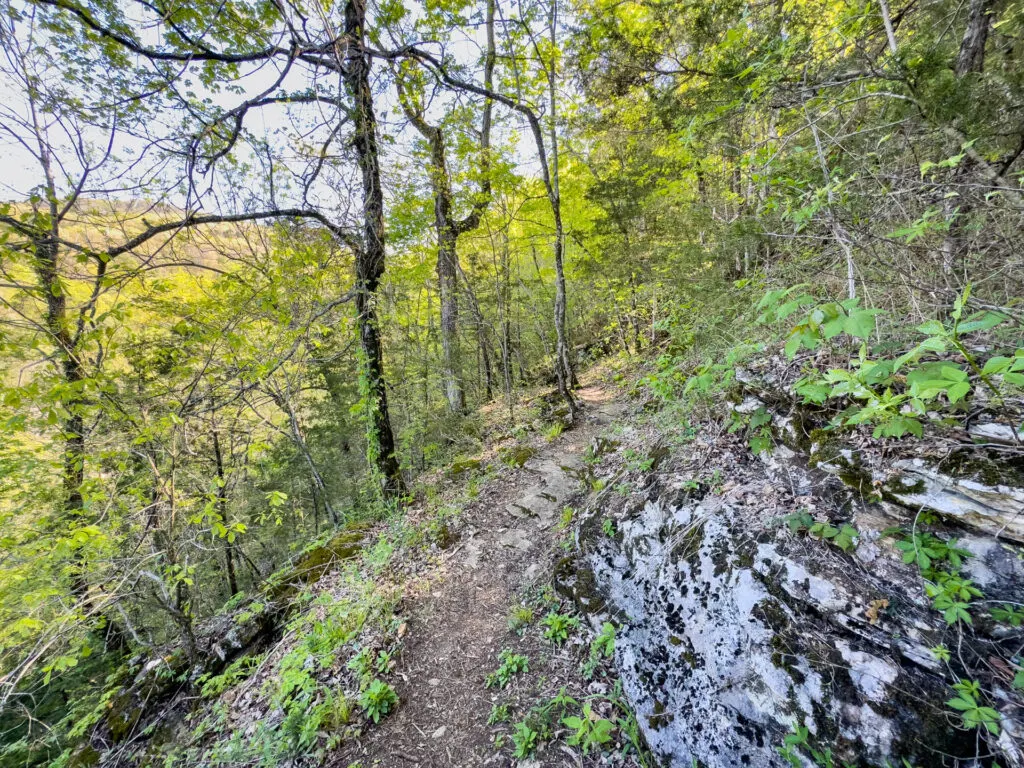 Get the Goods: Necessary Gear for the Buffalo River Trail
Naturally, if you're going to set off on an adventure like this, you're gonna need some gear.
Tips
Need a bit more guidance and advice? We got you.
There's no permit required to paddle or backpack and park entrance is free.
The best time to do this hike is spring or fall.
In order to paddle the river, there does have to be water flowing. So check river levels here (they should be at least "Moderate"). During dry seasons, paddling may not be an option.
Get a paper USGS map and download a digital version for offline use.
Have questions? Call a local outfitter. They're more than happy to help.
Campfires are allowed along the river and the trail unless posted otherwise, so bring the s'mores fixings! Just remember to Leave No Trace.
There are semi-developed dispersed campsites along the trail, but mostly within 5-7 miles from Boxley and Pruitt. Fortunately, you can easily hike down to the river bank to camp in the middle portion of the trail.
Fill water at spigots without having to filter at Erbie, Ozark, Kyles Landing, and Steel Creek.
Bottom Line
Whether you paddle the Buffalo River, backpack the Buffalo River Trail, or do both in one week (highly recommend), it's worth exploring this National River. Just don't forget the Permethrin!
Alisha is a freelance writer and photographer based in Austin, TX. She loves her tiny house, vegan food and experiencing the community of travel in far away places. She's also pretty sure she's addicted to coffee. alishamcdarris.com