I'm gonna be straight with you: Cairns (that's pronounced cans for you non-Australians) is far from the most exciting city in Australia unless you're really into nightlife. It's touristy, there's not much going on in the way of culture, it's hot and humid… So why bother visiting Cairns? One gigantic reason: The Great Barrier Reef. It's why backpackers and holidaymakers flock to the city in droves. And as the largest reef in the world and a world heritage site, it's no wonder why. But getting out on the reef can be expensive, so here's our trusty guide to Cairns on a budget.
Getting Around Cairns
Getting around in Cairns is much more straightforward than in Melbourne or Sydney, so fear not the public transportation system.
Bus: The Translink bus system is fair in Cairns, but buses don't run
as frequently as in larger cities, so plan accordingly. You can plan your trip online and even transfer on
the same fare for two hours after buying the ticket (which you can do in cash
on the bus).
Car Rental: Most of the big companies have offices in
Cairns, but there's one additional company that's extra cheap: Rent-a-Bomb. The
catch is that you can only travel within 50 kms of the city with the cheapest
option, so it's not a good option if you're going very far, say the Daintree.
Free Things to do in Cairns
There are a handful of things to do in Cairns for Free, so take a few days and check them out!
Rusty's Markets: for cheap fruit and vegetables, lunch, and
kitschy souvenirs, this is the place to be on Friday through Sunday mornings.
Grab some Vietnamese street food, a custard apple, and croc-skin glasses case
all in one place! It's free to browse and you might find a great deal on
avocados!
Esplanade Market: On Saturdays local vendors and craftsmen set
up on the esplanade and you can grab higher quality souvenirs like jewelry,
handmade T-shirts, and artwork.
Night Markets: Every night from 5:00-11:00 head downtown
across the road from the Esplanade and browse the aisles of stalls selling
hats, keychains, kitschy souvenirs, handmade soap, you name it. You can even
get a cheap massage or Chinese noodles.
The Esplanade: The highlight of this oceanfront boardwalk is
the free swimming lagoon located right next to the water. It's the perfect
place to cool down and catch some rays. Take a photo next to the iconic fish
fountains and feel the sand in your toes. It's the only free option for
swimming in the city since you can't swim in the ocean (crocodiles). There are
also playgrounds and a skate park if you're keen.
Bars: There are scores of bars in Cairns, most of which are
super skeevy (i.e. skanky, pervey, divey), but if you're going out anyway, you
might be able to score a deal if you take a walk around town first. Many bars
and clubs will be handing out special offers and drink discounts on the
sidewalk and many have weekly ladies nights (we came across one offering 5
glasses of champagne for every lady after 10:30 pm) and competitions for free stuff. Just know that you might
have to put up with sexist activities like pole dancing competitions and wet
T-shirt contests.
The Botanic Gardens: These free gardens are lovely, though
not terribly extensive, the highlight of which is the enclosed tropical garden
complete with butterflies that need no encouragement to alight on your hat or
shoulder (or camera). There are also a few longer walks starting in the gardens
including the Red Arrow.
Waterfalls: Outside of Cairns you'll find several places to enjoy waterfalls and take a dip in croc-free waters. Crystal Cascades in one such place, though you can't get there by bus. You can try hitching if you don't have a car as a fair amount of people visit the falls, especially in the summer. Barron Falls located outside of Kuranda is another option, though it's strictly for looking at, not swimming.
Kuranda: About 30-40 minutes north of Cairns is Kuranda, a rainforest village based around tourism. There are plenty of expensive things to do here (take the skyrail, go to the Koala Sanctuary…) but there are also free things to do in Kuranda. Check out the markets and do some souvenir shopping, take a turn around the rainforest boardwalk, and visit some art galleries. You can drive yourself if you have a car or use public transport from Cairns for just $6.50 each way.
The Beach: To swim in the ocean you'll have to leave Cairns. Palm Cove and Trinity Beach have an underwater fence to protect swimmers from stingers and other deadly ocean-dwellers and a strip of restaurants and shops for when you start feeling peckish. We recommend a scoop or two of vegan gelato at Scoops Gelatiland in Palm Cove. The bus will take you up to either beach and cost under $10 per person.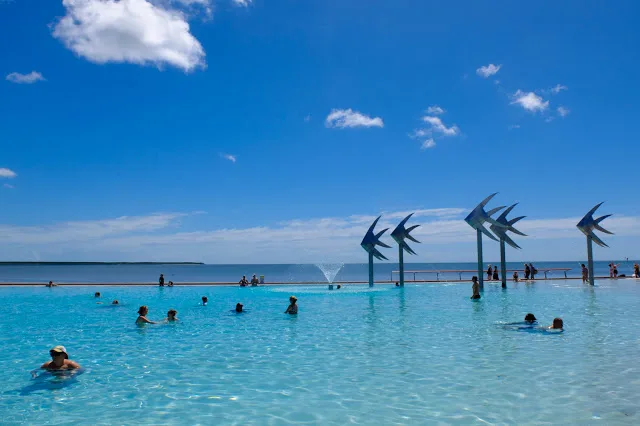 The Lagoon, located on Cairns' waterfront Esplanade is a great place to relax, catch some rays, and cool down.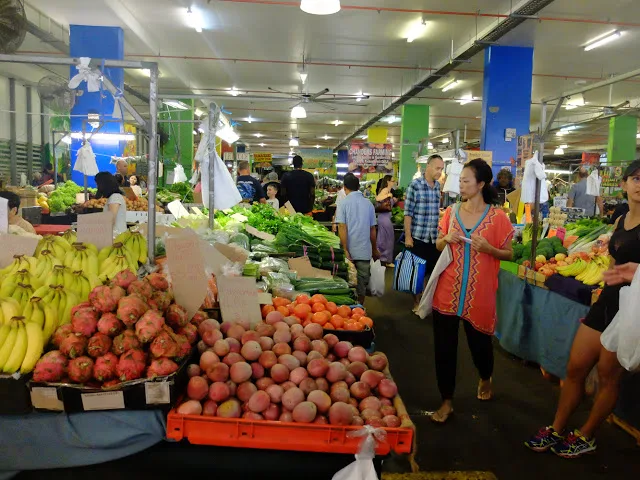 Rusty's Markets are a great place to find a deal on fruit and vegetables, not to mention an afternoon snack.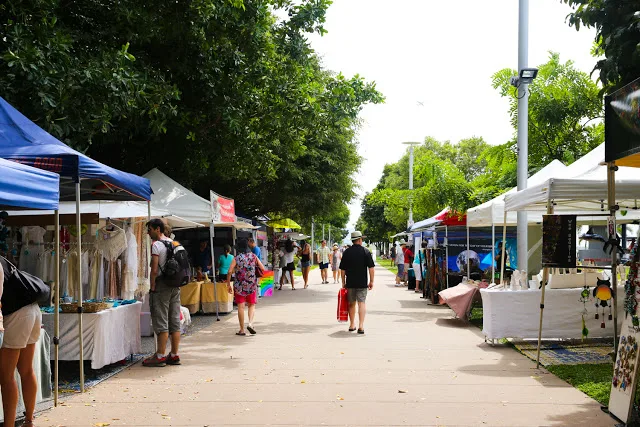 At the Saturday Esplanade Markets you'll find all sorts of art, jewelry and handmade goods.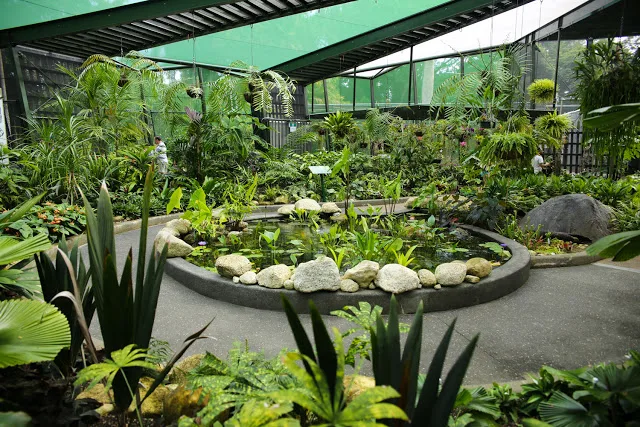 The Cairns Botanic Gardens are a lovely place to while away and afternoon.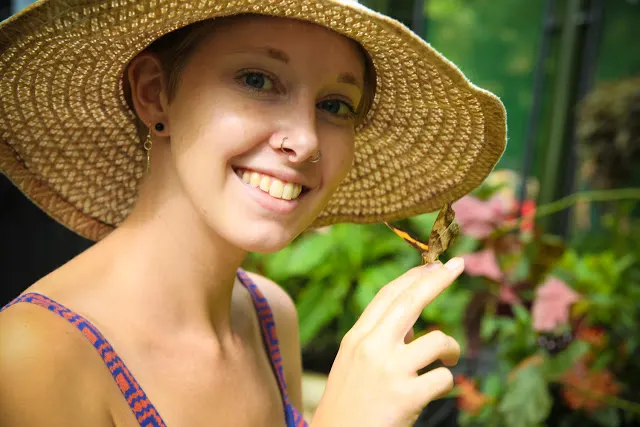 Become a perch for a butterfly at the Cairns Botanic Gardens.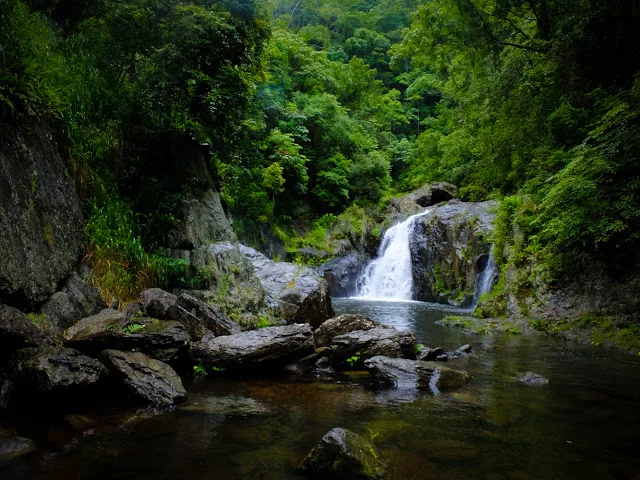 Crystal Cascades is a peaceful swimming hole surrounded by rainforest just outside Cairns.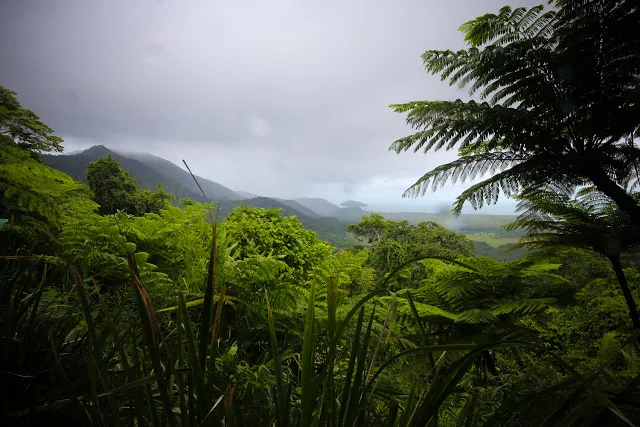 An appropriately rainy view over the Daintree Rainforest.
Eat on a Budget in Cairns
There are dozens of dining options in Cairns, many of which are expensive, but if you keep your eyes peeled you might find some good deals as you walk around town.
Cairns Night Markets: If it's Asian take-out you're in the mood for, You'll find it at the Night Markets. It's food court style, so pick a storefront and point to what you want.
Vegan Treats: We can't pass up vegan sweets, if you can't either, check out Pineapple Cafe in the city for raw bites and breakfast and lunch food and Soul Kitchen Bakery a bit outside the CBD for cakes and such. Reasonably priced and yum.
Ways to Save in Cairns
Here's how to save money in Cairns on land and sea.
The Daintree: You can take a tour from Cairns up to the
World Heritage listed rainforest, but you will probably score a better deal
renting a car for the day and driving up yourself. It's about a two-hour drive
and you can even save on gas and the ferry crossing ($25 per vehicle and you
won't see much of the rainforest if you don't) if you opt to share the ride
with other travelers through sites like Gumtree and CoSeats. On the way you can
make a pit stop in Port Douglas, which is still touristy, but much classier
with nice cafes and ritzier shops.
Great Barrier Reef: It's expensive to get out to the reef
with the cheapest snorkeling day tour starting at $109 AUD with Compass Cruises.
However, if you don't feel the need to visit multiple sites, you can head out
to Fitzroy Island (which is lovely and offers great snorkeling) on a ferry with Raging Thunder or Sunlover and
spend the day for about $75 AUD and rent snorkel gear for another $16 AUD. Of course,
if you have your own or can borrow some, you'll save even more! Just make sure
to pack a lunch so you don't spend everything you saved on high-priced food. You might also be able to score a deal on BookMe.com.au if you plan in advance! Other (though less likely) options include couchsurfing or WOOFing with a host
who has a boat and might offer to take you out and debasing yourself at various
bars in town in embarrassing competitions for free tours. The latter isn't our
style…we'd rather pay.
BookMe: For savings on tours, activities and more, check out this site and keep in mind that the farther ahead you can plan, the better the deals will be.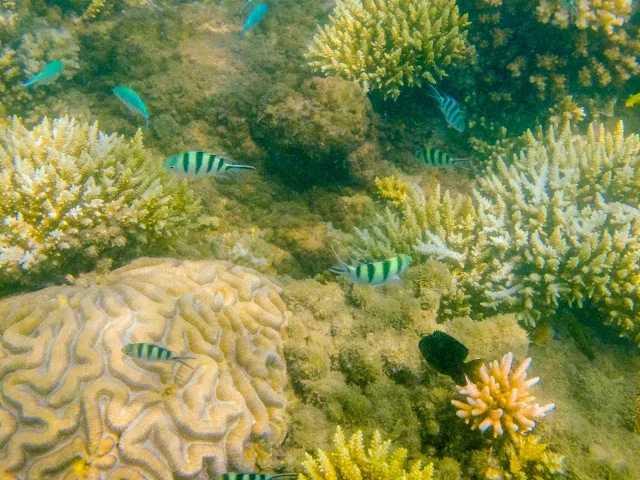 Snorkeling on Fitzroy Island is one of the cheapest ways to see the Great Barrier Reef.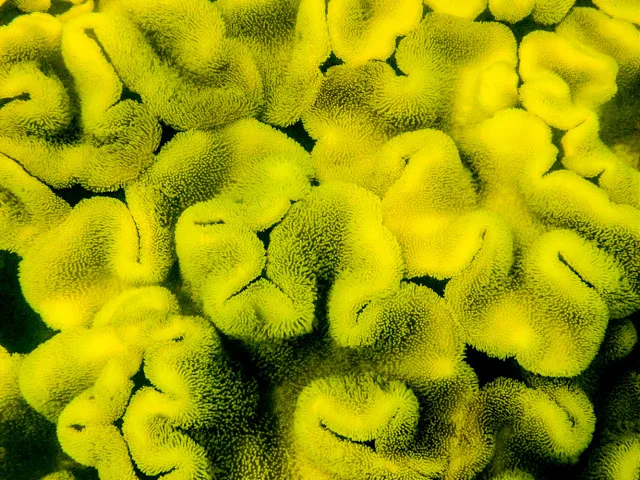 The coral and sea life of the Great Barrier Reef is diverse and splendid.
Take a couple of days and enjoy the tropics, see some World Heritage sites, and have some fun in Cairns!
Alisha is a freelance writer and photographer based in Austin, TX. She loves her tiny house, vegan food and experiencing the community of travel in far away places. She's also pretty sure she's addicted to coffee. alishamcdarris.com