We travel a lot here at Terradrift. Frequently with all our outdoor gear in tow. And occasionally, that travel is via airplane. But we hate checking luggage. It costs too much, there's a chance it gets lost or delayed, and then we have to wait for it once we reach our destination. So if we can, we prefer to carry on our luggage. But is a backpack a carry on? Can full on backpacking backpacks be carried on instead of checked? Will a backpack fit in the overhead bin? And what other gear can you carry on?
We've got answers.
Can I Carry On a Backpack? (A Backpacking Pack)
Short answer: It depends. Long Answer: Both the size of your pack and the airline you're traveling with determine whether a backpack is considered a carry on. So start by checking your airline's carry on size restrictions and measure your backpack carefully. The last thing you want is to get to the airport and have to pay some exorbitant fee to check your bag last-minute, especially if you didn't prepare your bag for the rigors of the airport's inner workings (more on that below).
If your bag fits, great! Carry it on!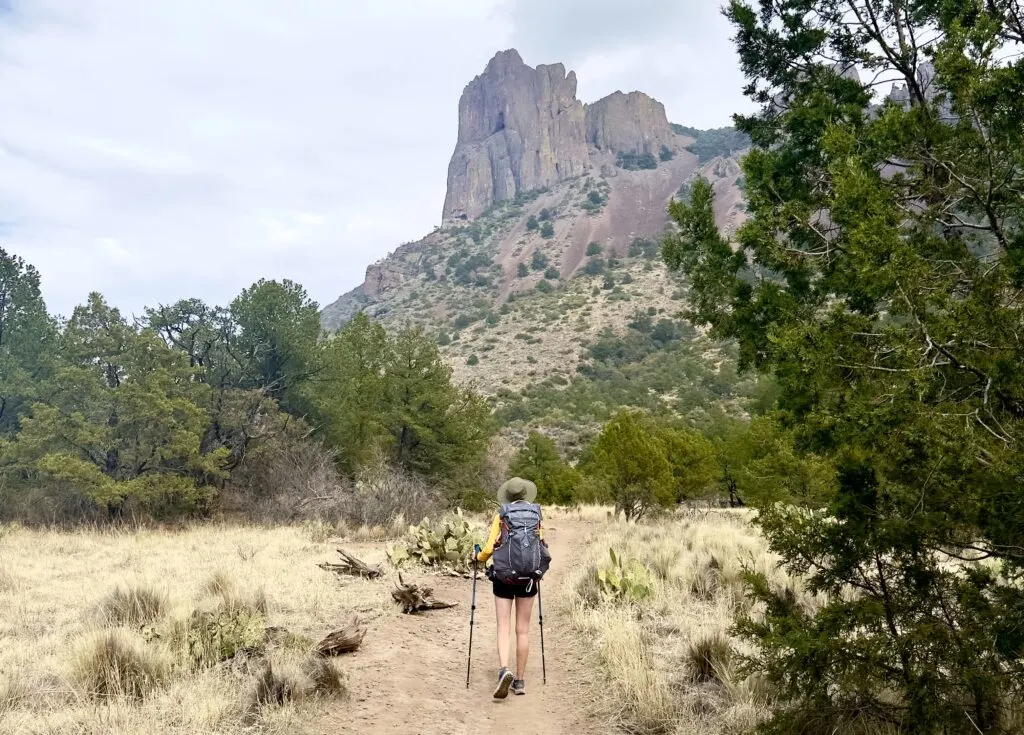 What size backpacks can be used as a carry on?
But sometimes backpack dimensions are hard to measure, so is there a general rule regarding what size backpack counts as a carry on? Not exactly, but generally speaking, on most domestic airlines, 50-55L packs are about as large as you can get away with if they're fully packed. That said, if your pack has a curved frame that takes up extra space when the pack is laid flat (lookin' at you, Osprey) or exterior pockets are all fully loaded, 50L might be pushing it. On the other hand, if you have a 55L+ pack that has a slim frame, isn't packed to the gills, and you're able to cinch everything down with compression straps, you might be able to squeeze it in.
For reference, I recently carried on a Big Agnes Sun Dog 45 on several flights. None of those planes were the smallest puddle jumpers, but one or two of them were fairly compact (with double rows of seats on both sides) and I never had trouble stuffing it overhead.
Just be aware that small planes usually have much smaller overhead bins, too, so when measuring your bag, pay extra attention to how tall the frame portion of your pack is, as that's the part that can't be compressed or smashed down.
But as a general rule, if your backpack is under 45L, you're probably good to go. But don't forget that budget airlines like Frontier, Allegiant, and RyanAir don't allow you a carry-on, just a smaller personal item, so again, always check what's allowed on the airline you're actually traveling with before you leave home. Because if you're wandering can a backpacking be a personal item? Eh, not usually. Not unless you're packing a teeny little ultralight thing that's barely packed full (I'm looking at you, Waymark Mile 28). It does have to fit under the seat in front of you, after all. But again, check the size restrictions for your airline to make sure.
How to Check a Backpack
If your pack is too big to be a carry on or you're bringing items that TSA won't let you carry on (more on those restriction below), here are some tips for protecting your bag and everything inside:
Place your backpack inside another bag: Don't check your pack as-is. It's made up of delicate materials that airport machinery can easily damage, especially with all those straps. Instead, pack your bag inside a suitcase or duffle (we love the Patagonia Black Hole 70L for this) and check that. Some folks might recommend wrapping it in plastic wrap, but that's wasteful and the material isn't recyclable, so skip it.
If you don't have a suitcase or duffle, tuck and snap: As in, tuck in all straps, webbing and loose material, and buckle and snap all loose parts, including the chest strap. I like to wrap the hip belt backward around the front of the pack and buckle it there, kinda inside out, which keeps it out of the way. if you're able to flip the harness straps around to the front and buckle them in place, too, do it.
Don't leave anything in exterior pockets: If an exterior pocket doesn't zip shut, you risk losing everything you stuff inside. Move everything in the exterior pockets to the inside of the bag to keep your belongings safe and secure (or as safe and secure as they can be when checking a bag).
Get travel insurance: Purchase travel insurance for your trip from a reputable brand like Allianz. Or pay for your ticket with a travel credit card that offers lost luggage insurance. That way, if the airline loses your precious gear, you can replace it.
Keep weight restrictions in mind: Most airlines have weight restrictions. Hopefully your backpack won't exceed 50 pounds, but weigh it before you get to the airport to make sure so you aren't surprised when you drop it on the scale.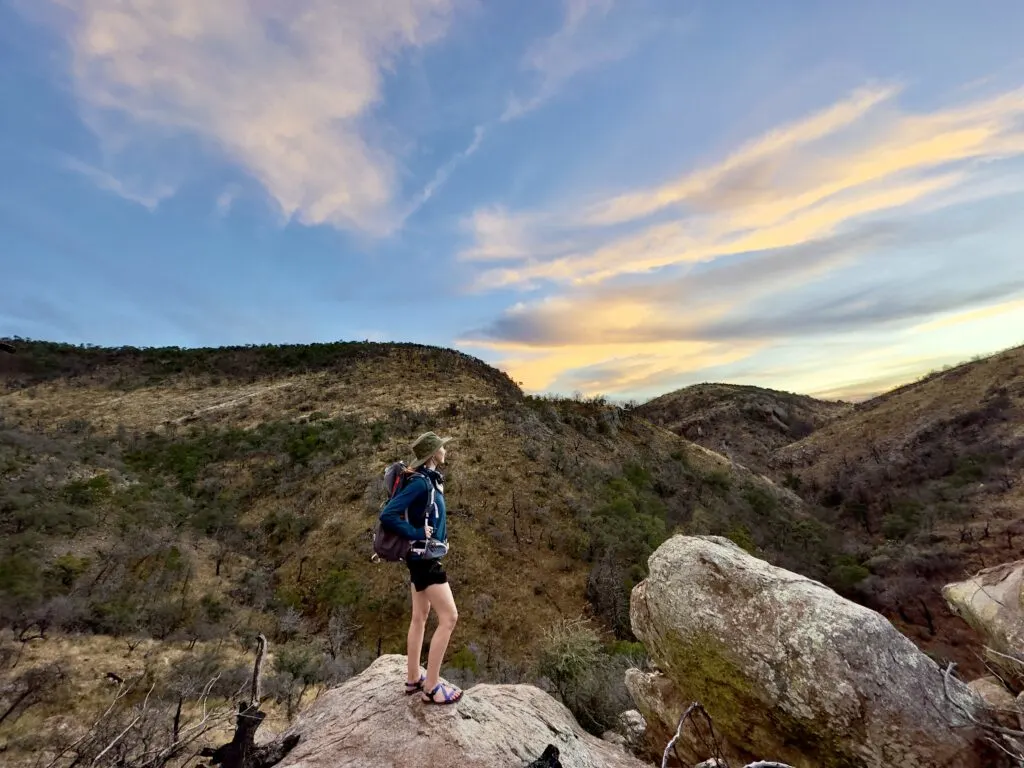 What Camping Gear Can I Carry On and What and Gear Can I Check?
Whether you're checking or carrying on your backpacking gear, it's important to know what TSA permits and what they don't. You should always check the TSA website or utilize the AskTSA Twitter account if in doubt, but here are the things you can check, carry on, or both:
Camping Gear You Can Carry On:
Camping Gear You Can Check:
All of the above (except electric lighters)
Tents, poles and stakes
Stoves (no fuel)
Trekking poles
Empty refillable lighters
Spikes, crampons or ice tools for winter hiking
Buy It When You Land:
You aren't allowed to check or carry on any of this equipment, so opt to pick it up after you reach your destination.
Matches
Single-use lighters or lighter fuel
Stove fuel
Bottom Line
Is a backpack a carry on? In many cases, as long as it's not larger than about 55L, yes, you can use many backpacking backpacks as a carry on. Or, if you want to check extra gear like tent stakes and trekking poles, check it all. Just pack it up in a more durable bag first to protect your precious gear.
Then travel the world and wander on.
•
This post contains affiliate links. That means when you click a link and make a purchase, you help support our small channel so we can keep the content comin'! Thanks for that!
Alisha is a freelance writer and photographer based in Austin, TX. She loves her tiny house, vegan food and experiencing the community of travel in far away places. She's also pretty sure she's addicted to coffee. alishamcdarris.com