We're big fans of backpacking here at Terradrift. You probably know this. We're especially big fans of ultralight backpacking. Especially me. That's partially due to necessity (I'm a tiny human person so the weight of my pack can get out of hand quickly) and partially due to the fact that we like to tackle longer distances in less time with less pain. Ultralight gear makes that more feasible. So we've taken to testing out some ultralight backpacks recently (maybe you saw our review of the Gossamer Gear Gorilla?). Our most recent: the MILE 28 backpack from cottage brand Waymark Gear Co.
If you're not familiar with the term "cottage brand," it means the brand is still small and you won't likely find their products at major retailers like REI. But that doesn't mean that these brands don't have big heart and a whole lot of ambition (and a passion for sustainability). So we were thrilled to get our hands on the MILE 28 to test out and share with you.
First things first: This bag is an ultralight pack, meaning it's not designed to carry typical 30+ lb backpacking loads. So if that's what you typically carry, might we suggest the Osprey Atmosphere or Deuter Futura Air Trek? If, on the other hand, you crave an ultralight overnight backpacking trips or a quick peak-bagging sesh, keep reading.
But while the MILE 28 is ultralight, don't be fooled by the moniker–it's also ultra durable, which isn't always the case with UL packs made of delicate fabrics. In fact, a lot of them need to be babied and treated with extreme care in order to make them last as long as possible. So yeah, you'll probably end up patching and repairing UL packs and gear more than their heavier, more rugged counterparts.
But not this pack. On the contrary, the MILE 28 is durable AF.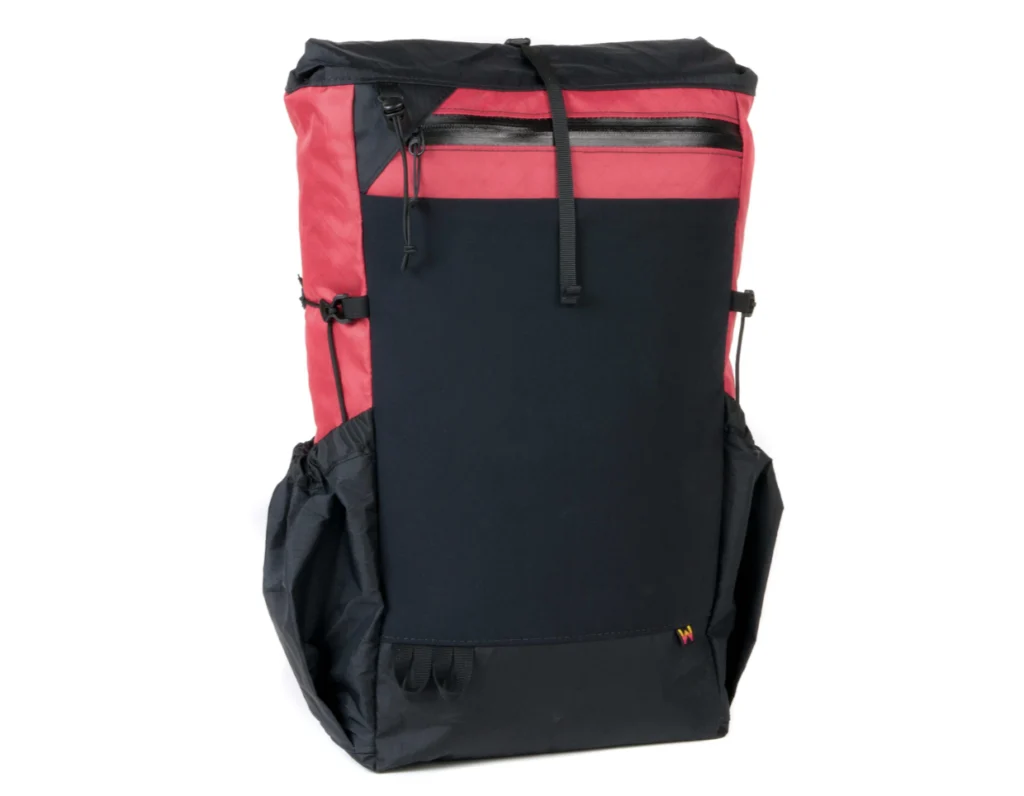 It's made of Challenge Sailcloth ECOPAK EPX Fabrics, a 100% recycled, multi-layered and laminated, polyester fabric that can withstand just about everything you can throw at it (or drag it trough, or get it caught on, or drop it from…). But more on sustainability in a minute. Here are some other features of the pack:
Weighs 16 oz
No heavy frame or padded hipbelt
28 liters (including all pockets–the main body is 22 liters)
Large main pocket
Roll-top closure, complete with webbing strap for attaching gear to the top of the pack
Front zipper pocket–with organization–for stashing small stuff
Large stretchy front pocket for items like hats or extra layers
Integrated padded back panel
Compression cords with adjustable Linelocs on the side panels
Wide shoulder straps, complete with webbing loops,
Available attachable accessories including stretch shoulder pocket
Trekking pole loops with a bungee tie-off
Expandable side pockets
Sternum strap
Option to add on a 1" webbing hip belt
Pretty cool, right? So we took it out on some Texas Hill Country adventures to test it out.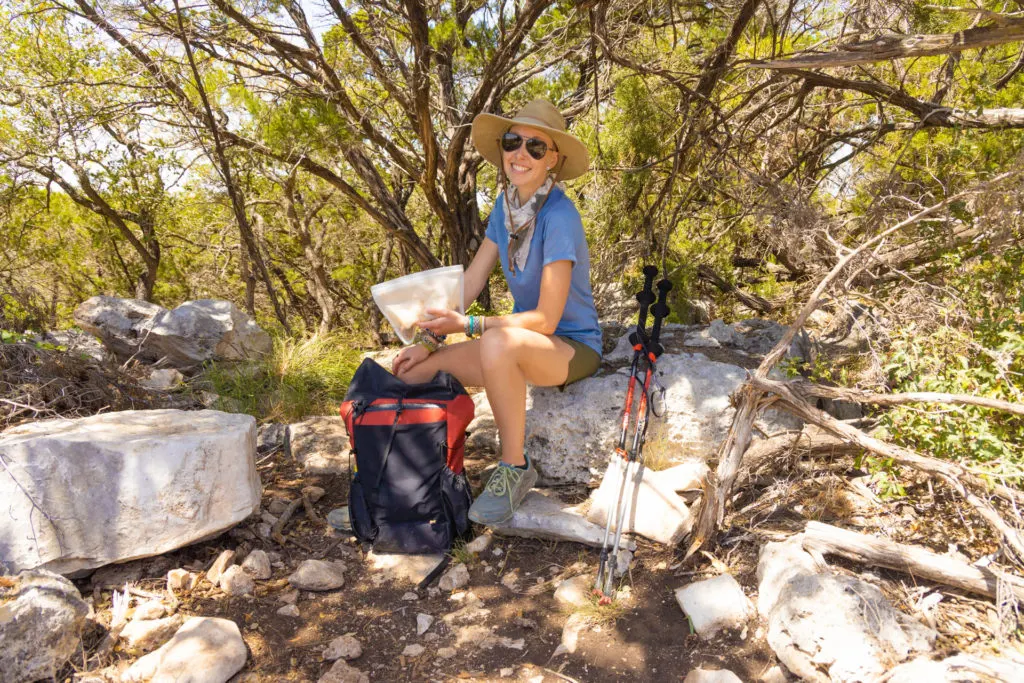 Waymark Gear Co. MILE 28 Backpack: The Review
Long story short: This pack is for epic day hikes and quick and dirty ultralight backpacking trips, not so much quick and easy hikes. It's just not designed to be efficient for that kind of adventure. It's almost too big for that. By which I mean it feels a lot bigger than 28 liters. Even bigger than 22 liters, which is what the main pocket can technically hold.
But that's because it's designed with long-haul days in mind. Think 20-mile hikes that involve summiting mountains, rounding alpine lakes, tackling significant ups and downs…hikes where you're gonna need several layers, plenty of food, extra gear…More than just a light jacket and a few snacks, basically.
Plus, when you carry the bag with that little in it, and the top strap is cinched down with nothing attached to the top, that webbing strap dangles in front of the zipper pocket and gets in the way of zipping it shut. This obviously wouldn't be a problem if something was loaded on top, but it's another reason why the MILE 28 is not conducive to short trips.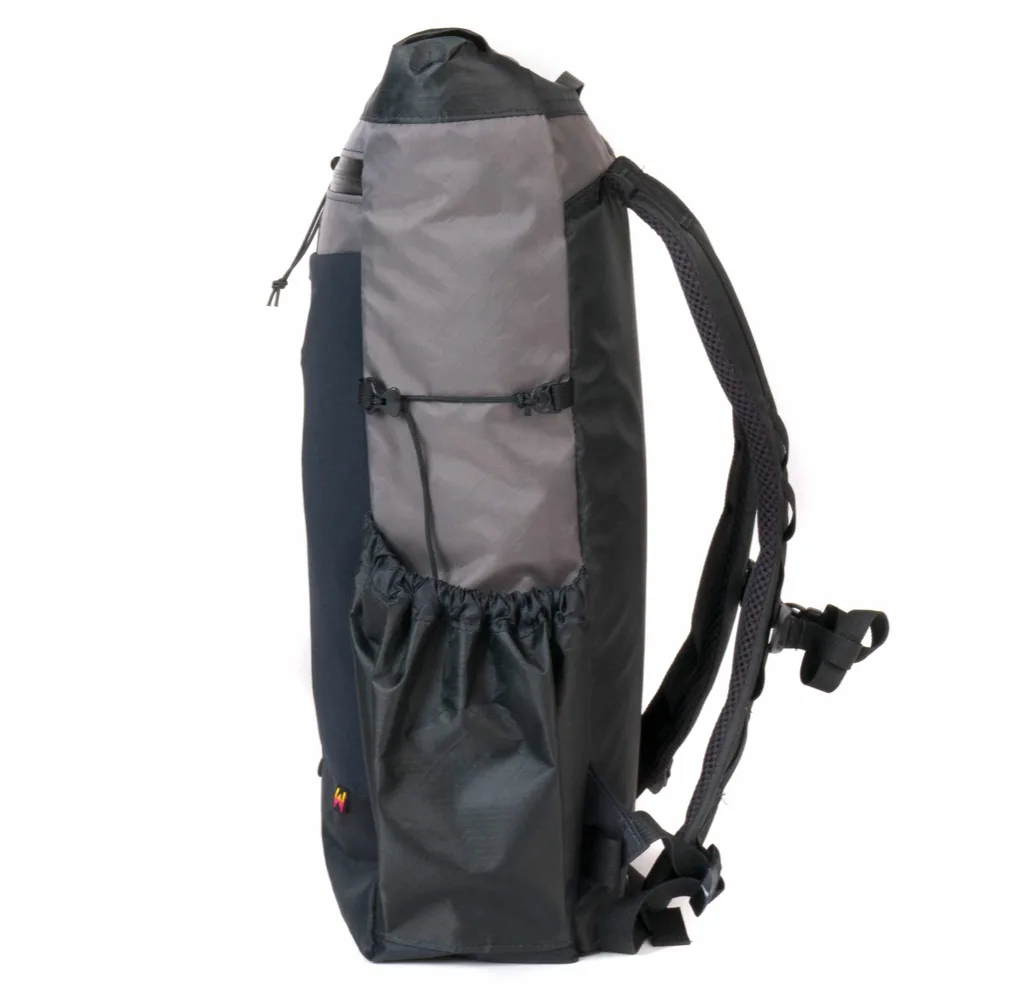 But shorter ultralight backpacking trips are more this bag's jam. The key word here being "ultralight." This bag isn't for you heavy gear haulers who pack cans of beans and camp chairs. It's streamlined for lighter loads.
But it still fits everything you need for an overnight or two–tent, inflatable sleeping pad, extra clothes, cook-set, food, water bottles, etc. and found the trekking pole attachment points and that top webbing strap super useful for attaching bulky gear.
But one thing I missed was the padded hip belt that's on most backpacking packs, which exists to help distribute weight between your hips and shoulders. Yeah, I get that the pack is designed for ultralight adventures where weight shouldn't really be THAT much of an issue, but the bag is still going to shift and move a fair amount–just like any bag–so the available webbing hip belt is going to be a must if you plan on taking the MILE 28 backpacking.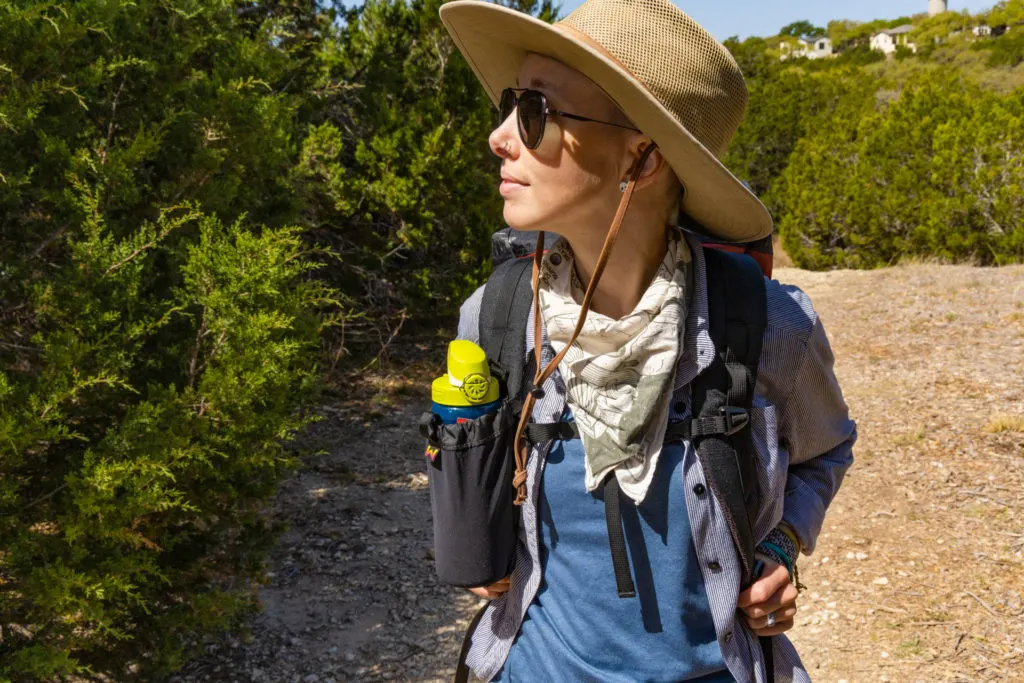 I also highly recommend the attachable Stretch Shoulder Pocket for overnight adventures OR day hikes. Or heck, get two. It offers a way to keep your cell phone, snacks, a water bottle, map, whatever, within easy reach at all times. I found it super useful on a few recent day hikes.
As for the fit of the bag, it was actually pretty comfortable for an ultralight bag. Josh and I both thought so, even though we are different sized humans. And though the back panel, again, like other UL bags, can be a bit lumpy when the bag is full, that thin foam panel keeps gear from digging into your spine too much.
The shoulder straps are fairly wide, but I, surprisingly, didn't find them uncomfortable after a full day of carry. I wish there was a way to bump the sternum straps up higher, though. At their highest setting, it was still lower than I would have liked on my tiny torso.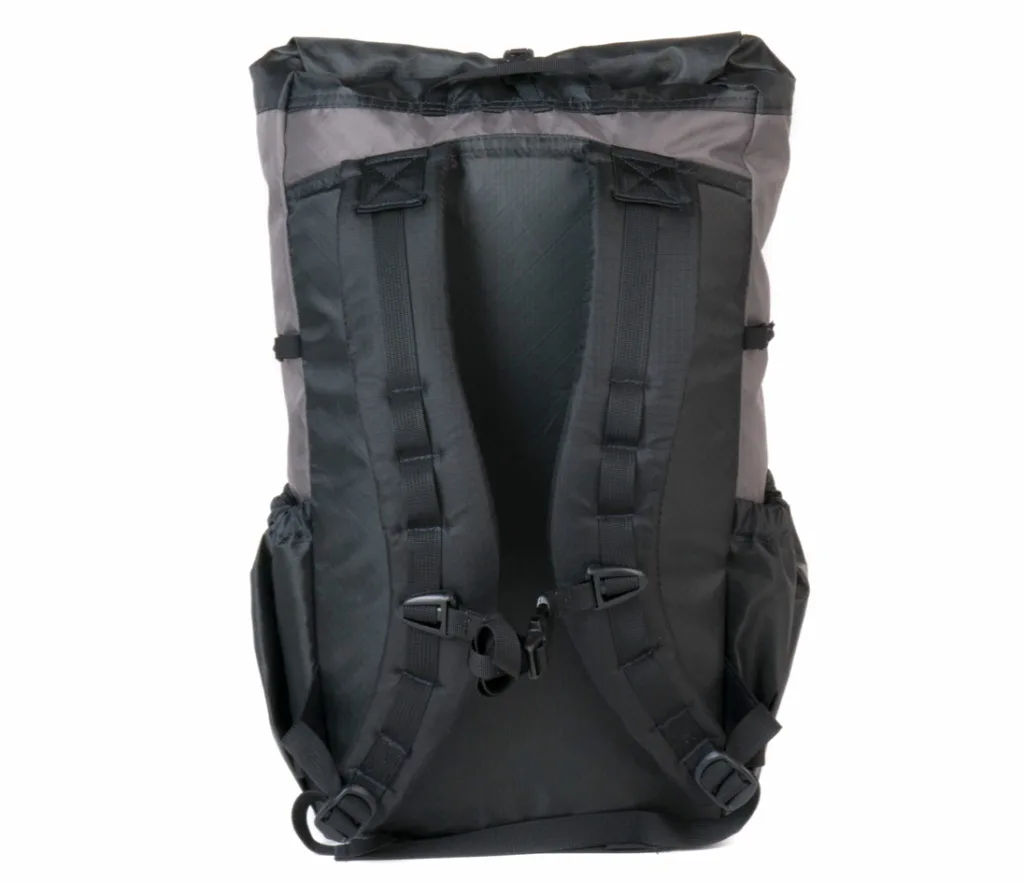 But overall, The Waymark Gear Co. MILE 28 backpack is a solid ultralight backpack. And it even includes a slew of sustainable features. We already mentioned a bit about the EcoPack fabric, but in addition to being made of 20 recycled water bottles (which reduces waste and energy consumption in the manufacturing process–over 1 pound of carbon emissions over virgin materials), it's also layered so the pack is a lot stronger and more durable than soft and delicate nylon. Plus it's waterproofed with a PFC-free DWR.
Another eco-design win: Because of how the fabric and pack are made, Waymark Gear Co. is also able to create less textile waste (aka: unusable fabric scraps) when cutting patterns for their packs.
Bonus: The MILE 28 is available in a slew of colors: We had the Red Rock.
Bonus, bonus, to take the pain out of buying a pack online, you have 14 days to try it on, load it with your gear and ensure it fits after the pack has shipped. If it doesn't, Waymark will let you return the pack and exchange it for the correct size, which is really beneficial when ordering online from small brands when you can't try packs on in-store. So, again, win.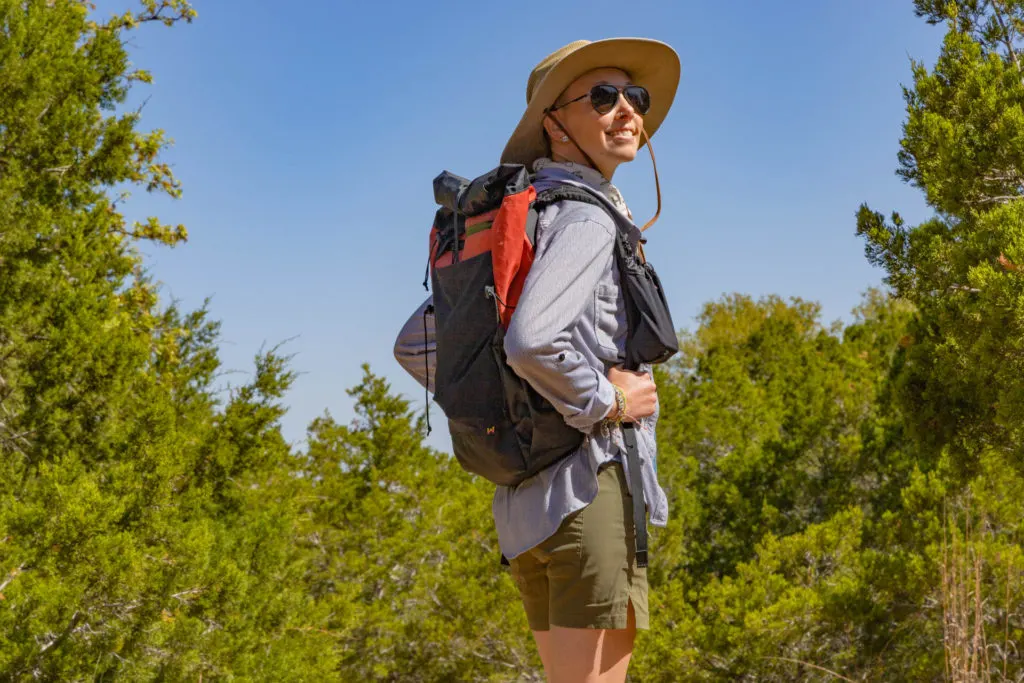 Bottom Line
Basically, this is a solid pack that's pretty comfy for an ultralight backpack. It's far more durable than most of the UL packs we've seen and tested, will definitely last years longer, comes in plenty of fun colors, and is sustainable to boot. Plus, we love supporting small brands. We would like to see a more robust hip strap option in the future, but overall we have few complaints and can recommend the MILE 28 for all manner of epic adventures.
So find the pack here, then get out there and wander on!
•
This post contains affiliate links, which means when you click-click and make a purchase, you're helping support this channel! It won't even cost you extra! So enjoy the warm fuzzies.
Alisha is a freelance writer and photographer based in Austin, TX. She loves her tiny house, vegan food and experiencing the community of travel in far away places. She's also pretty sure she's addicted to coffee. alishamcdarris.com