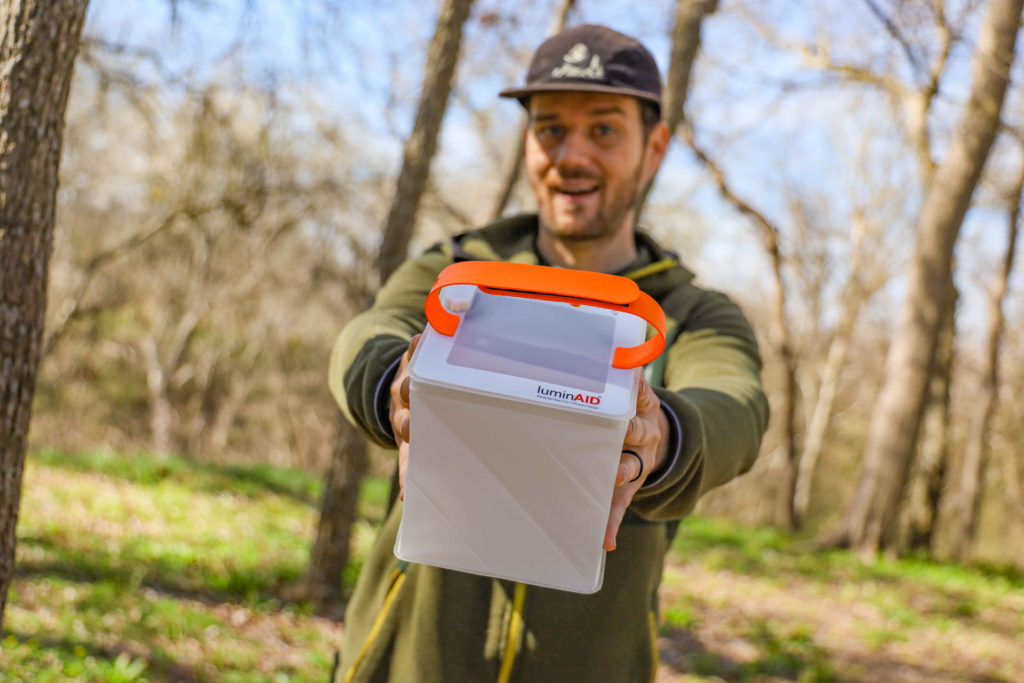 You know we're all about that camp life here at Terradrift. Sleeping under the stars, s'mores, camp coffee, chats around the campfire… And while there's plenty of gear you need for a successful camping trip, a way to light the night when you're far from electricity is paramount. And while a good headlamp is all but necessary (check out this post for some of our faves), nothing beats a camping lantern or two for functionality and ambiance. How else are you gonna see the smiling faces of your camp companions while you scarf dinner at the picnic table? So here are 3 of our favorite sustainable camp lanterns that'll really put some sparkle in your next adventure.
Sustainable Camp Lanterns: 3 Stellar Camp Lights to Light the Night
We're big fans of the Titan here at Terradrift. How could we not be? I mean, this inflatable, totally packable lantern smushes down to a fraction of it's full size for ultimate portability, offers several brightness settings up to 300 lumens AND a red light (our night vision appreciates that most), can run up to 100 hours, works as a backup battery to charge our phones (yay, multitaskers!), AND is solar powered! You can charge it via USB, too, but we almost always charge this puppy using the power of the sun. It's great for backpacking, but it's a bit heavier than LuminAID's more streamlined PackLite Nova, so it's perfect for car camping trips where storage space is at a premium. Find the Titan here.
Don't have a lot of tabletop space to sit camp lanterns or want your camp lights to bring some ambiance to the party in addition to light? The BioLite SiteLight String is just the thing. Grab one string or several (you can link them together), power them up by plugging into any external battery pack (like a backup battery), and hang them in your hammock, on tree branches, on clothing lines, you name it. Each is 10 feet long and features 4 lights that total 150 lumens. Plus they click together into a super portable palm-sized stack, making them too easy to bring on every adventure. Bonus: BioLite is Certified Climate Neutral (in fact, they helped found the organization). Get yourself a SiteLight or two here.
Prefer to stick with that tried and true lantern style and design? Goal Zero has you covered. The Lighthouse Mini lights up with 600 lumens, is rechargeable, and can double as a backup battery for your phone or other small devices like camera batteries chargers. You can adjust the brightness for up to 320 hours of run time plus there's a collapsible stand and a handle for a variety of carry/hang options. But our favorite feature? You can charge it via a regular outlet or backup battery (like the Goal Zero Yeti 500X that we reviewed) one of Goal Zero's solar panels (like the Nomad 10) OR via a hand crank for instant charging in an emergency. Find the Goal Zero Lighthouse 600 here.
•
Ready for summer camping adventures? You are now, thanks to these rad, sustainable camp lanterns! Now get out there, light the night, and wander on.
•
This post contains affiliate links. That means when you make a purchase, you may be helping to support more great content from Terradrift. Thanks for that, rad human.