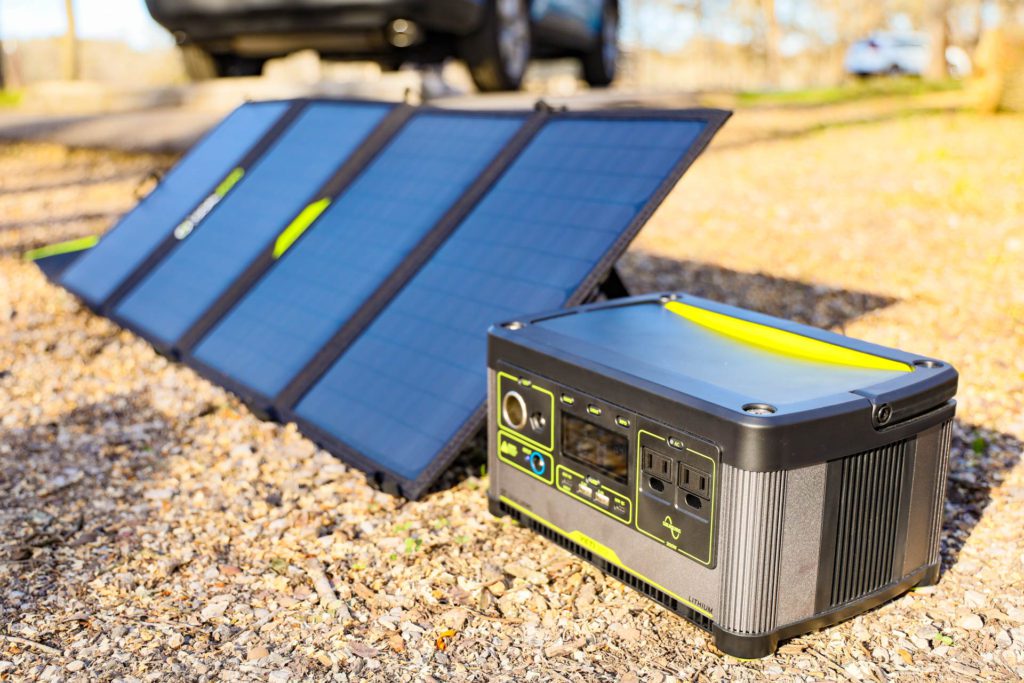 Need portable power on your next road trip or camping trip? We've got you covered with this here review of the Goal Zero Yeti 500X and packable Nomad 50 solar panels so you can power up off grid or on.
If there's one thing we do a lot of here at Terradrift, it's road tripping. Whether we're on the road testing a new piece of gear, checking out a sweet new destination, or just heading off to chill in the outdoors, it seems like we're always on the move. But when we do hit the road or pull into a campsite, you can make an educated guess that we'll also be working (life of an outdoor journalist, am I right?), which means we almost always have laptops, cameras, lights, a drone–any number of things that will need re-charged at some point during our trip. And while we could probably charge a lot of our gear in the car itself, it's not always practical. I mean, we certainly don't want to leave the car running all day just so we don't drain the battery and need a jump from the nice RVers two spots down.
Of course, we could use a small generator, but that seems a bit overkill for a laptop and a bunch of small electronics or a string of camp lights. Plus generators use gasoline and tend to be obnoxiously loud when running, so they're not ideal. In fact, considering getting a traditional gas generator hasn't once crossed our minds.
But you know what did seem like it would fit the bill? The Goal Zero Yeti 500X. We've been eyeing it for a while now and finally managed to get our hands on one! It's a compact, portable power station complete with ports to power every last device, from camera batteries to battery-powered camping lanterns.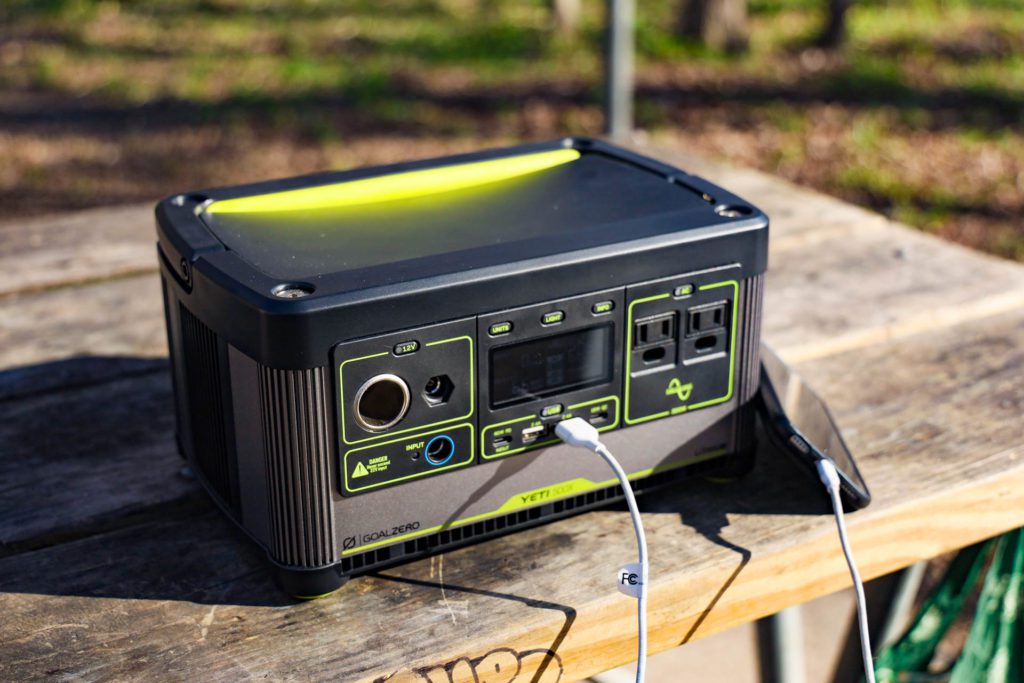 The Deets: The Goal Zero Yeti 500X
This thing charges just about everything: small, big, power-hungry, you name it. The 505wh lithium ion battery gives you up to 8 charges on a laptop, and up to 10 hours of use with portable fridges and even TV's.
Not that we would bring along a TV when we road trip, but to each her own…
That's pretty impressive. But there are also plenty of ports so you can plug in lots of electronics at once, not just one big one.
There's a 300w, 120V AC inverter, which means it can handle power hungry devices like Josh's massive gaming laptop, which he uses to edit a lot of our videos, plus my Macbook Pro (obviously). And yes, it can handle both at the same time. We've done so on multiple occasions!
Then there are four USB ports, two of which are quick charge ports (one at 60w for charging things like a small laptop, and an 18w, which is perfect for small electronics like your cell phone). The 60w port is also a power input, which gives you another way to charge the 500X.
The other two are just your standard USB ports, which you can use to charge camera batteries, phones, camp lanterns, all the usual stuff.
There's also a 6mm 12V port which, among other things, can be used with a few of Goal Zero's lighting options (like the Light-A-Life 350 LED light) and a 12V car port which is perfect for things like portable mini fridges so you can keep things cold without leaving your car on.
Any of the ports can be activated by hitting the little button just above them, that way, they're not always on.
Finally, right in the middle of the power station you have your LCD display, which lets you know how much power is going in and out and what percentage of the battery is left. And if you want to save a little juice, like when you're boondocking and the battery is down to 12% and you're just trying to eke out enough power to make it through one more night with your string lights and cell phone, you can turn off the backlight.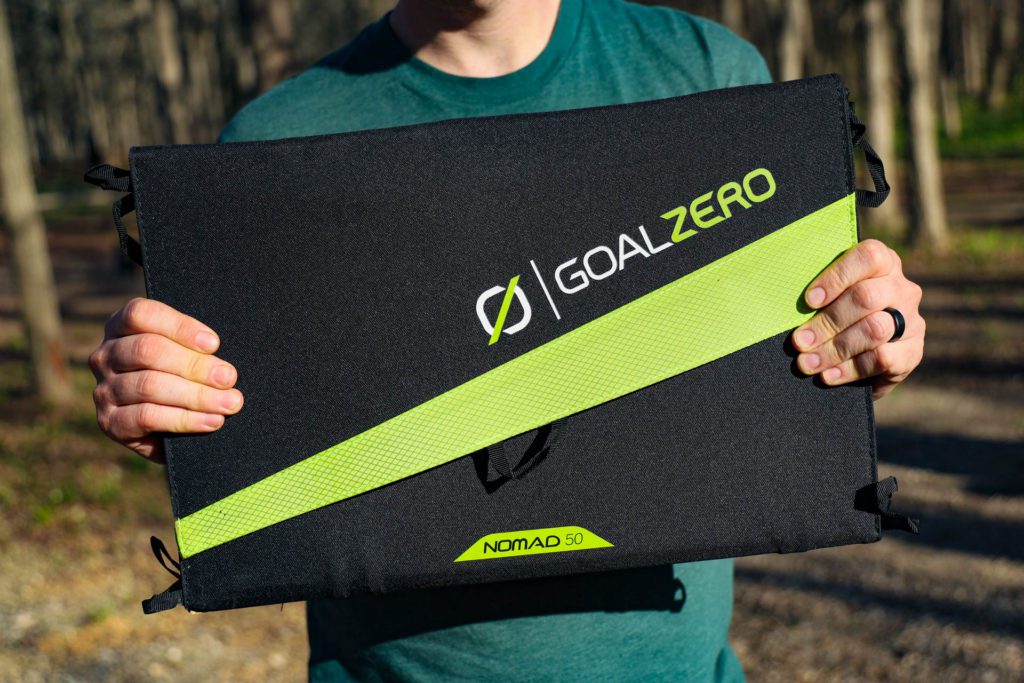 How to Charge the Goal Zero Yeti 500X
As for how to charge the Goal Zero Yeti 500X once you've depleted it, you have quite a few options. Besides that USB-C port I mentioned earlier, there's a barrel connector on the front and back of the power station, which you can plug into either the car charger, an A/C charger, or compatible solar panels like the Nomad 50 (for the most sustainable charging option, obviously).
Charge times will vary, of course, depending on which method you use. The included 60w power supply will fully charge the battery in about 10 hours, but that can be cut in half with the optional 120w charger.
If you'd like to stick with the more sustainable approach, or maybe you're using it during your stay at a campsite where you don't have access to an outlet, the Nomad 50 solar panels will charge the Yeti 500X in as little as 12 hours, though this is a best case scenario with the solar panel staying lined up with the sun from sunrise to sunset. Realistically, you're looking at around 24 hours or more of sunlight to go from fully depleted to fully charged.
We like the Nomad 50 solar panels for charging via the power of the sun. They fold flat for easy storage, have a 6-foot charging cable so you have a bit of flexibility in order to keep them in the sun, and they even have a USB port that's perfect for directly charging our phones when we're just hanging out at the campsite, no power station required. Plus, it has a handy pocket on the back for storing all the cables. Nice.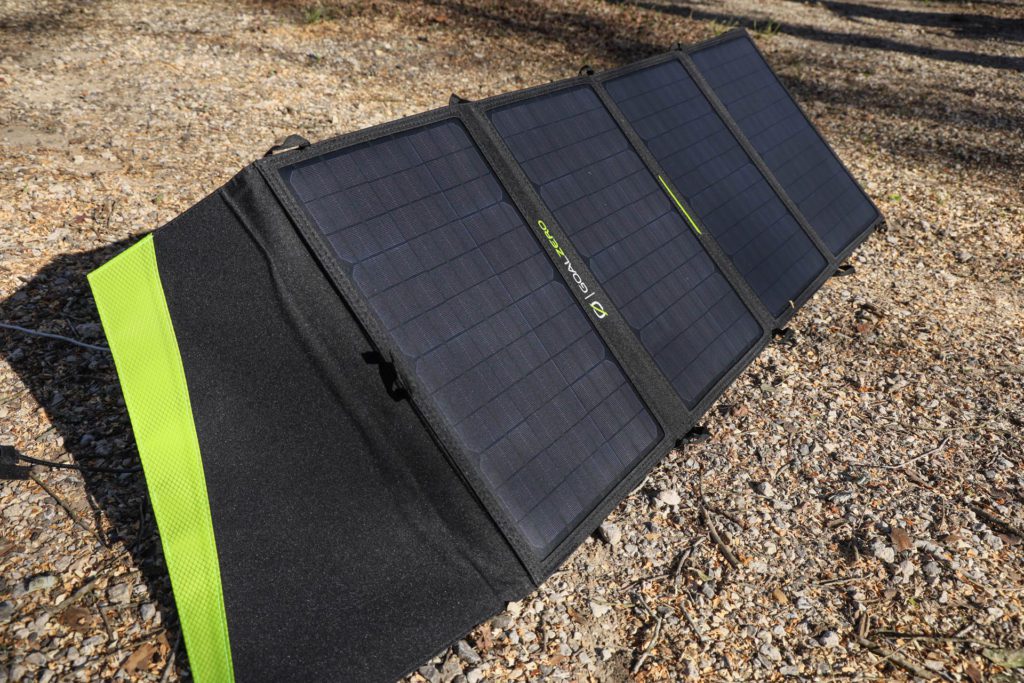 The Goal Zero Yeti 500X Review
So thems the deets. But what did we think of the Yeti and Nomad panels? Well, for portability, we found the 500X plenty easy to carry around with its nice wide handle. At twelve and a half pounds I'm not saying I'd want to carry it around all day, and definitely not into the backcountry (though if it's just a short hike in and we're camping with friends or staying for a few nights, I might consider it), but it's neither too big nor too bulky and anybody should be able to easily transport it from car to campsite. It also fits nicely in the back of the car during road trips.
When it comes to charging, it seems to be pretty much as described by the manufacturer, and the quality of the build feels extremely solid. Way nicer than the little portable battery we picked up at Walmart several years back.
It's just a well-built piece of gear that works exactly how it should. When we're working on the road or from a campsite, we'll often use all of the ports at once to charge our gear and this thing doesn't even break a sweat. Seriously, the power station and panels are coming with us on every road trip and camping trip from here on out. Always. It's proven an indispensable piece of gear whether you plan on working out of the back of your car or not.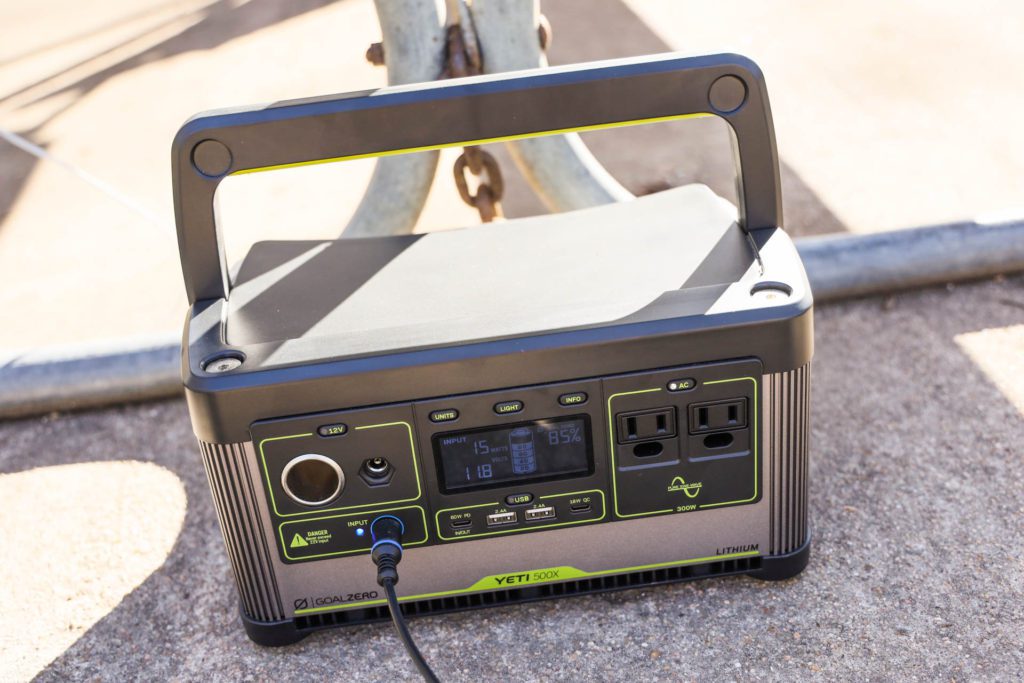 Bottom Line
The Goal Zero Yeti 500X and Nomad 50 solar panels are must-haves for road trippers–whether you're in a car or van–anyone who needs some extra juice at the campsite, or even to just keep in the closet as an emergency backup like during the Snowpocalypse of 2021 that we experienced here in Texas this winter. Or Snowmagedon. Or Snowvid. Whichever you prefer.
We honestly can't recommend it highly enough. And if you think that's more power than you need (like if you're not planning to plug in a massive laptop or TV at the campground) or not quite enough (maybe you need to power your whole vanlife setup), well there are options like the Goal Zero 200X and 3000X, too (plus a few others).
As for sustainability, GoalZero has committed to offsetting all their carbon emissions related to shipping and at their headquarters, they recycle batteries sent back to them, send team members to install solar in energy-starved countries (including communities right here at home), and partner with disaster relief organization to get power to those who need it. Plus there's the whole "it runs on solar" thing…
You ready to power your next adventure? Have questions about the Goal Zero Yeti 500X? Ask away! Or check it out for yourself here (and the Nomad 50 solar panels here). Now get out there and wander on.
•
This post contains affiliate links, which means when you make a purchase after clicky-clicking, you help support this channel!
Alisha is a freelance writer and photographer based in Austin, TX. She loves her tiny house, vegan food and experiencing the community of travel in far away places. She's also pretty sure she's addicted to coffee. alishamcdarris.com