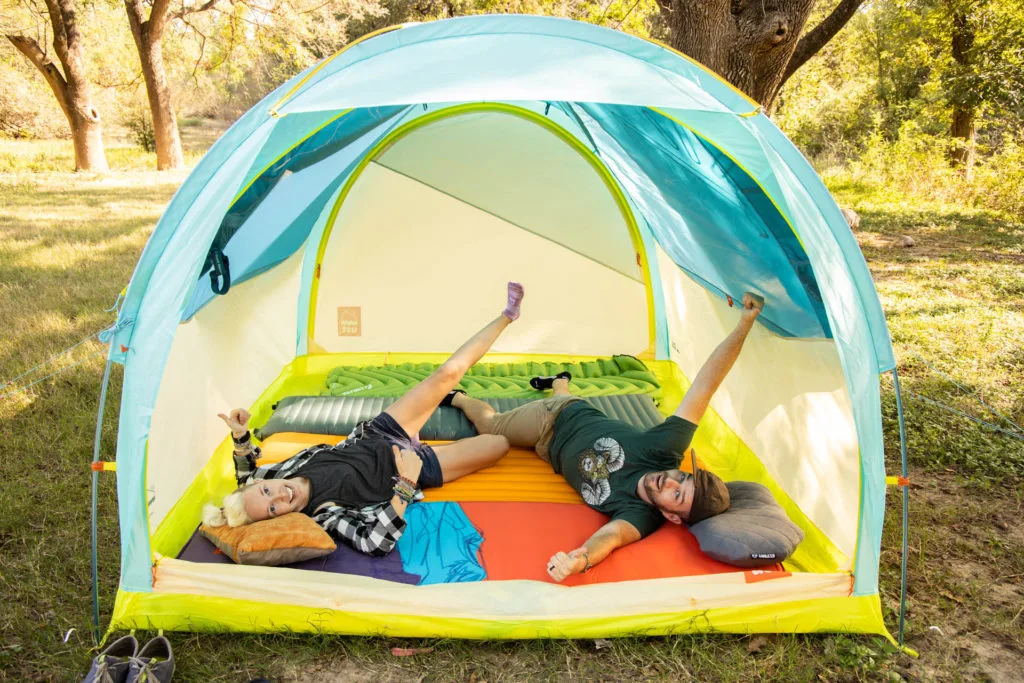 Shopping for your first tent? Or maybe your first in a while? Chances are, you're a bit overwhelmed by all the options out there. We get it. There are scores of brands making quality tents, and each one has a full lineup of different options, meaning there are literally hundreds, if not thousands of tents out there to choose from. So how do you pick? Well, what you pick is ultimately a cross-section of a whole bunch of different features and functions that are suited to your style of camping and outdoor adventures, but one of the most important to consider: size. We'll help you figure out the best camping tent for you. Not too big or too small, but juuuuust right.
Choose the Best Camping Tent for You
Start by asking yourself a series of questions:
How often will I use this tent?
Does weight matter?
Will I usually be camping alone or with others?
Will I be bringing a pet?
What's the weather usually like when I camp?
How much other gear do I usually bring?
Where will I store it?
How many days in a row do I usually camp?
Do I prefer not to sleep on the ground?
Got your answers? Let's break down how to choose the best camping tent for you personally. You. Not the guy in the next tent over or the family across the way. You.
How often will I use this tent?
How often you use the tent may help you decide what size tent you should get. Planning on taking it out every other weekend? Or just a few times a year? If it's the former, you may want something a bit larger and more comfortable if a tent is frequently your home away from home. But generally, it's nice to have a tent that's big enough for one more person than you think will actually be sleeping in it.
Does weight matter?
That said, if you'll be using this tent for backpacking instead of front country or car camping (where you just drive up to a developed campsite and unload the contents of your trunk straight onto a picnic table), you may want to consider sticking with a compact tent in order to shave weight off your pack. Josh and I carry a two-person Big Agnes Tiger Wall UL2 (check out our review here), but we like to keep it ultralight and compact so we're carrying less weight when we are backpacking. But if you don't mind a few extra ounces for a little more room for you and your gear, get a tent big enough for one more than you need. If you're car camping and not worried about how far you may have to carry your tent, go as big as you like!
Will I usually be camping alone or with others?
Next, take into consideration who will typically be with you when you use the tent. If you almost always camp alone, a one- or two-person tent is likely sufficient. If, on the other hand, you prefer to camp with friends who may or may not have their own gear (or you plan to split the cost or the weight when backpacking), then size up a bit. For those on a budget who are unsure of whether they'll need the extra space for friends or family, get enough tent for you; don't spend the money and hope you'll magically make friends who will join you. But, on the other hand, if you have friends or fam who are open to tagging along but don't want to invest in their own gear just yet, go ahead and get a slightly bigger tent.
If you'll definitely be camping with friends or family, go big or go home. Kids, especially (or so I'm told) take up a lot of space and love being able to spread out in a big tent. So if you've got kids, I wouldn't discourage a family of four from getting a 6-person tent. Or bigger, frankly. Some tents even have their own rooms so young'uns can have their own space.
Will I be camping with a pet?
This one's fairly straightforward: if you're camping or backpacking with a dog and it will be sleeping with you in the tent, count them as an extra person. But be mindful of their gear, toys, and pet bed if you're bringing those things. Some pet beds are wider than your typical air mattress, so you may have to size up to accommodate.
What's the weather usually like when I camp?
Yeah, pretty much every tent out there is waterproof and will keep you nice and dry when it rains, but the size of your tent is often directly related to how comfortable you are in inclement weather that lasts more than an hour or two. Our 2-person backpacking tent, for example, starts feeling pretty dang cramped when it rains and we have nothing else to do but sit inside and play cards for hours. So if you do a lot of camping in regions where it rains frequently, it might not be a bad idea to size up. And I'm talking occupancy and headroom. A tent that lets you sit up and move around a bit, maybe even bring in some camp chairs and a table, can mean all the difference between a ruined trip and an enjoyable one.
Same goes for other weather. If it's extremely hot and you want a place to get out of the sun and rest for a while (the Decathlon Fresh and Black EZ Up is perfect for this), or extremely windy and you're rather not be pelted by dirt and leaves, a tent you can relax in, spread out a bit, eat, play cards, etc. can be super beneficial. You may also consider a tent with a large covered vestibule area so you can keep additional gear out of the rain and even prepare meals under cover.
How much other gear do I usually bring?
If you're car camping, this question may not matter as much as you can just chuck extra gear and supplies in your vehicle. But if you're backpacking and "minimalist" isn't in your vocabulary, consider sizing up. Especially if foul weather rolls in, it's nice to have a place to stash your pack, mess kit, extra clothes, etc. If you don't want to size up because you're trying to keep pack weight down, then opt for a tent with large vestibules.
Where will I store it?
This may not be a concern for those of you living in the burbs with a basement and garage and spare bedrooms and plenty of storage space, but for apartment dwellers, tiny house folks (like us), and van lifers or RVers, storage is always a concern. If it is, consider sticking with the smallest tent you feel comfortable in, or at least one that packs down extra small. That usually means backpacking tents. If you've got plenty of space on your hands, maybe a whole closet or room just for gear, then the sky's the limit. The biggest tent we've used lately? A 4-person Decathlon Fresh and Black inflatable. It's the size of a full duffle bag. But we've seen bigger…
How many days in a row do I usually camp?
If the answer is "one or two," well, a mondo tent may not be necessary. You may benefit from a little extra space, but having a 4-person tent for an overnight camping trip probably won't improve on the experience all that much. If, on the other hand, you'll be out for a week, then yeah, having more space will probably keep you feeling chill and comfortable. On the flip side, a week spent in a cramped 2-person backpacking tent isn't always super comfy. Trust me.
Do I prefer not to sleep on the ground?
OK, so this isn't strictly a tent size issue, but it could be. But frankly, our good friends the hammocks get left out so often in discussions about camping sleep setups. So maybe you don't enjoy sleeping on the ground. Try a hammock! We offer tips for how to get comfy in one in this video. Want a little more room or a bit more structure? No problem. Check out our review of the Haven lay-flat hammock or the Tentsile Connect, which you may notice, is a 2-person tree tent. There are 1 to 3-person models available here. So if that's more your jam, enjoy a camping experience off the ground.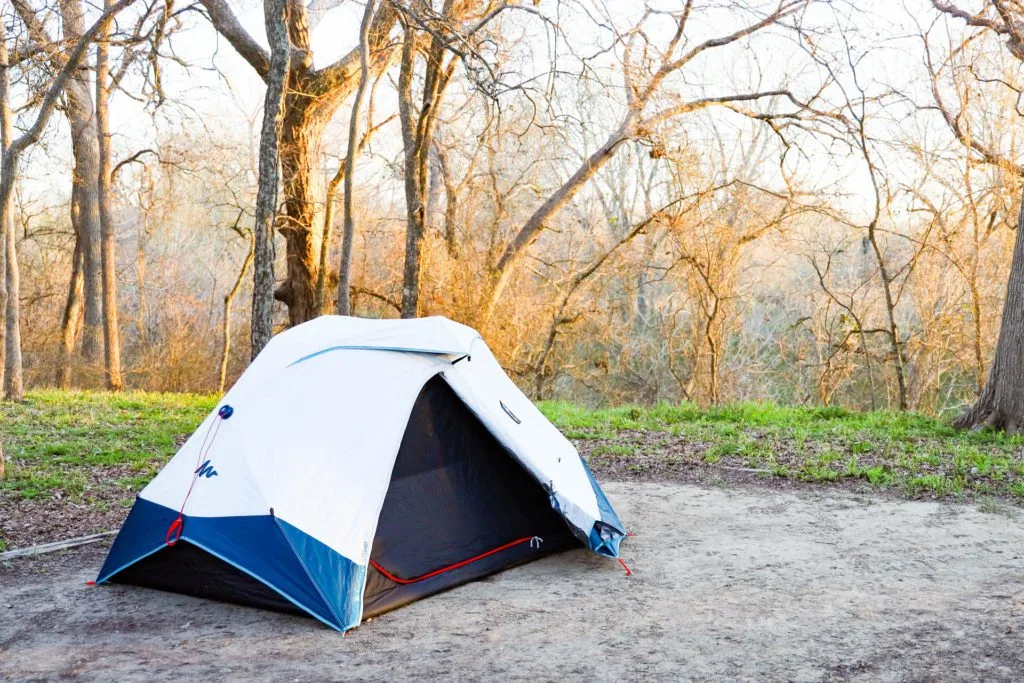 Tips For Picking the Right Size Tent
So what is the right size tent for you? Here are a few guidelines to make it a bit easier to choose:
Time to buy? Here are some extra tips for choosing the best camping tent for you:
Try tents on for size. Head to your local gear store or REI and ask if you can pitch one or two of the tents they sell. Often, they'll be more than happy to help you out and you can see how it will feel before you buy.
Borrow from a friend. No gear shop nearby or they have weird rules about the sample tents on their showroom floor? Ask an outdoorsy friend if you can borrow a tent. Pitch it in your living room or backyard if you won't be camping soon, and that may help you decide what size is right for you.
Buy used. Especially if this is your first tent, you don't have to shell out hundreds of dollars. Used gear is cheaper, more sustainable, and often in great condition. Then, if you decide it's not right for you, you can resell or donate and keep it in use (and out of a landfill) longer. Check out this post with suggestions for where to buy used gear.
Bottom Line
Long story short, if you're wondering what size tent should I get?, well, that depends on you. But there is certainly a formula to helping you decide, and we hope we helped crack the code. Whatever size tent you end up with–a streamlined backpacking tent or a veritable Taj Mahal–get outside and wander on.
Alisha is a freelance writer and photographer based in Austin, TX. She loves her tiny house, vegan food and experiencing the community of travel in far away places. She's also pretty sure she's addicted to coffee. alishamcdarris.com