Great Smoky Mountains National Park, split between Tennesee and North Carolina, is the country's most visited national park. Like, by a lot. A lot, a lot. This park, which is free to visit, btw, saw over 12 million visitors last year. Twelve! Million! The next most-visited park only saw a little over three! So yeah, it's safe to say that the Smokies are overrun with tourists and visitors, especially if you're on the south side of the park around the Blue Ridge Parkway. Fortunately, there's a trick to avoiding the massive amounts of people (and traffic) rambling through the area: head to the quiet side of the Smokies, the northern edge where there are still picturesque hiking trails and adventures galore, just a lot fewer people. Wanna know what things to do on the peaceful side of the Smokies? Here's what we recommend.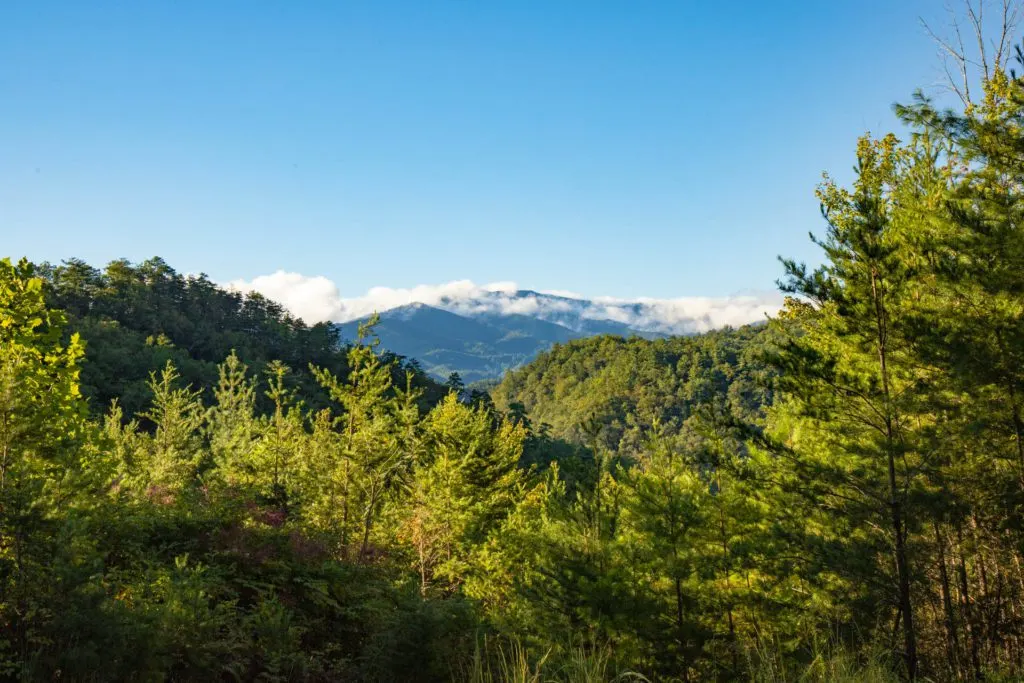 Play
We assume you came to Great Smoky Mountain National Park to get outside and play. Are we wrong? Here are some ways we suggest getting your adventure on. Note: We love AllTrails for finding hiking trails.
Hike
Uh, duh, right? That's what you're supposed to do in the mountains. So lace up those boots and get to it! There are plenty of trails on the quiet side of the Smokies, and many have far less foot traffic than the "other" side. Check out the Roaring Fork Motor Nature Trail, for starters. Get there early to ensure you can find a parking spot at the trailheads you want (the Motor Trail is a long and winding one-way road with a fair amount of slow-moving vehicular traffic that's closed in the winter), but know that if a parking area is full, there are plenty of other options. We recommend Rainbow Falls, Grotto Falls, or Baskins Creek Trail. On the latter, there's a waterfall and even a surprising and delightful little old family cemetery near the entrance! If you're into that sort of thing. We are…
Other options: Spruce Flats Falls Trail at the Tremont Environmental Education Center, the very popular Laurel Falls trail (get there super early to beat the crowds), or, if you crave a longer hike, Rich Mountain Loop or Albright Grove Loop Trail. Cade's Cove is also very popular, but was closed when we were there.
Note: check the national park website before heading to the trailhead to make sure trails and parking lots are open and not requiring reservations (the park was trying a pilot reservation program for some of the most popular trails while we were there).
Float
Wanna spend some time in the water? There's plenty of opportunity to do so in Great Smoky Mountains National Park. Go whitewater rafting with companies like Smoky Mountains Outdoors Rafting or simply enjoy a chill float trip with River Rat. They'll take care of all the logistics like shuttles and tube rentals so you can take it easy.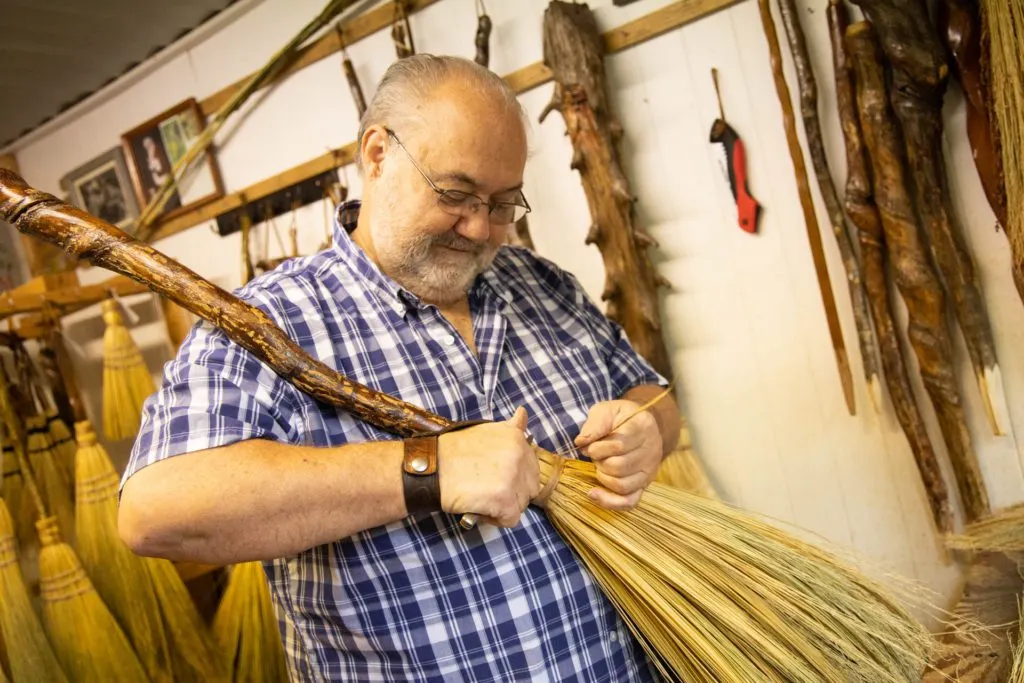 Enjoy Some Art
If you need a break from hiking to give your legs a chance to recover, go peruse some art on the 8-mile loop that is the Great Smoky Mountains Arts & Crafts Community. Sure, a lot of it is kinda touristy knick-knacks and hand-made souvenirs, but there's plenty of quality craftsmanship in the more than 120 artist studios and galleries on the loop. Pop into whichever ones strike your fancy! We liked watching a 4th gen broom maker at work in Ogle's Brooms, learning to pick on a banjo at the Smoky Mountain Dulcimers, and viewing the works of a plethora of different artists at the numerous galleries.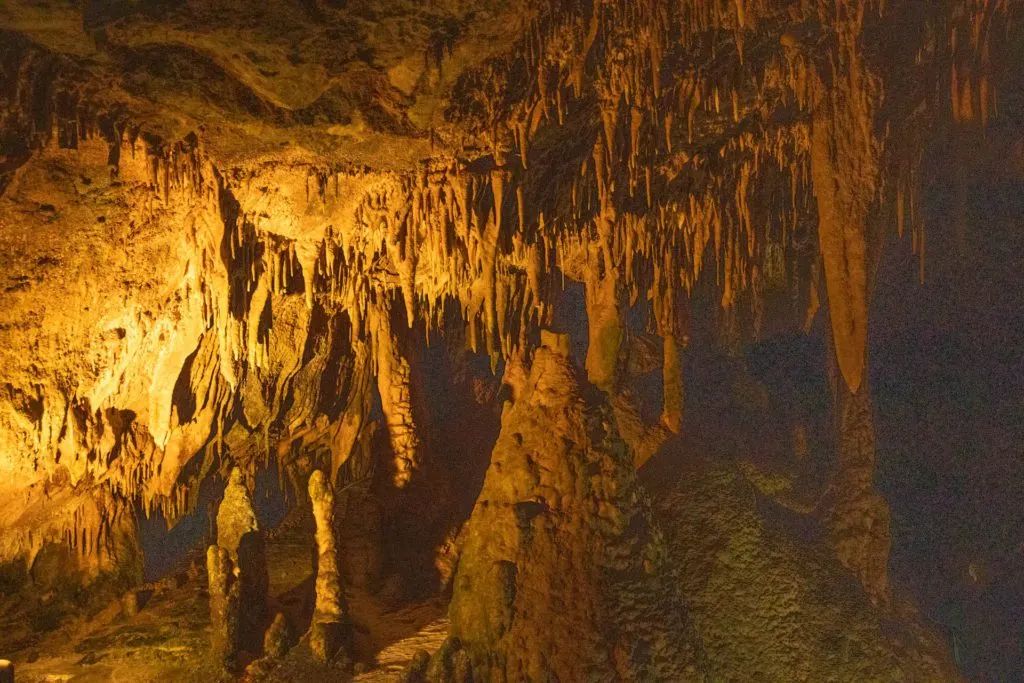 Tuckaleechee Caverns
Like a good cavern? We do. Then go take a tour at Tuckaleechee Caverns. There you'll find room after room of magnificent structures and underground waterfalls and rivers as you learn about the history and discovery of the caves and what makes them unique. And if you're lucky, you'll get Mark as your tour guide. If you do, make sure to tip him handsomely for his terrible geology puns and vast knowledge of the caverns and formations (sorry we're terrible millennials and never carry cash, Mark…).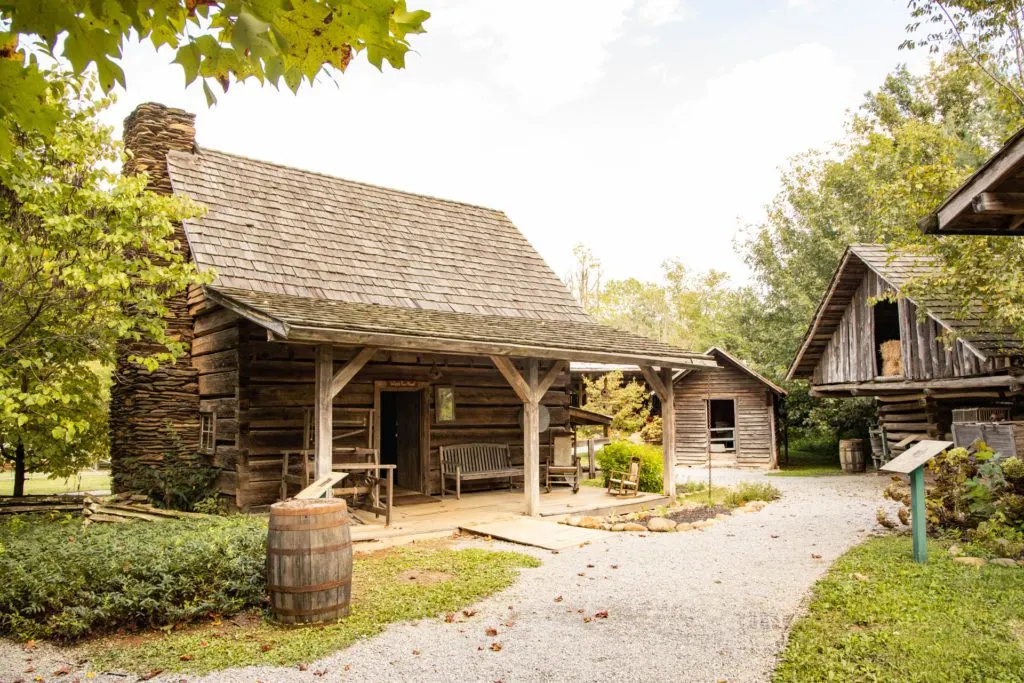 Great Smoky Mountains Heritage Center
For you history buffs out there, make sure to schedule a stop at Great Smoky Mountains Heritage Center, an interactive museum and cultural center. It's not huge, so won't take up your whole day, but you can walk through structures on the property that give a glimpse into what life was like when early settlers, well, settled, attend interactive demos from time to time, then wander the galleries that span the region's history from the area's first residents to colonial days to the recent past. Oh, and if books on Appalachian history and culture are your jam, the bookshop has your fix.
Eat + Drink
You gotta eat. And even if you'll be cooking most of your meals over a campfire, it's nice to know what's around in case you want to treat yourself to something special. All of these spots have vegan options, so go nuts, fellow eco warrior!
Whole Earth Grocery
If you're like us, you don't eat ALL your meals out when traveling, especially when camping and hiking. So do yourself a favor and head to Whole Earth Grocery for staples, snacks and supplies like chips, pasta, lentils, vegan jerky, vegan cheese and more. It's a small space, but packed full of goodness. And if you do want to grab a lunch to go, there's a cafe inside that offers smoothies, juices, wraps, burgers, salads and more! Oh, and if you forgot your B vitamins or reusable straw, they have those things, too.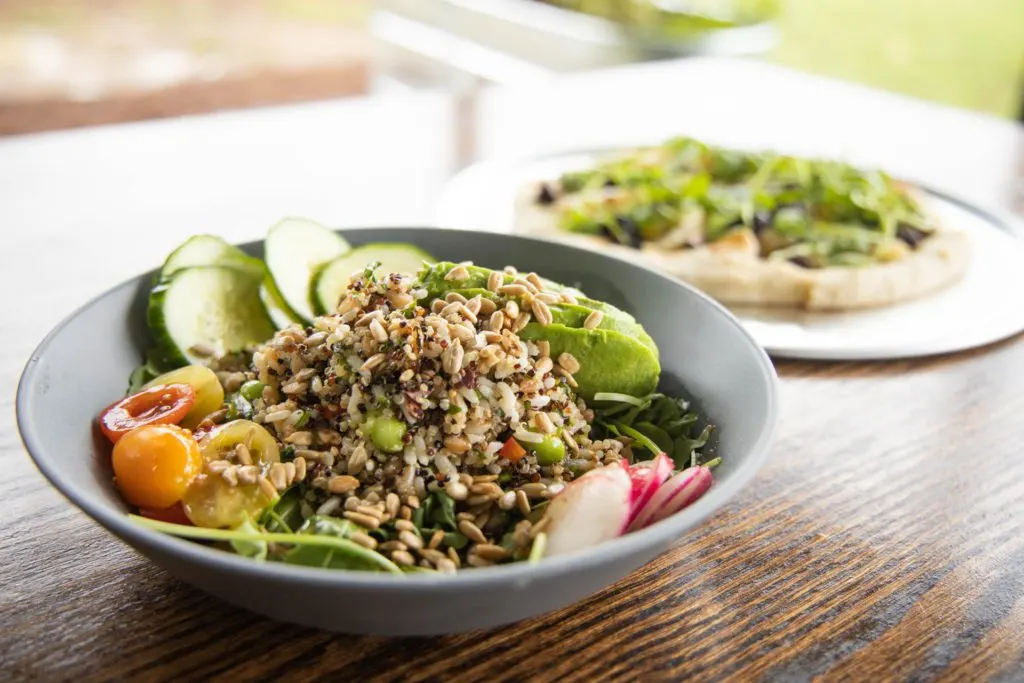 Peaceful Side Social Brewery + Craft Kitchen
Peaceful Side Social Brewery + Craft Kitchen, a brand spanking new eatery in Townsend, is definitely worth a visit if you're craving easy, tasty, even healthy sustenance. There's plenty of beer on tap, plus a handful of vegan menu items like hummus plates and colorful quinoa bowls and the "round breads" (aka pizzas) can be made vegan by leaving off the cheese. And trust us, the pear and balsamic option is no worse for the absence of it.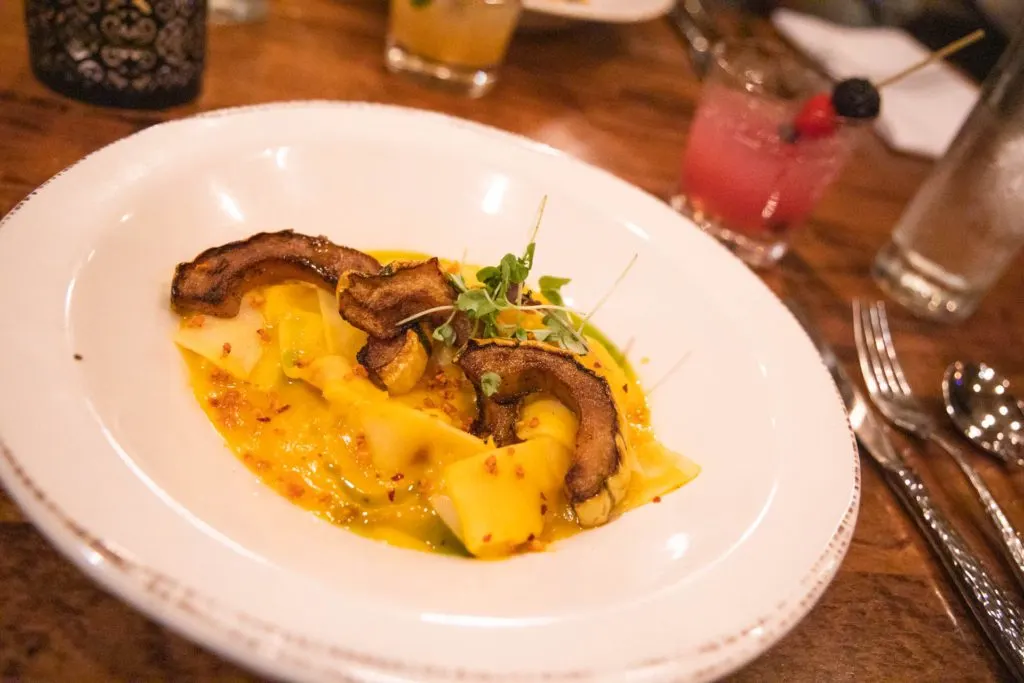 Appalachian Bistro at Dancing Bear Lodge
Wanna treat yo'self? Appalachian Bistro at Dancing Bear Lodge is the place to do it. There was only one vegan option on the (very upscale) menu when we were there, but it was hand-crafted (we're talking house-made noodles) and well done. Full disclosure: it's not cheap and portions aren't huge, but if it's ambiance your after and a couple of stellar cocktails, this is your spot. Also, get yourself a reservation on the outdoor patio for sweeping views and twinkle light magic.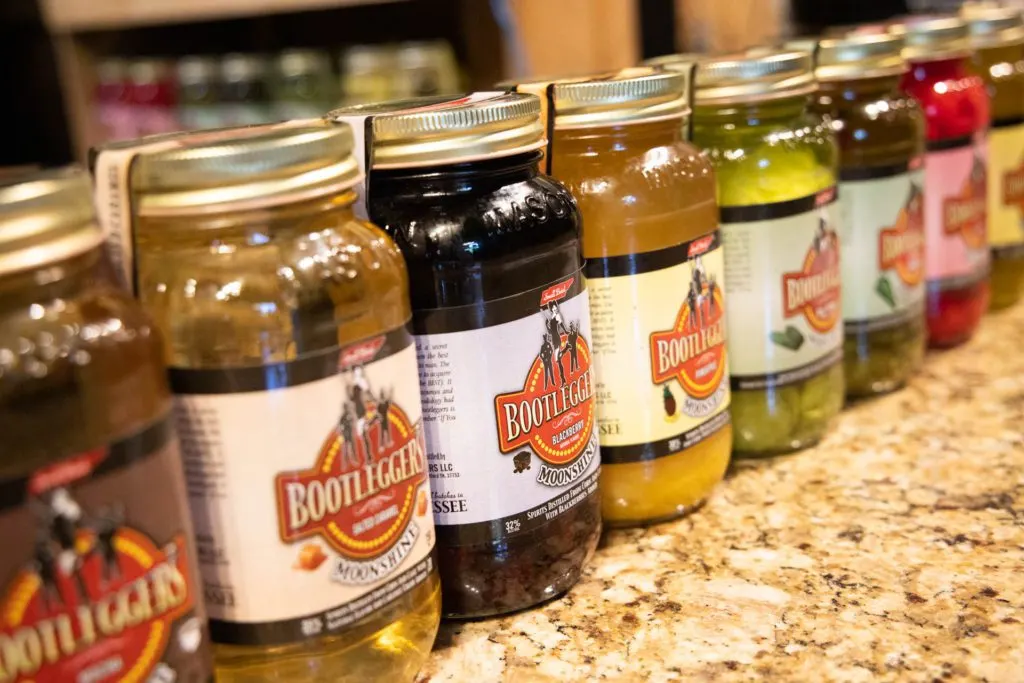 Bootleggers Distillery
No trip to Tennessee is complete without a trip to a distillery, am I right? Well, if you're up for a drive to Hartford (or if you're there for a thrilling or relaxing river trip), pop into Bootleggers. They have a wiiiiiide selection of moonshine to sample, from hot spiced apple that tastes like warm hot apple cider to peach to dill pickle to straight up double distilled, fire-in-your-belly madness. You can sample up to three flavors for free, do a whole tasting, and take a jar (or seven) home with you. Note: The business is cash only, so bring a full wallet.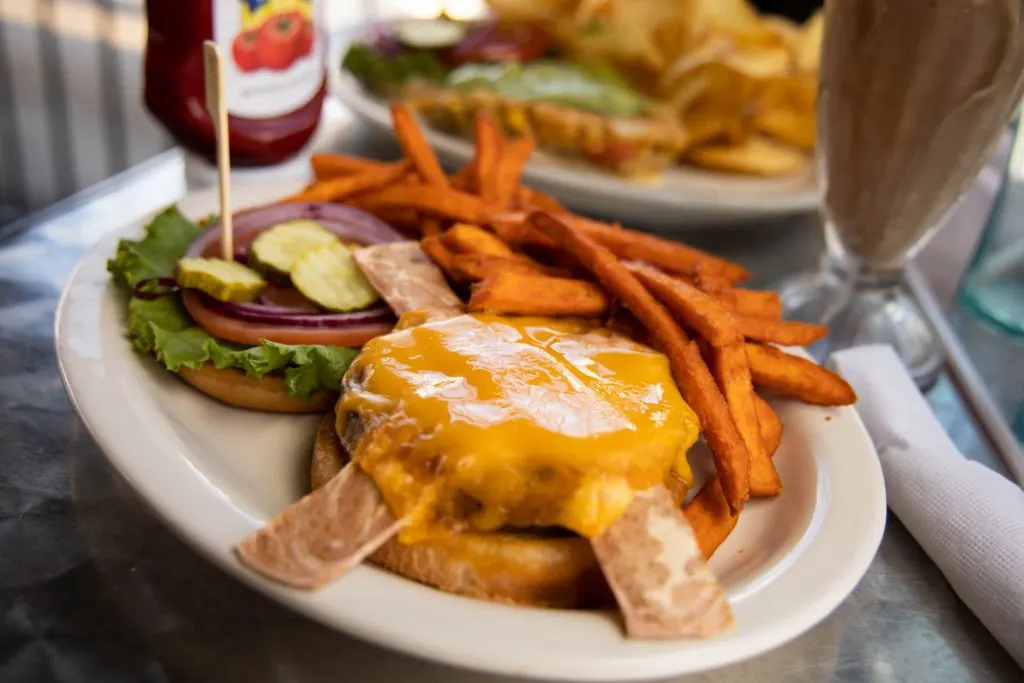 Maryville
Wanna take a break from the park? Or maybe grab a bite on your way out of town? Not far from Townsend is Maryville, Tennessee, and this small town might be worth an afternoon of your time. Grab a vegan burger and shake at Hot Rod's 50's Diner (there's a whole vegan menu!), then, if you're a film buff like Josh, pop in for a coffee at the Capitol Theatre Coffee & Ice Cream Parlor. The theatre is a gem in itself, but the cafe is literally lined with movie props and paraphernalia, from Star Wars to Back to the Future to Harry Potter to Jurassic Park and everything in between. Stay a while until your sure you've noticed all of the items and posters on the walls, ceilings, even floors!
Stay
Pull up a chair; stay a while. You're gonna need somewhere to lay your head in between playtime in the Smokies.
Camp in the Park
There are 10 frontcountry campgrounds (aka drive-up car camping) in Great Smoky Mountains National Park, but Elkmont, Cades Cove, Abrams Creek and Look Rock are the ones on the "Quiet Side." You can check them all out and make reservations here. Or, if you prefer hike-in, backcountry camping (there are 800+ miles of trails to explore in the park), you'll need a permit and reservations ($4 per person per night), which you can get here. Just make sure to be aware of the rules and regs before you go.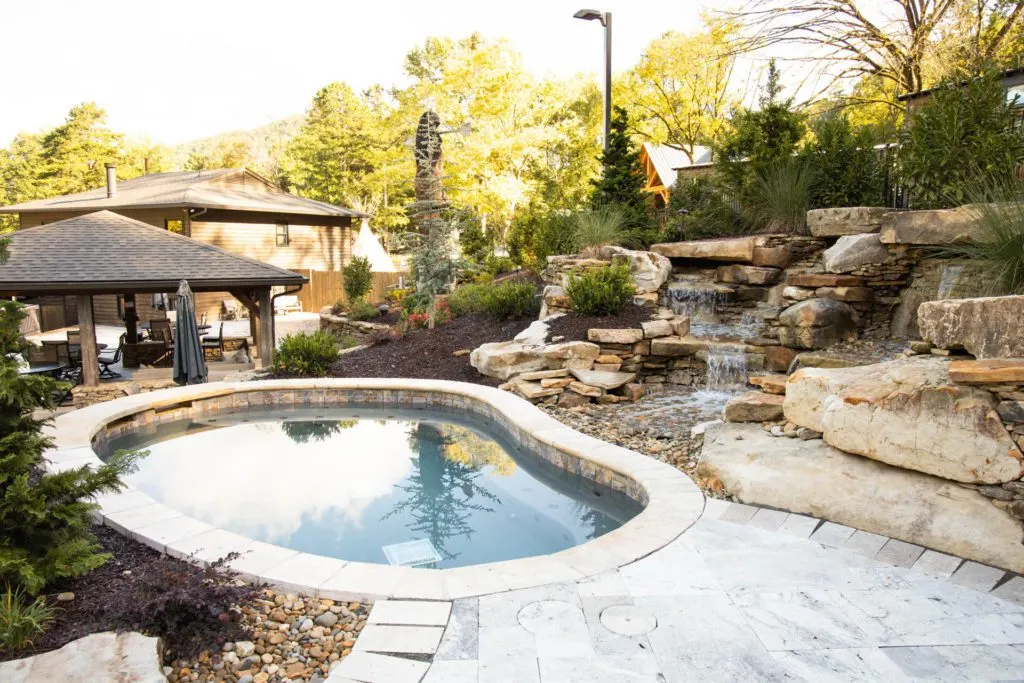 Little Arrow Outdoor Resort
If you prefer to kick back and relax and enjoy a few amenities (and indoor showers) as opposed to roughing it, there may not be a better place to do so than Little Arrow Outdoor Resort. You can pitch a tent on one of the available sites, or upgrade to a cozy cabin, glamp in a safari-type tent, rent an Airstream, or book a tiny house (which is what we did–we couldn't refuse!). The shared spaces like showers and self-serve coffee bar are hotel-level fancy, there's a pool and hot tub complete with waterfalls, a hiking trail, even river access so you can splash, play and float to your heart's content. Bonus: it's super close to all the attractions and amenities in Townsend, including hiking trails.
Bottom Line
There's plenty to explore at Great Smoky Mountains National Park. So much, in fact, there's no way you could do it all in one trip. But if you stick to the quiet side of the Smokies, you'll enjoy thinned crowds, less traffic, more parking at trailheads and less congested trails and viewpoints, plus still get to explore our country's most popular national park. So get out there and wander on, already!
•
Want to see more info about other national parks? Find it here.
Alisha is a freelance writer and photographer based in Austin, TX. She loves her tiny house, vegan food and experiencing the community of travel in far away places. She's also pretty sure she's addicted to coffee. alishamcdarris.com