It's quick! It's easy! It pops up in 2 seconds…ish…It's the Decathlon 2-second Easy Tent! And this car camping tent might be the easiest to set up, highest quality tent out there for all your car camping adventures.
Because honestly, who wants to spend the first half-hour of their camping trip setting up a dang tent? Not me! Not if I don't have to! But usually, easy pop-up tents are either cheap, flimsy, or have zero features king their ease of set-up a rather pointless trade-off if you ask me. Especially if you have to replace that tent every other season because it just couldn't stand up to occasional use.
But that is not the Decathlon 2 Second Easy Tent. No, sir (or ma'am). This thing is made of high-quality materials, can withstand wind, rain, and whatever other elements Mother Nature might throw at it, and–here's the kicker–it's made with blackout fabric for a dark, private sleeping experience outdoors! I know, right?! Read on to learn all about it and what we thought of the tent.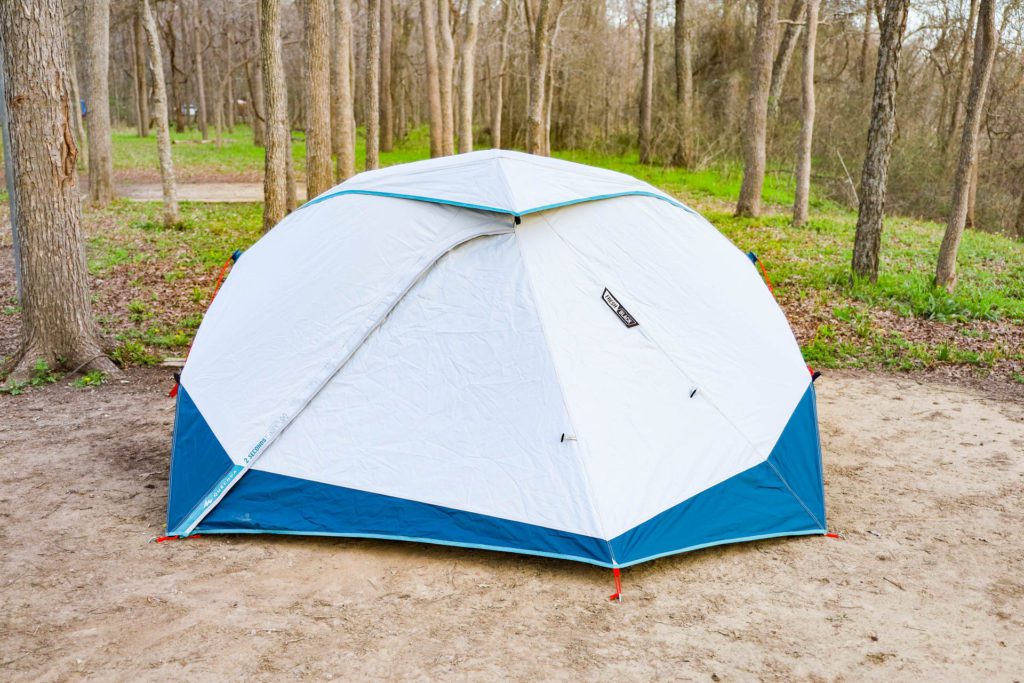 About the Decathlon 2 Second Easy Tent
For starters, this is not a backpacking tent; it's a car camping tent. It weights 10.4 pounds and is fairly large and bulky. I mean, I guess you could carry it into the backcountry if you wanted to, but I wouldn't. I'm a tiny person. I prep for backpacking by deciding how many tent stakes I really need so I can cut weight, so…
But I love a good car camping tent for car camping because they're often larger with more features than ultralight backpacking tents. And the Decathlon 2 Second Easy Tent is no exception. The inside is 80.7″ x 57.1″ with a max usable height of 43.3″. So it's not huge, but comfortable for two average-sized humans. Or one human and an average-sized dog if you prefer.
It's wind-resistant up to 30mph, which is pretty impressive, and that Fresh & Black blackout fabric blocks 99% of light in broad daylight. The tent fabric is a burly, durable polyester and the tent floor is sturdy enough that I didn't feel the need to use a footprint on the tent's maiden voyage (the weather was pleasant and there was a nice dirt tent platform on which to pitch).
But maybe most importantly, it's easy to set up and take down. For real, though. All you have to do to set up this tent is yank it out of the bag, extend the corners, and give the two cords (one on either side) a tug until the tent pops into place and that's it! OK, sure, there's some staking involved after the tent is popped up, but that only adds a few minutes to setup at most.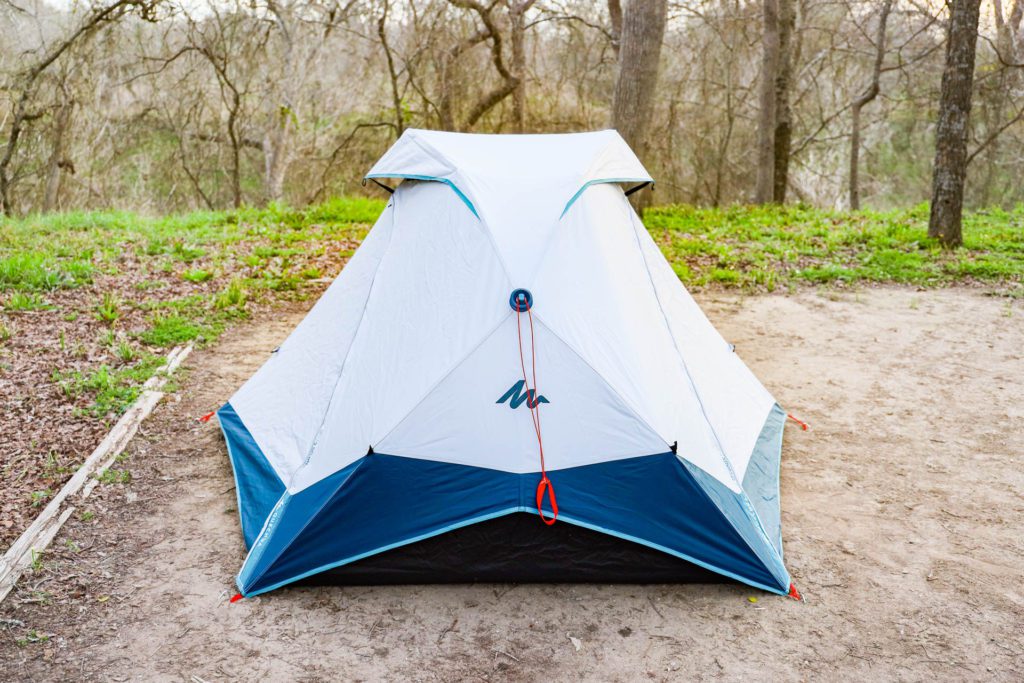 What we Thought of It
We tested the Decathlon 2 Second Easy Tent on a recent car camping trip in Texas and were impressed. It really was incredibly easy to set up. After glancing at the instructions only briefly, which are printed on the inside of the bag, we had it pitched in no time. Which means we got to move on to other camp tasks almost immediately.
Then there was the blackout fabric. Decathlon calls it Fresh & Black, but basically, the whole outer fly is made out of the blackout curtains you wish were in your bedroom. I mean, it is really, really dark in this tent. Amazingly dark. And anyone who's ever tried to sleep in while camping knows what a huge deal that is.
I mean, sure, sometimes you wanna get up early to hit the trail or see that sunrise, but sometimes you don't. Sometimes a 9 or 10 am wakeup call is exactly what you want on a camping trip. And you can enjoy every minute of sleepy time in this bad boy.
Yes, you can still tell when it's daytime or nighttime from inside the tent, though: vents at the top and narrow spaces between the bottom of the fly and the ground let in just enough light to let you know whether the sun has come up yet, but not enough to disturb your slumber.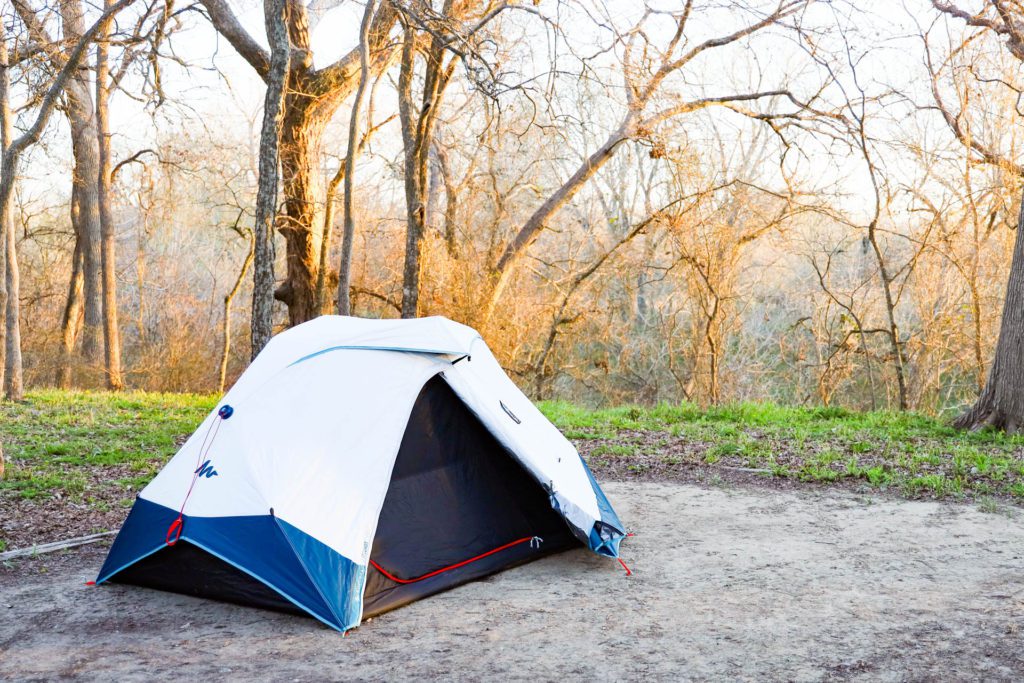 But what I'm really excited to test is Decathlon's claim that this tent is heat resistant. As in, it's gonna help block out the sun and keep your tent from turning into a hotbox during warm-weather camping. Which is obviously a plus, especially in Texas. It's not hot enough yet to fully test that claim, but we'll update this post when we do!
I'm hoping it works as well as they say, though, because the fly isn't removable. Personally, on hot nights, I prefer to sleep with the fly off entirely, so it's kinda a bummer that that's not an option, but I can live with it if it really does keep it cool inside. Plus, the two vestibule doors open to two separate positions (wide and wider) to facilitate airflow, so that's not too shabby.
Another benefit of that blackout fabric: privacy. Even with a light on inside the tent no one can see what you're up to. So change your clothes, sleep naked, get cozy with your camping buddy…whatever. Because you have total privacy.
There's also a fair amount of room, though it is just a two-person tent. Two people will definitely be cozy, but unless you're super tall there is plenty of room at the foot of the tent for stashing extra clothing or gear. Plus you can sit up in it without colliding with the roof of the tent and there are storage pockets at both ends plus a cord that runs across the ceiling with a handy dandy little hook that's perfect for hanging lights or glasses or whatever.
And yes, the tent comes down just as easily as it goes up. Just push the two buttons (one on either side), let the tent collapse, gather all the corners together, and put it back in the bag. Easy peasy.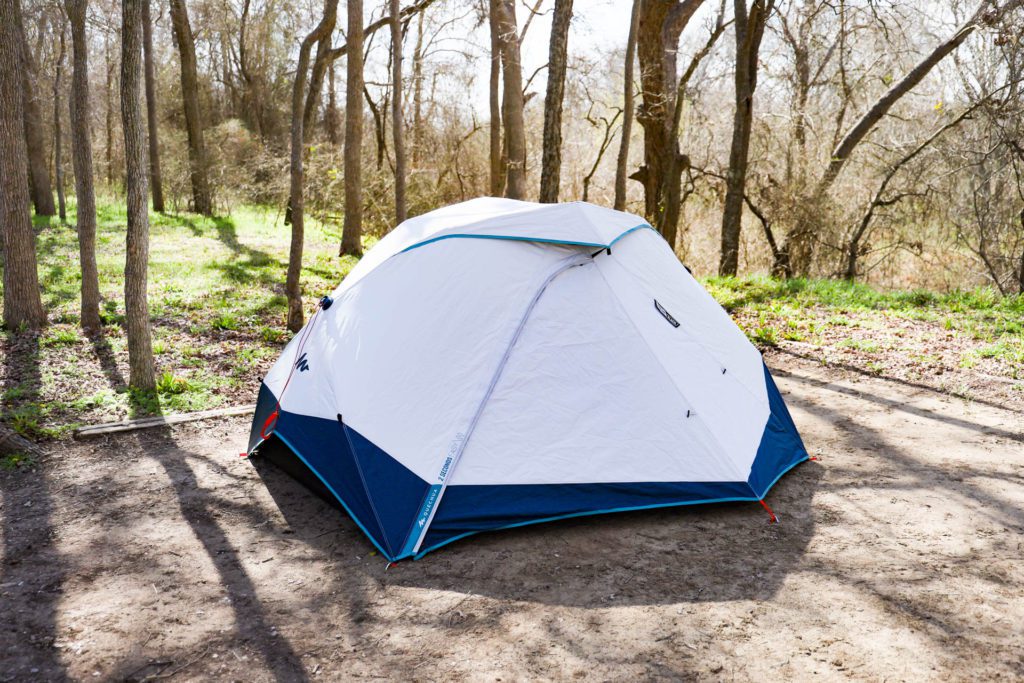 Pros and Cons
Of course, no tent is perfect for every trip or every camper. Here's what we liked and didn't like about the Decathlon 2 Second Easy Tent.
Pros:
Super easy setup
Super easy tear-down
Blackout fabric keeps the tent dark
Plenty of privacy
Two large doors that open wide to facilitate airflow
Fairly spacious
Cons:
Smallish vestibules don't leave a lot of room for storage
The fly isn't removable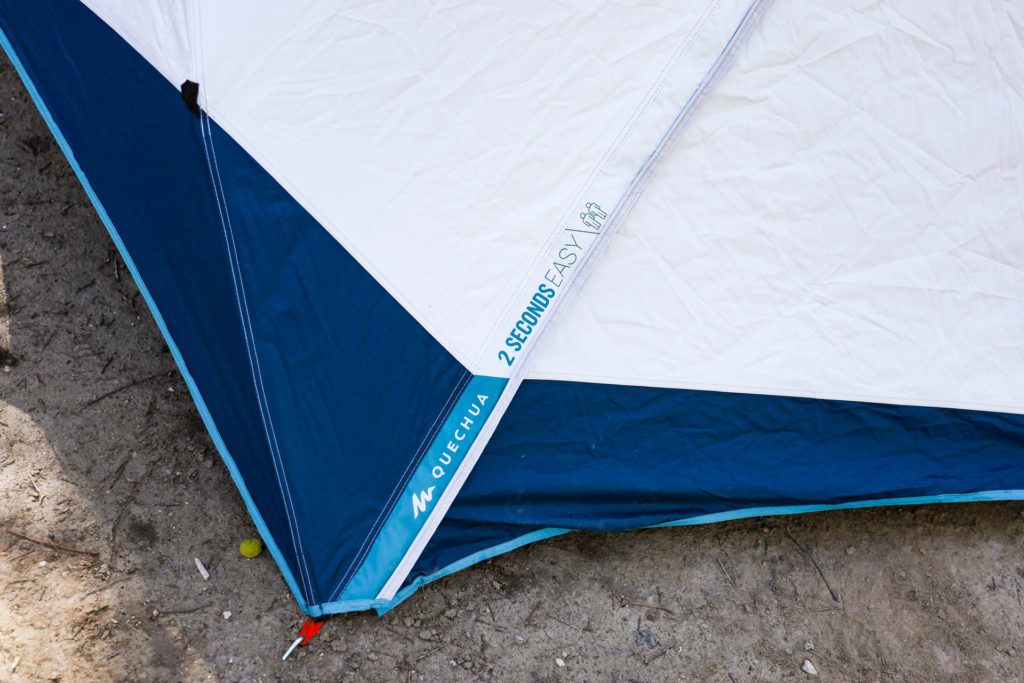 Bottom Line
Basically, the Decathlon 2 Second Easy Tent is dope. It's perfect for car camping in just about any season and there's honestly not anything major we didn't like about it. It's easy to pitch, the blackout fabric is great, and Decathlon is even an environmentally conscious brand.
There's nothing super sustainable about the tent itself, besides the fact that a large part of it isn't dyed, which reduces the amount of water required to manufacture it, but Decathlon puts an emphasis on using repairable and replaceable parts so you don't have to chuck the whole tent if one part malfunctions. It even comes with a 5-year guarantee.
The brand itself is pushing for sustainability on a large scale, too. They're working to eliminate excess packaging and have a goal to switch to 100% renewable energy in their buildings by 2026. Which is great news. But Decathlon has also been spearheading sustainability initiatives from its headquarters in France for years, so they are ahead of the curve.
The 2 Second Easy Tent is simple to use, beginner-friendly but also a pleasure to pitch if you're an experienced camper, really accessible in price ($199), and it looks good doing it.
So are you intrigued? Been dying for a tent that's this easy to set up and tear down? Wanna try out the 2 Second Tent for yourself? We think you're gonna like it. Get one for yourself here. Then get out there and wander on.
•
This post contains affiliate links, which means Terradrift may receive a small percentage of sales that result from you clicky-clicking. But don't worry; it won't cost you any extra. But you do get to feel the warm fuzzies that come from supporting more great content!
Alisha is a freelance writer and photographer based in Austin, TX. She loves her tiny house, vegan food and experiencing the community of travel in far away places. She's also pretty sure she's addicted to coffee. alishamcdarris.com