REI announced some good news for Co-op Members recently: they can now trade in used gear in exchange for an REI gift card! But that's not the only place online you can sell your used outdoor gear. We'll explain how the new REI used gear trade-in works, plus where else you can get cash for the stuff you no longer use!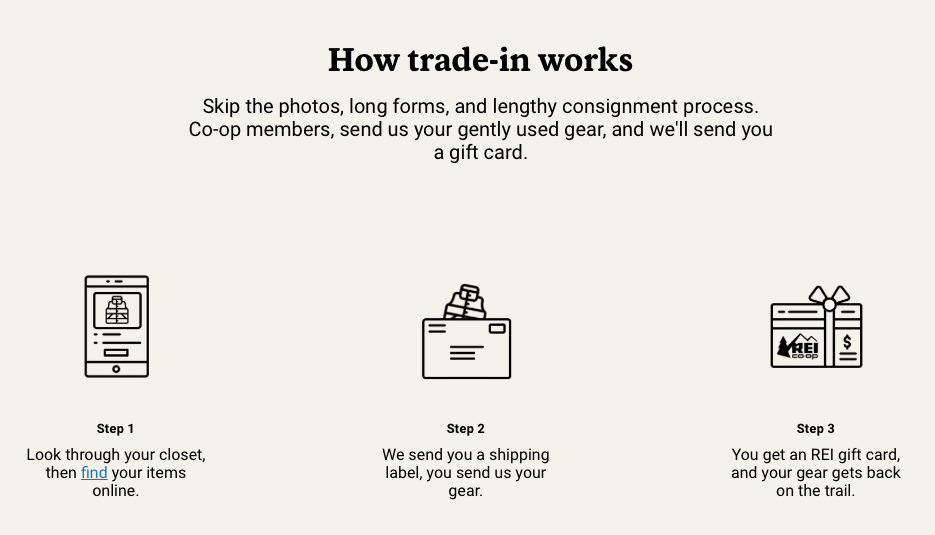 Trade in Used Gear with REI
That's right! REI now lets you trade in your used gear for REI gift cards! Awesome, right? And they've made it super easy, too. No laying out your gear to take photos, no filling out forms or dealing with potential buyers who totally aren't serious about taking that sleeping bag off your hands. Just head to REI, search for the gear you want to trade-in, select the right item, and REI will email you a shipping label. Then you just drop the gear in the mail and REI will send you a gift card!
REI will deduct the cost of shipping from your gift card (it was $6 for a sleeping bag), and you won't know exactly how much you'll get until REI assesses your gear (the site stated that sleeping bag was worth $36-$57), but they couldn't have made it easier.
Do keep in mind your gear has to be clean and in very good condition (this isn't the place to unload your decades-old, tattered and stained gear) and that REI won't send any items back to you if you don't like how much they offer you on that gift card or it's not in sellable condition. And no, it doesn't have to be an REI-branded item. But if you want to see if the stuff you have is eligible, just search!
Also important to mention: you do have to be an REI Co-op member to trade in used gear. If you're not a member, you totally should be. It's $20 for a lifetime membership and it gets you access to exclusive sales and deals throughout the year, plus access to deeply discounted Garage Sale items and events (in-person events are on pause due to COVID, but you can still find used/returned gear in Garage Sale bins around many REI stores). AND you get special pricing on events and services plus every spring you'll receive a 10% dividend (money back) on most of your REI purchases from the last year. Totally worth it. Learn more and sign up to be an REI Co-op member here.
Other Places to Sell Used Gear
Prefer to have a bit more control over the sale price of your gear or trying to sell something the new REI trade-in program doesn't accept? No problem. Naturally, you can sell on platforms like Craigslist, Marketplace or Ebay, but your best bet is probably to sell your stuff on a gear-specific site where everyone who's there is looking for exactly the type of stuff you're selling. That's where GearTrade comes in.
To sell your gear (you can also buy used gear), take a good handful of quality photos of the items you're trying to sell, then you're in charge of all the listing details, including titles, descriptions, price, etc. (GearTrade will suggest a price based on the item's condition but you can also choose your own). The site will even help you figure out how much you need to charge for shipping if you don't want to offer it for free. And voila! Your gear is listed and you can sit back and wait for someone to buy it.
Want to check it out for yourself? Sell used gear using the link below and give your old gear a second life (and keep it out of the landfill at the same time). Wander on!
Sell your Outdoor Gear – List it, Ship it + Get Paid. Click here to learn more at Geartrade.com
Or check out Requipper, where you can buy or sell used gear, from skis to running shoes, tents to sleeping bags and everything in between!
•
This post contains affiliate links. That means when you click and buy or sell used gear, we may receive a small percentage. But don't worry, you won't pay a cent more! This helps support more great content on Terradrift!
Alisha is a freelance writer and photographer based in Austin, TX. She loves her tiny house, vegan food and experiencing the community of travel in far away places. She's also pretty sure she's addicted to coffee. alishamcdarris.com