Hiking boots don't get much more comfortable or sustainable than the On Cloudrock Edge Raw. So we tested a pair out to see if something so sustainable required any sacrifice in performance. Spoilers: it doesn't. So read or watch this Cloudrock Edge Raw review to learn more about these boots and how they performed on the trail.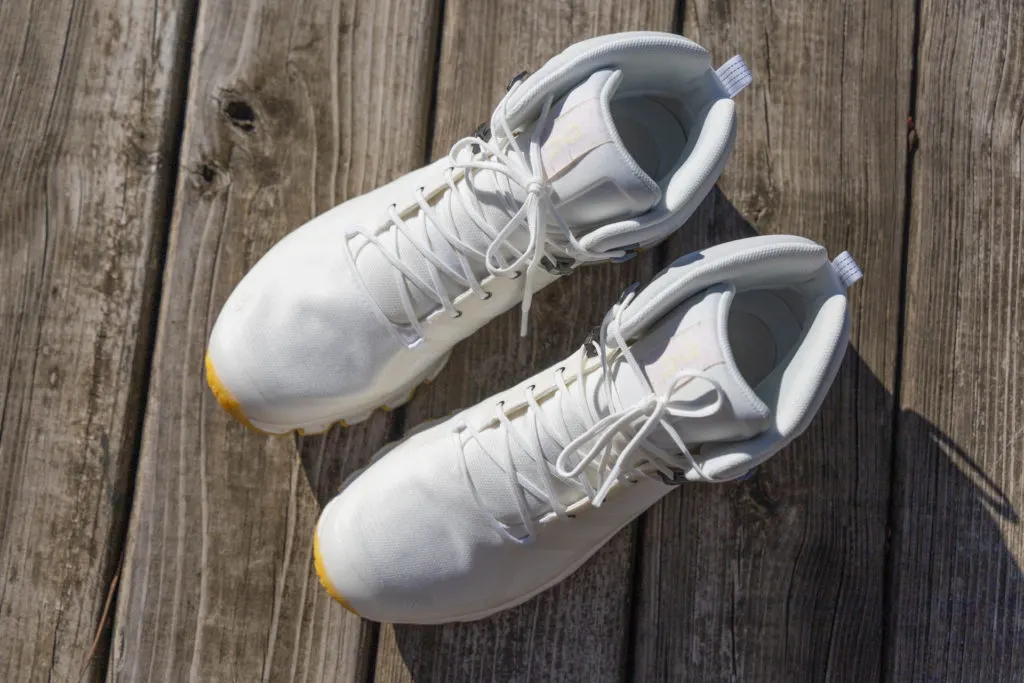 On Cloudrock Edge Raw Review: The Features
Let's start with obvious, shall we? Because yes, this boot is white. But it's more than just white; it's undyed. AND made with recycled materials, which is a big step toward more sustainable footwear (read more about undyed gear in this post).
But we'll get into that in a minute. Let's start with some of the functional features. First, the Cloudrock Edge Raw boots are–obviously–a mid-rise hiking boot. What's more, they're also waterproof and feature On's trademark Missiongrip sole. It's this blocky, often hollow, tread, which is intended to give you traction on a wide range of surfaces, but also be springy and provide ample cushion with every step. A big plus when you've got on a heavy backpack.
The boots weigh 16.6 ounces each, or just over two pounds per pair, which is fairly lightweight for waterproof hiking books, and right in line with other lightweight, all-weather synthetic boots like the Vasque Breeze (which we also reviewed).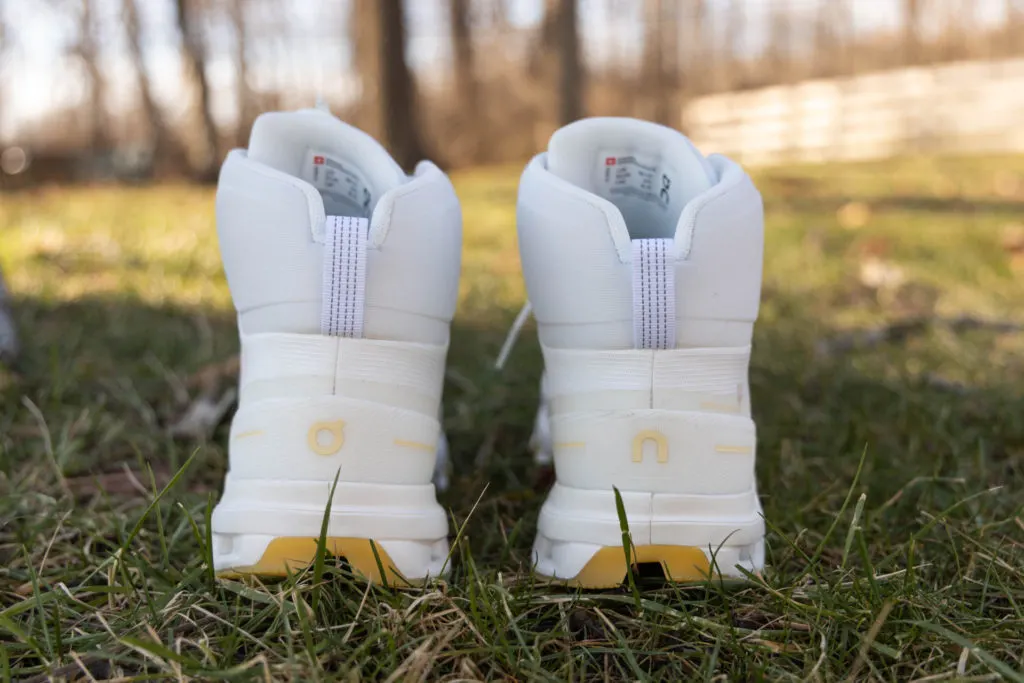 Plus, the boots are made from 40% recycled content, but the big story here is that they're undyed and unbleached.
Why is that a big deal? Well, synthetic clothing dyes have huge negative impacts on their surrounding environments and communities. Namely by way of releasing toxic chemicals into natural waterways that can disrupt natural ecosystems and make nearby communities sick. Plus, the dyeing process required immense amounts of water that can't be fully filtered and reused.
Yes, other dying processes exist that aren't as harmful, like natural dyes and waterless dyes, but they can be unpredictable and expensive for brands to use, so hey, why not take dye out of the process entirely? Better for waterways, better for people. Fun for outdoor gear.
I mean, white may seem like the last color you'd want for outdoor gear, but there's just something so satisfying about getting white gear good and filthy. I mean, every mud splatter, every bloodstain becomes a story to tell, a badge of honor. I'm actually a big fan of white gear, honestly.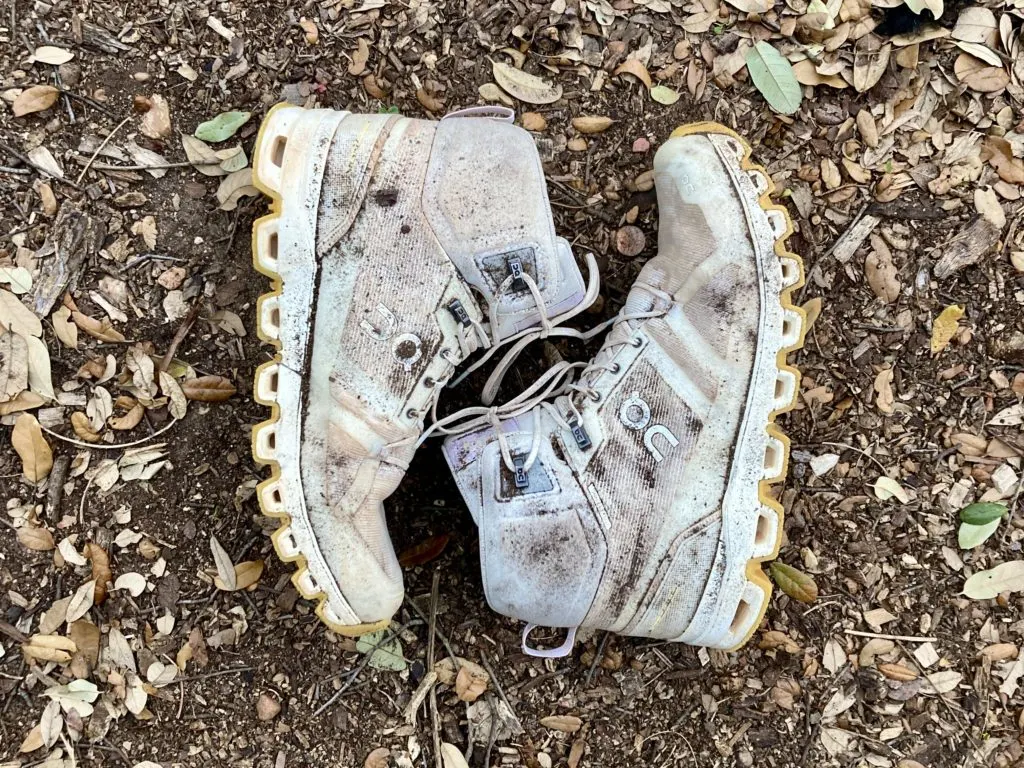 On Cloudrock Edge Raw Review: The Review
But color–or lack thereof–aside, how did these things perform? Well, I've been using these boots for about three months, hiking on just about every type of surface imaginable. We're talking sand, gravel, mud, wet, dry, and craggy rock, creek beds, ice, snow…you get the idea.
And through it all they remained really comfortable. They never felt too tight or too loose, and I didn't experience any blisters or hotspots, which is huge for me. They didn't require much, if any, break-in period, and while backpacking with heavy loads, they offered enough spring so my feet weren't outrageously sore at the end of the day.
The boots felt rugged and held up really well even on rocky mountain hikes, and I dug that under-stated toe cap. And unlike their counterpart, On's Cloud running shoes that we reviewed, I didn't have any problems with rocks or sticks getting lodged up inside of the tread, which was a pleasant surprise.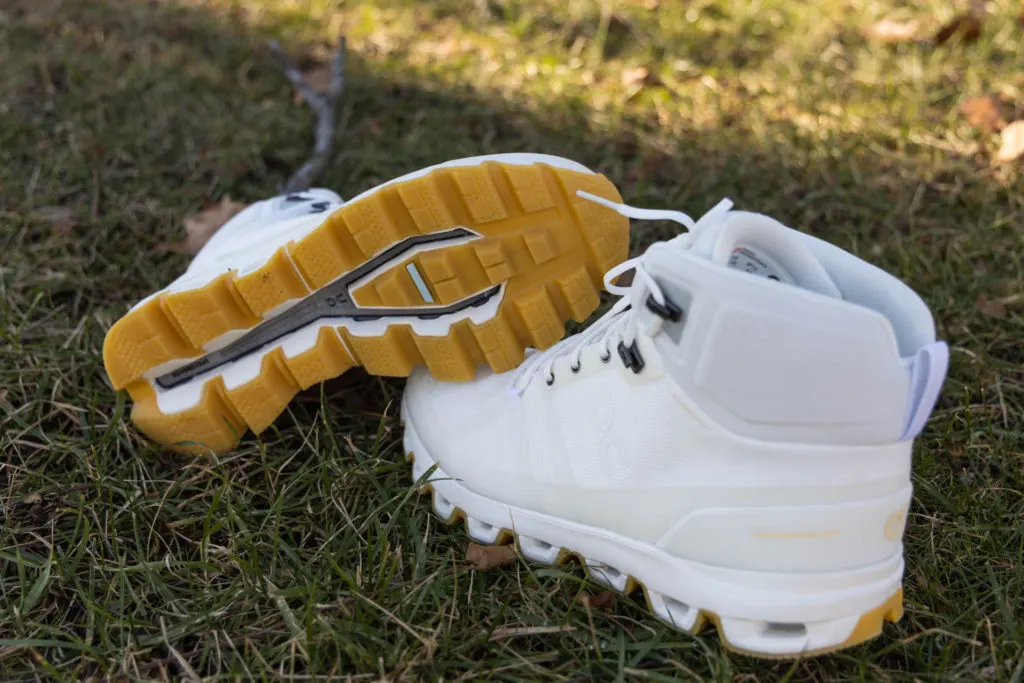 The waterproof membrane worked perfectly–I was able to stand in a stream and hike all day in snow without any leaks or moisture getting in, which was thrilling to discover. The only thing I was less than enthused about with these Cloudrock Edge Raw boots was the stickiness of the rubber on the sole (or, rather, lack thereof). See, while that blocky tread is a great idea for comfort and conformity, the rubber isn't terribly sticky.
In fact, walking on wet rock proved quite difficult as the soles were very slippery. When crossing streams, I had to be extremely careful not to lose my footing and topple over. True, some terrain is just so slippery that no shoes are going to perform perfectly, but when you compare the fact that Alisha was walking the same trails as me in different boots (her beloved Antra Lone Peaks) and had little to no problems with slipping on those same surfaces, I'm a bit disappointed in that aspect of the Cloudrock Edge Raw's performance.
But the sole is, however, just what you want for serious hiking, with enough give to make all day backpacking comfortable, but enough rigidity to keep your feet from feeling too fatigued. So if you do most of your hiking in the desert or tend to stick to fair-weather hiking or dry, rocky terrain, the soles will definitely be more of a benefit than an issue.
The ankle is comfortable and very supportive. I didn't experience any ankle rolling on long hikes or when backpacking and it really holds your foot in place when going downhill and keeps your toes from slamming into the front of the shoe.
As far as sizing goes, I wear a 9 1/2, which is my normal shoe size, which turned out to be just fine for me, but I only wear a single sock with my boots. If you wear double socks or a liner, you're probably going to want to go up at least a half a size, which is the general rule when buying hiking boots anyway (check out fit tips in this post).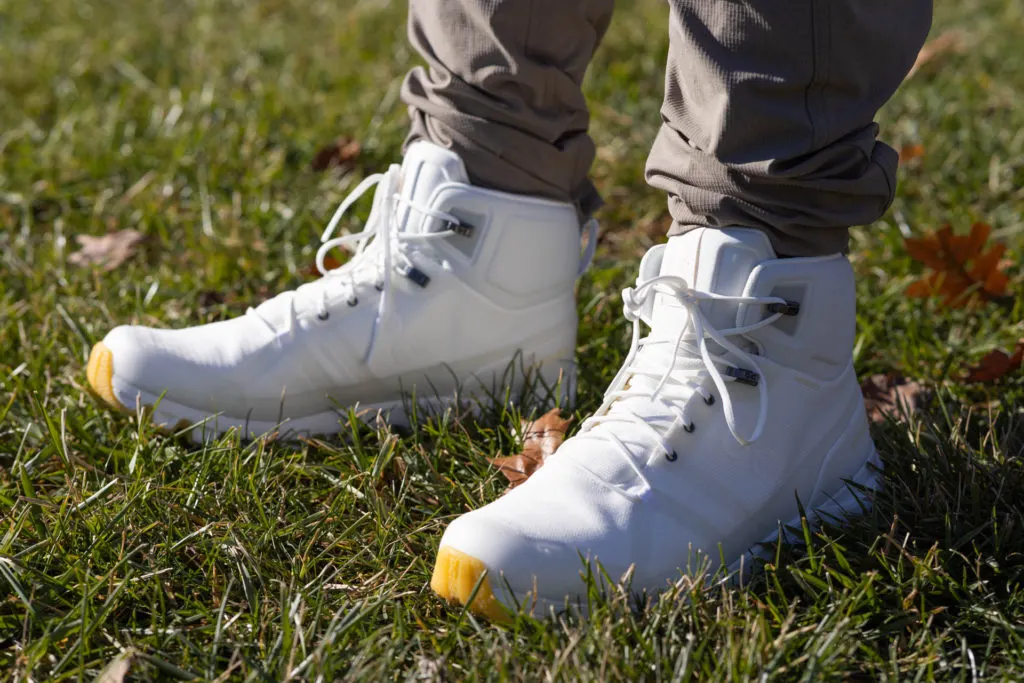 Bottom Line
Over all, these are great, comfortable, supportive, sustainable boots from a brand that puts sustainability at the forefront of everything they do. (Check out this post about On's new CleanCloud technology, which captures carbon emissions and turns it into shoe foam.) The brand says its goal is to replace the foam in its entire line with CleanCloud foam, which is a really exciting prospect. It's innovations like these that make me want to support the brand with my purchases. Plus, most of their shoes are vegan, so that's important.
Sustainability aside, this is a great shoe for backpacking and serious hiking. The waterproof membrane worked beautifully and, as for the undyed part, yeah it's going to get dirty, but that's half the fun. You'll be able to tell that these boots have seen things, man. Plus they're comfortable, even on long trail days.
So check out the On CloudRock Edge Raw hiking boot for men and women here:
•
Want more hiking shoe reviews? Check out our list of vegan hiking boots here and hiking boot reviews here!
•
This post contains affiliate links, which means when you clicky-click and make a purchase, you may be helping support Terradrift. Huzzah!
Josh is a freelance video producer, DP and editor based in Austin, TX. When he's not out exploring the world, he loves talking movies, tech, and travel. Check out his website, joshmcdarris.com