We've noticed a trend taking root recently. Maybe you have, too: Stark white gear. White sleeping bags and tents and backpacks and more. But if our mothers taught us anything, it's that white gets filthy, and fast, right? And outdoor activities certainly aren't free from filth. So why are gear manufacturers ignoring this fact and starting to offer stark white, undyed outdoor gear that will definitely get smudged and sullied their first time out? Because they respect the planet, that's why.
See, the process of dying fabrics is an inherently unsustainable one. Not only does it usually involve harmful chemicals, but is an incredibly water-intensive process. According to some sources, 20% of the global water pollution problem can be linked to the textile dyeing process. This is because traditional dyeing processes involve petroleum-based colorants, harsh chemical fixatives and toxic carcinogens plus, it takes about 33 gallons of water to dye just 2.2 pounds of cotton fabric. Add in the inefficiency of the dying process (tons of water and chemical dyes go to waste) and the energy required to heat the water used and you have one very toxic, inefficient, wasteful system.
Now, some brands have made positive change in order to produce more sustainable outdoor gear by implementing eco-friendly dye options like solution dyes that use much less water (like these Big Agnes tents) and printing instead of dying (like these Nomadix towels), but other brands are ditching dyes altogether to really reduce their footprint. And we don't hate it. In fact, we'd happily sport a bright white bag or pair of shoes, then display every scuff, stain, and mud splatter with pride. After all, doesn't every spot tell a story?
So if you can get on board with that, too, here are 4 pieces of very white undyed outdoor gear.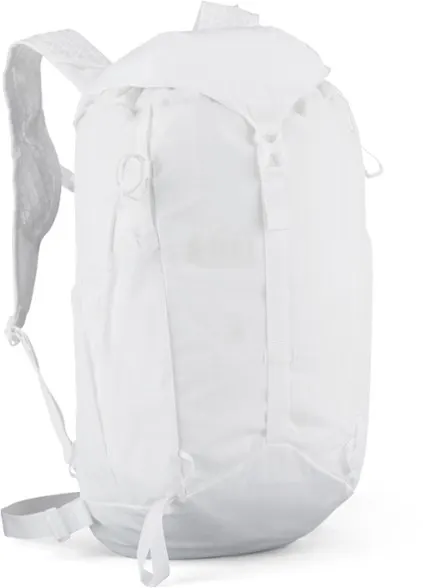 REI Flash 22 Pack
REI's popular Flash 22 Pack just got a sustainable upgrade: it is completely undyed. It's an ultralight, frameless, easy-traveling pack with all the bells and whistle of its more conventional counterparts, but white. It's also Bluesign approved, making it a stellar piece of sustainable outdoor gear.
You do have to be an REI member to score the exclusive undyed pack, though. But membership is totally worth it in our book. Check out how to become an REI Co-op member here. Then find the bag here. There's also a matching Trail 2 Waistpack if that's more your style.

Mountain Hardware Lamina Eco AF Sleeping Bag
A white sleeping bag?! You betcha. A piece of completely undyed outdoor gear, this bag is also made with a recycled shell, lining, synthetic insulation and trims! That's what makes it eco AF. But just because the bag is lacking in the color department doesn't mean it doesn't have all the bells and whistles of other Mountain Hardware bags. For example, you can still choose between a left- and right-side two-way zipper.
Find the Lamina Eco AF 30 sleeping bag here and the Lamina Eco AF 15 here.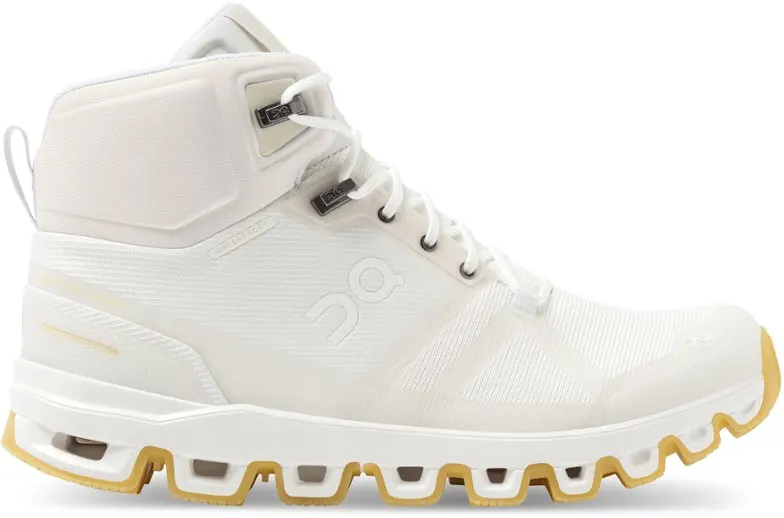 On Running Cloudrock Edge Raw
Undyed hiking boots? Yes, please! These shoes are just begging to be taken out and played with in the mud! We love them because they're vegan, yes (not certified, but the brand says they don't use animal-based glue), but also because they're made with over 40% recycled materials and don't contain a drop of dye. And On Running shoes are super comfy (check out our review of their Cloud running shoes here).
Check out a pair of On Cloudrock Edge Raw boots for men here and women here.
Bottom Line
There are certainly sustainable dyes out there, and many brands are utilizing them. But perhaps the most sustainable outdoor gear of all is totally white, totally undyed outdoor gear. So would you sport some white gear? Maybe color it yourself with grime and muck from the trail? Let us know! Then get out there and wander on!
•
This post contains affiliate links, which means when you make a purchase using a link above, you help support Terradrift. Thanks for that!
Alisha is a freelance writer and photographer based in Austin, TX. She loves her tiny house, vegan food and experiencing the community of travel in far away places. She's also pretty sure she's addicted to coffee. alishamcdarris.com