You know we love a good ultralight backpacking tent here at Terradrift. Any ultralight backpacking gear, really. So we couldn't have been more stoked to get our hands on the Durston X-Mid 2. Especially because this small brand is super popular with thru-hikers and if thru-hikers, who use their tent every night for 4 or 5 months are stoked about a tent, we can be relatively certain we're gonna dig it, too.
So we put it to the test recently to see if it was impressive enough to replace our beloved UL Big Agnes Tiger Wall. Spoilers: It sure the heck is. Read or watch to find out how and why.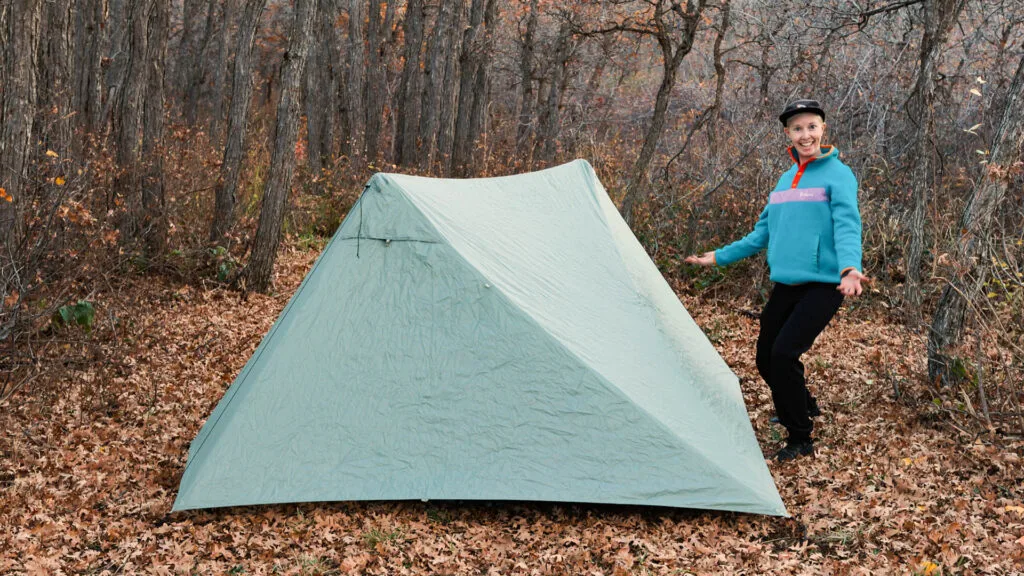 The Durston X-Mid 2: An Ultralight Backpacking Tent
So what exactly makes this ultralight tent so special? Plenty.
It pitches with trekking poles instead of traditional tent poles, which means it packs up smaller and typically weighs less since there are no poles involved.
You can pitch just the fly or the fly with the tent body.
It pitches fly-first, which keeps the interior dry in wet weather.
The polyester fabric doesn't sag or stretch out in the rain.
It comes with ALL the stakes you need–yup, all of em.
It weighs just 2.5 pounds (or 40 ounces)
It's not a freestanding tent, which means you do need trekking poles (how about one of these ultralight trekking poles?)–or appropriately sized sturdy sticks if you forgot them like we did during one test. (Join our Patreon for behind the scenes footage of what that's like…) Or you can buy dedicated poles from Durston if you're the type who doesn't use trekking poles.
But maybe most importantly for those of you, who, like me, count every ounce when it comes to choosing backpacking gear, this tent is ultralight. As in, it weighs exactly as much as our beloved Big Agnes Tiger Wall. But even though the weight of the Tiger Wall includes the poles, that tent is a loooot smaller than the Durston. And size matters. When it comes to tents, anyway…😅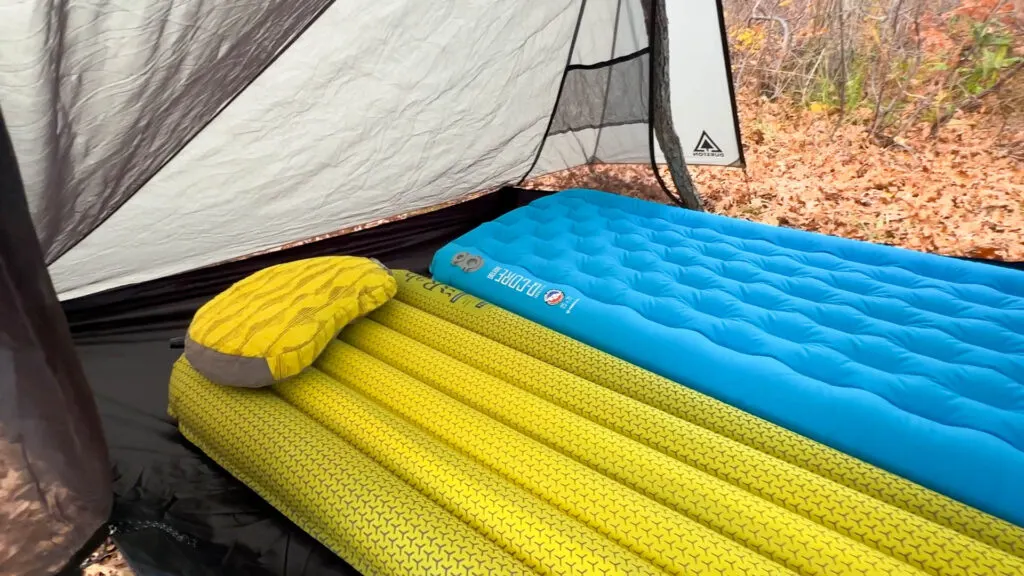 A Roomy Ultralight Backpacking Tent?!
So let's get specific. The Durston X-Mid 2 has a floor area of 33.2 square feet. The Tiger Wall is only 28 square feet. The Mid-X 2 has a head height of 45 inches while the Tiger Wall is only 39 inches tall. But how that height is distributed separates these tents even further. In a lot of UL tents–a lot of tents, period–the side walls slope down from a center point, or a point not far off-center, meaning horizontal headspace is limited.
As in, two people may be able to sit up inside, but they have to lean toward the center if they don't want their heads and shoulders brushing the tent wall constantly. Not so with the Durston X-Mid 2! On the contrary, the interior feels so much more spacious than the numbers indicate because of how it pitches and how it's shaped. The fly is pretty square but the tent body is more of a parallelogram.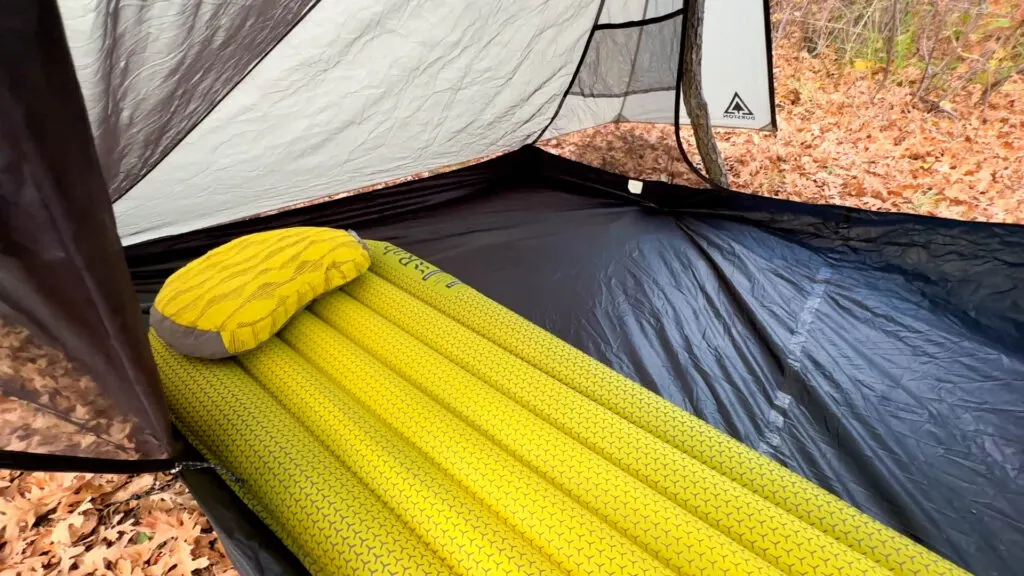 What that means is that not only is the tent more stable than similarly-pitched tents like our Gossamer Gear The One, it's also roomier. I mean, Josh and I fit so much better in the X-Mid than our Tiger Wall. In the latter, we can't fit two rectangular pads inside–they both have to be mummy-style pads. And there's very little room for additional gear. And we have to hunch toward the center when we sit up. And changing when we're both inside the tent? Somebody's getting accidentally elbowed in the face. And we're small people!
In the X-Mid 2, on the other hand, not only was there plenty of room for two wider, rectangular inflatable pads–the floor is 52 inches wide–there was also room for gear like packs and shoes by our feet and heads. PLUS, again thanks to the unique shape, there's ALSO tons of space in the vestibule if you prefer to leave your pack, boots, etc. outside your tent. With a lot of tents, if you do that, gear is pressed against the tent fly and really wedged in somewhere, meaning if there's condensation, it's gonna end up on your pack. Or if you open the fly in the rain, rain's on your pack.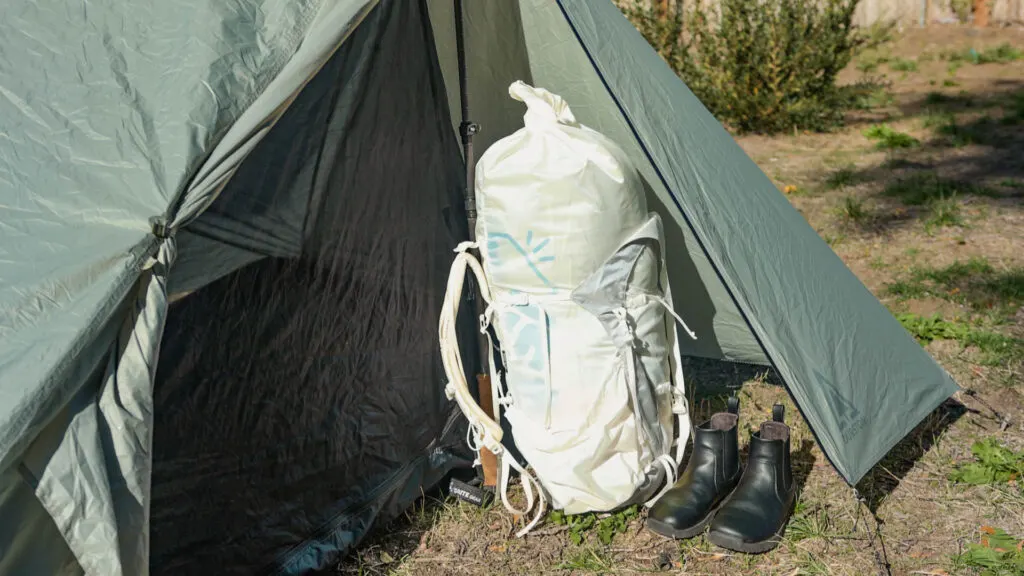 Here, there's a whole little rectangular nook just for gear! Beautiful.
Plus, both of us could comfortably sit up inside the tent to read, play games, get dressed, you name it, all without elbowing each other in the face. Always a win.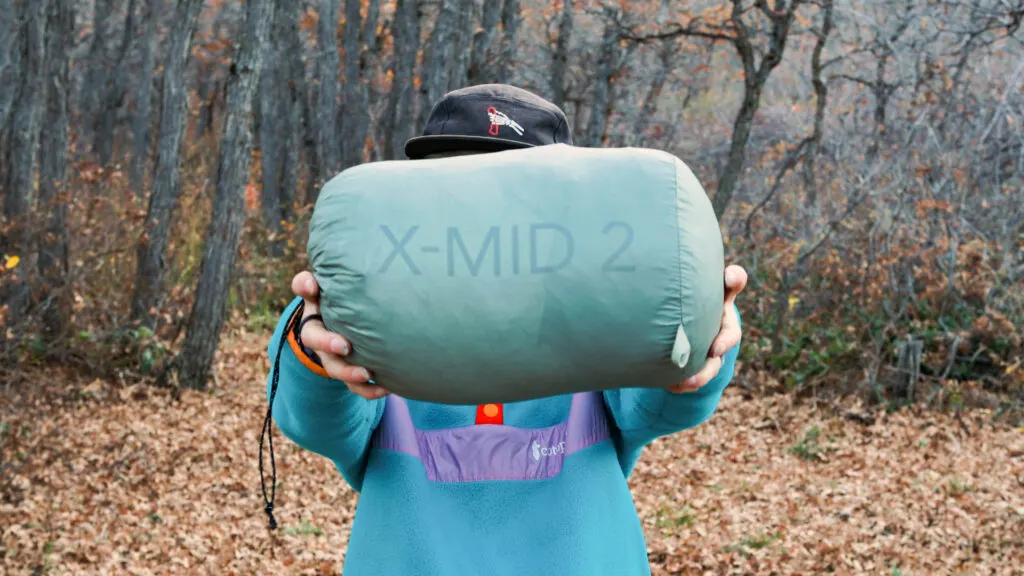 The Durston X-Mid 2 Review
So what did we think of it after testing?
First of all, it's important to note that the structure is designed for two people sleeping with their heads at opposite ends. It's not the end of the world if you want to sleep with your heads at the same end, say if you have a two-person sleeping bag, but it's more comfortable and easier to access doors and pockets if you sleep with your head by your camping partners' feet.
Now, heads at opposite ends does mean you may want to work a little harder to find a level spot to pitch your tent, but like I said, someone can always sacrifice head space if you end up needing to sleep nose-to-nose. Play rock paper scissors for it.
The waterproof zippers on the fly work perfectly and never snagged or got caught in excess fabric, which is great. Wrestling with zippers that get caught in the fly makes me want to scream. And the interior doors are nice and big and easy to zip open and closed, too, thanks in part to dual zippers. And importantly, and blessedly, the trekking poles you use to pitch the X-Mid aren't blocking the doors at all. You'd think that would be a given in the design process, but alas, many ultralight backpacking tents ignore this seemingly obvious functionality and require you to plant the poles directly in front of the doors. It's a mystery to me.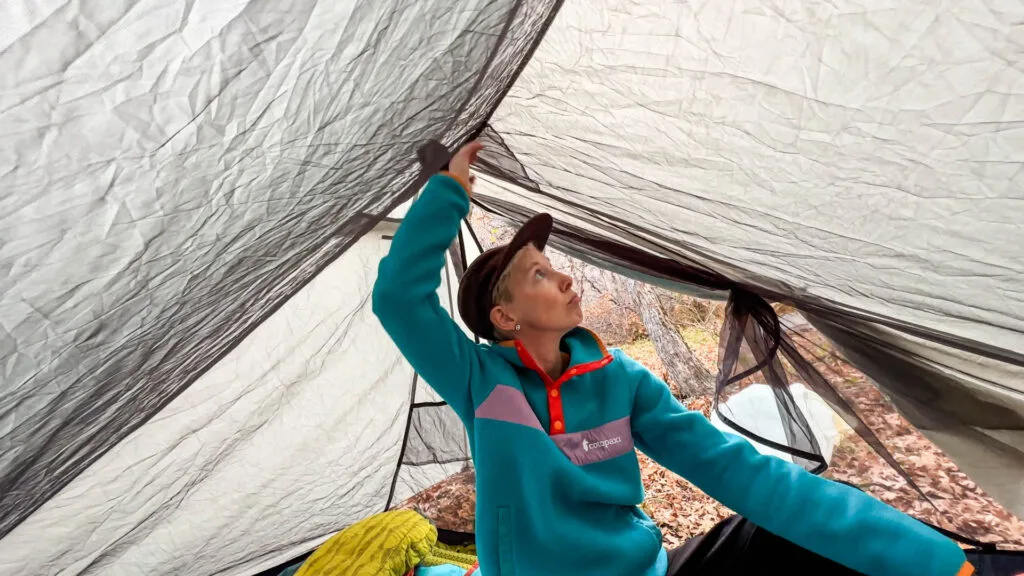 I loved the magnetic closures that keep the fly door open. Too quick and easy. I wasn't sure how I felt about the interior door tie-backs at first, though. They consist of two short lengths of elastic cord that you just loop and pull, like starting to tie a knot. But honestly, they don't take any more time or effort than more typical toggle-style closures that you have to thread through fabric loops, and Josh liked 'em right away, so it didn't take long to convince me this system is actually easier to use.
During testing in cool temps–we're talking low 40's, here–there was some condensation inside the fly when we woke up, but not enough to drip or collect and run down the sides of the tent. That's largely because there's actually quite a bit of airflow thanks to the two vents at the top and a fly that doesn't come all the way to the ground, plus a tent body made almost entirely of mesh save for the bathtub floor.
That does also mean that it's not terribly suitable for winter backpacking; Aint no heat gettin' trapped in this thing. But it should stand up under some snow, so you do you if you want to push this 3-season tent into 4.
Oh, and did we mention The X-Mid 2 is only $280? I know, that may sound like a lot if this is your first ultralight tent, but it's not. The Tiger Wall is $450. The Gossamer Gear The Two is $320. And Zpacks and Hyperlight tents, which use Dyneema instead of polyester or silnylon are in the $600-$800 range! And most of those tents aren't as creatively designed for extra space.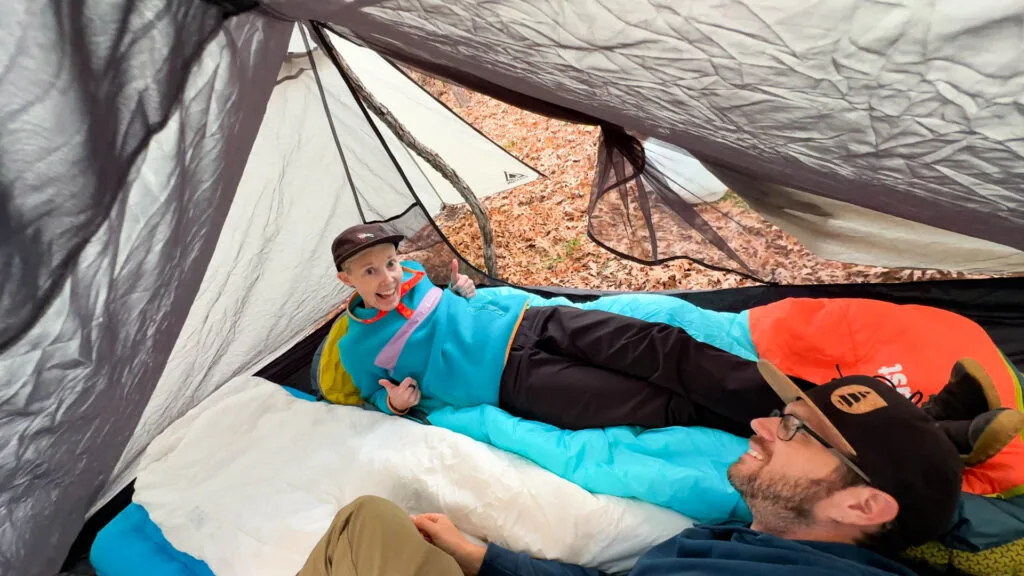 Who the Durston X-Mid 2 is For
All said, this tent is gonna be a hit with any ultralight backpackers who value space and appreciate a good cost-per-ounce ratio. Solo backpackers will have plenty of space to spread out and there's even enough room for two people and their stuff to exist–not just sleep–comfortably!
Do keep in mind that since this isn't a freestanding tent, you do need trekking poles or dedicated pitch poles AND to be able to stake this tent down. It would be difficult to pitch this puppy on a wooden platform or giant boulder without getting super creative. So if those are the types of surfaces you usually camp on, a freestanding tent might be a better option for you.
Pros
Ultralight
Super spacious
Ultra breathable
Lots of headroom
Space for larger sleeping pads
Fly-first pitch style for rainy weather
Already seam-sealed
More affordable than most UL tents
Cons
Not freestanding so won't be as suitable for rocky or platform-pitch conditions and surfaces
Delicate fabric will require more care than non-ultralight tents
Can't pitch just the tent body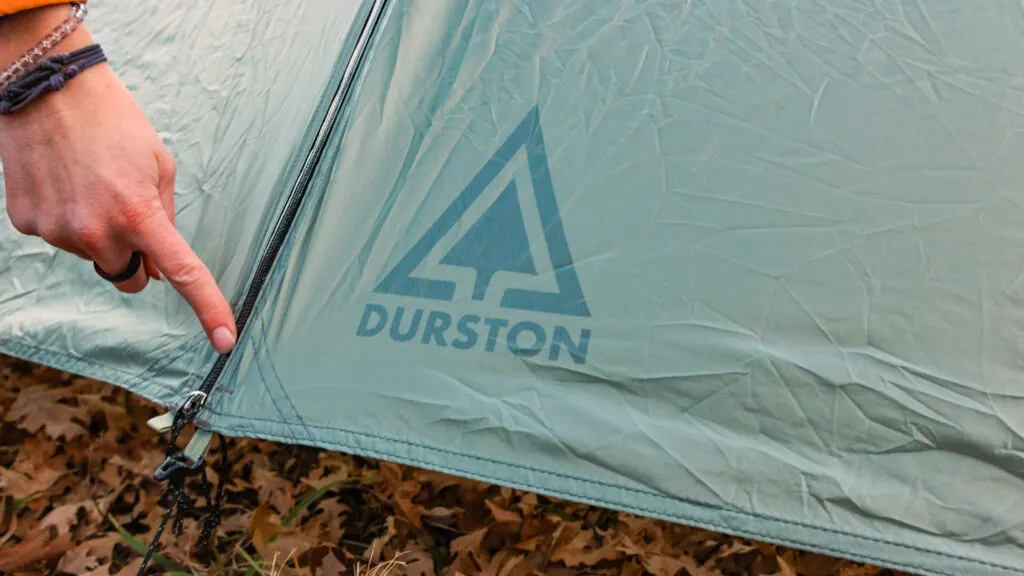 Sustainability
As for sustainability, this tent, like most of the brand's tents, is PFC-free, doesn't contain fire retardants, which are made with nasty chemicals, and the brand supports a number of nature-based non-profits. Durston still has some growing to do in the sustainability department, but the whole company is basically just one guy, so we get that making forward progress can be tough for small companies. We do look forward to seeing future lines, as we've heard rumors that integrating more recycled materials is a goal.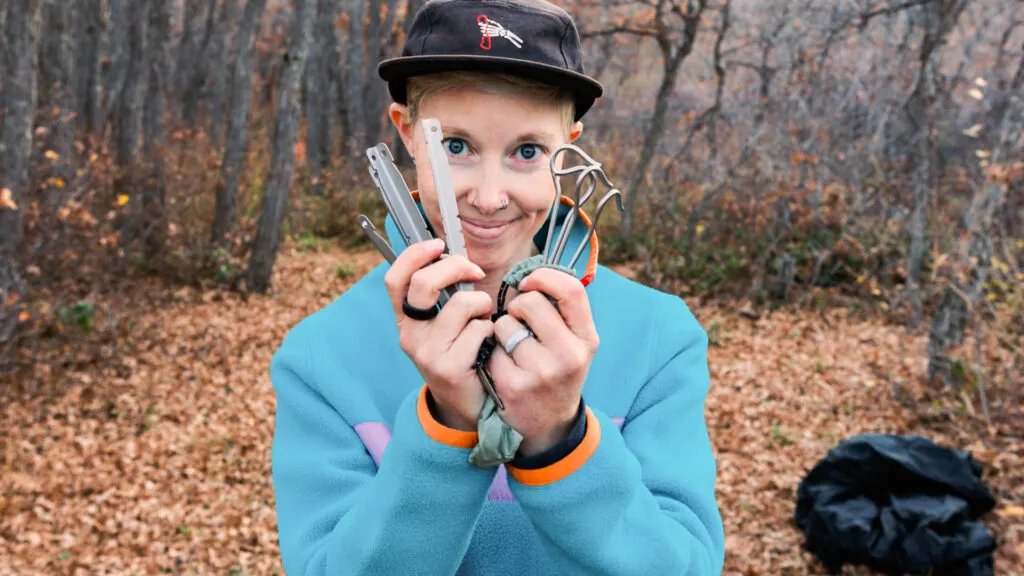 Bottom Line
So basically, yeah, yeah, I'd recommend this tent. The weather has been too dang cooperative and we haven't tested it in high winds or pouring rain, but it stood up in moderate winds just fine. (If we test it more and feel we need to amend our performance review, we'll be sure to let you know.)
So if you're in the market for an ultralight backpacking tent that feels like a kingdom more than a coffin, you should definitely check out the Durston X-Mid 2 (there's also a Durston X-Mid 1 one-person tent available).
So grab yourself an ultralight tent already, don't sacrifice on space, and wander on.
•
This post contains affiliate links, which means when you clicky-click and make a purchase, we may receive some compensation. Don't worry, it won't cost you any extra, but you will be supporting Terradrift! That's what we call a win-win!
Alisha is a freelance writer and photographer based in Austin, TX. She loves her tiny house, vegan food and experiencing the community of travel in far away places. She's also pretty sure she's addicted to coffee. alishamcdarris.com