Ultralighters rejoice, 'cause have we got a tent for you: The One from Gossamer Gear. And it. Is. Lit. So read (or watch) to find out all about this ultralight tent from an Austin-based small brand.
If the brand Gossamer Gear sounds familiar, it should; We tested and reviewed their 50-liter Gorilla backpack recently and were pretty dang impressed, so we had to get our hands on more ultralight gear from this cottage brand, starting with The One: a super ultralight one-person backpacking tent.
Check out our ultralight backpacking tips in this post and how The One fits into our ultimate ultralight backpacking kit here!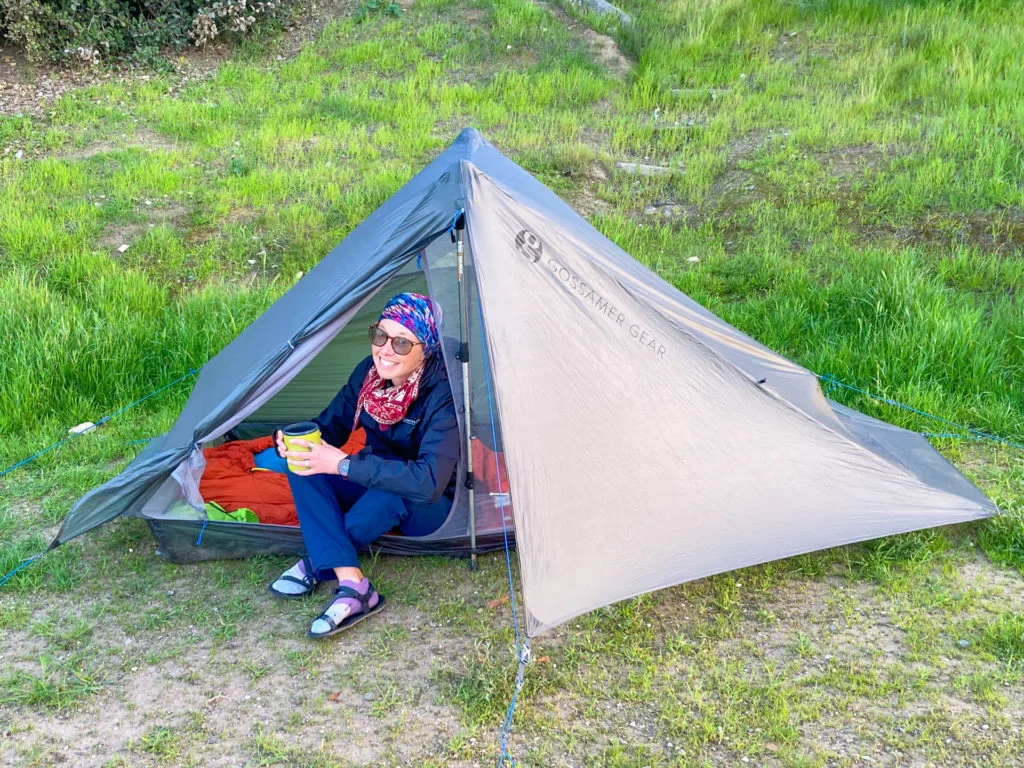 The One Ultralight Tent: The Features
The One is *super duper* light and small. It weighs 17.7 ounces. That's largely because it doesn't come with poles. Instead, you use trekking poles to pitch it. You can buy dedicated segmented tent poles from Gossamer Gear if you don't usually hike with sticks, but I do, so this works perfectly, especially when it comes to cutting weight.
It comes with 8 ultralight aluminum stakes (you need a minimum of 6 to pitch, a max of 12), guy lines, and a stuff sack. There's one interior pocket and plenty of space by your head and feet.
The bathtub floor is 84″ long, 33" wide at the head and 21" wide at the feet, the ridgeline–complete with attachable clothesline and hanging clip–is 43" across and offers 45" of headspace, and the tapered tent shape fits a 25″ wide sleeping pad comfortably.
There's one door and vestibule, which has a waterproof zipper, and that vestibule offers an additional 10 square feet of storage space. The other side doesn't have a vestibule, per se, more like an awning. But all together, it has a pretty spacious footprint. In fact, it required almost as much room to pitch as my friend's REI Flash Air 2-person tent.
All packed up, it's all of 10″ long and 5″ wide. So, best of both worlds: spacious but supremely packable.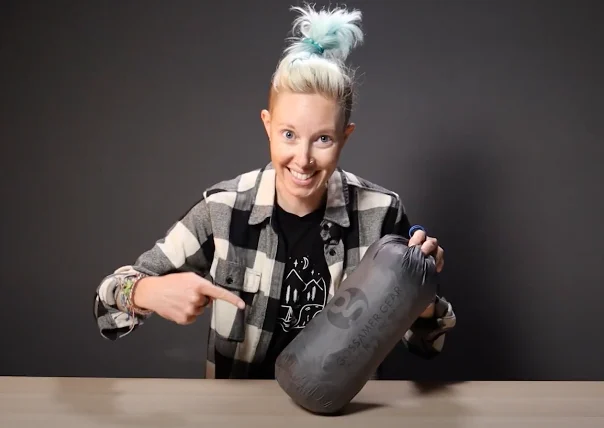 The One Ultralight Tent: The Review
I tested out The One this spring when I joined a friend on a trip out to California's Catalina Island so she and I could complete the Trans Catalina Trail together. It was the perfect opportunity to test the ultralight tent, because not only were we planning one 19-mile day over incredibly mountainous terrain and I wanted my pack to be as light as possible, but I was also flying with my gear, and I hate checking luggage. Especially if I have to pay to do so and especially when that luggage is a pack made of delicate ultralight materials. Plus, tent poles and stakes aren't likely to make it through TSA without getting confiscated, so The One was the perfect option.
Plus, little did I know that the island would afford the opportunity to test this tent in all kinds of weather: mild and pleasant, cool, rainy, even extremely windy conditions. We almost never get to run a tent through the whole gamut of conditions. So thanks for that, Catalina.
But let's start with the basics: pitching. I will say it took me about two practice pitches to get it right. It's not a freestanding tent, after all, where you just slide in some poles and the perfect tent shape materializes.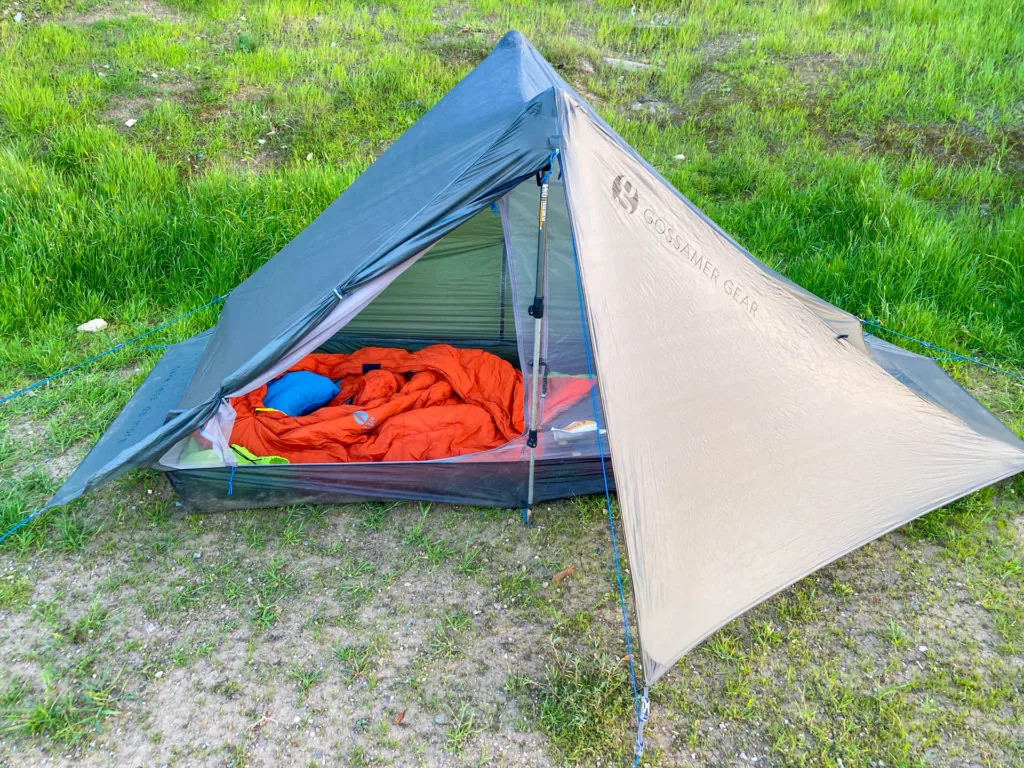 On the contrary, this is a single-wall, non-freestanding tent, meaning there's no separate fly to attach and you have to take a smidge more care to ensure stakes and guylines are placed at the best possible angles to prevent saggy corners or awkwardly tight edges. But that comes easily after a couple of attempts. Just stake the corners, insert trekking poles, and go!
The One comes with 8 stakes, and while 6 will do the job for the most minimalist pitch, in especially wet or windy weather we appreciated having 8-10. (But more on that below.)
The zippers on the door and the vestibule were smooth, and both sides kept rain out, even though the awning side doesn't seem like it goes down all that far. I mean, if wind happened to be blowing rain literally sideways, you could potentially have a problem, but we didn't experience any issues.
Same goes with the mesh vents near the floor. While there is a bathtub floor that keeps out water, wind and rain, and fabric guy-outs extend well past the edge of the tent floor on the ends, the vent sections at the head and foot of the tent reduce the height of that bathtub floor.
The vents are handy for air flow, but one night it rained steadily for hours and some muddy splatters made their way inside the tent via those vents. Not a LOT of muddy splatters, and it's certainly no deal breaker, just something to be conscious of if you're expecting a significant amount of heavy rain. Full disclosure: I could also have staked out that end a bit better, so those splatters might be my fault.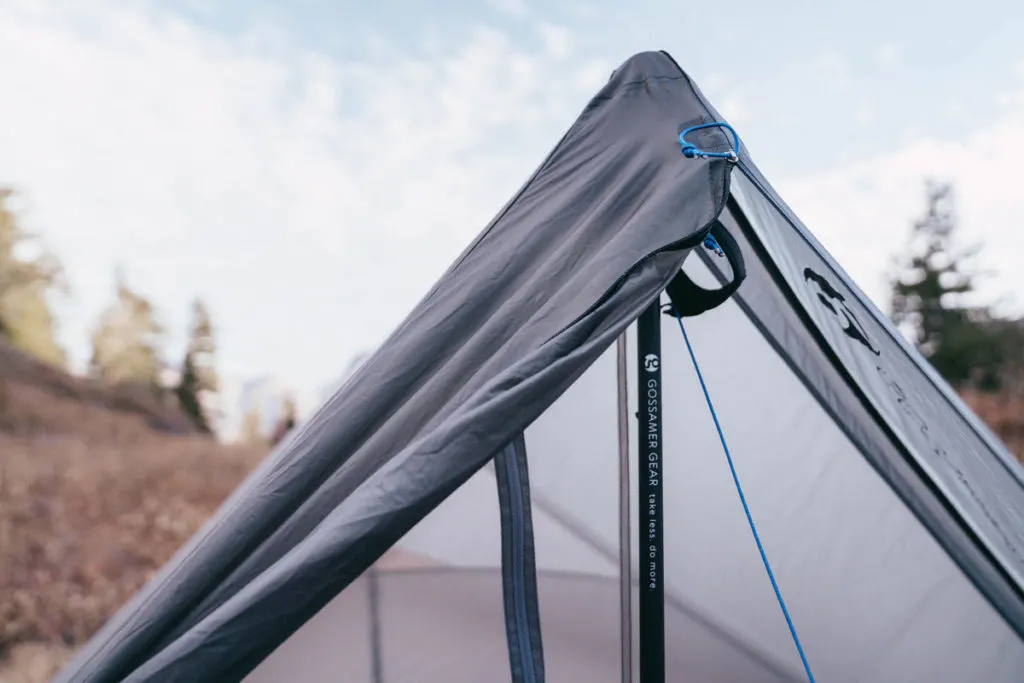 If I would have taken more care or used two more tent stakes to pull out every corner, I could likely have mitigated most of that issue.
The inside of the tent was surprisingly spacious. There was plenty of room for a person much larger than me to sit up and move around. This isn't one of those one person tents that feels like a coffin. In fact, you could fit a tall pad and bag in here no problem and still have room to store gear.
If you have a regular size pad, like me, there's plenty of room to bring in camp shoes, a pack, water bottles, stuff sacks, literally everything you brought along.
And that's just at the head and foot of the tent. There was also loads of space around the edges, meaning I wasn't elbowing the tent walls all night.
It is made of delicate ultralight ripstop material, so it's not the sort of rugged, durable tent you can just throw around and bully to pieces. I highly recommend getting yourself a footprint to protect the tent floor. But I'm fine with that when my tent weighs less than a liter of water.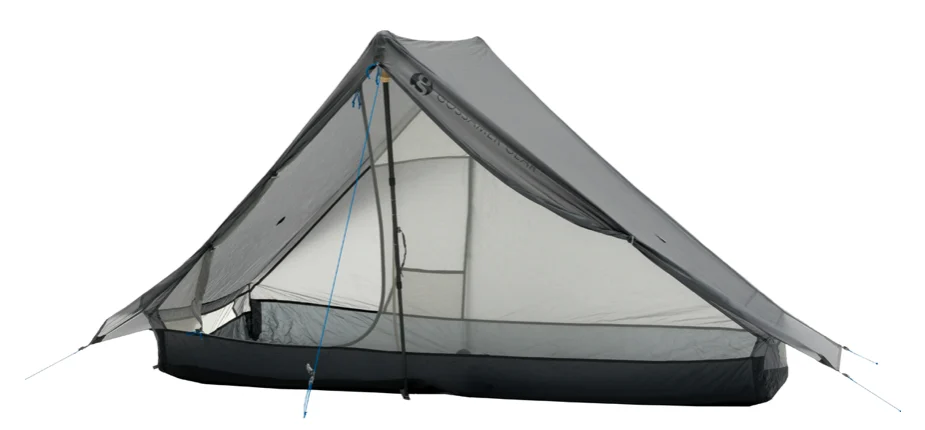 I also appreciate how easy it is to tack back the vestibule walls and the big mesh door. And that you could not only open one side of the vestibule, but two thanks to a little buckle clip. Just unclip it and the guyline keeps the tent and trekking pole taut while you enjoy the view. And the breeze.
And there is plenty of ventilation in this tent, both high and low, so it's suitable for a wide range of temperatures. I did worry that cooler temps would prove uncomfortable because of all the mesh, but the tent didn't feel as breezy as I thought it would in 45-degree temps. Even on windy nights I really only felt a light breeze.
I'm not saying I would take it winter camping. This is still a 3-season tent (find our tips and list of winter camping tents in this post). But early spring and late fall? Yeah. I did wake to a bit of condensation right near where I was exhaling on one colder morning, but it wasn't even enough to collect and drip on me, so that's a plus.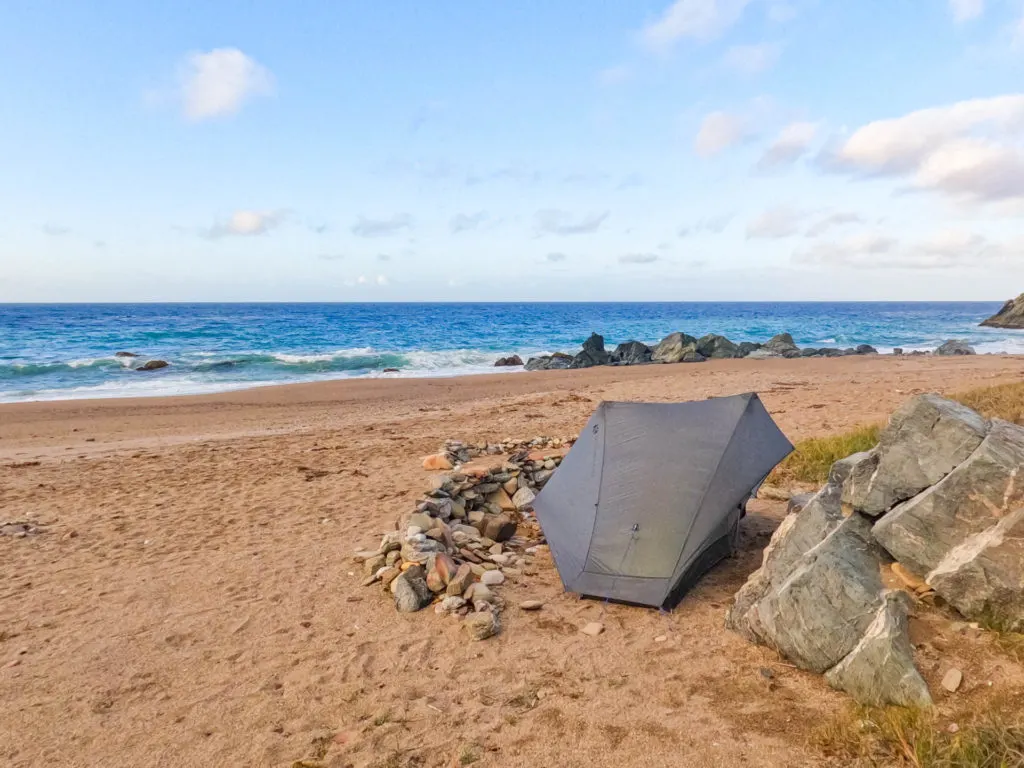 High winds did prove to be an issue one night when beach camping. Gusts were between 30-40 mph, and while I staked The One out as securely as I could–I even piled rocks on top of stakes–a trekking pole did collapse on me twice that night. It was easy to fix, but annoying.
That said! My hiking buddy, who has a similarly designed REI tent also had hers collapse in those conditions. And sand is notoriously difficult to pitch in. So I wouldn't call this a failure point of The One.
Plus, free-standing tents nearby were also bending under the pressure of the wind and fellow backpackers with more conventional tents actually avoided the site altogether because of those winds. Besides, I've seen freestanding tent poles snap in half in that kind of weather, which a trekking pole will not, so, once more for good measure, not a flaw in my opinion. This tent may actually prove more robust than many freestanding tents in intense winds.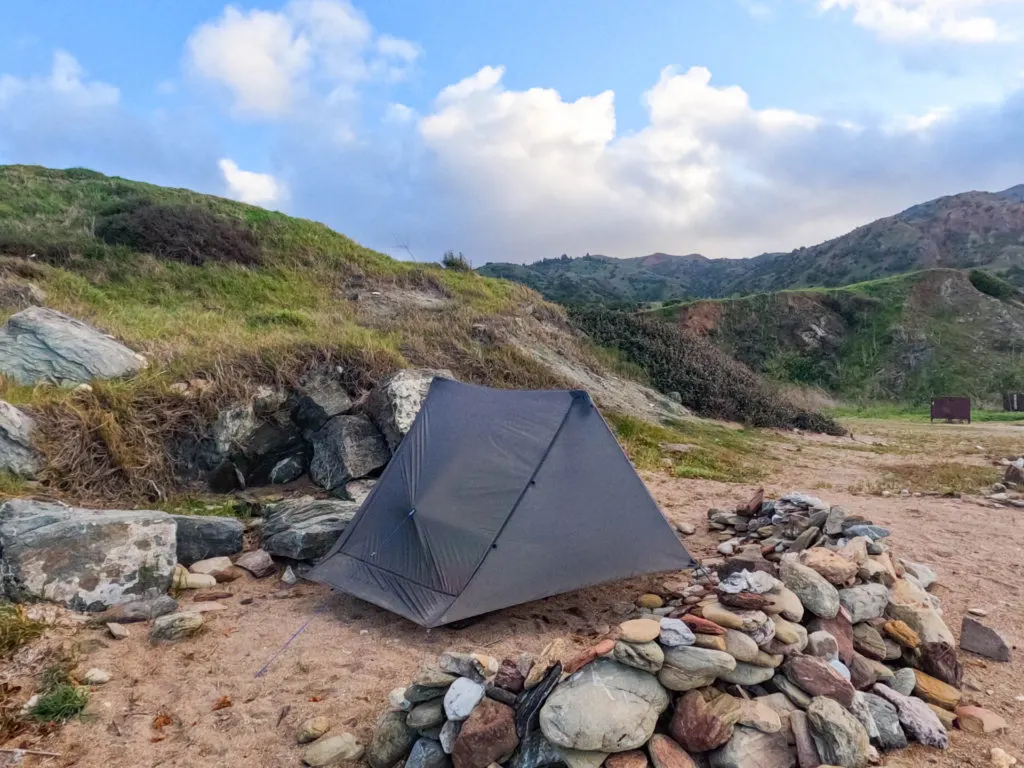 Bottom Line
Long story short, I can wholeheartedly recommend the Gossamer Gear One to anyone who wants an ultralight, ultra packable, exceptionally roomy tent that has all the functionality you need without sacrificing comfort.
I mean, I may need to get The Two two-person tent just so Josh and I can revel in ultralight bliss together. Because why not?
In any case, I highly recommend you go check out The One from Gossamer Gear if you're looking to lighten your load when it comes to your backpacking tent. Find it here:
Then got out there, enjoy a lighter load, and wander on.
•
*This post contains affiliate links. That means when you click-click and make a purchase, Terradrift may receive a small percentage of the sale. That helps keep the great content coming!
Alisha is a freelance writer and photographer based in Austin, TX. She loves her tiny house, vegan food and experiencing the community of travel in far away places. She's also pretty sure she's addicted to coffee. alishamcdarris.com