Like to backpack? Prefer to pack light? Then allow us to introduce you to the Gossamer Gear Gorilla 50 liter backpack, a pack for all you ultralighters out there.
But before we dive in, a note on ultralight backpacks: If you're new to backpacking, or just ultralight backpacking, it's super important to know that this pack is designed specifically for those of us who strive to carry the smallest, lightest loads possible. Straight up, this pack, along with Gossamer Gear's other products, are NOT designed with heavy loads in mind. In fact, the brand specializes in UL–or ultralight–gear. So if you usually load your pack with pre-cooked rice, cans of soup, backpacking chairs…I'm talking to you, dad…this pack is not for you. Might we recommend one of the Osprey packs we've reviewed in the past?
On the contrary, the Gossamer Gear Gorilla, and it's larger sibling, the Mariposa 60L, are for those of us who sit on the floor with a food scale and every piece of gear we own before every backpacking trip, weigh it all, swap, cut and weigh again, just to get our packs to the lightest possible weight we can manage while still carrying what we need to survive. Those of us who, if our bags weigh more than 25 pounds–with food and water–we have a mild identity crises about whether we can even call ourselves ultralighters.
I say all this, because if you are NOT an ultralight backpacker, an ultralight pack is going to be very uncomfortable as they aren't designed with the sort of frames and features required to comfortably distribute heavy loads. In fact, 30 pounds is as much as Gossamer Gear recommends carrying in the Gorilla. So if yours usually weighs more than that, this isn't the pack for you.
If you ARE an ultralight backpacker, however, a UL pack–the Gossamer Gear Gorilla in particular–is an amazing way to cut pounds off your load. So let's dive into the pack's features, shall we?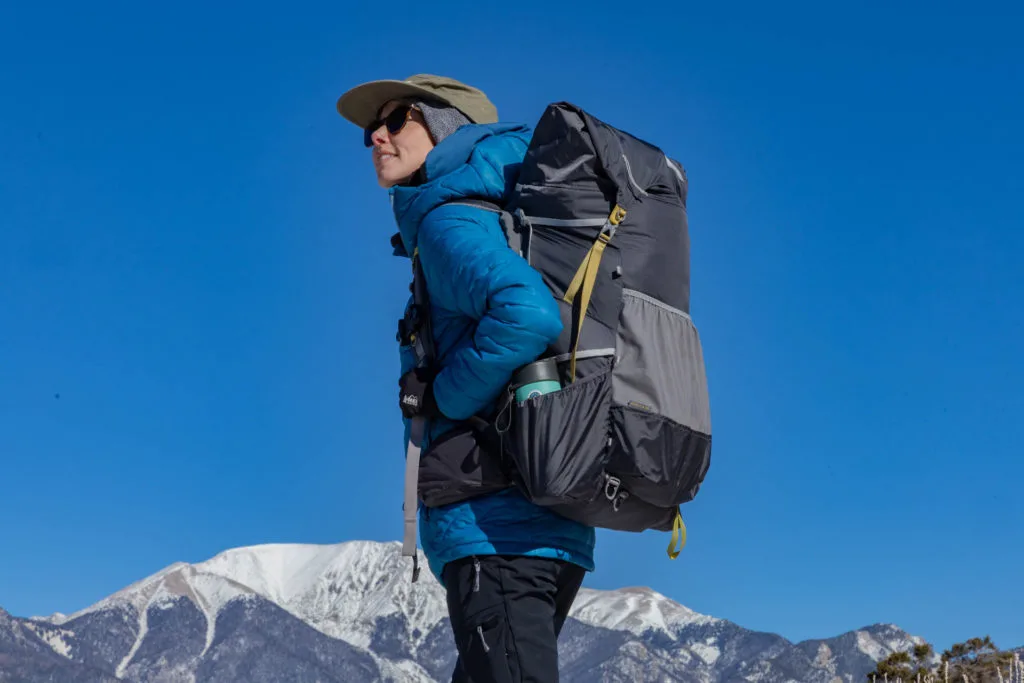 The Gossamer Gear Gorilla 50: The Features
Here are the functions and features of the Gorilla:
50 liters
Comes in two colors: grey and yellow
Outfitted with a removable frame and hip belt (the latter of which can be swapped out for a smaller or larger size to better fit your hips)
Available in three sizes: small, medium and large (the website has handy measuring instructions to help you choose)
Dual hydration tube exit ports on the top back of the pack
Two large side water bottle pockets
One huge stretch pocket on the front of the pack
Loops and accessory attachment points on both shoulder straps for attaching available storage pouches or a water bottle holder
Compression straps
Tool attachment points
Removable back pad that can be used as a seat pad
Fold-over lid with zipper pocket
Weighs between 28.2 ounces for a small and 31.4 ounces for a large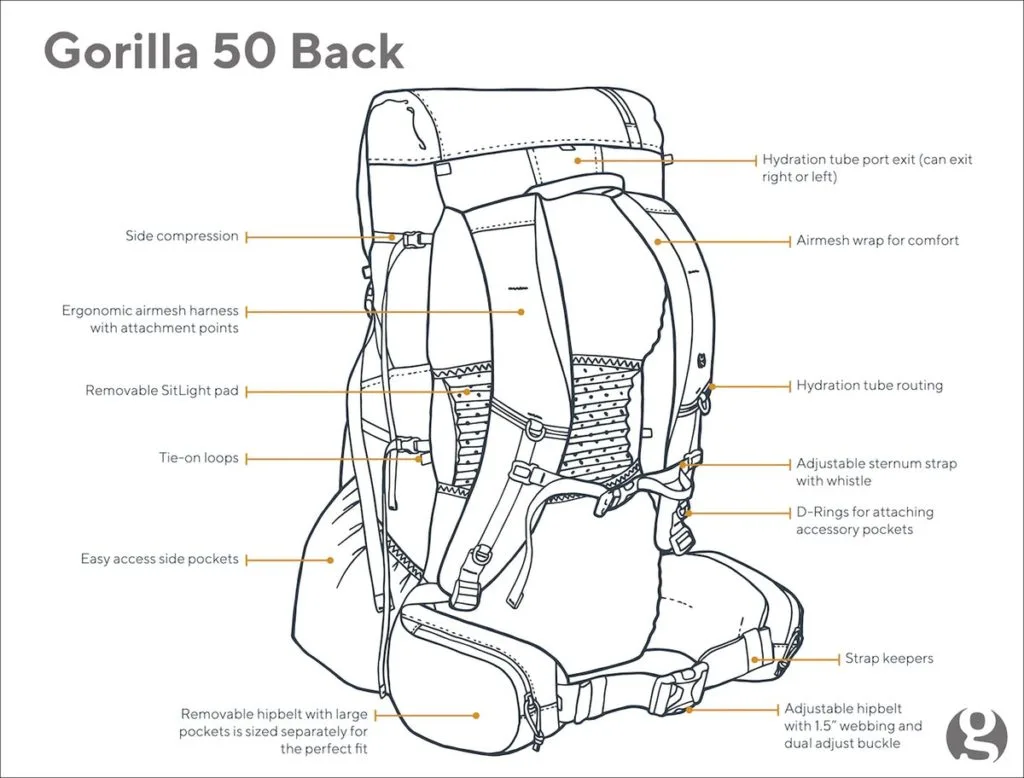 Gossamer Gear Gorilla: The Review
Right off the bat, I liked this pack for so many reasons, not the least of which was how light it was: Under two pounds! My Osprey Atmos weighs over 4 pounds. And in the world of UL backpacking, that two pound difference is a big deal.
But more than that, I dig that the pack can also be customized to some degree, which is pretty rad. I'm talking attachable shoulder strap pockets for extra easy-to-reach storage, a hands-free ultralight umbrella clamp, an extra hip belt pocket, even a water bottle holder you can attach to your shoulder strap, all available as add-ons from Gossamer Gear (which I'll definitely be ordering). Too handy.
As for the top of the bag, it's a little different. Instead of the opening cinching closed and having a floating lid on top of the pack like most traditional backpacks, the top folds over and clips into compression straps so you can really cinch it down. If your bag is super full, that can mean any fragile stuff in that top zipper pocket can get a bit, well, compressed, but I just make sure to keep more durable items like first aid kits, bathroom supplies, that kinda stuff up there.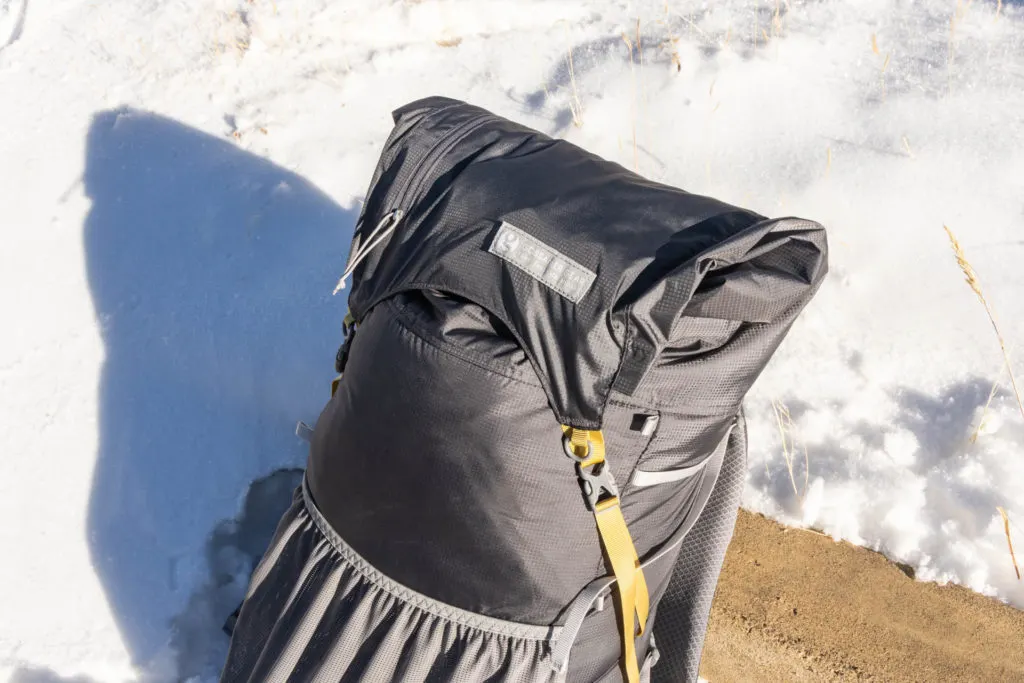 Inside, the bag can kinda seem like a black hole if you're use to a more traditional pack like the Deuter Futura Air Trek that has zippered entry access points on the front AND bottom of the bag, but in my opinion, the lack of those zippers is well worth the weight savings.
And that mondo stretchy pocket on the front of the Gorilla? Love it. You can stash stuff in there that needs to dry or just gear you want easier access too.
The side water bottle pockets are nice and big, too, so there's plenty of room for any size Nalgene, plus a snack or two, the beanie you took off, maps, you name it. The hip belts also have pockets, though their shape and size will vary based on what size of hip belt you have, and I do love me some hip pockets. Not all ultralight backpacks have them, so that's a plus.
The shoulder straps are comfortable, and while not as fully adjustable as traditional pack straps that usually have at least two or three adjustment points, you can still adjust them at the bottom and raise and lower the chest strap, which is what's important.
But fit and full carry aside, I also appreciate how compact and versatile the Gossamer Gear Gorilla is. When road tripping with it, it compressed virtually flat when empty, a huge bonus for space savings. Plus, because it's not overbuilt like most traditional backpacks, it worked beautifully as a daypack, too, so I could take it hiking with lighter loads. I even had the option to remove the small frame or hip belt entirely if I wanted (though I didn't; I love a hip belt). So the pack is kinda a two-for, which is a win if you can only afford or only have space for one pack that has to do it all (fewer pieces of gear is also more sustainable).
I carried the Gorilla during some winter backpacking in Colorado this year and found it spacious and comfortable enough loaded with everything for a three-day trip. But I also unloaded everything at base camp and used it for day hikes and it was just as comfortable and functional with 5 pounds or 25.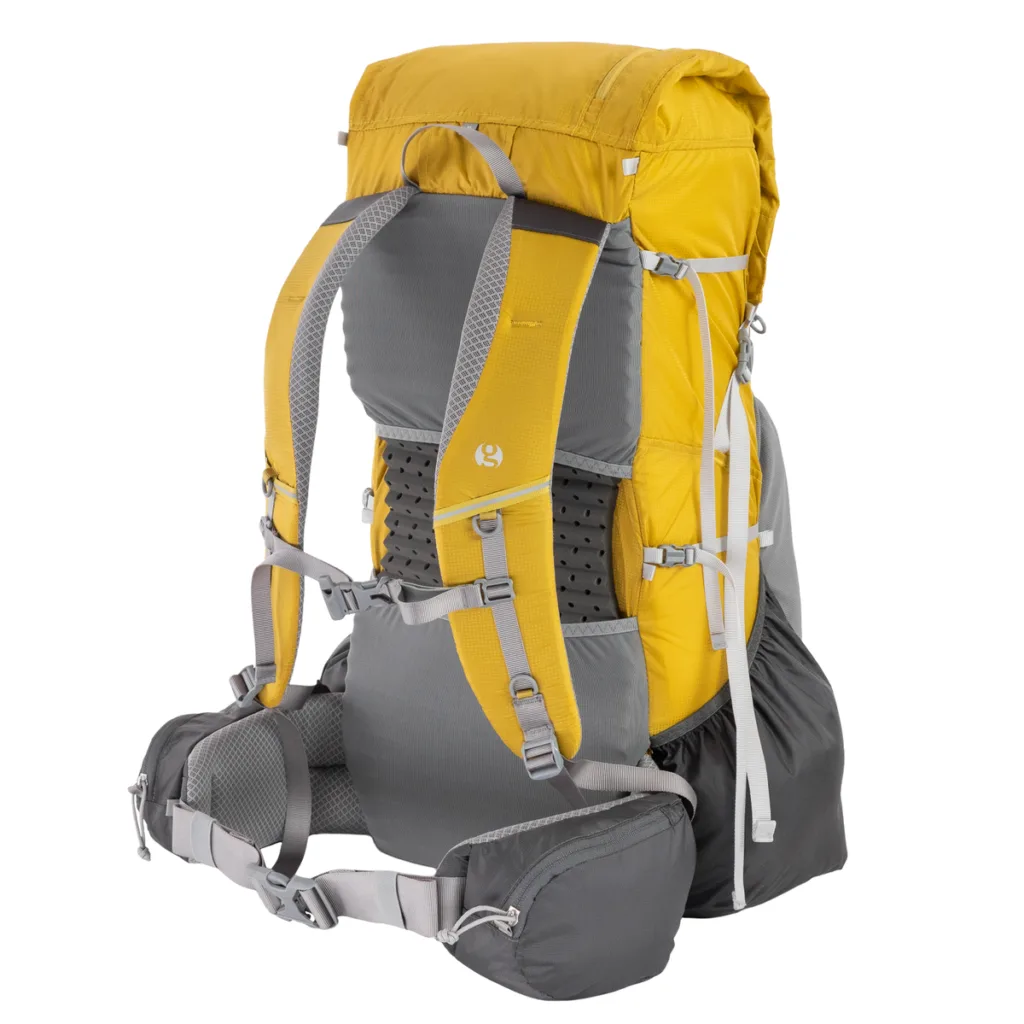 Bottom Line
Basically, we dig it. I mean, this pack is gonna see some serious use this season and since it's so dang light, we couldn't be more stoked to shoulder it and hit a few trails with some seriously gnarly ascents. It's not a budget backpack at $255, but it's absolutely comparable in price to (and often less expensive than) other well-designed ultralight packs. And since the materials appear more durable than some UL packs we've seen, the Gorilla should last you a a good long time if you take care of it.
As for sustainability, Gossamer Gear supports their local community (which also happens to be Terradrift's local community: Austin) by donating to organizations like Explore Austin and Black Outside Inc. and puts in the work to ensure that everyone involved in their supply chain (i.e. workers and manufacturers) are taken care of, both of which we can get behind.
So if you're ready to start your own ultralight journey, find the Gossamer Gear Gorilla here and the larger Mariposa 60 here. Then get out there, shoulder an ultralight pack, and wander on.
Alisha is a freelance writer and photographer based in Austin, TX. She loves her tiny house, vegan food and experiencing the community of travel in far away places. She's also pretty sure she's addicted to coffee. alishamcdarris.com