Looking for a baller winter backpacking tent for all manner of cold-weather camping and backpacking adventures? We've got you covered with the Mountain Hardwear Outpost 2 tent, a rugged and spacious 4-season tent designed specifically for snowy adventures, but just as suitable for milder seasons. Don't believe one tent can do it all? Read on to learn more.
When we got our hands on the Mountain Hardwear Outpost 2 4-season tent, we immediately drove north to test it out in the conditions it was designed for: cold, wind, and snow. We took it to Rocky Mountain National Park in Colorado and all over Utah, pitched it in snow, slept in it on windy nights and when temps dropped into the teens, camped at high altitudes, and basically ran it through the gamut. So we're gonna break down what makes it made for mountains and what we thought of it right here, right now.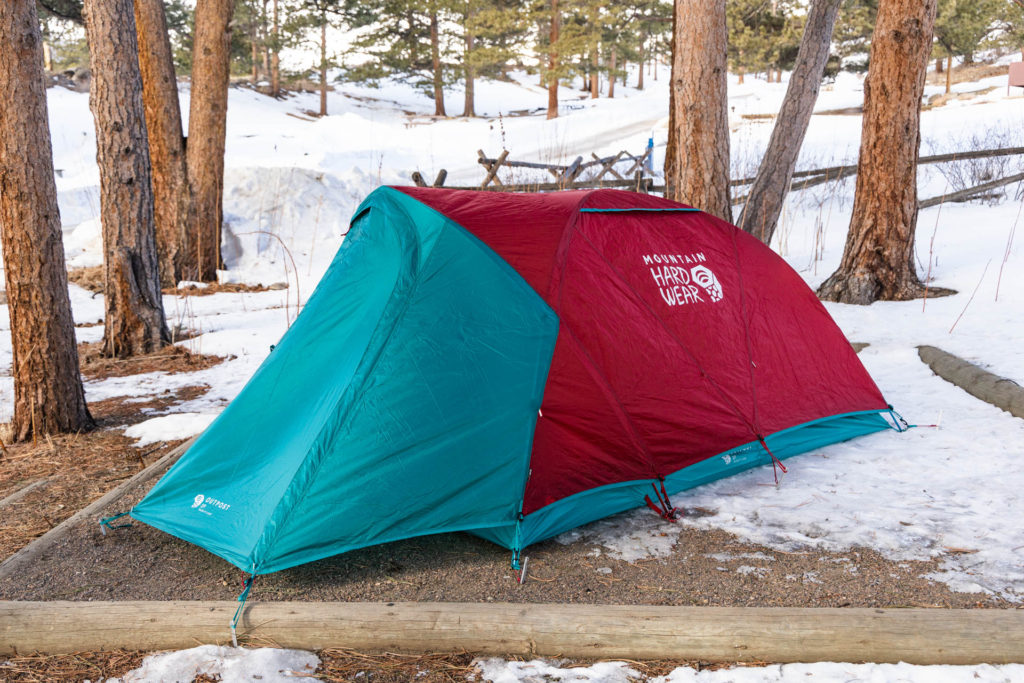 Let's start with this tent's features, shall we?
89.9 oz (about 5.6 pounds)
Uses 3 DAC Featherlite poles
double-walled tent
Interior height of 41.5 inches
floor area that's 30.6 sq ft
mesh vents at the roof for added ventilation
2 Ventable doors with 2 vestibules
three internal pockets–two at opposite corners and one small one on the ceiling
Made without harmful fire retardant chemicals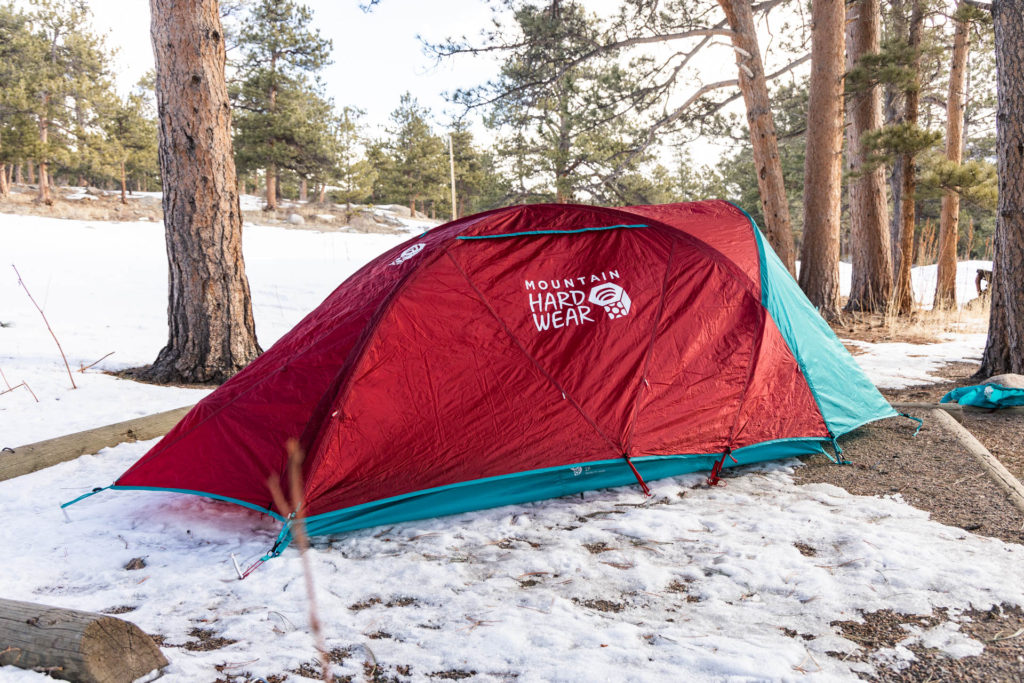 The Mountain Hardwear Outpost 2: The Review
Now let's get into the nitty gritty.
Mountain Hardwear says the Outpost 2 is "expedition strength in three-season weight." I mean, it's not the lightest 4-season tent, but it's not too shabby as far as double-walled winter tents go. Honestly, we've seen heavier. But that's because it's a double-walled tent, which means it has a separate fly, so it will breathe better than lighter, single-wall tents and you'll wake up to less condensation inside the tent.
One feature we loved right away were the doors. Two is always better than one, but they're also both dual-layered, meaning you have the option to close them up against wind and cold or unzip the nylon part to reveal a mesh door in case you want to facilitate airflow in warmer temperatures. Plus, they open and close easily, not always the case with tents.
Each door also has its own vestibule for storing gear outside the tent. The one by the front door is the biggest, offering plenty of space for storing gear like backpacks or even cooking in extra cold weather when we didn't want to sit outside or it was too windy, but the one over the backdoor was big enough for another pack or two, too.
There was also a fair amount of space inside. I mean, if you're used to two-person tents, of course. True, Josh and I aren't large humans–I'm 5'3" and he's 5'6"–but we both fit comfortably with a bit of extra space near our heads or feet for water bottles, extra clothing, etc. The edges of our pads were touching the walls, though, so if that's a deal breaker for you, we suggest upgrading to a three person tent. That goes for if you're especially tall, too.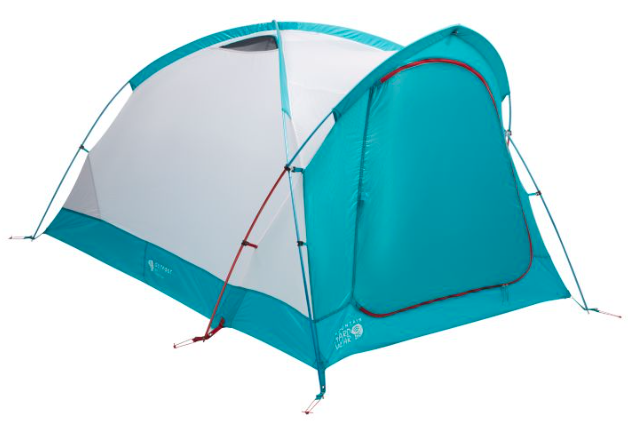 As for height and livability, the headroom inside the Outpost 2 was pretty decent, which is important in a winter backpacking tent since there's a fair chance you'll be spending more time inside the tent than you would in fairer weather.
In some backpacking tents it's hard for two people to sit up inside, but in the Outpost 2, at least near the door, there was a fair amount of headroom and it offered enough space for two small to medium size people to sit comfortably while we cooked or played games.
It breathed well, and on really cold nights the condensation from our breath didn't freeze on the inside of the tent like it often does in single wall tents. Instead, it froze on the inside of the fly, which is better. Mostly because that means melting frost won't be dripping on you and your stuff in the morning when the sun starts warming things up.
We also appreciated that fly when it snowed, as it kept condensation out of the inside of the tent when we went in and out, a definite pro over many vestibule-less single-wall tents.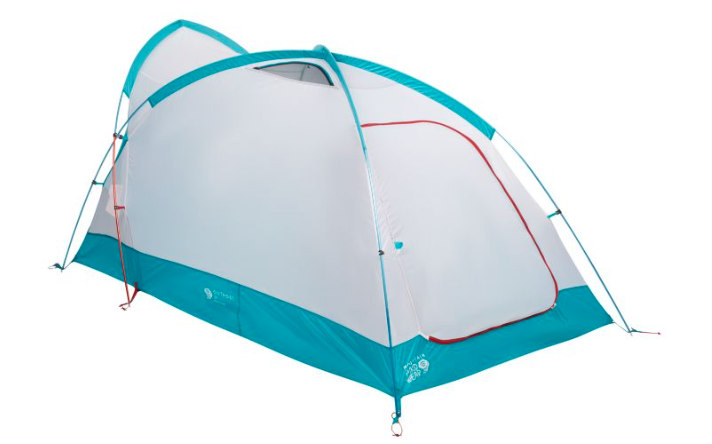 The Outpost performed well in wind. I was a little worried that the fly didn't extend all the way to the ground because it's a winter tent and usually you want the fly to come pretty far down to keep out cold air and breezes. But we actually felt very little to no air when we were inside the tent, even on super windy nights.
I will say, though, that it's not the fastest and easiest tent to set up. Not as easy as, say, a single wall tent. By which I mean it took probably 10 minutes to pitch. But I'm OK with that because of all the extra space all those poles and the fly affords. And yes, it does come with all of the stakes you need, so that's a bonus.
But there are a lot of little clips and loops, which seem to work well, but they're hard to use with gloves on, which is a little bit annoying since the Outpost 2 is a winter backpacking tent and chances are, you will likely be setting it up in cold weather with gloves on. But this is me nitpicking.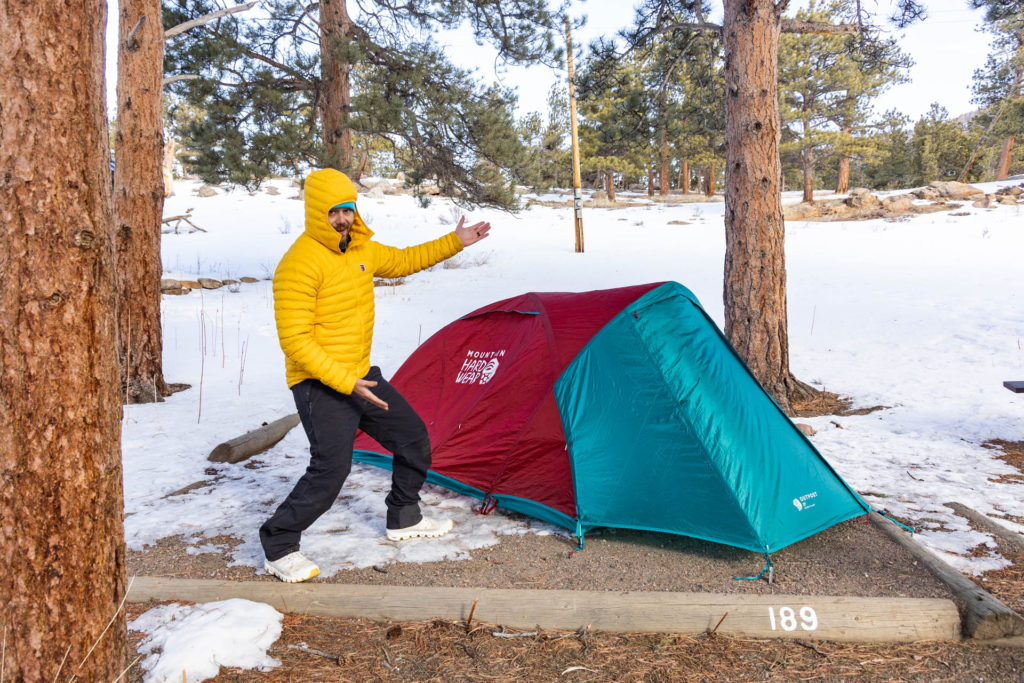 Bottom Line
Basically, this is a great tent, not just for winter camping and backpacking, but for any season. Venting options abound for warmer weather if you're looking for a decent tent that can do it all, the fly and vestibules offer lots of storage space and help keep the inside of the tent and its occupants dry, plus it can withstand a fair amount of wind.
And if something on the tent does break or get worn prematurely, Mountain Hardware offers a lifetime limited warranty on all their gear and will help you repair or replace it if possible. After all, they believe that equipment is better on the mountain, not in the landfill.
It's not even that heavy for a winter backpacking tent.
So if you need a solid, spacious, winter backpacking tent that you carry into other seasons, whether it's for one person or two, check out the Mountain Hardwear Outpost 2 here.
Then get out there, no matter the season, and wander on.
Alisha is a freelance writer and photographer based in Austin, TX. She loves her tiny house, vegan food and experiencing the community of travel in far away places. She's also pretty sure she's addicted to coffee. alishamcdarris.com