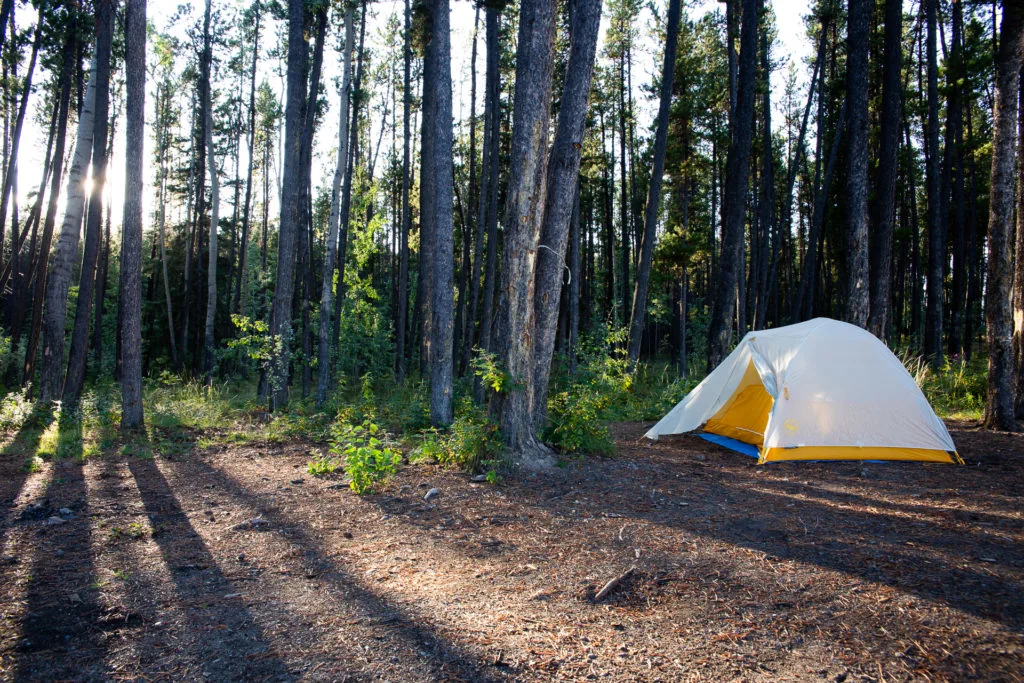 Do you know what's in your tent? What coatings and chemicals? Whether it's treated with unsustainable PFC DWR treatments or chemically-dyed fabric? While most tent manufacturers these days put that sort of info front and center, there's one thing not as many manufacturers are talking to consumers about: fire retardant tents.
Fire Retardant Tents: The Deets
Fire retardant (or FR) chemical regulations for tents date back to the 70's when they were put in place to protect campers, circus-goers and other folks using fairly flammable canvas tents in the great outdoors. But most people aren't using tents like that anymore. Even so, most regulations dealing with flame retardant tents haven't been updated since the 90's, which, frankly, is a long dang time in the world of science, technology, and gear evolution.
As in, most of us are using tents made of synthetic materials that don't burst into flame when a rogue ember lands on our fly. We've moved forward with materials and technology, but the regulations haven't. At least not much.
Because right now, seven states (California, Massachusetts, New York, New Jersey, Louisiana, Minnesota, and Michigan) and Canada all have tent flammability standards that make fire retardant compounds required, even for lightweight synthetic tents.
BUT! Twelve states, including New York and California, as well as South Korea, the European Union and Canada, have banned or restricted certain FR chemistries. Meaning no one seems to be on the same page and manufacturers have to jump through hoops to sell products that can be sold in all markets (often with those tags that announce "This product is know in the state of California to cause cancer…" You know the ones I mean).
Essentially, that means tent manufactures that DON'T use any fire retardant chemicals can't sell in some states, or can, but are rolling the dice hoping they won't get in trouble for it (Mountain Hardwear doesn't use fire retardant treatments on any of their tents post 2019; Nemo forgoes them in some, but won't ship those to states with strict flammability regulations).
FR chemicals aren't required on tents in Europe, though, further confounding the situation. What's more, there's not really any data showing these chemicals are actually beneficial to campers' safety. As in, there are so few records of tent fires (including in countries that don't require fire retardant tents) that treatments would appear to be very close to useless.
Fire Retardant Tents: The Health Hazards
But while they offer little in the way of peace-of mind, these chemicals may be harmful to the health of human and aquatic life. Studies have shown they can cause thyroid disruption, memory and learning issues, delayed mental and physical development and lower IQ in childhood exposure, reduced fertility, some have even been linked to cancer.
Now, don't freak out yet, because studies like these do tend to make things sound scarier than they are, but the truth is that these are potentially dangerous chemicals we're slathering all over our tents (some of these chemicals were even found on campers' hands and in the air inside the tent). And depending on where you live, you may have very little option to avoid them.
Plus, there are no U.S. safety standards for exposure to FR chemicals, so there's not really any end-all, be-all way to say, "this tent with this much FR chemicals and this much exposure is dangerous." There is, however, data to suggest fire retardant tents aren't with the risk.
Bottom Line
More studies about the effects of fire retardant tents is definitely needed, but studies suggest that they aren't actually helpful at all at best and can be harmful to your health at worst. So no, we're not saying to go out and get a brand new tent sans FR chemicals right this minute, but if you are in the market for a new tent, it might not hurt to look for one sans chemical treatments (you can find several in this post about sustainable tents).
•
This post contains affiliate links, which means when you clicky-click and make a purchase, we may receive a small portion of the sale. But don't worry, you won't pay a dime extra. It does, however, keep the good content comin' here at Terradrift.
Alisha is a freelance writer and photographer based in Austin, TX. She loves her tiny house, vegan food and experiencing the community of travel in far away places. She's also pretty sure she's addicted to coffee. alishamcdarris.com