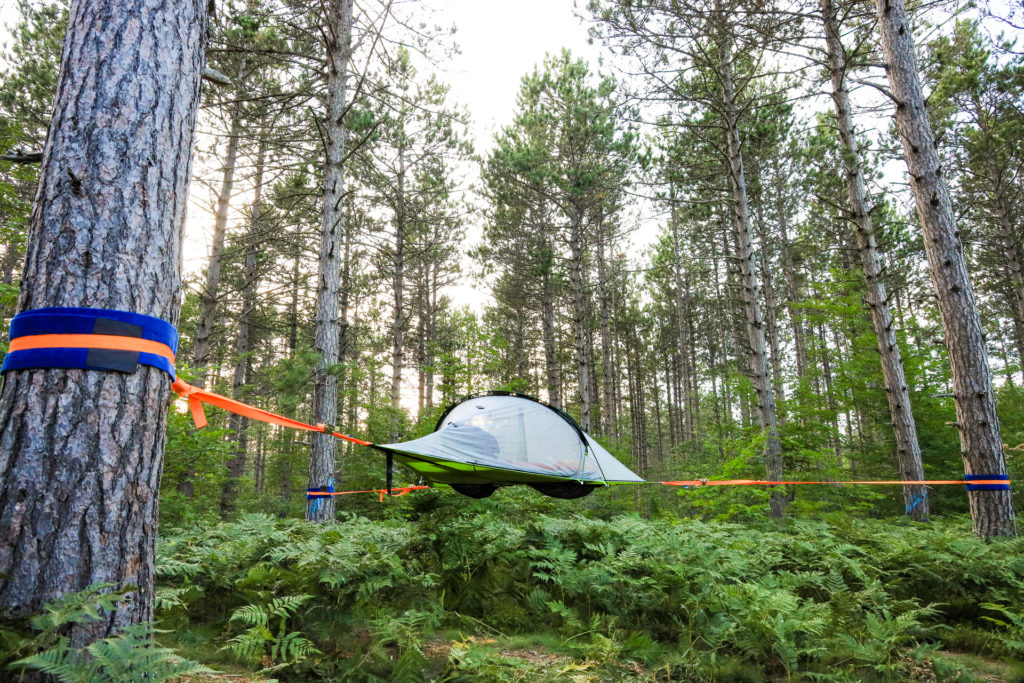 Summer's here, which means camping season is also in full swing. And the number one thing you'll need for any successful camping trip is a shelter where you can lay your head at night. So whether you're camping three feet from your car or hiking into the middle of nowhere, we've got you (literally) covered with the best sustainable tents on the market.
But which home-away-from-home is best for you? Since everyone's camping needs are unique, we've rounded up a few hefty car camping tents and some lightweight backpacking tents. So, whether you're a hardcore hiker desperately trying to cut serious pack weight or a car camper just chilling around the campfire, you're sure to find the best option for you.
The Best Sustainable Tents For Car Camping
For something small, but still with plenty of space in its 32 sq. ft of floor space, the 2-person Nemo Aurora tent is a great option. Setting up the tent is my least favorite thing about getting to camp. But this one is super easy to assemble, which means you'll be chilling by the campfire in no time. Speaking of campfires, this tent is sustainably made without toxic fire retardants, so enjoy your flaming marshmallows a little further away. The Nemo Aurora weighs in at 5lb 7oz so still light enough for carrying a little further. Price: $250 – Find it here.
Dreaming of doing some star-gazing from the comfort of your sleeping bag? Then this is the tent for you. The fly can be rolled up and secured, offering the perfect place for enjoying the night sky. Mountain Hardware has an excellent lifetime warranty to repair defects in products, meaning you'll get a lot of life out of your tent without contributing to the ever-growing landfill. The next generation will thank you since anything that ends up in a landfill takes months if not years and decades to break down. It's also free of harmful chemical flame-retardants. The Mineral King tent has 33 sq. ft of floor space and weighs just under 6lb. Price: $250 – Find it here.
Rocky ground? No problem for this tent. Tree tents use nearby trees to suspend them above the ground. As someone who's woken up with a bad back from tree roots or sloping ground more than enough times, this is a genius idea. And Tentsile love trees so much that they plant 20 for every tent sold. The company also offers a "pre-loved" program where recycled and repaired products are sold or upcycled into different products. An easy to assemble model for first time tree campers, the 4-door tent also has plenty of storage compartments and room for backpacks. The only big downside is the weight – the all-season tent weighs 20 lb, meaning it's meant for car camping, not backpacking. Check out our full review of the Tentsile Connect here. Price: $549 – Find it here.
Cheap and cheerful, this is a great budget-friendly tent for those who may be more fair-weather campers. Price doesn't compromise quality though, and this durable 5lb 10oz tent is built to last. What's great about this tent is the mesh roof, which helps with ventilation and also offers amazing sky views on a hot summer evenings when you don't need to attach the fly. The mesh is solution-dyed for increased sustainability. Also, REI Co-Op is committed to sustainability, plus offers competitive pay, benefits and profit-sharing that means employees are respected. Price: $159 – Find it here.
The Best Sustainable Tents For Backpacking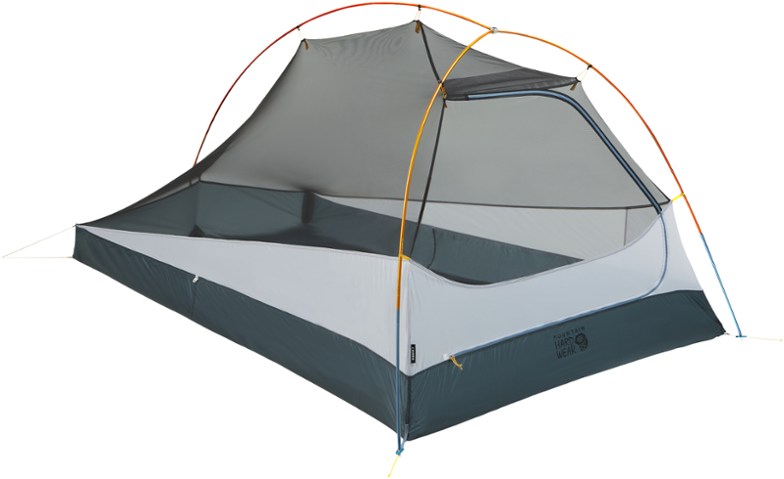 A super light weight option for backpacking, the Nimbus Ultralight is incredibly high quality. Only 2lb 2oz in weight, you might find yourself double checking that you packed it. The fact that it only has one Featherlight pole makes this possible. The Nimbus UL has an undyed fly that's also free of PU coatings and flame-retardant chemicals. Like many 2-person backpacking tents, this might be tight for 2 people, but that just means there's less weight to carry! Price: $350. There's also a 1-person version weighing 1lb 110z for $20 cheaper. Find it here.
Embrace originality with this more backpacking-friendly tree tent. It's still a bit heavier than your average backpacking tent, at just over 8lb, but if the weight can be split with someone else, it's not a bad choice. With a couple rainfly color options, this tent offers a little more choice than most. The 2-door tent has 43 sq. ft of surface space, which is also more than most 2-person tents. As for sustainability, Tentsile's entire workforce is remote-based to cut down on unnecessary travel, and they do carbon offset for any work travel requirements, plus plant 20 trees for every tent sold. There's also the one-person Una, which we reviewed here. Price: $399 – Find it here.
Ultralight tents are Big Agnes' jam. They are a preferred brand for backpacking since they're so durable yet incredibly light. The Tiger Wall comes in three sizes – 1, 2 or 3 person with the smallest being 2lb 2oz and even the largest only 2lb 15oz you can afford to splurge for the extra space. This Big Agnes tent is made with solution dyed fabrics, reducing water and energy consumption during manufacturing. The 2-person is 28 sq ft of floor area and the 3-person is 38 sq ft, so if you like a little more wiggle room, go for the larger size. Bonus feature on this one: inside pockets in the mesh, which are handy so you don't lose your phone or device in your sleep. Check out our review of the Big Agnes Tiger Wall here. Price: $360-470 – Find it here.
You might not believe it, but this tent can be reduced to just 1lb 15oz in weight. How is that possible? Well if you're like me, you don't go hiking without trekking poles. This innovative design allows you to use them instead of the vertical tent poles, so you can leave them at home. Even with the tent poles, it only weighs a little over 2lb. The tent is a little narrower than most and can gather a little more condensation due to the single wall, but it's perfect for ultralight backpackers. Price: $299 – Find it here.
•
There are hundreds of tent options out there, but chances are, if you're a big fan of the great outdoors, you'll want to keep it, well, GREAT! Which is why choosing a sustainable tent is important. Chemical traces of DWR coatings, chemical dyes, and fire retardants stay behind long after you're back home, and supporting brands who take care of the environment and their employees, plus advocate for equality in the outdoors, keeps the places we love to play protected for all. So gear up with a more sustainable tent and wander on.
•
Author Bio: Emma is a travel blogger based in Vancouver, Canada. She loves the great outdoors, hiking to an incredible viewpoint and discovering new places around the world to enjoy some good vegetarian food. Foreverlostintravel.com
•
This post contains affiliate links, which means when you clicky-click and make a purchase, we may receive a small portion of the sale. But don't worry, you won't pay a dime extra. It does, however, keep the good content comin' here at Terradrift.