We get excited about a lot of gear here at Terradrift, but we may never have gotten as excited as we got when our Tentsile Connect arrived at our door. I mean, until that point, we had only drilled over photos online and debated whether we should go for it and get one of our own. Because, honestly, we have a great tent and we love our Kammok Mantis camping hammock, so how many sleep setups do we really need? At least one more, that's how many. And we'll tell you why it immediately became our very favorite camping equipment the first time we hopped up into that open, airborne structure in this here Tentsile review.
What is a Tentsile tree tent, exactly? It's a hammock! It's a tent! It's both! And we can honestly say that this is the absolute most fun piece of gear we have taken camping. And we geeked out hard.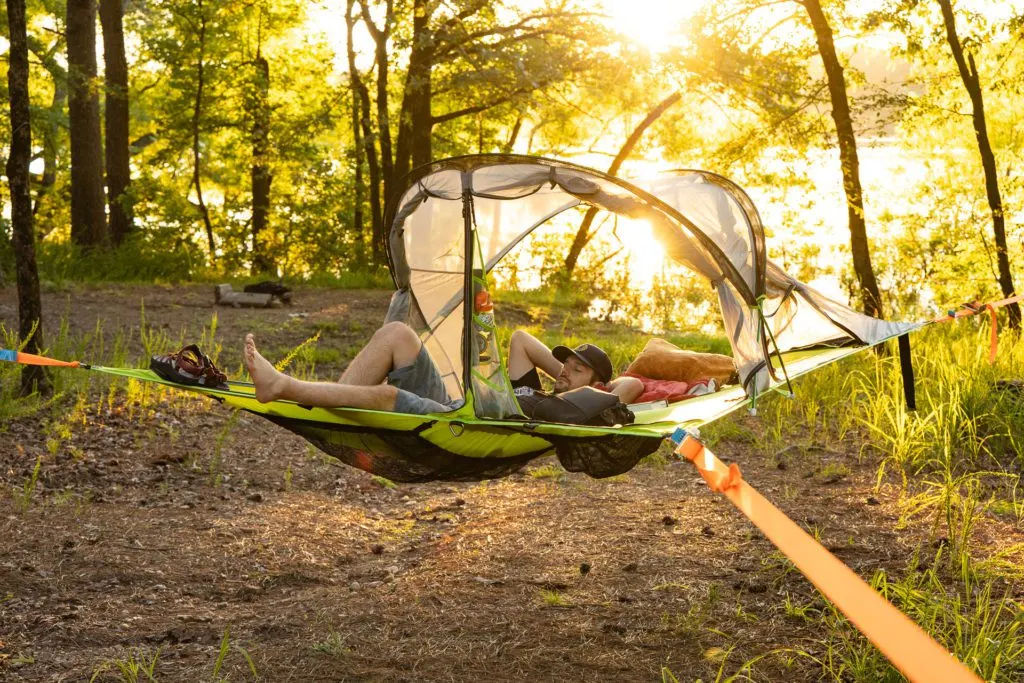 The Details
First of all, there's the whole sleeping above the ground thing. Because who wants to sleep on the ground when you can sleep suspended over the forest floor? Nobody I want to be friends with, that's who.
Then there's all the storage space. I'm talking' crazy amounts of storage space. It has two under-hammock storage nets for backpacks or shoes or extra camping stuff, plus six pockets, three on each side on a very handy center divider, plus a detachable pocket that hangs at the top and a slide-in pocket and zipper pocket down by your feet. You will not run out of room to store your stuff in this bad boy.
But my favorite thing about this tree tent isn't the pockets, it's the space! See, in our Big Agnes Tiger Wall tent, it's a bit cramped with both of us inside. That's because it's a backpacking tent designed to be as small and light as possible, so snug is actually a good thing. But when we're car camping and have the capacity to bring something larger, that tiny tent starts to feel a little cramped. But in the Tentsile, we can sit upright, move around, play games, spread out, and there's tons of space.
You can even unzip all four sides of the mesh for a totally open experience that's sort of more like a hammock, but with a semi-flat surface and room for more than one. Which is magic for just lounging with a book on lazy afternoons at the campground.
And yes, the Tentsile Connect is designed for two, but you can totally use it for one. There's an adjustable webbing ridgeline that runs down the center underneath the tent that you can tighten to help create two separate sleeping bays to keep two people from rolling into each other or that you can loosen to create one comfy sleeping surface if it's just gonna be you.
Either way, it can hold over 800 pounds. So throw a couple extra people in there with you, I don't care.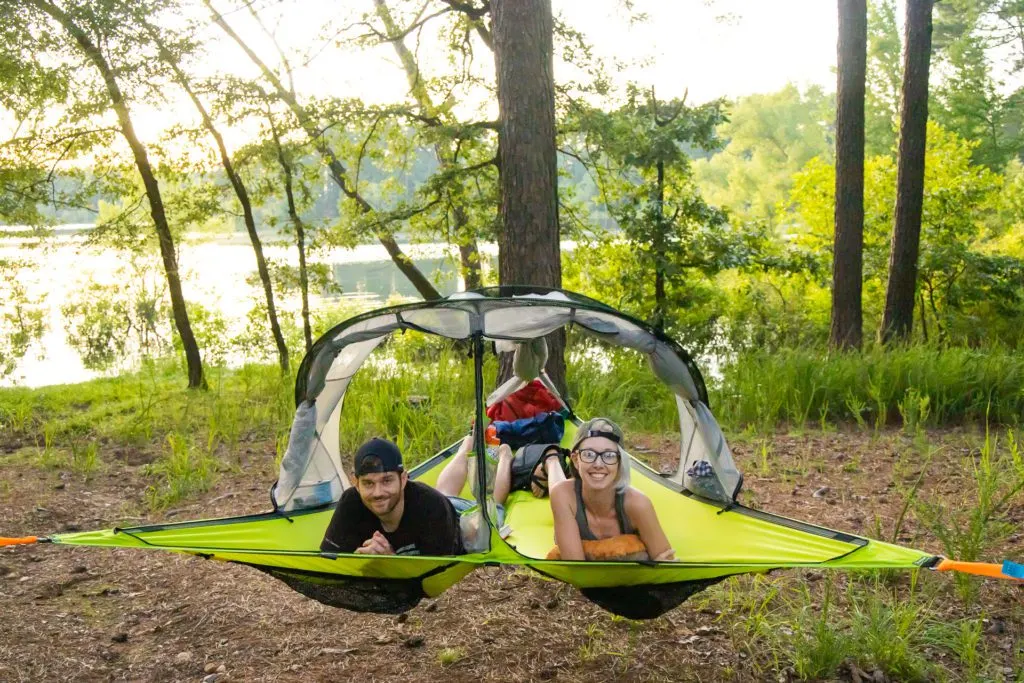 The Experience
And because I know you're wondering, yes, it's super comfy. It's basically the perfect marriage of sleeping in a tent and sleeping in a hammock. Because while I love a good camping hammock, you certainly don't get to spread out. And you'll almost definitely be sleeping alone. And while we grew up tent camping and have no problem with it whatsoever, it's just not quite as comfortable, even with a plush sleeping pad.
But this is the best of both worlds: You get to sleep next to a buddy, have some space to relax and move around, plus you still get to sleep comfortably off the ground in a hammock-esque structure that gives just enough under your weight not to create any pressure points. You know, without having to learn how to sleep in a hammock so you don't end up curled up like a banana. And you don't even need a sleeping pad!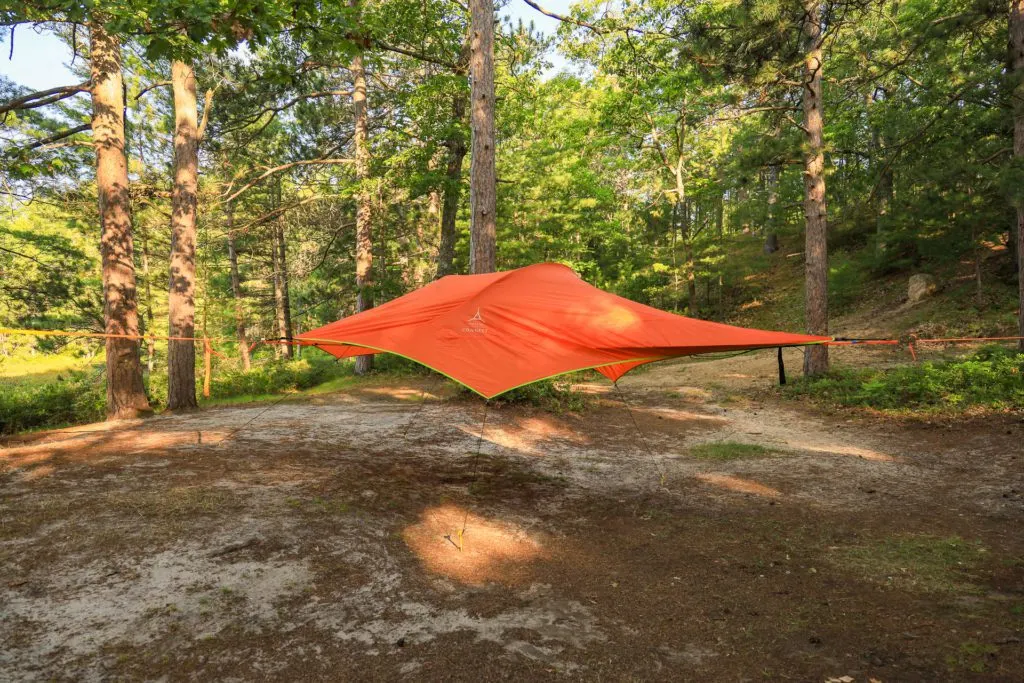 Stay Warm
That said, when it comes to cooler temps, the Tentsile Connect is more like a hammock than a tent in that cold butt syndrome is a concern. The cool night air blows under the tree tent and sucks your body heat right out of you. It's called convective heat loss. On warm summer nights, it's no problem. But in cooler temperatures, you might want to opt for a sleeping pad or hang an underquilt to slow that convective heat loss.
The rain fly helps with keeping cold air from lowing over top of you (in addition to keeping you dry). And where precipitation is concerned, the fly definitely does its job. After a whole night of thunderstorms and pouring rain, no part of the tent structure was even damp on one test run we did. And we hadn't even put on the water gates that are meant to keep the rain from soaking the straps and then seeping and dripping down to the corners. So bravo, Tentsile. We were indeed cozy and dry the whole night and not at all worried about getting flooded out like we might have been if we were sleeping in a tent.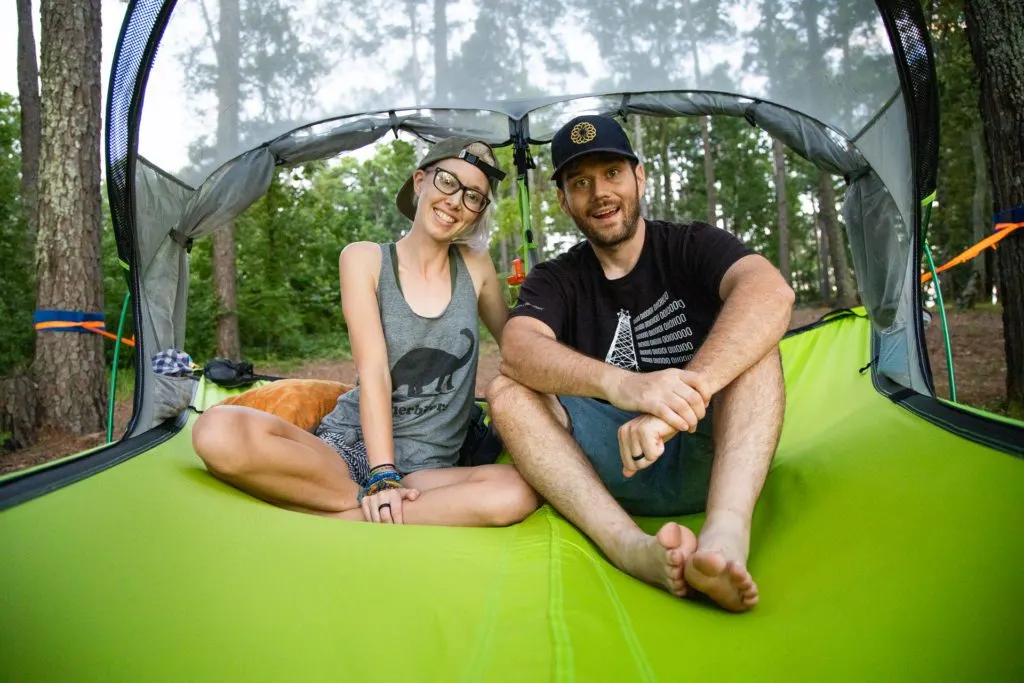 The Downside
If we had to pick a downside, it would be that the Tentsile is bouncy. This is actually super fun during the day, but at night, if your partner moves arounds a lot or has to get up and go to the bathroom, if you're not a really heavy sleeper, you're gonna feel it.
It didn't bother me that much and I didn't wake up to Josh moving around any more than I usually do in a tent. Plus, I feel like I tossed and turned a lot less than I do in a tent, so that's good news for Josh, because it tends to get pretty noisy in a tent with crinkly sleeping pads and excess movement when you're uncomfortable and can't fall asleep.
The only other issue you might run into is finding three correctly spaced trees. Frankly, we only ran into this issue once and it was when we were trying to set it up in the dark on our second outing with it. Fortunately, Tentsile offers tips on their website for what to do if trees are too far away or too close together, but the trees do have to form a pretty specifically shaped triangle with no large obstacles in between.
So this probably won't be the best option for those of you planning camping trips in Utah or other desert regions with few to no large, healthy trees. Although, Tentsile does sell ground conversion kits for many of the models so you can pitch it on the ground if you have to, which is cool!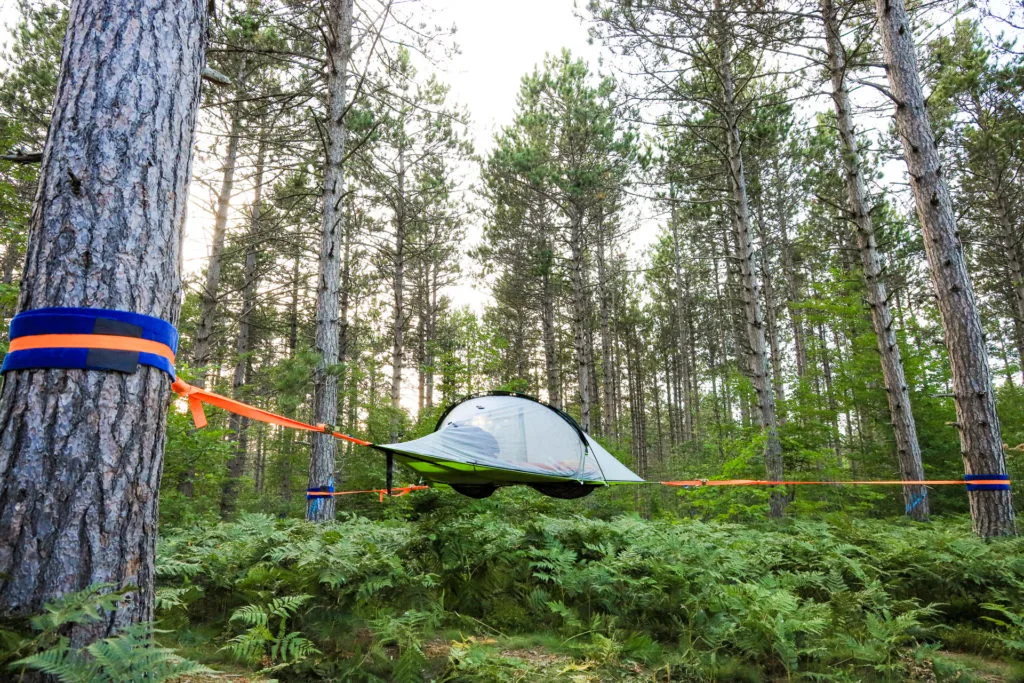 Setup
As for setting it up, there are videos on Tentsile's website that offer tips and tricks and tutorials, so we won't go through all of it, but suffice it to say that it's not as time consuming or difficult as it looks. In fact, I didn't believe it when the directions said setup would take 10 minutes, but lo and behold, our very first time setting it up really was that quick and easy.
And because it unfortunately does need to be said, make sure the trees you're attaching to are alive, strong, and healthy. Don't wrap your straps around trees that are dead or dying, soft, or less than 15″ across. Protect yourself and the trees.
Just make sure to reeeally tighten those ratchet straps. Keep ratcheting until you can't ratchet anymore or the Tentsile will sag and you'll roll into each other in the middle of the night.
Ask us how we know.
The Tentsile Connect is not for backpacking, though. It comes in it's own duffle bag, so that should be the first clue that it's not small and it's certainly not light. In fact, it weighs over 20 pounds, which I personally wouldn't carry more than about half a mile and that's only if I was staying at the same campsite for several nights in a row. But that's your call. You wanna carry something that big and heavy into the backcountry, more power to ya. It's definitely not an ultralight structure.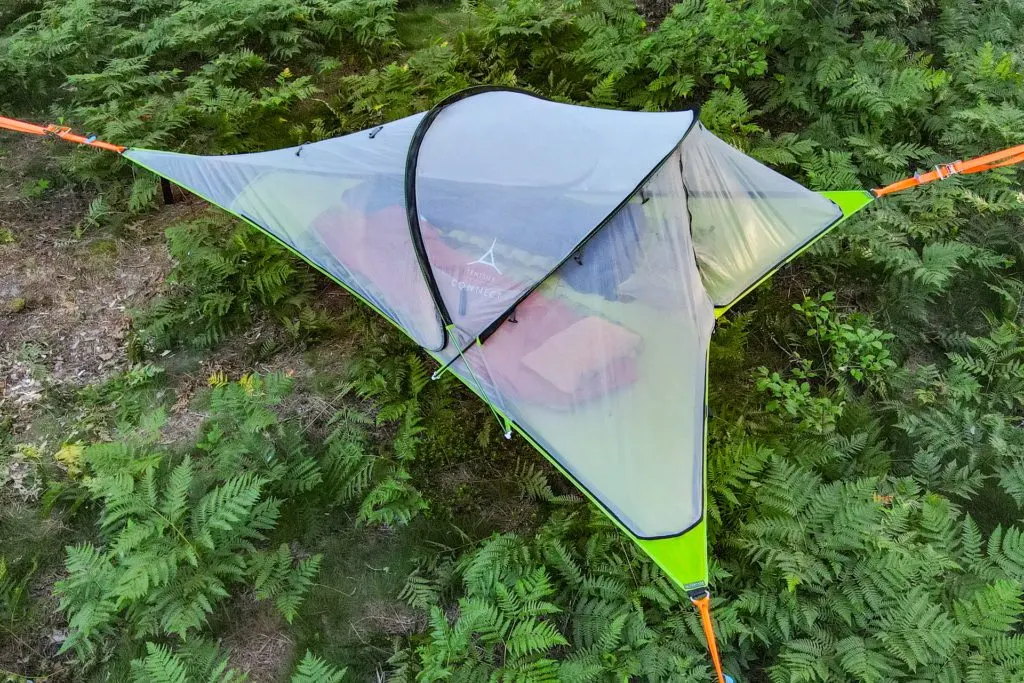 Bottom Line
Long story short, this tree tent is straight up dope AF. It may not work in every camping situation you'll ever encounter, but nine out of ten times we rolled into some random dispersed campsite in the midwest it did, so that's a win in our book. You can always do a little Google reconnaissance to find out if there will be large, healthy trees wherever you're headed.
There are other sizes and models available from Tentsile, too, from simpler two-person tree tents to single models to three-person hammocks and more. You can even totally customize your setup and create what Tentsile calls "stacks" and basically space several models out above each other from the same three trees for a sort of tree-house effect. They even sell ladders and nets and extra accessories to connect them all and create a whole base-camp setup, which is pretty impressive.
That said, the Tentsile Connect is totally worth owning. It's fun, it's comfortable, it's cool…I mean, I couldn't help but smile every time I got in it…And it's a great conversation starter. Trust me, you pitch this at a campsite and everybody's gonna wanna know what's happening.
And if you're wondering about sustainability, yes, Tentsile does care about the trees their customers use to set up their tree tents. In fact, they plant 20 trees for every tent and hammock they sell. They've planted over 700,000 already!
So if you want to try one out for yourself, head over to Tentsile's website. You won't regret it. Wander on!
•
*This post contains affiliate links, which means when you purchase a Tentsile using a link above, you help support Terradrift. Thanks, man!
Alisha is a freelance writer and photographer based in Austin, TX. She loves her tiny house, vegan food and experiencing the community of travel in far away places. She's also pretty sure she's addicted to coffee. alishamcdarris.com