Holy crap we love ultralight tents. Maybe it's because it's been a while since we've gotten a new tent so we're completely smitten with the options available these days, but we can't get enough. Maybe you saw our review of the Big Agnes Fly Creek? Well, allow us to bring you a Big Agnes Tiger Wall review. It's an ultralight 2-person tent very much like the Fly Creek. The main differences: the Tiger wall is a few ounces heavier, but has two doors and vestibules, one on each side, which makes it perfect for two!
Full disclosure: this tent is tight! It was more or less designed for ultralight hikers who don't mind practically sleeping on top of each other and who are not large people (us on all counts). Wanna know what we thought? Since you're still reading, we'll assume you do. Without further ado: the Big Agnes Tiger Wall review.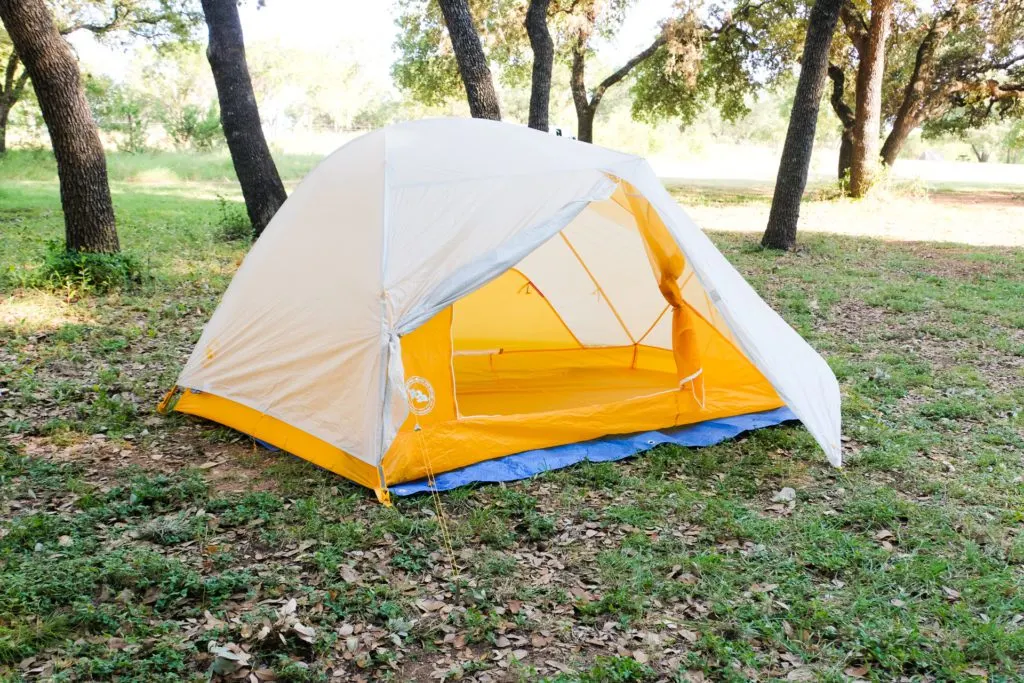 The Deets
Heads up: this tent isn't cheap. At $400, it'll probably one of the costlier pieces of gear you buy this year. But it is cheaper than a handful of other tents in its size and weight class (like the $500 Nemo Hornet Elite, which is more or less the exact same shape and size). So what are the benefits of such an expensive tent? Weight. What else?
All packed up, it's 2 lbs 8 oz with a trail weight (just the essentials) of 2 lbs 3 oz. Fun fact: You can even pitch it with just the fly and a footprint, bringing it down to 1 lb 11 oz! Compared to our last tent, which weighed in at between 4-5 lbs, the Tiger Wall feels like carrying nothing at all.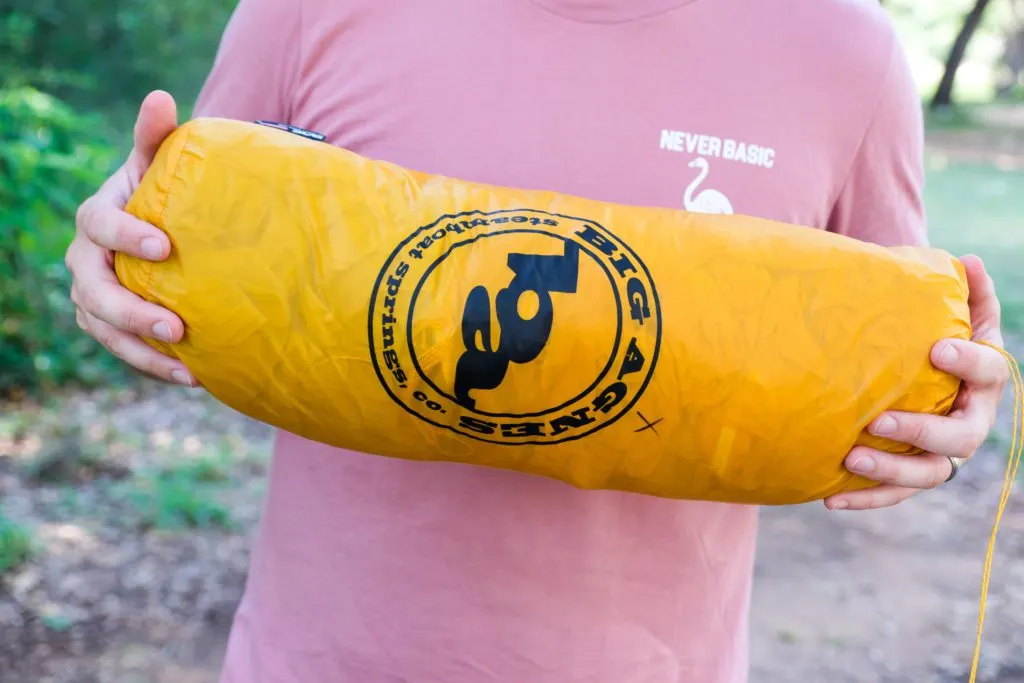 It packs up small, too: just 5.5 x 18 inches. But the square footage is tight: 28 square feet, 86×52/42″ (LxW head/foot), with each vestibule offering an additional 8 square feet. The highest point is 39″, which is plenty of room to sit up, but two people have to be strategic if they want to huddle together inside without hunching.
The dual doors, though…the bomb. Having never had a tent with a door on either side, I'm hooked for life. In fact, shortly after acquiring the Fly Creek, we saw a picture of the Tiger Wall and both our jaws dropped. Same tent with two doors? Yes, please!
It's also super easy to put up. There's one DAC pole that's super light (we've even pitched its little sister without a pole before). And like the Fly Creek, there's so much mesh on this tent it's exhilarating. It makes it perfect for warm summer nights, but when you add on the fly (which doesn't have vents), it's super cozy in colder temps. That does, however, create a problem if it's hot and you want some privacy. Or you could just deal with it and learn how to change inside your sleeping bag. It's probably a skill every backpacker should know, anyway.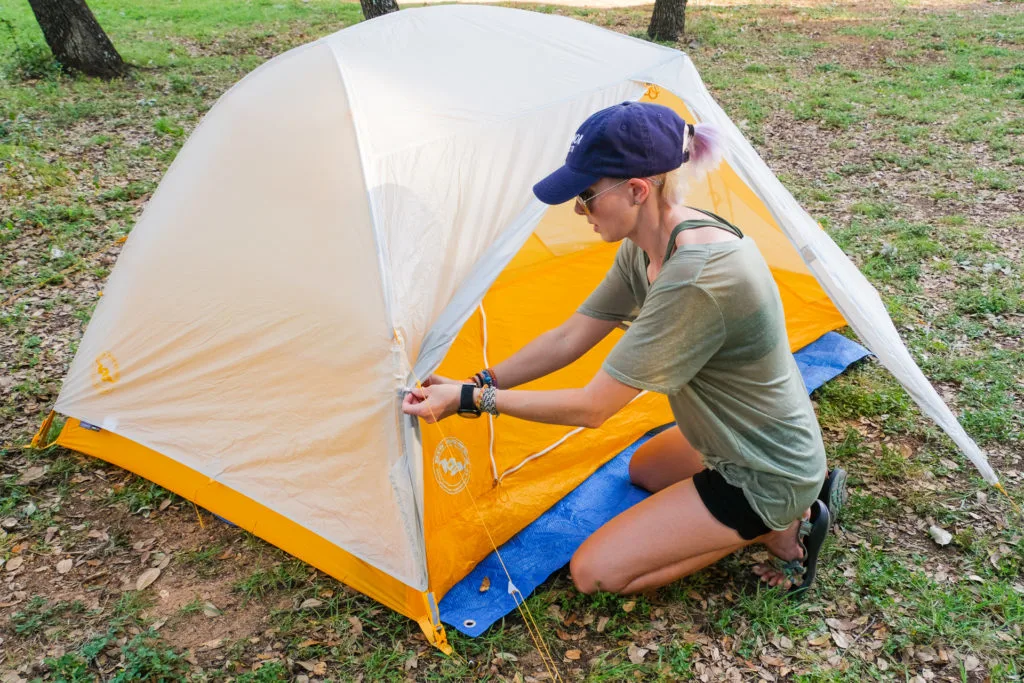 Big Agnes Tiger Wall: The Experience
There's about the same amount of room in the Tiger Wall as in the Fly Creek, but because of the top crossbar, there's a little more headspace, making it easier for two to sit up without hunching so much. Oh, there's still hunching, but only a little. There are also two vestibules, meaning we can stash more stuff outside the tent.
Laying down, two people fit snuggly. To clarify: two small to medium people fit snuggly. Two large people likely wouldn't fit at all. If you're exceptionally tall or broad, think of the Tiger Wall 2 as a one-person tent and if you want a two-person, go with the Tiger Wall 3. Make sense? You'll be more comfortable that way, trust us.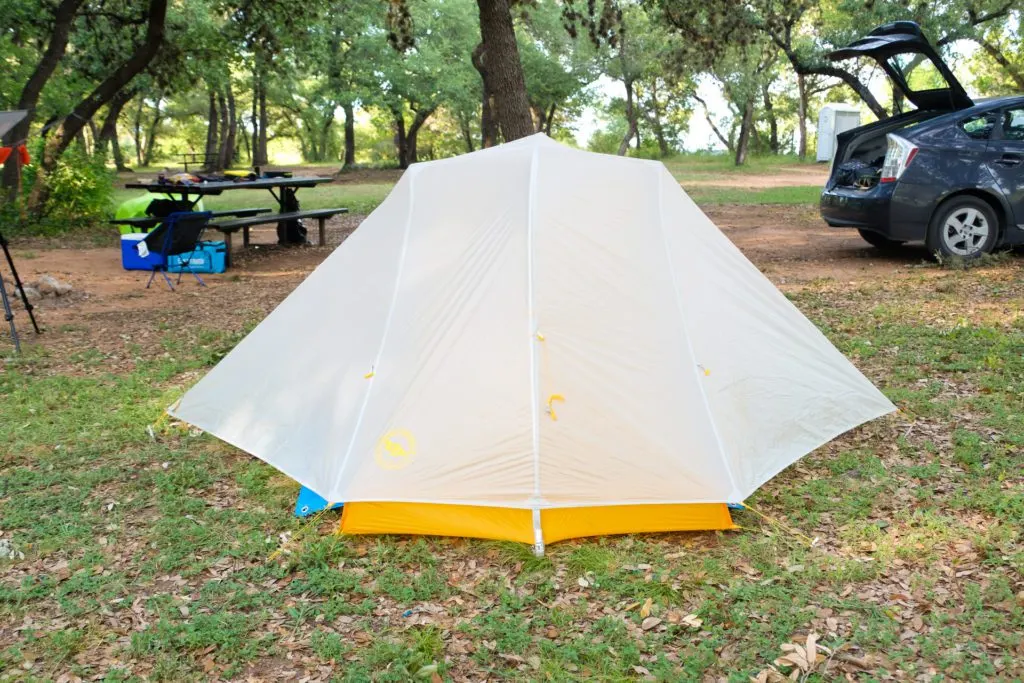 Since the upper 3/4 of the tent is mesh, it's super cool and breezy when you remove the fly, which is nice in the summer. It also means you can look up at the stars and treetops from the comfort of your tent, which is the bomb. With the fly on, it stays a lot cozier inside than some other tents we've used. It doesn't have vents, so warm air is pretty well trapped inside, which is great on cold nights outdoors. In shoulder seasons, you can also crack the vestibule zippers or open them entirely to let a cross-breeze blow through. They zip both ways so you can open them from the top or bottom.
Speaking of the dual doors, they're also super nice for just stretching out, making the small space seem less claustrophobic, and allowing easy late-night access for two sleepers who might need to pee in the middle of the night and don't want to have to crawl over their camping buddy to exit and re-enter.
Big Agnes Tiger Wall Review: The Long and Short of It
To be sure, this tent is not on the budget end of the sliding scale (we simply couldn't resist a tent that packs down so small and light!), but we're hoping it lasts us a good many years.
What do you think of our Tiger Wall review? Would you backpack with it? Have you? What do you love or hate about it? Share in the comments! And wander on.
*This post contains affiliate links, which means if you buy a tent using one of them, we might make enough to buy some new stakes. Thanks for supporting Terradrift.
Alisha is a freelance writer and photographer based in Austin, TX. She loves her tiny house, vegan food and experiencing the community of travel in far away places. She's also pretty sure she's addicted to coffee. alishamcdarris.com