We love gear. Especially ultralight gear. Because who wants to clomp around in the backcountry with 50 pounds on their back? Not us. Certainly not I, whose pack weight maxes out at 33 pounds if I'm following the rule of thirds (your pack shouldn't weigh more than 1/3 your body weight). But because we try to make the gear we have last as long as possible, even if it is dated and heavy, we don't often get to upgrade to new ultralight models. But when our old tent finally bit the dust after nearly 15 years (broken poles, torn seams, leaky fabric), we were excited to try out a tent we've had our eye on for a while now: the Big Agnes Fly Creek HV UL2. Wanna know what we thought of it? Watch or read on for our Big Agnes Fly Creek review.
This tent is a freestanding, 3-season, 2-person ultralight tent. Ultra. Light. Like, 1lb 15oz ultralight (or 2 lbs 5oz with the stakes and stuff sacks). That was the main reason we'd been keeping our eyes out for a good deal on one, but we've also heard that Big Agnes makes some impressive gear. However, that gear also tends to be a bit on the pricey side (The Fly Creek HV UL2 is $350 new). So when we found one on Craigslist that hadn't been used for half that cost, I practically jumped out of my chair. No way was anyone else scooping up this deal! Here are some of the other features of the tent:
Fly and floor are silicone treated nylon rip-stop
Fly and floor have 1200mm waterproof polyurethane coating
Tent body is nylon breathable and polyester mesh
All seams taped with waterproof, solvent-free polyurethane tape
DAC Featherlite NFL pole system
Ultralight plastic clips attach tent body to pole frame
3 interior mesh pockets
superlight aluminum J stakes
Dry entry vestibule keeps the interior of your tent dry as you enter and exit
The best thing about this tent: it's super light. It also packs down small. It helps that the poles are ultralight and the 3-in-1 pole system is all connected, so there's really only one pole to clip in, making setup quick and easy. The guylines are tiny and super reflective under the beam of a headlamp or flashlight and the stakes only weigh a few ounces, too. Setting it up takes a time or two to get the hang of, especially with the fly, but once you get the hang of it it goes up pretty quickly.
It's warm in the winter and cool and breezy in the summer. We love sleeping with the fly off so we can look up at the stars or wake and enjoy the scenery or wildlife around us without leaving the tent. The fly is waterproof in the rain and since the fly pulls so low to the ground we never even got a little damp. The tent even stood up to 40mph wind gusts and was the only one of three tents left standing after that storm (read about the adventure here). And if necessary, we also discovered that it can be pitched with a tripod in a pinch!
It also has three storage pockets on the inside, one on each side by the door and one up top at the crest. Super handy for storing items like chapstick, earplugs, your copy of Anna Karenina… you know, typical backpacking stuff. As for the door itself, though it's not huge, I appreciate that it's on the end of the tent instead of the sides. I never liked the single door on one side of our old tent because one of us would always end up crawling over the other to get out to go to the bathroom or cook breakfast or some such.
There are only a few things we're not crazy about when it comes to this tent. One of those is the headspace and square footage. We've always used a two-person tent, but this one is tight. In fact, that's how we got it so cheap: the guy who bought it new didn't realize how small it was. Fortunately, we're small people (5'3″ and 5″6″, neither over 160 pounds), so we fit nicely when it comes to sleeping. There's enough floor space for both of us and a daypack or two, maybe a small backpacking pack and a few accessories (but there's also a covered vestibule for that stuff), but not much else. Anyone much larger than us might find it a bit cramped.
There's not much headspace, either. I can sit up in the middle of the tent near the door if I'm in the tent by myself, but if we're both in there–say if it's raining or the insects won't leave us alone and we want to play cards or something–we're either hunched over hugging the sides of the tent or laying down. Where the snugness comes in handy is when the temps drop overnight. I found the tent quite cozy when we camped in temps that dropped below freezing; certainly cozier than our last tent.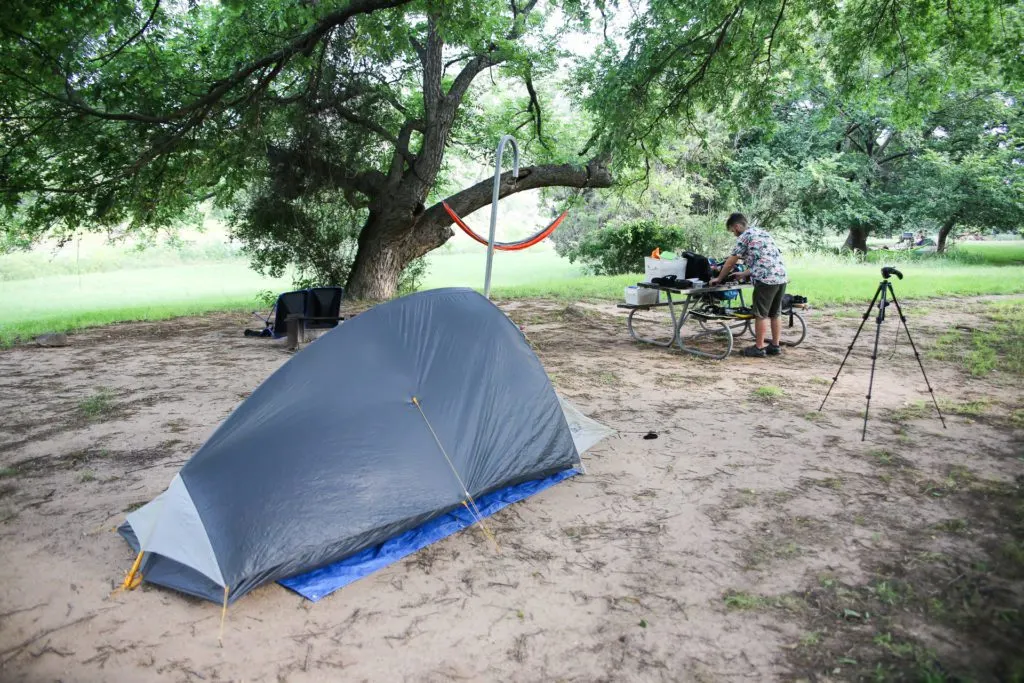 One thing I noticed about the tent fly is that it doesn't include any vents. On one hand, we're OK with that because if we're camping in the cold with the fly on, we don't want vents, we want to trap the heat inside (our last tent was very breezy). On the other hand, if it's warm, our best bet is to leave the fly off altogether. That's great in the summer as 3/4 of the tent is made of mesh and feels delightful if there's a breeze blowing, but I imagine that on warm, rainy evenings it could get a bit stuffy. For us, this is hardly a dealbreaker but maybe something to consider depending on the type of conditions you camp in.
The Long and Short of It
We personally love this tent. It's small, light, has all the features we need, is comfortable in warm and cool temperatures, and is just big enough for the two of us. However, if you're on the larger size height or weight wise or like to spend time inside your tent when not sleeping, you may want to reconsider and spring for a slightly larger model, perhaps the well-reviewed Big Agnes Copper Spur. But if you're willing to trade a little headroom for a much lighter load, I hope this Big Agnes Fly Creek review has inspired confidence that this might just be the tent for you. If so, get one for yourself here!
Have another tent you think we ought to consider? Let us know! Wander on!
*This post contains affiliate links, which means we may receive a small commission for any purchases you make, but there's no extra cost for you.
Alisha is a freelance writer and photographer based in Austin, TX. She loves her tiny house, vegan food and experiencing the community of travel in far away places. She's also pretty sure she's addicted to coffee. alishamcdarris.com