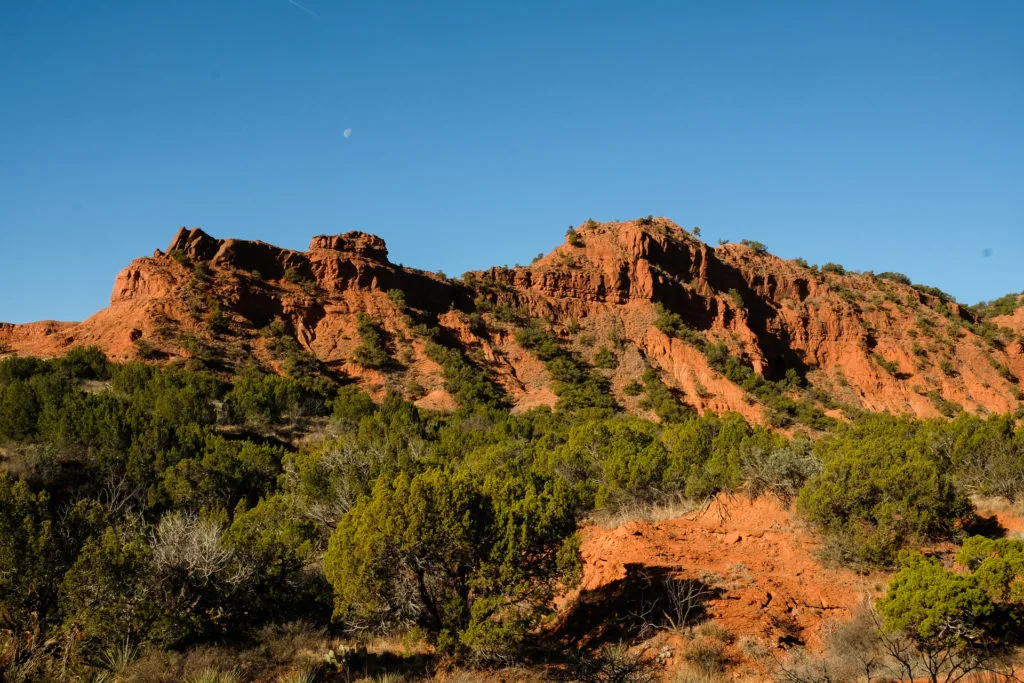 We have wanted to go backpacking in Caprock Canyons State Park ever since we moved to Texas. Several people had suggested it as a stunning destination for a desert backpacking adventure and I was excited to explore the rugged landscape of North Texas. However, we could have picked a better month to go hiking in Caprock Canyons. After backpacking in Big Bend National Park in South Texas last February, making February the month we went backpacking in Texas seemed like a good idea. But as it turns out–by fate or by luck–it wasn't.
Backpacking in Caprock Canyons State Park
Don't get me wrong, the state park was definitely all it was cracked up to be. The colors of the landscape alone were enough to make the trip worth it. White veins of gypsum in red rock face, vibrant green juniper, beaming blue skies…it was a visual dream. The hike itself was moderate, too: not too strenuous or too easy, which was good because we went with a group: one person who had never been backpacking before and another more experienced couple, one of whom had warned us she wasn't a very fast hiker. Basically, we didn't want to push it with a group we'd never backpacked with before. Safety first, right?
Our plan was to arrive on Friday afternoon, hike .5 miles into the North Prong Primitive Campsite, set up camp for two nights, complete the Upper North Prong Trail and the Haynes Ridge Overlook Trail the next day and the Lower North Prong and South Prong Trails the third day as we hiked out. (Check out a map here.) We'd stay one last night in a proper campground with bathrooms and running water and maybe do a day hike the last morning before heading home on Monday.
We completed approximately half of that plan.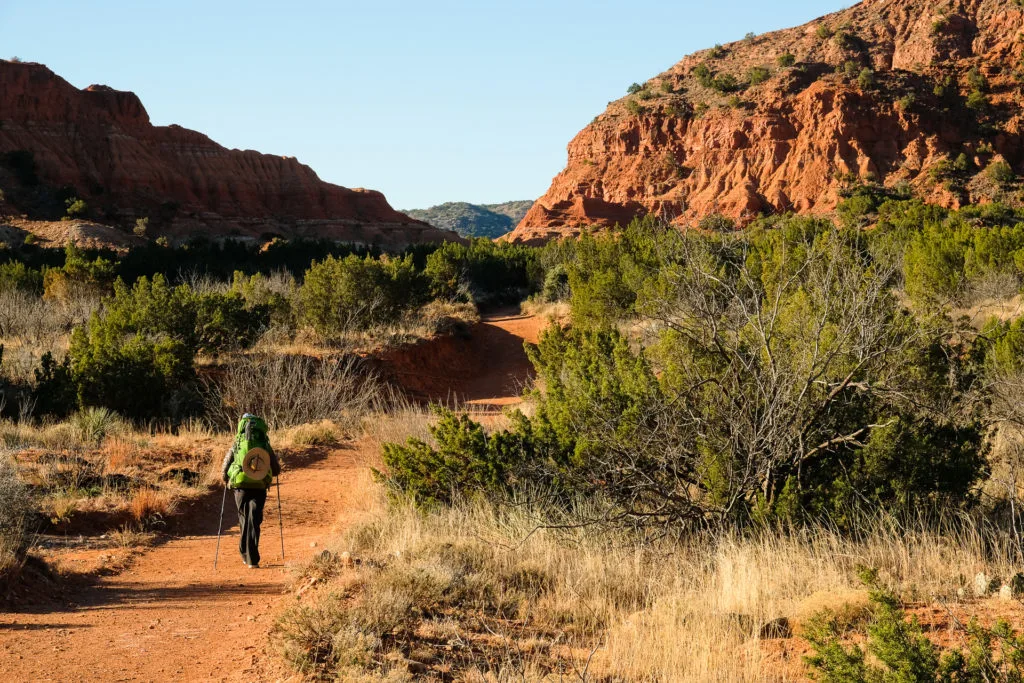 When Things Go South
As far as backpacking disasters go, this one was pretty mild, but it was still one we should have been prepared for. (Which just goes to show how important it is to coordinate with other members of your group.) Shortly after we arrived at Caprock Canyons, it started to mist. It was entirely expected; we had checked the weather beforehand and knew the night held a bit of precipitation. So we hiked the short distance in, set up our tents in a fine drizzle, cooked dinner, and then crawled into our respective shelters (there were three total).
The rain overnight wasn't terrible, but the wind was. We woke a few times to watch the walls of our tent caving inward under the force of the gusts. In the morning, the wind still hadn't abated. In fact, one of our hiking companions with cell service said that we could expect gusts up to 40 MPH throughout the day. We briefly considered our options: should we pack up camp and carry it with us today and re-erect everything in the evening? Should we just remove all the tent poles so the tents laid flat on the ground? We agreed that if the tents could stand the winds from the previous night, they would be fine today.
So we loaded up on snacks and water for the day hike (there's no water on either trail) and set off on our way.
Whose Tent is That?
The weather forecast turned out to be correct: it was very windy. Very. Windy. Windy enough that Josh got nervous every time I neared a ledge to take a photo for fear I would get blown off the ridge. Being the smallest one in the group (as per usual), there were no shortage of jokes about how if I jumped up and stuck my arms out I would probably take flight. To be sure, I can think of only 2 or 3 other times in my life when the wind blew so forcefully while I was stuck outdoors.
We prognosticated about the fate of our tents on and off all afternoon. They'd be fine, right? They had all our stuff in them. They were staked securely.
Well, some of them were staked securely.
Toward the end of our hike, as we descended a ridge, we noticed we could see our campground in the distance. And was that a tent flapping into the air? Was that our tent? Ever the one trying to keep everyone around me cool, calm, and collected, I declared I was sure it was fine; a corner probably just slipped off a stake.
Wrong. On both counts. It was neither our tent nor was it merely an unstaked corner. One of our companions' tents had been entirely ripped from the ground and tossed into some thorn bushes nearby. This was a blessing on one hand (at least the tent didn't blow to the other side of the canyon where we'd never find it) and a curse on the other (the thorns tore at least two holes in her tent and fly). I had a flashback to our camping trip in White Sands National Monument where we didn't stake our tent at all and a freak storm tossed it like a tumbleweed around the valley it was in and stole our footprint.
The other tent fared no better. One pole of the 3-person REI tent was both bent and broken, making utilizing a splint difficult at best. I then had a flashback to the time we broke a tent pole and used tape and paracord to bind it for a good 10 more nights on the trail before breaking down and buying a new tent.
Surprisingly, (or perhaps not so surprisingly to the good folks at Big Agnes) our Big Agnes Fly Creek HV UL 2 incurred zero damage. I attribute this to the fact that: a.) its so small, b.) there's only one pole running down the spine which means there's less rigidity to cause pole snapping, and c.) at over $300 brand new–we found it gently used on Craigslist–it just better be freaking well made.
Time for a Fix…Or Not
Josh and I went straight into repair mode. What did we have that could remedy the situation? We had gaffers tape and paracord, for one. An extra emergency tent pole splint, too. We'd fixed broken poles before, so I was confident we could sort that out. And even though we didn't have enough tape to patch the entire tear in the other tent, a strategically-placed backpack could cover it. And since it was cold, there was little to no chance of creepy crawlies making their way in.
On the downside, it was still quite gusty, pretty cold, and the conditions weren't great for re-pitching injured tents. On top of that, our companions may have lost some of their determination. Probably because no one enjoys punishing themselves as much as Josh and I do…I swear we take pleasure in doing things the hard way… And the mere .5 miles to the trailhead provided ample excuse to simply hike to the car, turn on the heat, drive to the nearest town, and pay for a hotel room for the night, which is what they did.
And they had a fabulous time at the quirky Hotel Turkey in Turkey, Texas. Apparently there were margaritas, hot showers, and drinks with locals involved. Who knew?
An Unexpected Night Alone Backpacking in Caprock Canyons
And while we could easily have joined them, as I mentioned, we might be just a smidge masochistic, plus, I treasure backpacking and all it has to offer: solitude, reconnection with nature, no cell service or email, and stars unrivaled by any you can see from civilization. And that night, we had all of those things. So we were loath to give that up for a night in a warm, comfy bed (what's wrong with us?!).
Wind and cold had scared away anyone from backpacking in Caprock Canyons, (further proof no one likes to test themselves like we do) not a single other sole had pitched their tent at the campsite, and the views of the sun setting over the canyon and the Milky Way shimmering in the cloudless sky were all ours and ours alone. Even the wind had ceased in the early evening and you could hear coyotes howling in the distance.
We played our tiny backpacking games, read out loud, and had a great night outdoors, just the two of us, which is fine, because we kind of like each other (and alone is usually how we travel, anyway).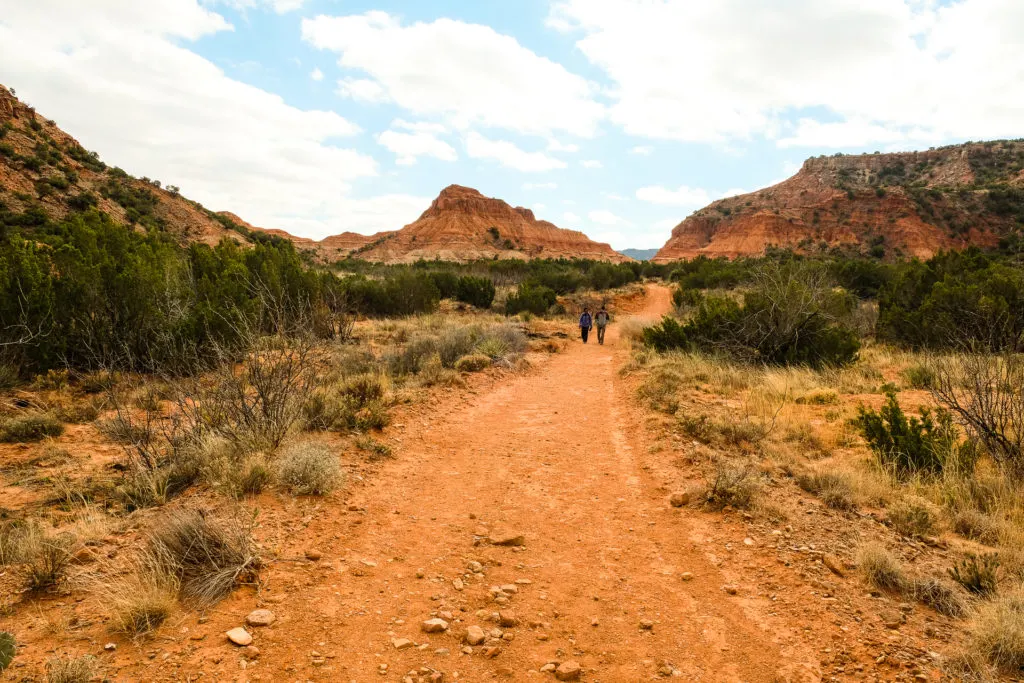 Day Hikes and Driving Home
Our companions picked us up from the trailhead the next morning where we heard all about the Hotel Turkey. We hiked the relatively flat Eagle Point Trail out and back, snapped some pics of the natural bridge, and cooked some veggie burgers at a picnic pavilion before hopping in the truck and heading home a day early. Yeah, it was too bad we got one less day and night on the trail than we had planned, but we still had a great time with friends, and that's what counts. Although, next time you better believe I'll be bringing a lot more gaff tape…
Has your tent ever failed you while camping or backpacking? And more importantly, are you gonna start shoving a few feet of tape in your bag from now on? Tell us about it! Wander on!
*This post contains affiliate links
Alisha is a freelance writer and photographer based in Austin, TX. She loves her tiny house, vegan food and experiencing the community of travel in far away places. She's also pretty sure she's addicted to coffee. alishamcdarris.com