It's got desert, it's got mountains, it's got one big ol' winding river: it's Big Bend National Park, and it's one of only two national parks in Texas. The other is Guadalupe Mountains National Park, in case you're wondering. Hard to believe, right? I mean, Texas is the second largest state in the country, you'd think it'd have more than two national parks, right? Well, it doesn't. So if you're in Texas and looking for a desert hiking experience in a national park, get thee to the Bend. We did. And in case you need some inspiration or instruction, here's how we went about backpacking in Big Bend.
About Big Bend National Park
First of all, this park has it all: the largest protected area of the Chihuahuan Desert in the U.S., a snaking river as much of its border, the only mountain range contained entirely by a National Park, plus it has the darkest sky rating in the lower 48 and is one of the best spots in the U.S. for birdwatching. How's that for impressive? Plus it's home to some 59 types of cacti, 56 species of reptiles, and 25 mountain lions, give or take one or two. I realize those last two reasons might actually dissuade some more timid folks from exploring the deserts of Big Bend, but not us adventurers! It's not an experience unless you spot a Mexican black bear, right? (We did not, in fact, spot a Mexican black bear…or a mountain lion…or any reptiles…womp womp.)
But you don't need all the deets to know you want to do some backpacking in the park.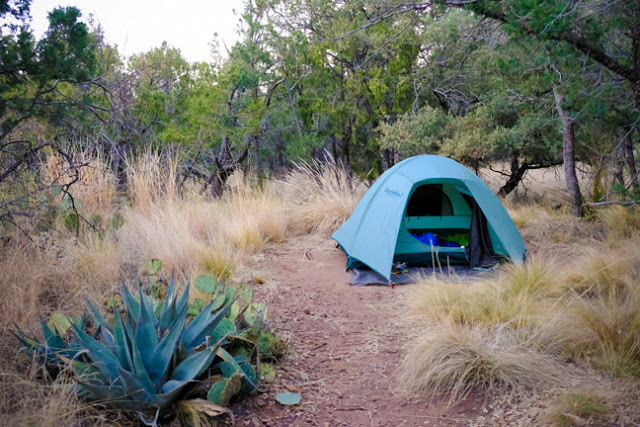 Backpacking Permits in Big Bend
If you read our post on backpacking in Grand Canyon National Park, you'll know how complicated and convoluted their backcountry permit system is. You either have to plan way ahead or show up and cross your fingers. Well, Big Bend isn't as popular as Grand Canyon (though 2018 is already showing record visitation), so getting a permit is easier.
To obtain a backcountry permit at Big Bend, just show up between 15 minutes and 24 hours before you want to head into the wilderness and simply ask for one. They'll take down the nights you want to spend in the backcountry, make sure you have proper supplies (like enough water), and help you map out your route and preferred sites if necessary. We didn't know where we wanted to hike or camp, so we moseyed into Panther Junction at about 3:00, looked at a map with a park ranger who made some suggestions, and we moseyed out with a backcountry permit for two nights on the Pinnacles Trail for that very evening.
The permits cost only $12 (not per person or per night, just $12 flat). So we paid our fee, bought an annual parks pass for $80 instead of paying the park entrance fee of $25 (we plan on hitting up a lot of national parks this year), and drove on to the trailhead.
Our Route
There are many routes to choose from. Initially, we wanted to spend two days and nights on the Marufa Vega loop, 14 miles of tough desert trails, but we were warned that even in February the trek could be a hot, dry one and we weren't sure we brought enough water vessels.
Instead, we opted for two nights at Boulder Meadows on the Pinnacles/South Rim Trail. We hiked in about an hour, set up camp, and the next day started on a day hike to complete the entire loop, about 12 miles of mountain trails with spectacular views from the South Rim of the mountains. We made it back to basecamp in time for dinner and hiked out the next morning.
For the third day, we planned on finding a site at one of the campgrounds and then setting off on a lengthy day hike around Marufa Vega, but by the time we hiked out, found one of only two campsites available (most sites are first come-first serve unless you reserve at least two days in advance), it was too late in the day to start a 14-miler.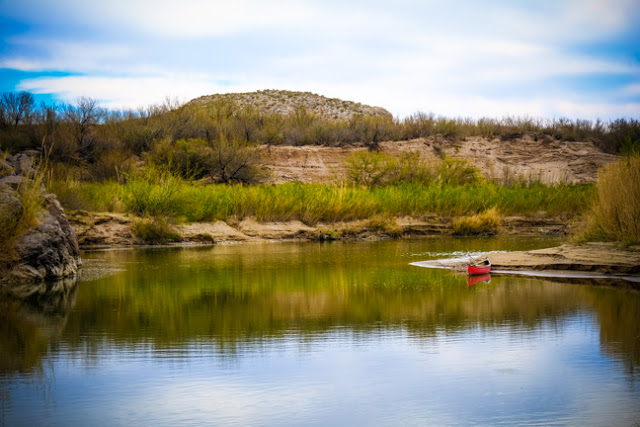 Finding a Campsite at Big Bend
There are several campsites we could have stayed at, including Chisos Basin, Cottonwood and Rio Grande Village (all of which are scattered across the park). We opted for Rio Grande Village. We didn't have a reservation (it was only Thursday morning, after all) but by the time we arrived at about 10:00 am there were only two spots available. Of course, we tried–and succeeded–setting up our tent at two reserved campsites first because we didn't see the reservation card and the date on my watch was somehow wrong, but we managed. Just barely. After you find a site, you fill out a card, stuff an envelope with $14 per night, and slip it in a pay box at the entrance. Easy peasy. Sort of. Obviously, we struggled. It was embarrassing, really.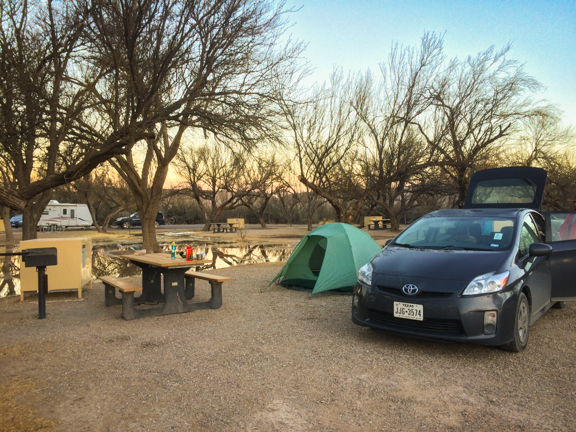 Day Hikes in Big Bend
Since it was nearly noon, too late to start on Marufo Vega, we opted for several short hikes instead. We spent 45 minutes to an hour wandering down the Boquillas Canyon Trailhead where we not only walked along the river and clambered over a sand dune and cut ourselves on thorny desert plants, but we also witnessed several Mexicans fording or canoeing across the Rio Grande to place (presumably) handmade knickknacks and painted walking sticks along the trail for hikers to purchase. Little beaded scorpions were labeled with a price and a jar would sit nearby to collect payment on the honor system. At one point there was just an empty milk jug that said, "For the singing Mexican." And indeed, as soon as we passed it a Mexican started singing from the opposite bank.
There is also the eight-mile roundtrip Ore Terminal trail, six-mile roundtrip Daniels Ranch Trail, four-mile roundtrip Window Trail, the easy .3-mile Window View Trail and .5-mile Dugout Wells Trail, which we did not hike. There are more day hikes on the west side of the park, but we didn't venture that direction. We did hike the quick and easy Rio Grande Village Nature Trail right off the campsite, which would have been a great place to watch the sunset, and took a short walk to the Hot Springs near Langford Ruins.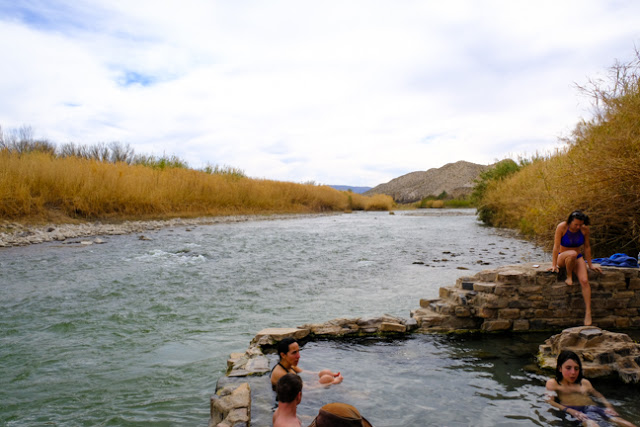 Yes, I said hot springs. I cannot physically pass up a soak in some hot springs. It's an easy stroll on a dusty path and visitors can soak in a shallow 105-degree pool with a sandy bottom and direct access to the Rio Grande. There were at least a dozen other people there when we arrived, chatting and relaxing and easing aching muscles after grueling hikes in the desert. The afternoon was cool, so the water felt great, but so did a refreshing dip in the Rio Grande where an easy current escorted you 50 feet or so down the river to a rocky shore where you could climb up to the bank, walk back to the hot springs, and do it all over again. And naturally, after a couple kids swam across the surprisingly unimpressive river to step ashore in Mexico, we had to do it too. Don't tell border patrol we swam to Mexico.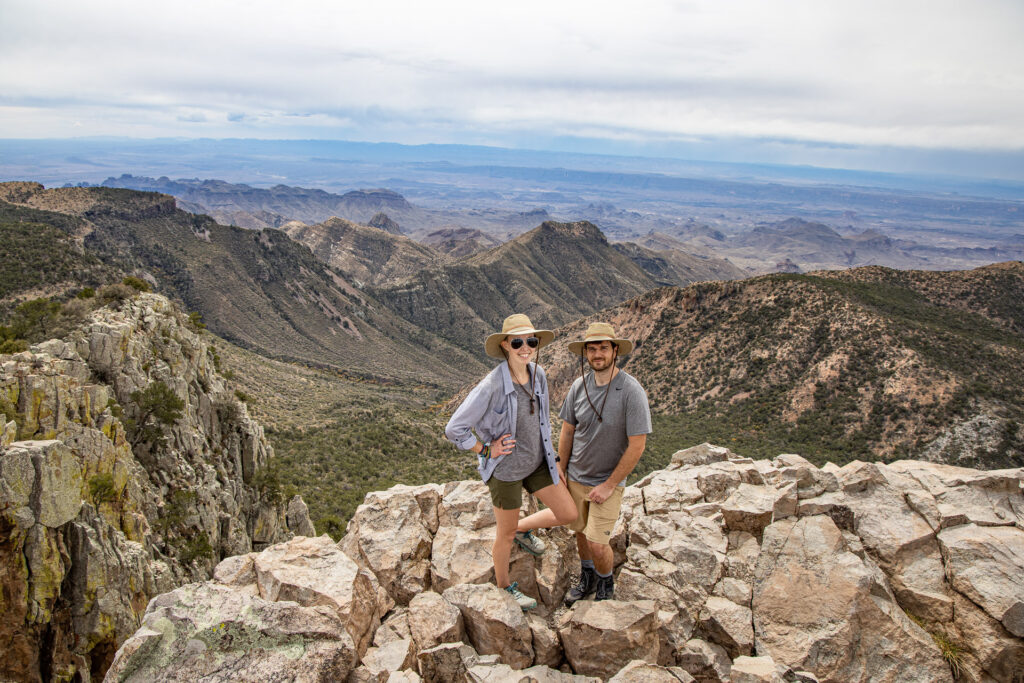 But maybe our favorite hike? Emory Peak. The 10-mile out-and-back isn't for the faint of heart–the summit is exposed and far from large and flat–but can be done as a day hike or as a Sid trail on the South Rim Trail. It's totally worth the effort, though, as the views are spectacular.
Stargazing in Big Bend
Birdwatching, which is popular in the park due to the 400 species of birds including peregrine falcons, isn't really our thing, but stargazing is. Not to the point where we lug around expensive telescopes to better view celestial bodies, but we like to look up in awe at the night sky. So naturally, we were excited about Big Bend being a Gold Tier International Dark Sky Place. We didn't bring a tripod for some reason (it probably had to do with getting up at 5 am to leave Austin), and it was the first time we tried to take night sky photos with our mirrorless camera, so the results could have been better, but that didn't stop us from enjoying the spectacle overhead after the sun (and the moon) went down. On several occasions, we set an alarm to get up in the middle of the night so we could get a good look at the stars with no residual light from the setting sun mucking up the vista. The stars out there are magical.
To be sure, the drive is a long one. It took about 7-8 hours from Austin. But Big Bend National Park is a great retreat and an ideal respite away from the modern world in the one-of-a-kind landscape that is the American Southwest. Wander on.
Alisha is a freelance writer and photographer based in Austin, TX. She loves her tiny house, vegan food and experiencing the community of travel in far away places. She's also pretty sure she's addicted to coffee. alishamcdarris.com