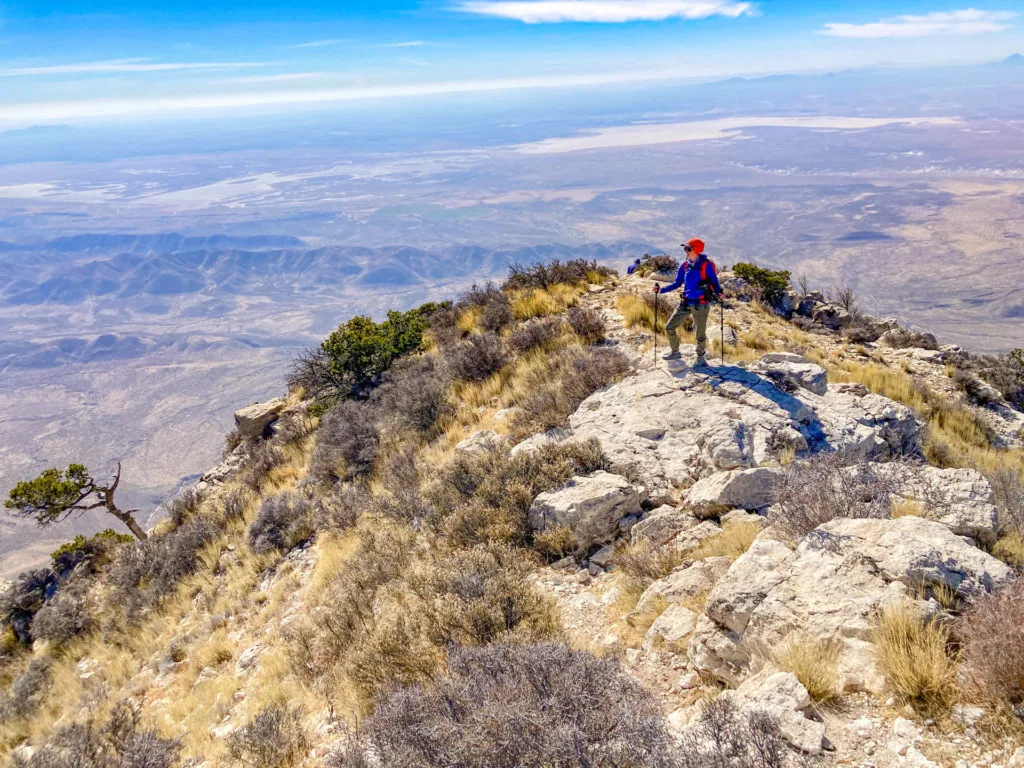 Backpacking in Guadalupe Mountains National Park offers a unique wilderness experience in the desert peaks of West Texas.
Hands up if you've heard of Guadalupe Mountains National Park. ✋ Now hands up if you knew there were mountains in Texas. ✋ Last one: hands up if you know where they are… 😂
Not gonna lie, until about two or three years ago I can't say I had, either. I actually have little recollection of how I first learned of Guadalupe Mountains NP. But in 2020, I popped over to investigate after paying a visit to Texas' more well known and more popular Big Bend National Park. Because why not hit up two parks in one road trip? Who cares if they're several hours apart. Do you know how big Texas is?! (Hint: it takes 8 hours to drive to Guadalupe from Austin, and that's not even on the opposite side of the state!)
Anyway, ever since my first hike up Guadalupe Peak, the highest mountain in Texas, I wanted to return to backpack in the park's expansive desert wilderness. And this February, I finally made it. With friends, no less! Yup, I managed to wrangle a small cadre of outdoorsy folks to accompany me on a 3-day backpacking trip in the mountains of Texas, in a park with no water available in the backcountry, in February, in overnight lows that dipped into the 20's. (Some of them read our guide to layering, some didn't.)
As far as I know they regret it immensely and will be considering future proposals to accompany me–a self-proclaimed dirtbag and masochist–with increased scrutiny…
Just kidding (sort of). They had fun. Even if the cold was excessive for a bunch of Texans.
But anyway! If you're considering backpacking in Guadalupe Mountains National Park (this year is the park's 50th anniversary!), here's what to expect, how to plan, and a bit of my own experience.
Backpacking in Guadalupe Mountains National Park: Planning
As you plan your trip, here are a few things to keep in mind:
There are no water sources in the backcountry, natural or man-made. You must pack in all your own water.
Water is available at developed front country campsites: Pine Springs in the south & Dog Canyon in the north.
You need a backcountry permit from the Pine Springs Visitor Center to go overnight backpacking (you must show your permit in your dashboard). Permits are available up to 24 hours in advance. You can also get them day-of.
You need reservations for the developed campsites. Make them here.
It's a national park; fees are required to enter ($10 per person for up to 7 days, $35 Guadalupe Mountains annual pass, $80 America the Beautiful annual multi-park pass).
This is the desert; plan for extreme heat in the summer, cold temps in the winter, and cooler temps at night that you might expect.
Most trails are exposed.
There is some cell service in the backcountry, but not much. Don't rely on it.
Consider topographic maps and don't be too ambitious with daily distances if you're not used to rugged desert terrain.
There are no fires permitted anywhere in the park, just backpacking stoves for cooking.
Holidays, weekends, and spring break can be very busy. Spring and fall are also popular times to visit. Plan accordingly.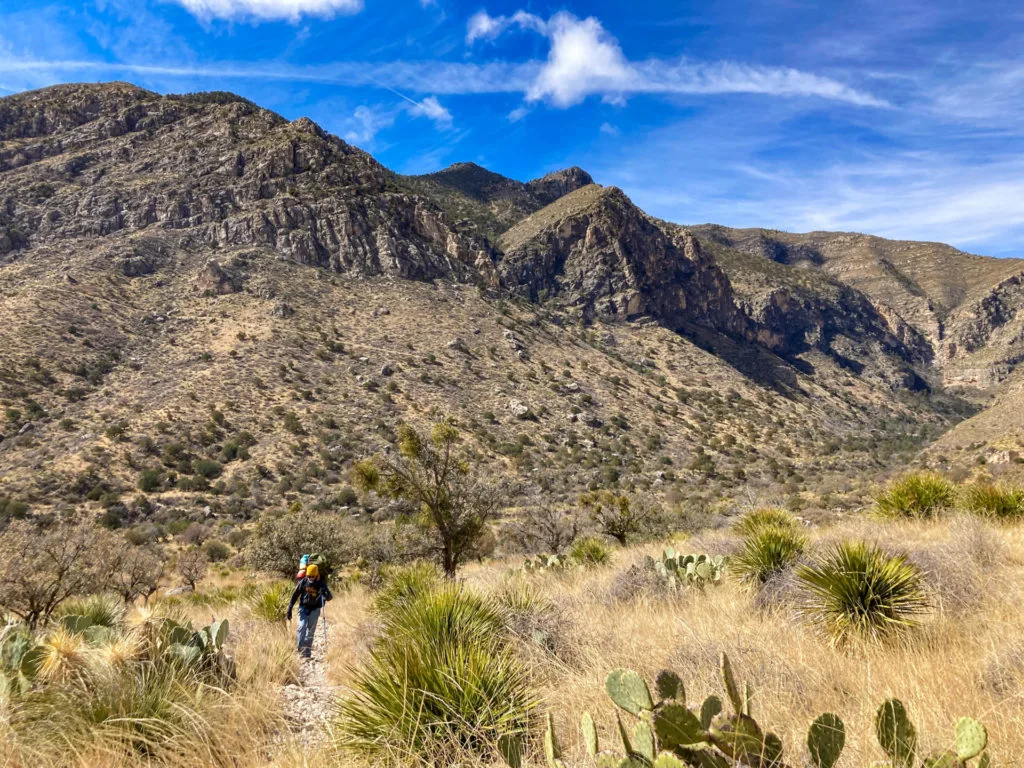 Backpacking in Guadalupe Mountains National Park: My Route
This trip was a short one: three days, two nights backpacking sandwiched in between a few nights of front country camping at Pine Springs, the developed campground near the visitor center. That was on purpose since I was hiking with people who are fairly new to backpacking and don't have access to a lot of steep, long, exposed trails for training purposes. So here was our itinerary:
Day 1: Arrive at Guadalupe Mountains, camp at Pine Springs Campground.
Day 2: In the morning, start hiking up the Tejas Trail, camp for the night at Pine Top backcountry campground.
Day 3: Leave tents pitched at camp, base-camp style, complete a day hike around The Bowl Trail loop (including Hunter Peak), spend the next night at Pine Top.
Day 4: Pack up and hike down the Tejas Trail, camp at Pine Springs.
Day 5: Hike up Guadalupe Peak and back, spend one more night at Pine Springs.
In total, the mileage we did isn't impressive (12-13 miles roundtrip), but it afforded plenty of time to relax, hang out, hike at a leisurely pace, and enjoy each other's company. Besides, that 12-13 miles involved some 4,600+ feet of total elevation gain and loss. Ninety percent of which is in the first (and last) 4-ish miles. Sure, I like a full-mileage day, but short hauls are OK, too.
Do I still feel a desperate need to go back and hike the total length of the 22.4-mile (round trip) Tejas Trail? Absolutely. But that will have to be when I'm accompanied by an equally ambitious hiking buddy (lookin' at you, Josh), and in that elusive Texas temperature sweet spot when it's not so cold I need winter camping gear but it's not so hot I can't make it at least half way on 4 liters of water. So…that one week in March…
There are plenty of routes to choose from, not just the Tejas Trail. Find more options here and mileage charts here.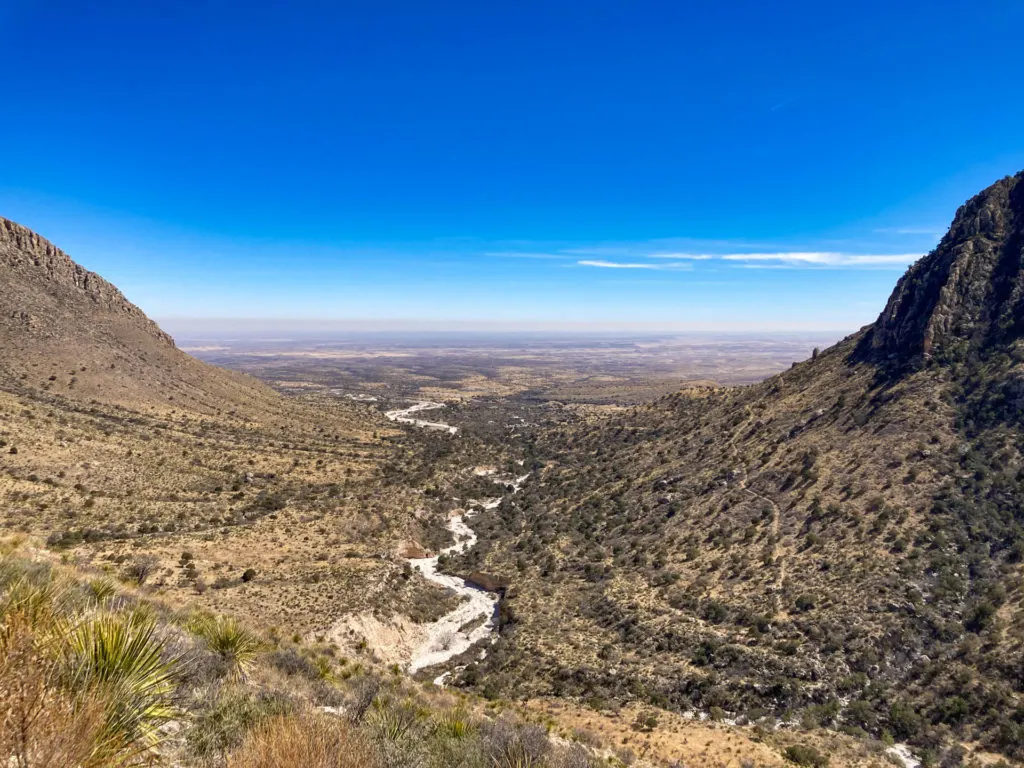 Packing Checklist for Backpacking in Guadalupe Mountains
If you've never backpacked in the desert before, there are a few things you need to make sure you pack:
The usual backpacking checklist stuff.
Plenty of water. At least 2 liters per day in the winter, more in the summer, depending on your body type and how much you drink (check out our water calculator here), plus extra for cooking.
Electrolytes. No matter the season. Water alone won't cut it, especially in summer. You need to replace the salt your body is losing due to sweat.
A hat. wide brimmed, preferably.
A bandana or neck gaiter to protect your neck from the sun and/or keep sweat out of your eyes.
Sunscreen. Lots of it.
Plenty of high-calorie meals and snacks (Check out our calorie calculator to see how many you may need per day).
Lightweight long sleeves and pants for long trail days. I'm a shorts girl, personally, but more uncovered skin requires more sunscreen.
A blacklight flashlight if you want to try to spot some scorpions at night (they glow green under a black light).
A paper map. Don't rely solely on a digital one.
A first aid kit with tweezers. They'll come in handy if you have a run-in with a cactus.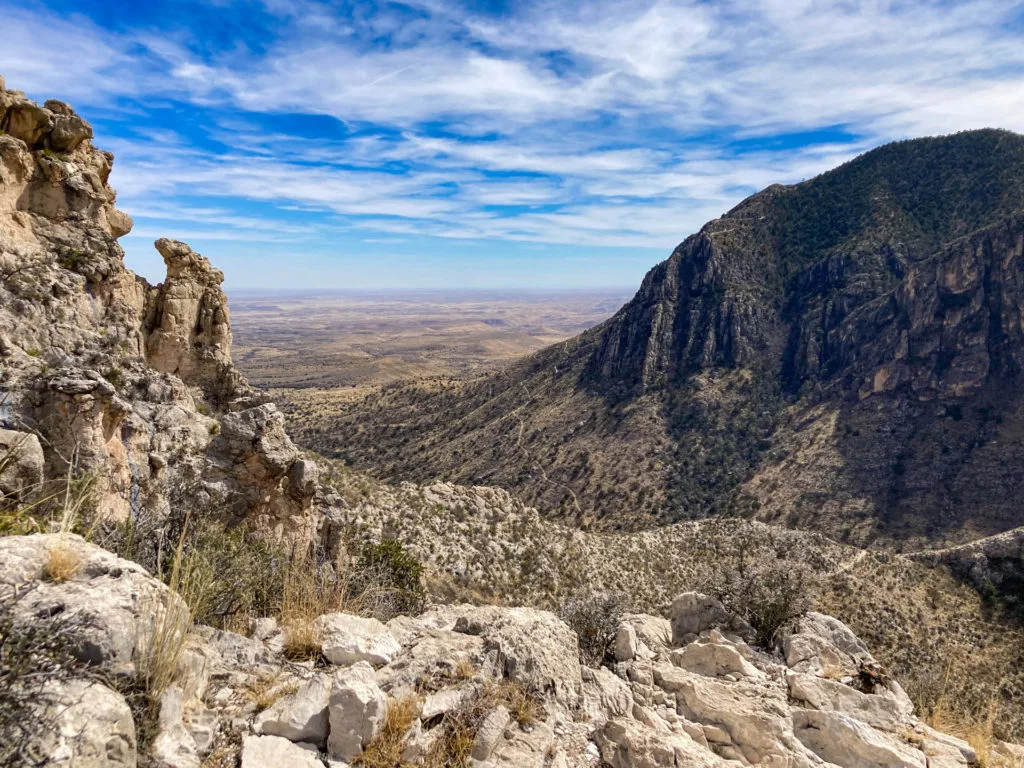 Bottom Line
So are you ready to plan your own backpacking trip in Guadalupe Mountains National Park? We highly recommend it. The sweeping vistas, unique desert terrain, expansive blue sky (how did Montana get the motto "big sky country" and not Texas?), and views for days make it a one-of-a-kind experience.
So get out there and wander on. And then let us know about your hike in the mountains of West Texas!
•
This post contains affiliate links, which means when you click and make a purchase, we may receive a small percentage of the sale. And that helps keep the lights on and sustainable content comin' here at Terradrift!
Alisha is a freelance writer and photographer based in Austin, TX. She loves her tiny house, vegan food and experiencing the community of travel in far away places. She's also pretty sure she's addicted to coffee. alishamcdarris.com