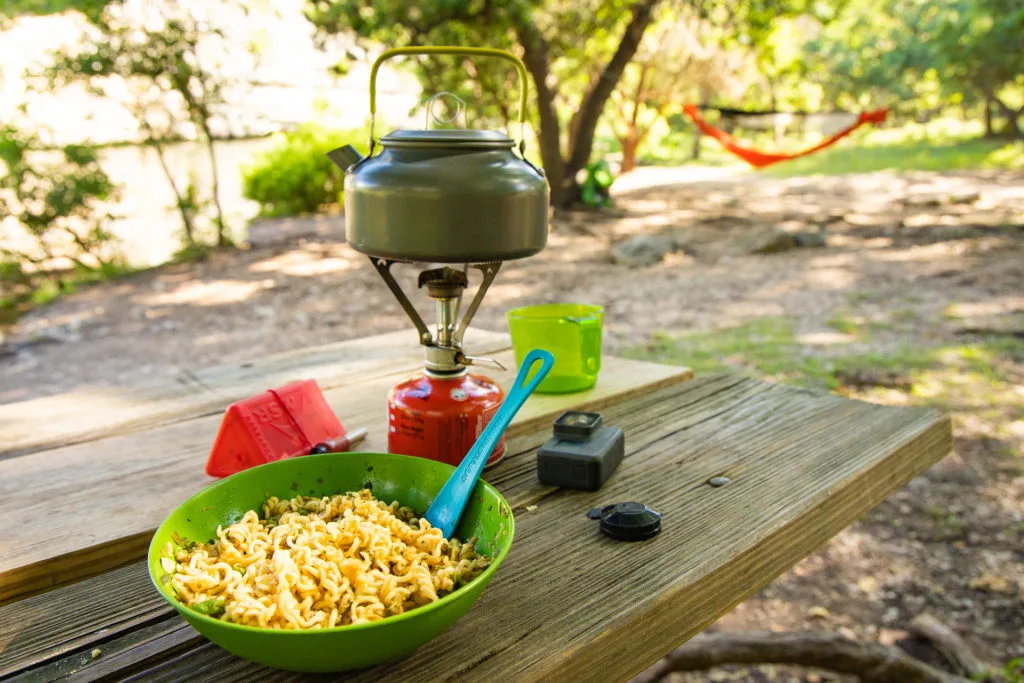 We love to eat. That includes on the trail. In fact, that's how you know it's a good hike: when you're working so hard you can't wait to get to camp to set up and make dinner. And while we tend to take charge and prepare our own backpacking meals when we're out in the wilderness (find a whole cookbook full of our plant-based backpacking recipes here), sometimes you just want to grab-and-go. By which we mean grab a pre-packaged meal off the shelf and hit the trail without all the measuring and prepping and bagging. So if that's you, here are 7 pre-packaged vegan backpacking meals so you can fuel up without all the forethought.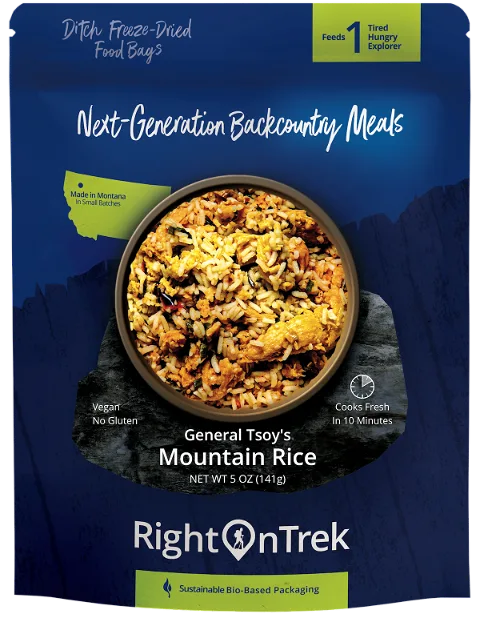 RightOnTrek
The backpacking meals from Right On Trek aren't all vegan, but they do offer a few. Most are breakfast items, but there are two tasty dinners (General Tsoy's Mountain Rice and Vegan Shepherd's Stew). Many of the meals are even available in 1-, 2-, and 4-person packages. What sets these meals apart is that the brand recommends that you don't simply pour boiling water into the bag and wait. Instead, pour the contents of the package into a pot with water and cook it on top of your stove. But they do cook faster that way. Why? They use more natural ingredients and fewer preservatives. One of our favorite features when you order online? You can add on condiment packs including sriracha, peanut butter, cashews, and our new favorite trail snack, Farver Farms Dill Pickle flavored Lentil Crunchers. Don't question it, just get some. Bonus: They use more sustainable bio-based packaging that's 60% compostable. Order RightOnTrek meals here.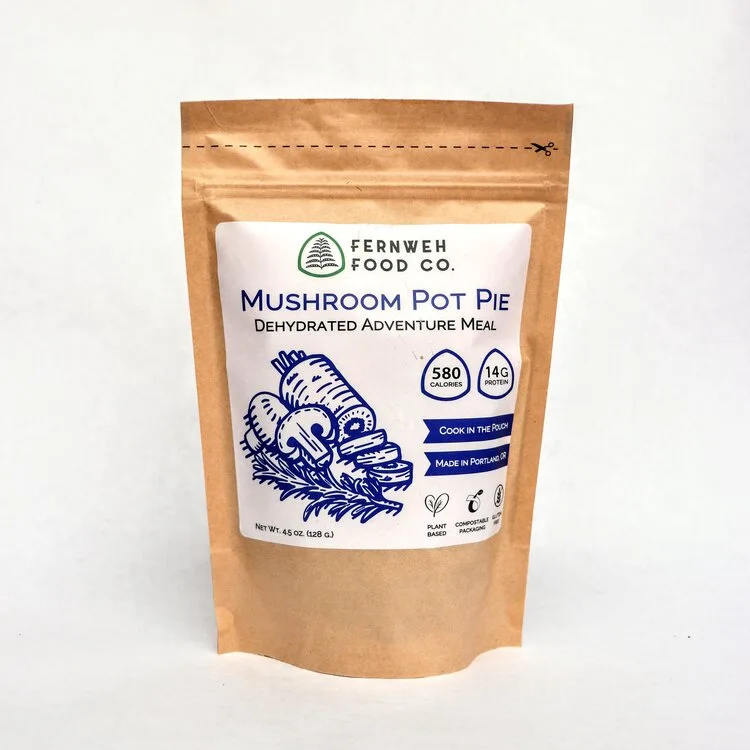 Fernweh Food Co.
Not only does this brand specialize in delicious and nutritious (and filling) dried vegan backpacking meals, they also package those meals in compostable bags! Yup, after you've scraped every last bite of Southwest Stew or Green Tamale Pie from every corner, after you pack out the empty bag you can throw it in the compost bin and it will biodegrade just about anywhere. They offer breakfast, lunch/dinner, even dessert options, so take your pick. Find Fernweh Food Co. on Garage Grown Gear here.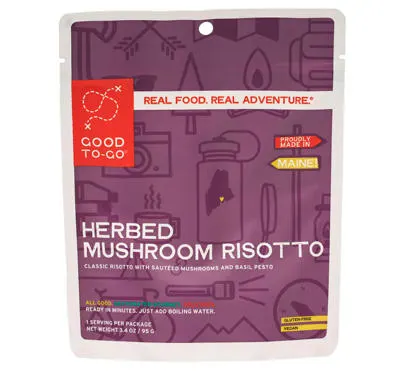 Good To-Go
Like just about every freeze-dried backpacking meal brand out there, Good To-Go isn't all vegan. But they do have a few vegan (and vegan gluten-free) options, including bibimbap and kale and white bean stew. An extra plus: they clearly mark all their vegan options and you can even search specifically for vegan or vegetarian (or gluten-free) meals right on their website. Find melas on Good To-Go's website or on Backcountry (which doesn't offer a vegan search filter, so check the packaging before you buy).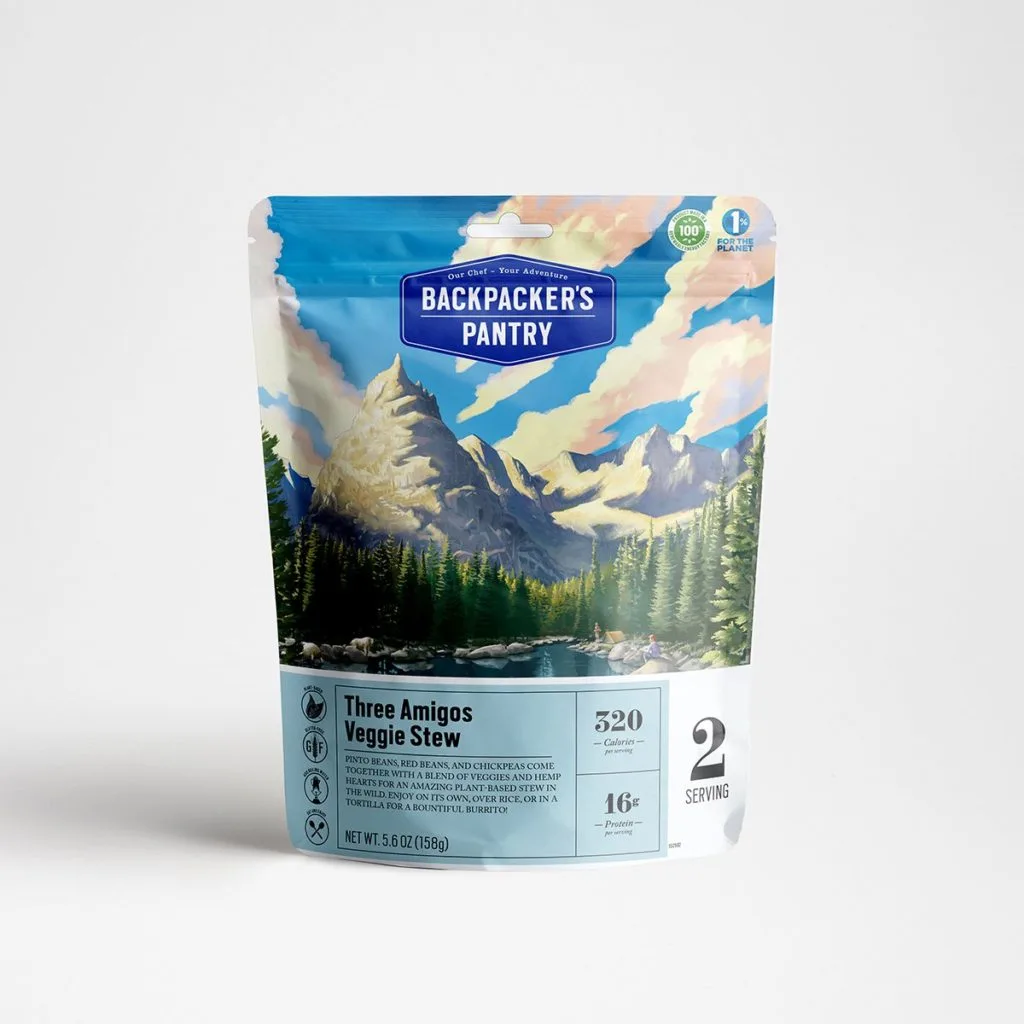 Backpacker's Pantry
Kathmandu Curry and Pad Thai Veggie are just two of the vegan options from Backpacker's Pantry. But this brand offers quite a few vegan options (including gluten-free), including breakfast and dessert. Mango sticky rice, anyone? You can even filter search results to include only vegan meals on their website. Find melas on Backcountry or on REI.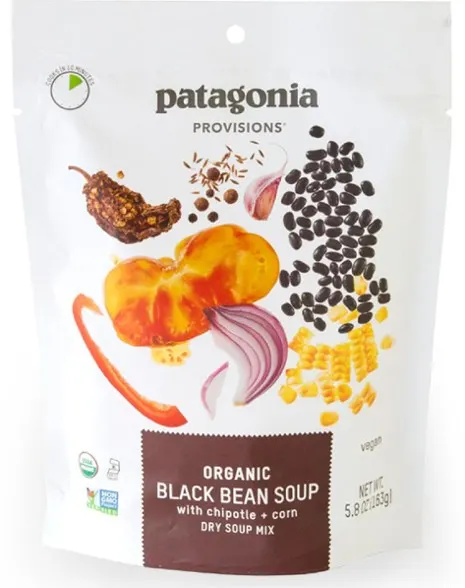 Patagonia Provisions
We're not gonna lie, for such a sustainably-minded company, these guys are seriously lacking in their vegan food department. But they do have a few options, mostly soup. They make it hard to single out their vegan options on their site, but the Green Lentil Soup, Red Bean Chili, Black Bean Soup, Organic Savory Grains, and Mushroom + Kamut Khorasan Wheat Savory Grains are all vegan, but not all are gluten-free, so check the label first if that's an issue. Find them on REI or Backcountry.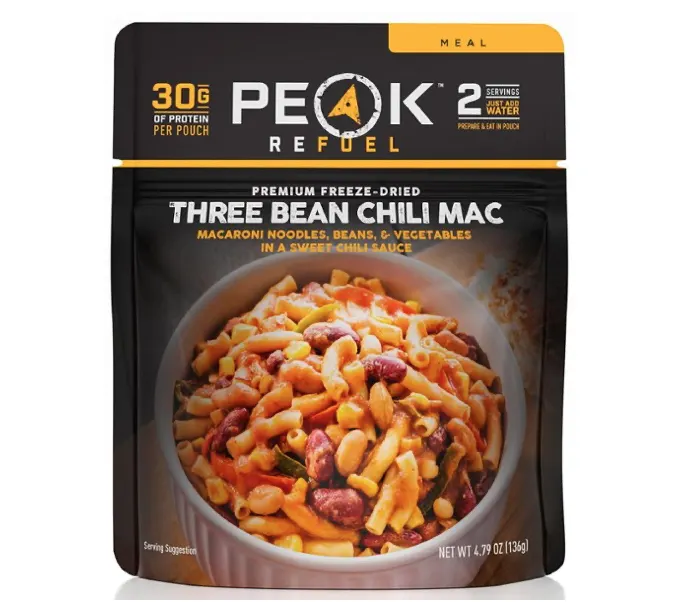 Peak Refuel
This brand only has one vegan option, but it's a start. Their Three Bean Chili Mac is hearty and savory and promises to really stick to your ribs. Find it on REI.
Nomad Nutrition
All gluten-free all the time, this small company based in Canada is making good food for outdoor enthusiasts that's made of good stuff. And all of their options, like Hungarian Goulash and Irish Shepherd's Pie, are totally vegan, too! Plus, they come in two different serving sizes.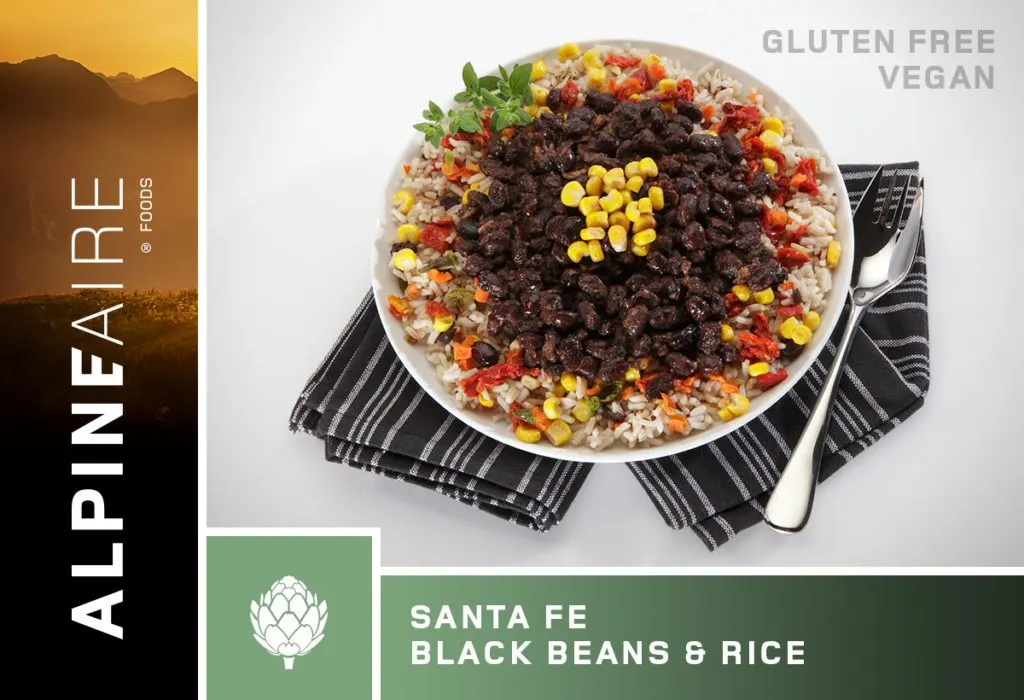 AlpineAire
If ya like beans and rice, look no further than AlpineAre for your vegan backcountry meals. They only have one–Sante Fe Black Beans and Rice (also gluten free)–but the brand's products can be found at many an outdoor store, including REI.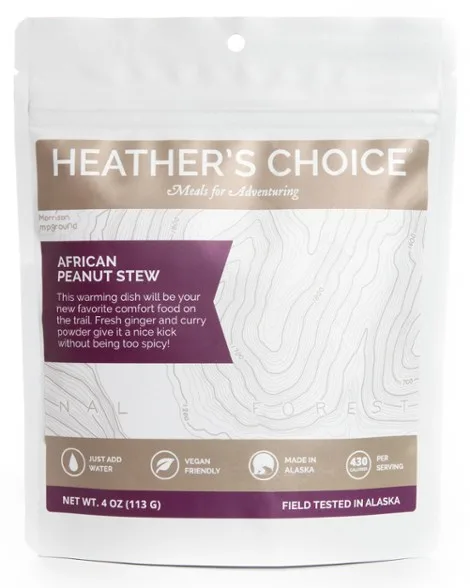 Heather's Choice
Another meal maker with only one vegan backpacking meal option, but it's a good one: African Peanut Stew. And we're all about that peanut stew. So if you're willing to give a lesser-known brand a shot, find it on REI.
Outdoor Herbivore
Just like the name implies, this cottage brand is all about the meat-free meals, including tons of vegan ones. From Lentil Salad to Chickpea Sesame Zetti, Outdoor Herbivore has the goods to fill you up. And there are plenty of options so you'll never get bored with the same ol' primavera. Find them all here.
A Note on Backpacking Meals
When searching for good vegan backpacking meals, make sure to check the serving size on the back. Some pre-packaged options will contain one, others two. Still others say two, but it's really just enough for one. Look at the calorie count per serving, plus carb, protein, and fat content to determine if the meal is truly one or two servings. And remember that you need more calories when you're working hard on the trail. How many? That depends. Use our handy hiking calorie calculator to get a rough estimate.
And if you're wondering why there are no breakfasty vegan backpacking meals listed here? Because they're a scam, that's why. Are you honestly gonna tell me you'd rather pay $6 for instant oatmeal when you can get a box of 10-12 singles-serve packets from your local grocery store for half the price? C'mon. You pull that nonsense when you're backpacking with us and you better be prepared for the head shake of shame.
Whatever meals you choose, stock your pack, fill your belly, and wander on!
•
This post contains affiliate links. That mean when you eat, we can, too. Thanks for supporting Terradrift. You're just too cool.
Alisha is a freelance writer and photographer based in Austin, TX. She loves her tiny house, vegan food and experiencing the community of travel in far away places. She's also pretty sure she's addicted to coffee. alishamcdarris.com