Every outdoorsy man and woman needs a good backpack. Also a daypack, but that's a post for another day. For multi-day backpacking trips, we don't think anything out there rivals the Osprey Atmos backpack. It's big, it's comfy, you can adjust many features for the perfect fit…it's just a great backpack. Wanna know why we think so? We assume you do since you're here on our blog. So check out the video or read on to see our Osprey Atmos review.
*My pack (the one in the video) is from the recently replaced last generation, but is practically identical in form and function of the one pictured here. The newer model has straps on the bottom for lashing a sleep pad, a useful feature.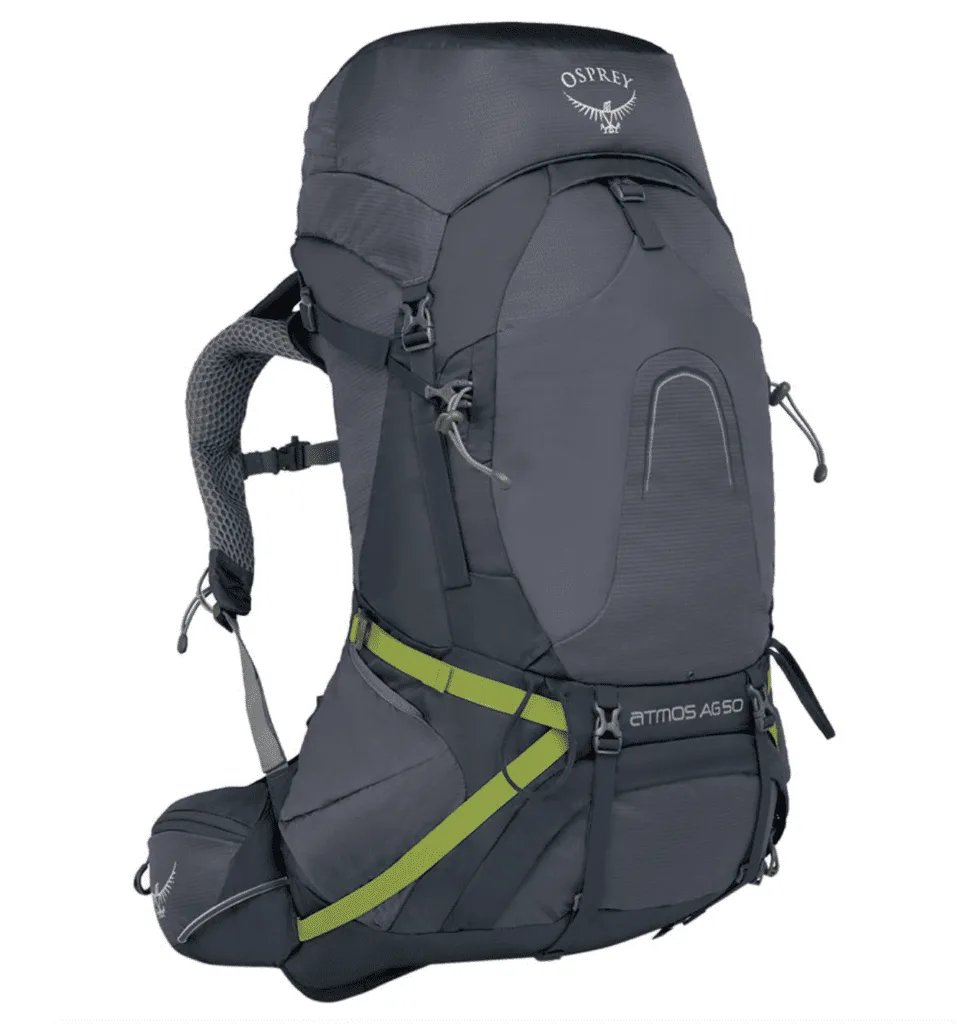 Made for Everybody
First of all, this is a 50 liter (also available in 65L), internal frame, unisex pack, which means it's designed for men or women. for a women's specific pack, Osprey offers the nearly identical Osprey Aura backpack. Basically, the shoulder straps are cut a little differently. That's the most notable difference, anyway. If you're a lady and less curvy shoulder straps don't bother you, then the Atmos should work fine. It comes in 3 sizes: small, medium and large. I'm 5'3″ and 105 pounds and that's probably pretty close to the limit of how small you can be to comfortably carry this pack.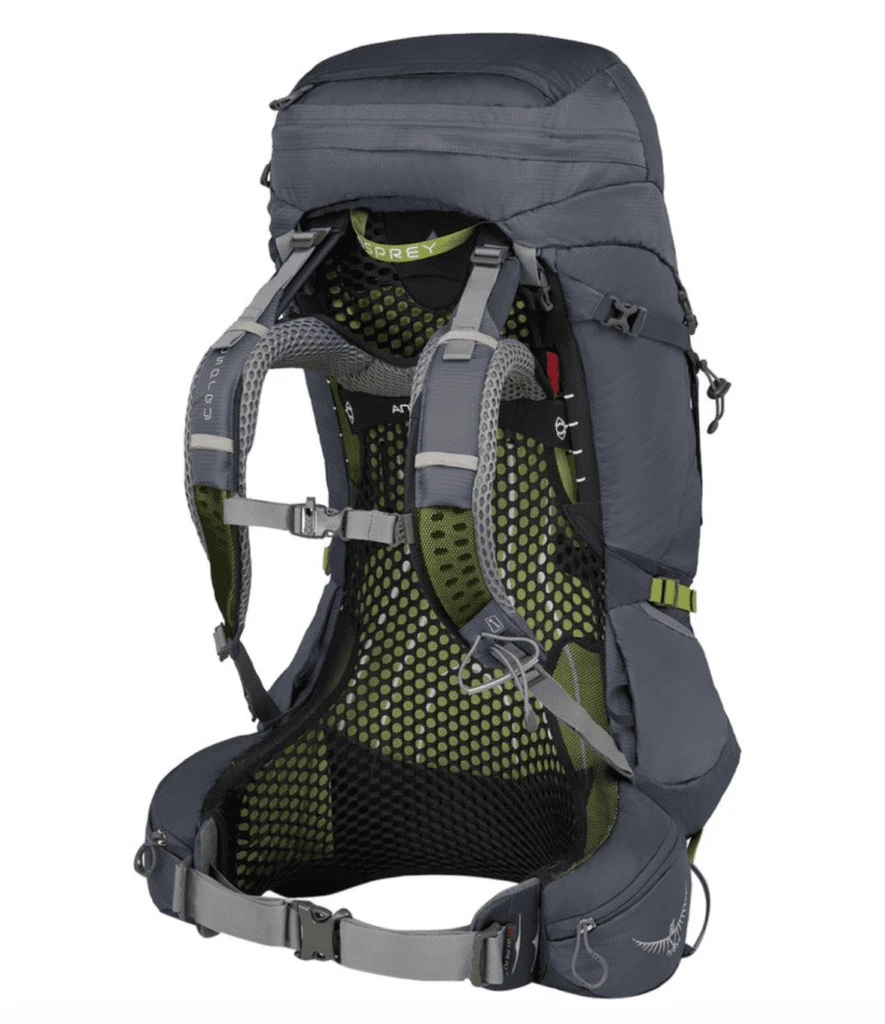 That springy mesh back panel is legit. It's like getting a hug from behind. I've never had a more comfortable pack. It keeps my back cool and eliminates pressure points by distributing weight evenly. And the adjustable Anti-Gravity suspension system helps nail the perfect fit and makes even heavy loads seem lighter, almost bouncy–but in a good way.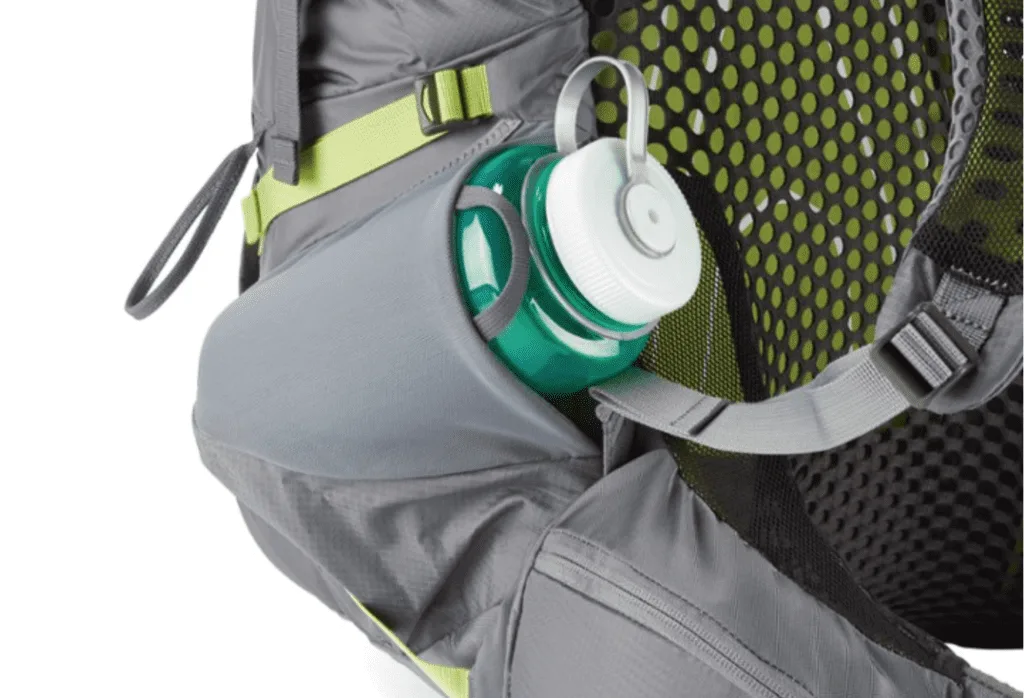 Oh, the Water Bottle Pockets
Yeah, there's a stash pocket for your hydration pack inside the bag, but I love that the water bottle pockets on each side are both super stretchy and allow me to store waterbottles up and down and at an angle, which is prefect for reaching back and grabbing a bottle on the go.
Osprey Atmos 50 Features
Anti-Gravity suspension – feels like you are carrying less weight than is in your pack
Removable floating top lid with dual zippered pockets and web attachment points
Integrated FlapJacket protects gear when top lid is removed
Stow-on-the-Go trekking pole attachment allows you to stow your poles
Adjustable harness and Fit-on-the-Fly hipbelt to dial in perfect fit
Internal hydration reservoir sleeve accommodates up to a 3L reservoir
Front stretch mesh pocket
Dual access stretch mesh side pockets for storing water bottles and other gear with InsideOut side compression straps
Dual upper and lower side compression straps stabilize loads and maintain a streamlined profile
Zippered hipbelt pockets keep snacks and smaller items close at hand
Lower zippered sleeping bag compartment with removable divider
Dual ice tool loops
Removable sleeping pad straps
Sternum strap with integrated safety whistle
Osprey Atmos Review: What We'd Like to See
The one thing that kind of gets on my nerves–and it feels almost like nitpicking–is that you have to pull the hipbelt away from the pack to get it on. Because of that comfy, stretchy mesh, they want to hug the back panel, so I either have to pull them outward and slide in between them or put my pack on, push it back away from me, and pull the belt out. It's hardly a deal-breaker, though, especially since the mesh that makes them hug the back panel is the same mesh that makes them so dang comfy.
Honestly, the only thing I'd love to see on this pack that isn't already there is a front-load zipper pocket, which would make it perfect for not only backpacking, but travel. A zipper on the front that allows the bag to be opened like a duffle makes it so easy to locate items not packed on top. But this is a mild complaint, and, honestly, I'm more than happy to do without in exchange for that sweet, sweet back panel, which is unrivaled (in my humble opinion) by any packs available that do have front zippered access.
The Long and Short of It
This is far and away the most comfortable pack we've ever travelled with. It even rivals Osprey backpacks I've had in the past (the Osprey Aura from over two generations ago, which was probably too small for me, anyway…). It absolutely makes loads feel lighter, more manageable, and virtually emiminates hot spots–you know what I mean, those sore spots one purpley discoloration removed from a bruise where shoulder straps, hip belts and backpanels put pressure on sensitive areas. The Osprey Atmos is a pack we'd recommend to just about anyone. If you think it might be for you, order one here. Then pack up and wander on!
Find more gear reviews here.
Check out what other gear we carry here.
*This post contains affiliate links
•
Does the Osprey Atmos come with a rain cover?
No. Rain covers are sold separately.
Is the Osprey Atmos just for men?
While it is not a women-specific model (that would be the Osprey Aura), some women will find it perfectly comfortable and suitable.
Is the Osprey Atmos comfortable?
This is one of the most comfortable backpacks we've owned.
Is the Osprey Atmos good for long backpacking tips?
For trips longer than a week, some adventurers might prefer the Osprey Atmos 65L. But the 50L ideal for overnight to multi-day trips and loads up to 40 lbs.
Alisha is a freelance writer and photographer based in Austin, TX. She loves her tiny house, vegan food and experiencing the community of travel in far away places. She's also pretty sure she's addicted to coffee. alishamcdarris.com