This fall, we headed to the Black Forest in Southwest Germany! Because What Grimm's Fairy Tale-loving, spooky-obssesed, adventurous traveler WOULDN'T want to visit?! And turns out, there are just as many magical forest trails as there are sustainable small towns as there are outdoor adventures. And it's pretty rad. If you're headed to the region, don't miss these outdoorsy things to do in the Black Forest (plus sustainable places to stay and eat)!
Where to Begin your Black Forest Adventure
We started our adventure in Zurich, Switzerland (go check out our video and post about adventures in the Swiss Alps here), which is where the nearest major airport is. From there, you'll likely want to rent a car if you plan to do lots of exploring as public transit is limited in the Black Forest. Fortunately, the drive takes less than to hours. But you may want to familiarize yourself with German street signs and road rules if you'll be heading to any larger cities (like Freiburg). It gets wild. Fortunately, Freiburg IS super transit-friendly, so you can keep your car parked and take buses and trams everywhere.
Pro tip: If you plan to spend a night in Zurich, book a stay at the inimitable and sustainable 25hours Hotel in the Langstrasse neighborhood. It's wild, wonderful, and oh so edgy.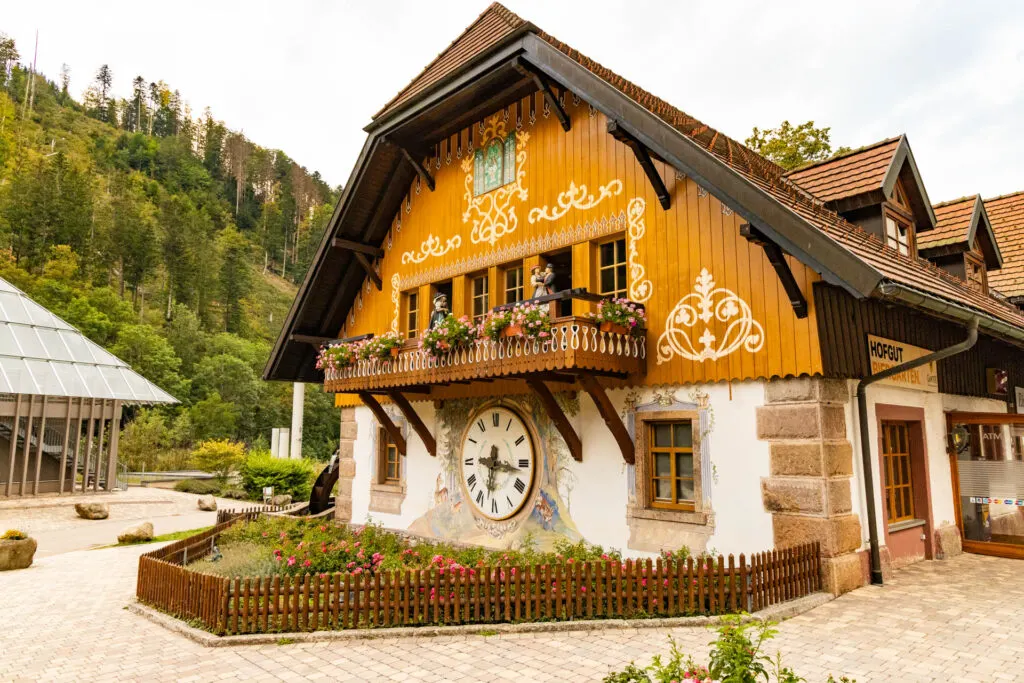 Stay and Hike at Hofgut Sternen and the Ravenna Gorge
Our first stop (and first night) in the Black Forest was at Hotel Hofgut Sternen in Breitnau. It's a historic hotel and complex that's not only 500+ years old, but that's also 100% energy self-sufficient! Wild, right?
In addition to a variety of modest but plenty comfortable rooms, there's a glass-blowing studio (also energy self-sufficient) and a shop FULL of locally handcrafted cuckoo clocks. Plus the largest cuckoo clock in the upper Black Forest.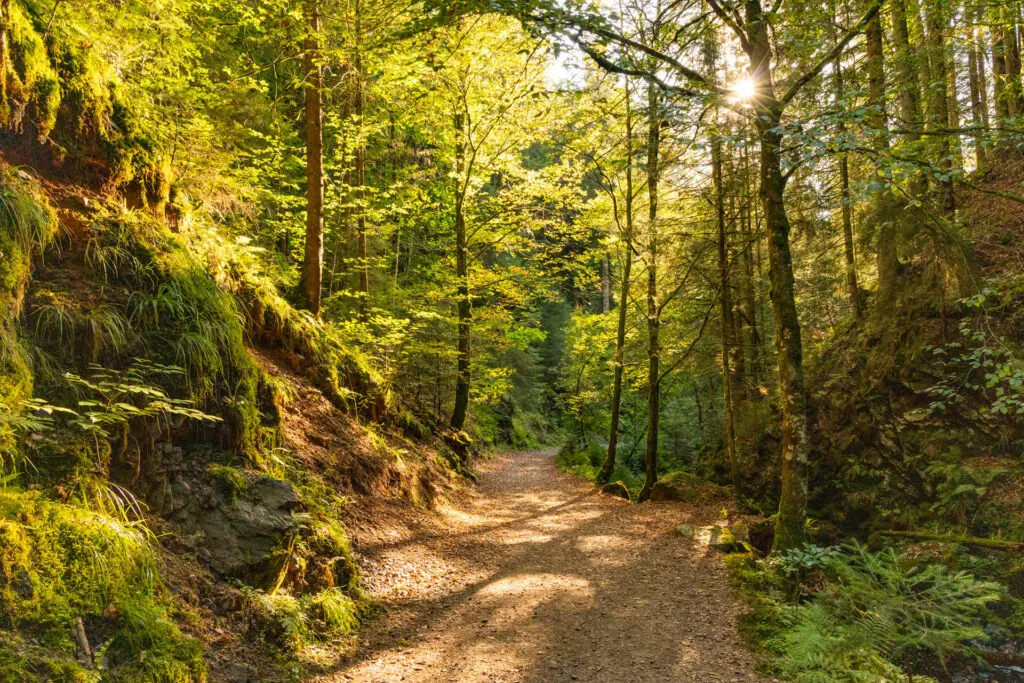 But our favorite feature of the property? It's located right next to the Ravenna Gorge, which means you can stroll down a path, under the viaduct (aka: train bridge), and be hiking in ferny woods next to streams and waterfalls in no time flat.
Hofgut Sternen can get a bit touristy during the day as they bus in tour groups from cruise lines, but in the evening it's delightfully quiet. There are vegan options in the restaurant, but they aren't the best we had in the region, so keep that in mind if you're a true foodie.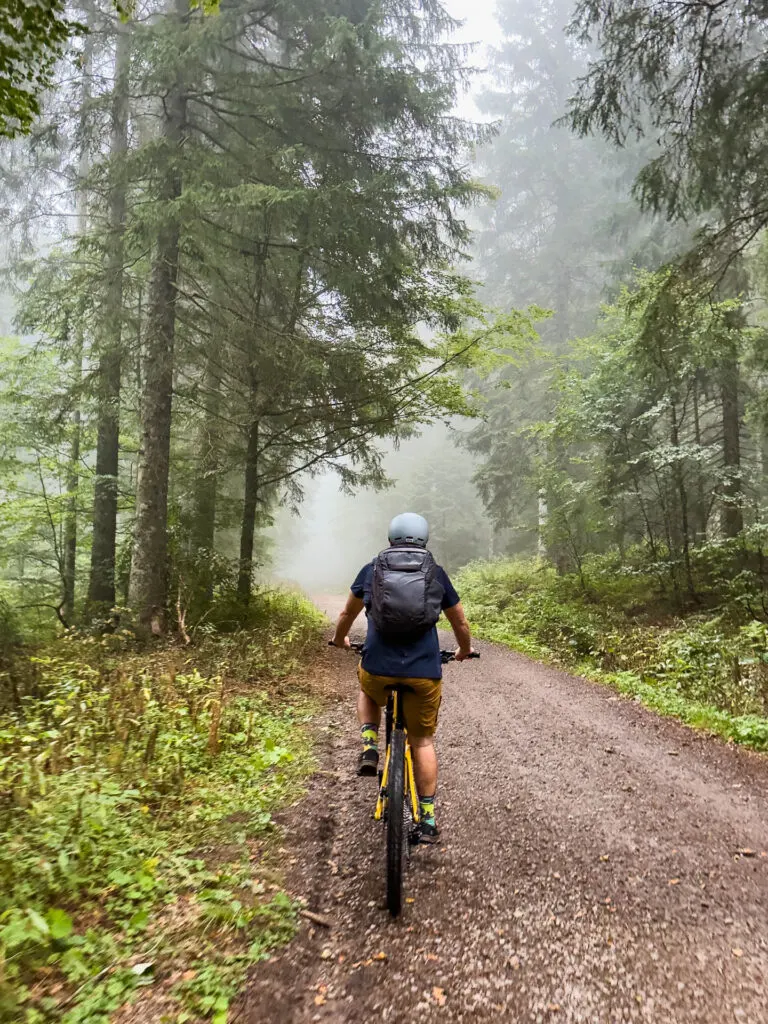 Mountain Biking on the Gipfeltrail
Next, head to the Gipfeltrail for some mountain biking. On e-bikes. Because that elevation…you just go up. And up. And up. The whole trail stretches 140 kilometers–we only rode about 20 miles of it–and most of it is on fire roads, but you'll pass by restaurants and hotels where you can grab food (we had a nice vegan lunch–and dessert–at Waldhotel), navigate narrower single track, and make a pit stop at the Black Forest Line Cable Bridge where you can hike to the falls or test your fear of heights by crossing the bridge–both for a small entrance fee.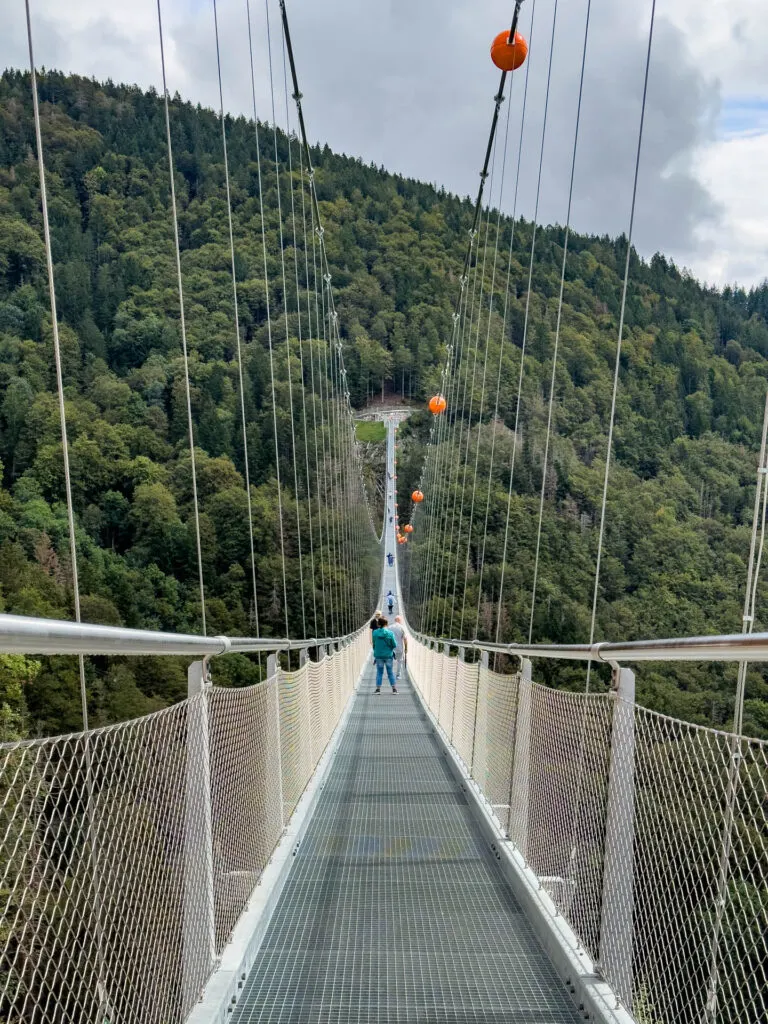 You can also ride the whole trail as part of a multi-day tour and stay at hotels along the way. You can rent a bike near plenty of optional starting points.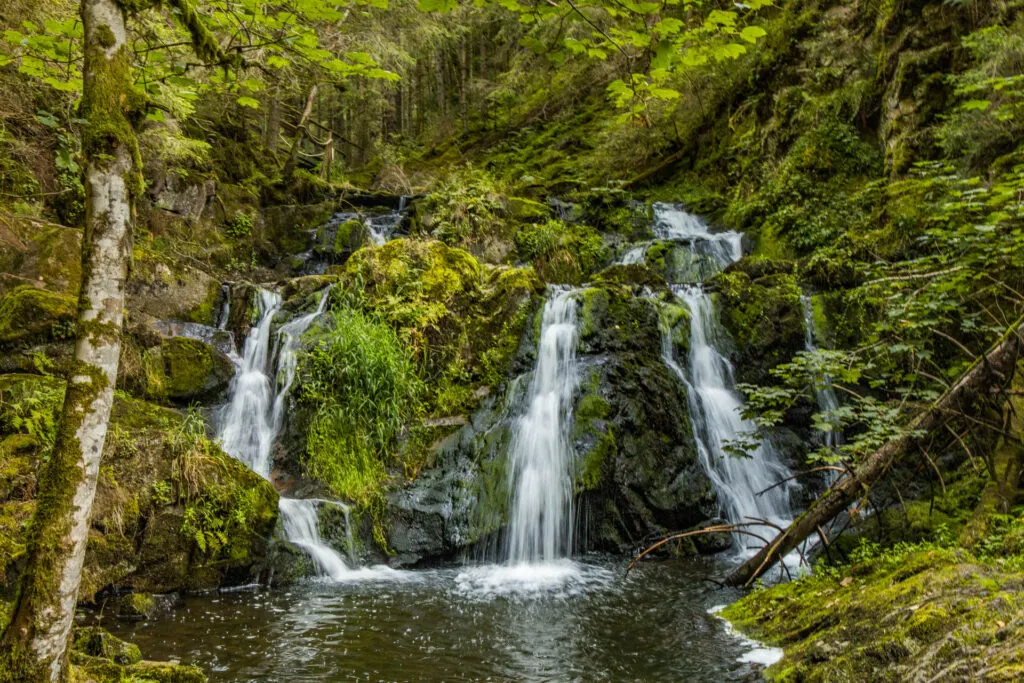 Hike at Rötenbachschlücht
Ready for an extended hike through the woods surrounded by ferns and running water? We thought so. the Rötenbachschlücht route winds through a canyon, along a river, over bridges, through pine forests and past fairytale cottages, and up to a lookout for a view of the whole valley. The loop is 11 kilometers–or nearly 7 miles–and is absolutely worth the three hours or so it takes to hike it. Start in the morning to beat the crowds and have your pick of parking.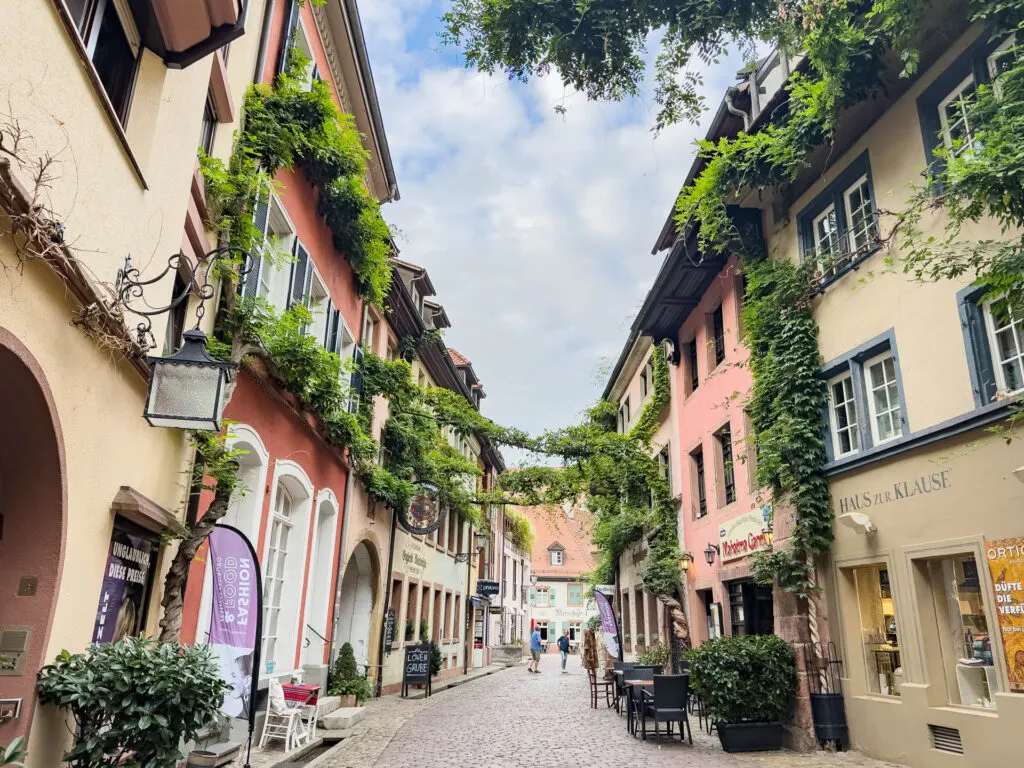 Explore Freiburg
When you're ready for more urban adventures, head to Freiburg, which isn't technically in the Black Forest, but close enough! And as a super sustainable city, it's worth a visit!
How sustainable? The whole city is stupendously bike- and pedestrian-friendly (no cars are allowed in the central downtown area), the city just transitioned school cafeteria menus to be fully vegetarian, there's tons of renewable energy powering everything, and it's just a cool place to be.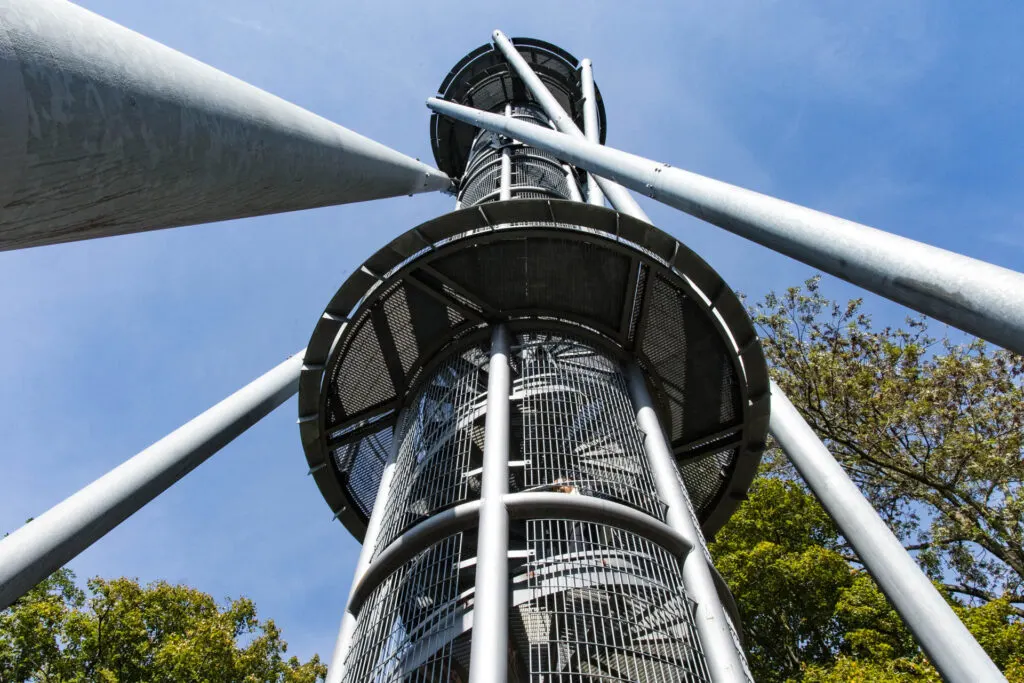 Take the cable car up to the Schlossbergbahn (you can also hike up) and enjoy a leisurely hike around Schlossberg Hill, the urban park at the top (Stadtgarten is the lovely park at the bottom–perfect for a picnic). There are big views, plenty of shade, historical markers, and a giant structure that invites you to climb a winding staircase to get to the best views of the city.
When you head back down, have a wander, enjoy the beautiful historic architecture, including the Freiberger Münster, wander around the Münstermarkt marketplace for produce, locally-made products, even vegan food, and grab a glass of wine or a famous wine slushy at Alte Wache.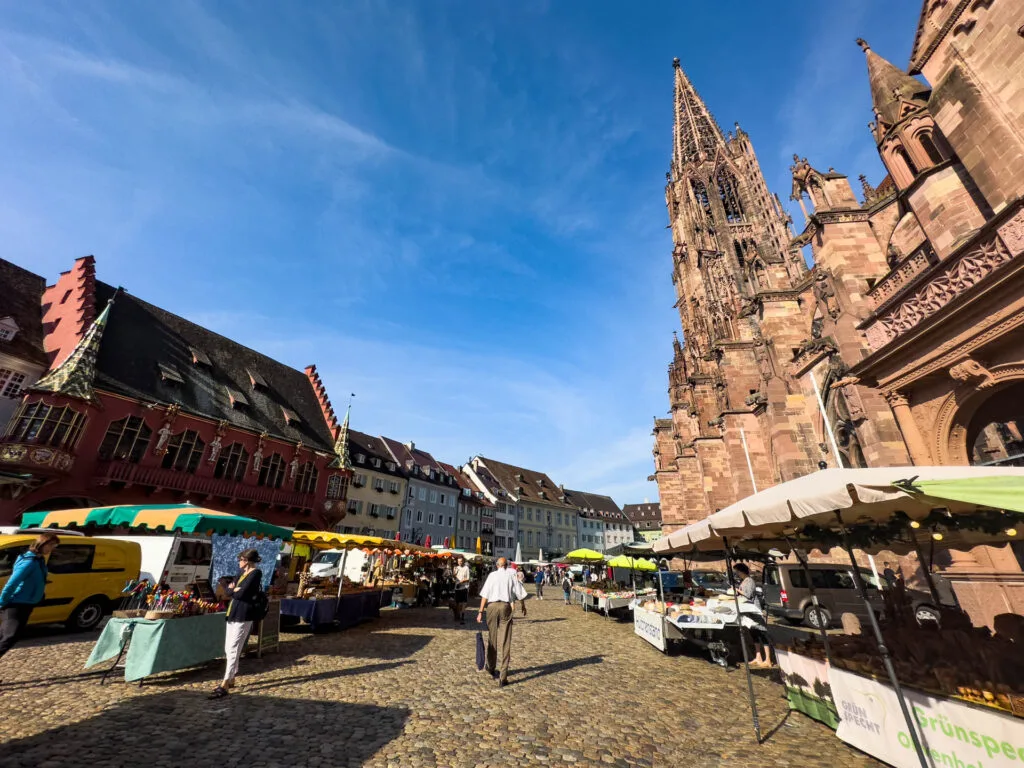 And if you're into it (you know we are), hit up the Old Cemetery, marvel at the ancient, beautifully carved headstones, and enjoy the quiet, gardenesque atmosphere among the dead. Super cool spot.
For food, hit up Homemade Sweets Company for vegan cupcakes (yes, even vegan Black Forest cupcakes), Hermann for very chill Bohemian-style dining, and Münstermarkt for quick eats like vegan curry wurst.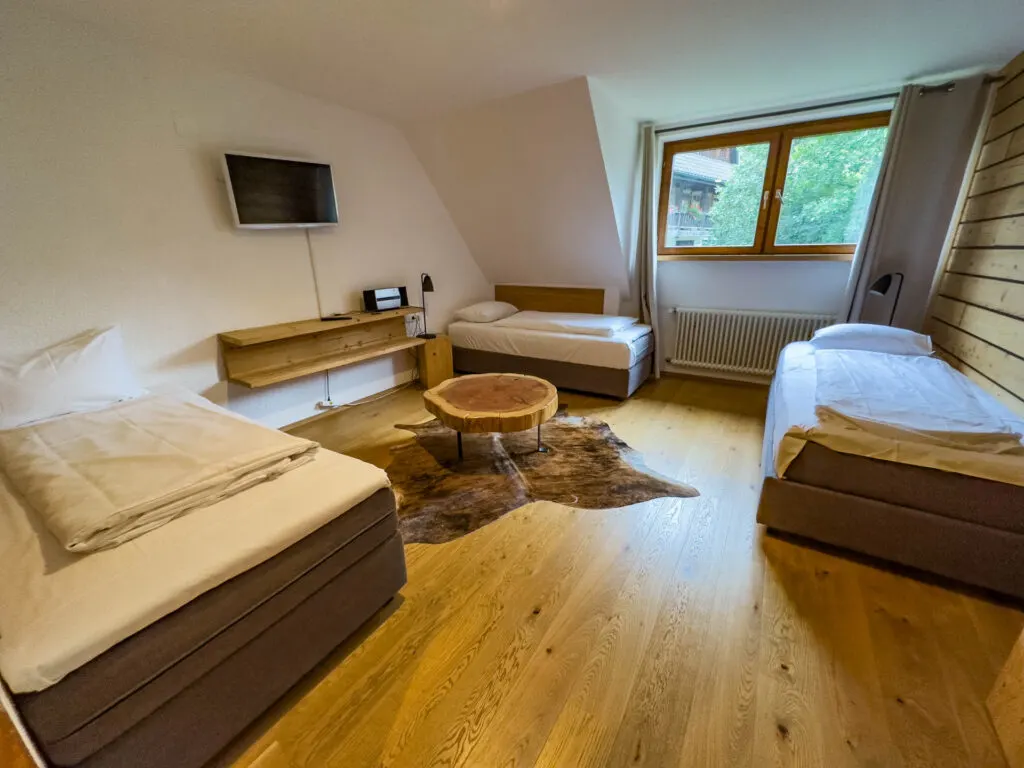 Where to Stay
Other than Hofgut Sternen, there are also apartment-like collections of nature-inspired accommodations in the region called Cuckoo's nests (or Kuckucksnester in German), which feature full kitchens and more space–a dream for anyone with dietary restrictions or traveling with family. You can find a slew of unique accommodations here. Stays at one of these properties even include a Red Inclusive Card, which offers free access to attractions in the region (more on that below).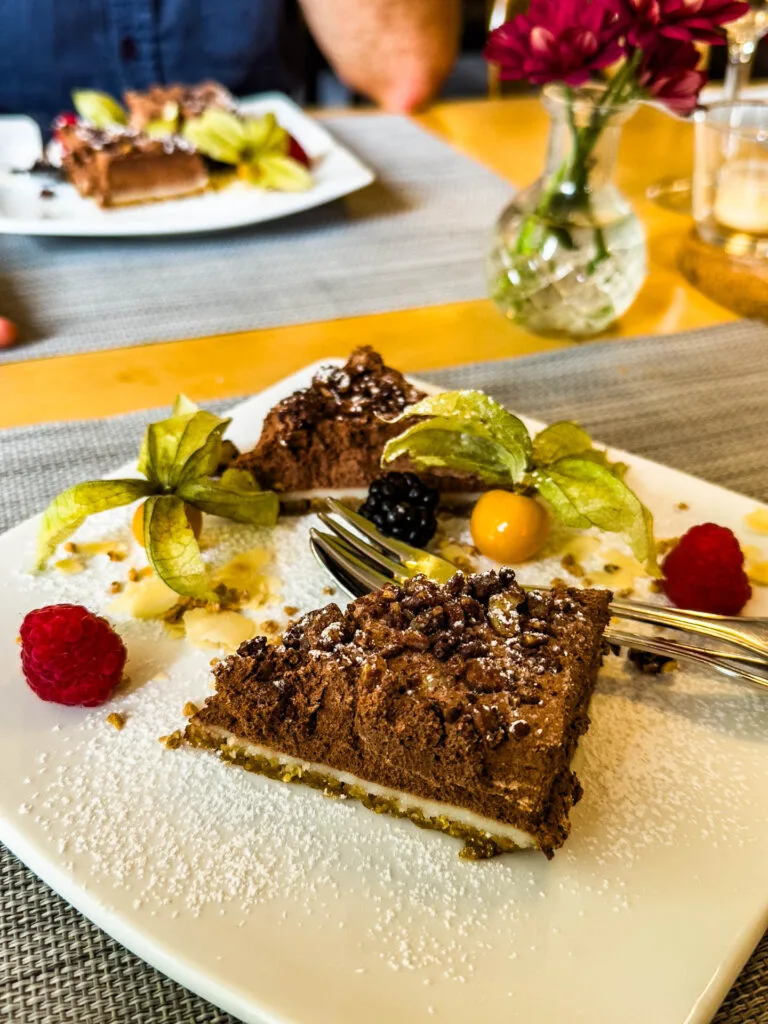 In Hinterzarten, there's also Hotel IMbery. We didn't spend the night there, but we stopped in for lunch and they have a stellar vegan menu and some of the best vegan dessert we had the whole trip!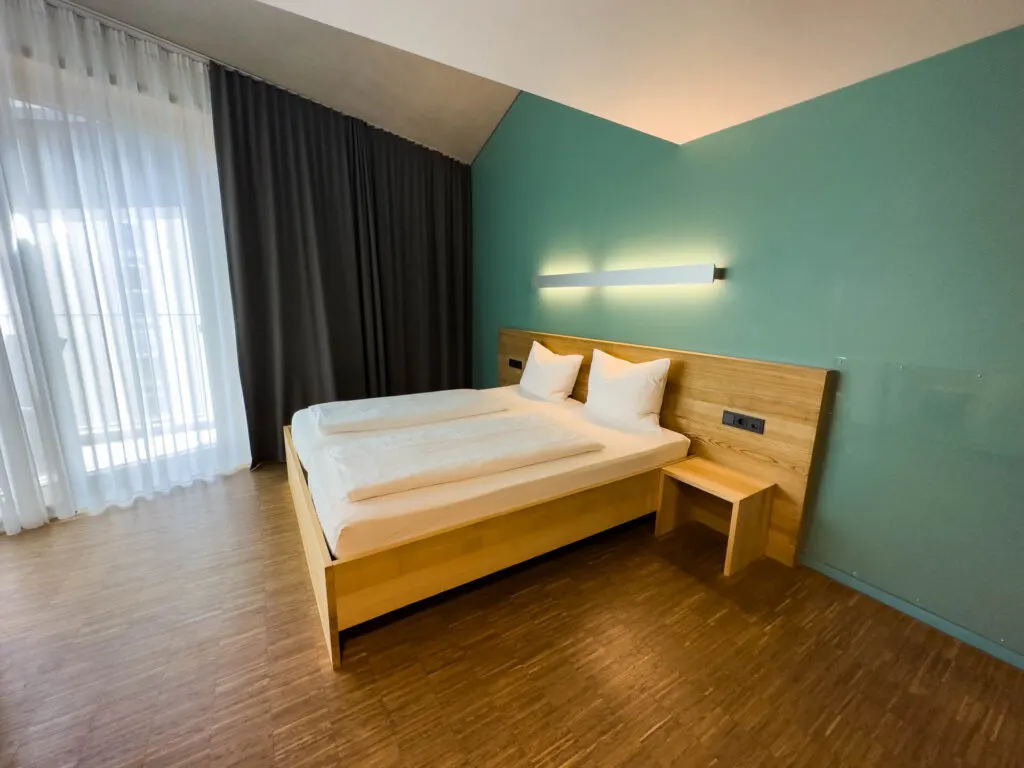 In Freiberg, stay at the aptly-named Green City Hotel Vauban. The rooms are modern and super sleek, there are great vegan options for brekky, and it's right next to a rail stop so you can get to the center of town in a snap (cars aren't allowed downtown, so don't plan on driving).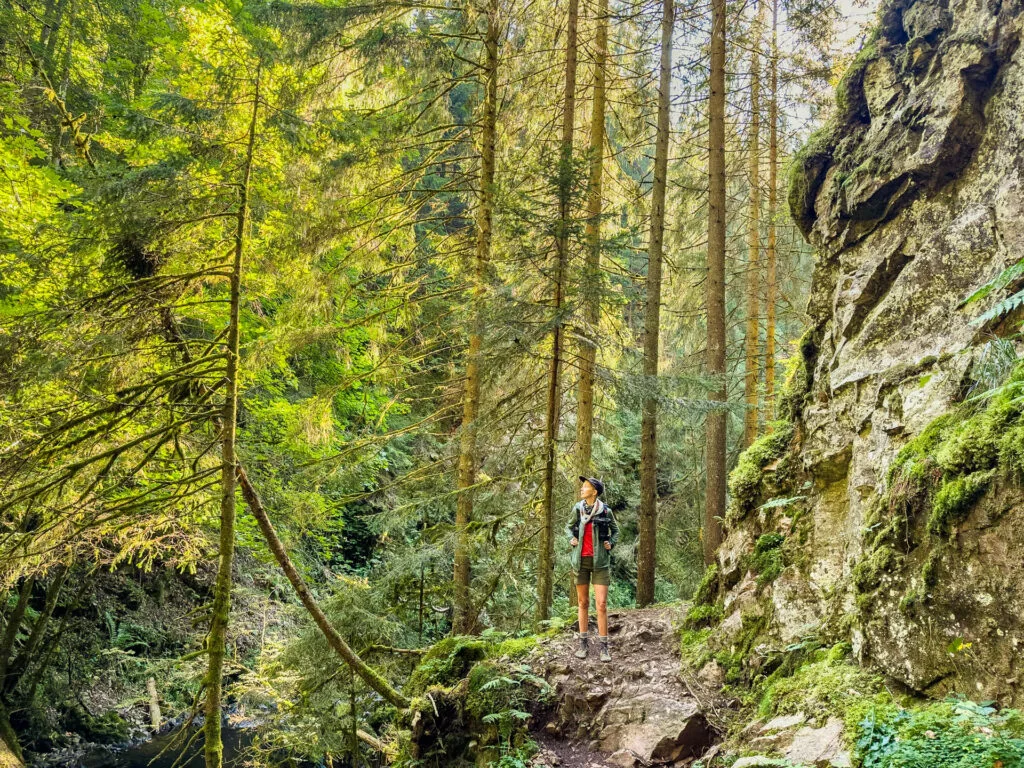 Tips for Visiting the Black Forest
Learn some basic German. Lots of people outside the city speak limited English.
Download German on Google Translate or a similar app. We used this several times to ask complex questions when our limited knowledge of German wasn't enough.
Bring rain gear. Weather can be unpredictable.
Learn what road signs mean before renting a car.
If you enjoy attractions like museums and waterparks, consider getting the Red Inclusive Card (or staying at a Cuckoos Nest, as per above). It offers free admission and more to places like theme parks, free cross country ski rentals in the winter, miniature golf and more.
Slow down. You're gonna wanna take your time exploring the region (and searching for Black Forest Cake), so don't over-pack your schedule!
Spend at least three or four days in the region to get a real feel for it.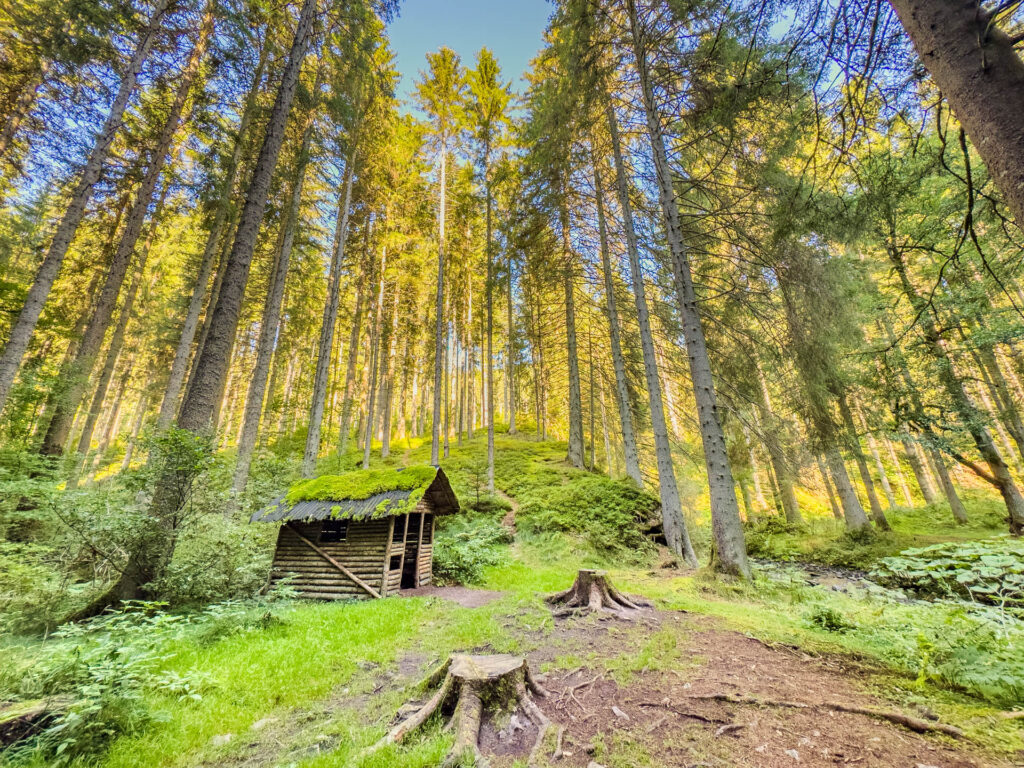 Adventure in the Black Forest: Bottom Line
Did we manage to get our hands on a copy of Grimms Fairy Tales in German while we were there? Unfortunately, no. Do we regret it? Immensely. But between magical hikes, bike rides in spooky fog, and rambles among green cities, we can say Southwest Germany is worth a visit and more than makes up for our failure to bring home a perfectly themed souvenir.
•
This post contains affiliate links, which means when you clicky-click and make a purchase, we may receive some compensation. Don't worry, it won't cost you any extra, but you will be supporting Terradrift! That's what we call a win-win!
Alisha is a freelance writer and photographer based in Austin, TX. She loves her tiny house, vegan food and experiencing the community of travel in far away places. She's also pretty sure she's addicted to coffee. alishamcdarris.com