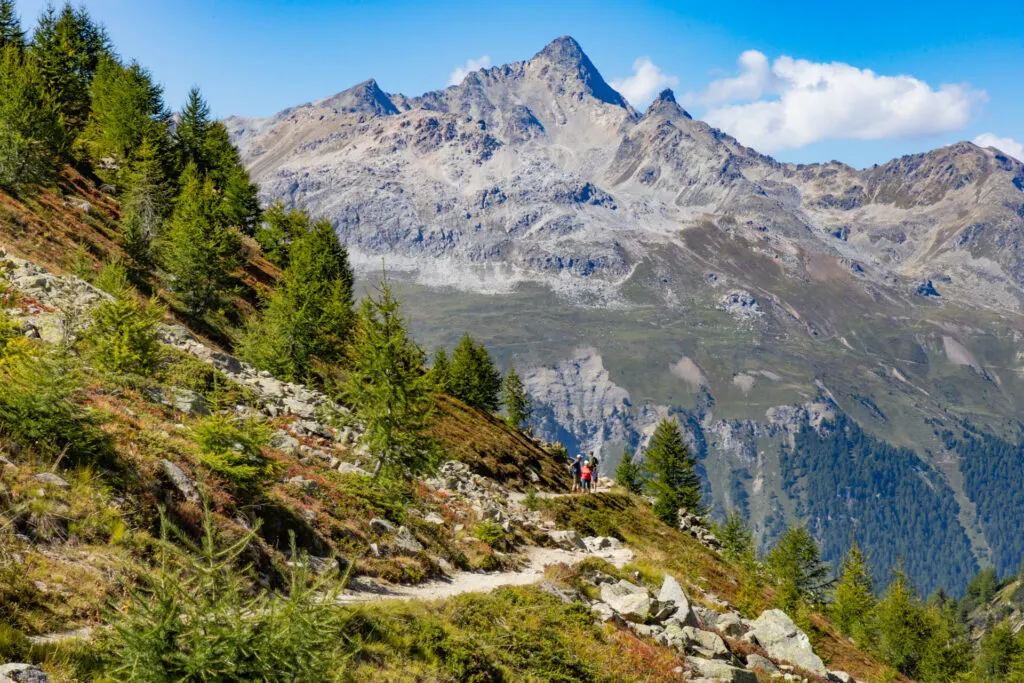 We recently spent some time in Switzerland (and Austria, in case you missed it)! In the Alps, to be specific. In the Engadin area of the Graubunden region, to be even more specific: In Celerina, a quiet little hamlet tucked in a valley between mountains. And frankly, I can't imagine staying anywhere else to explore this stunning mountainous region. It's quiet, cozy, super freakin' chill, and adventure is literally everywhere. Here are 5 adventures in the Swiss Alps we found totally rad and think you may just, too.
Adventure in Switzerland: 5 Adventures in the Swiss Alps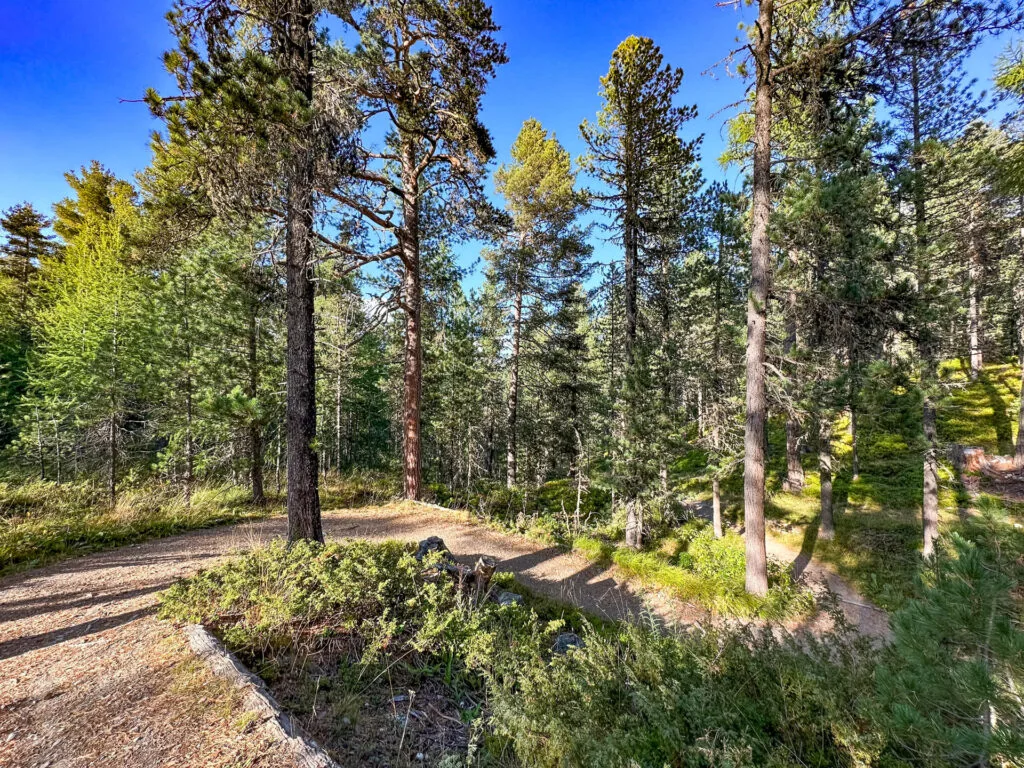 Hike Barefoot
One of my faves–prepare to be surprised–dedicated barefoot trails, including two within walking distance of "downtown" Celerina and the Chesa Rosatch hotel.
You'll stroll–with or without shoes–through woods, past grazing cows, across creeks, around super old churches, it's fabulous. And short, which means you can head out for an evening stroll and be back in time for dinner.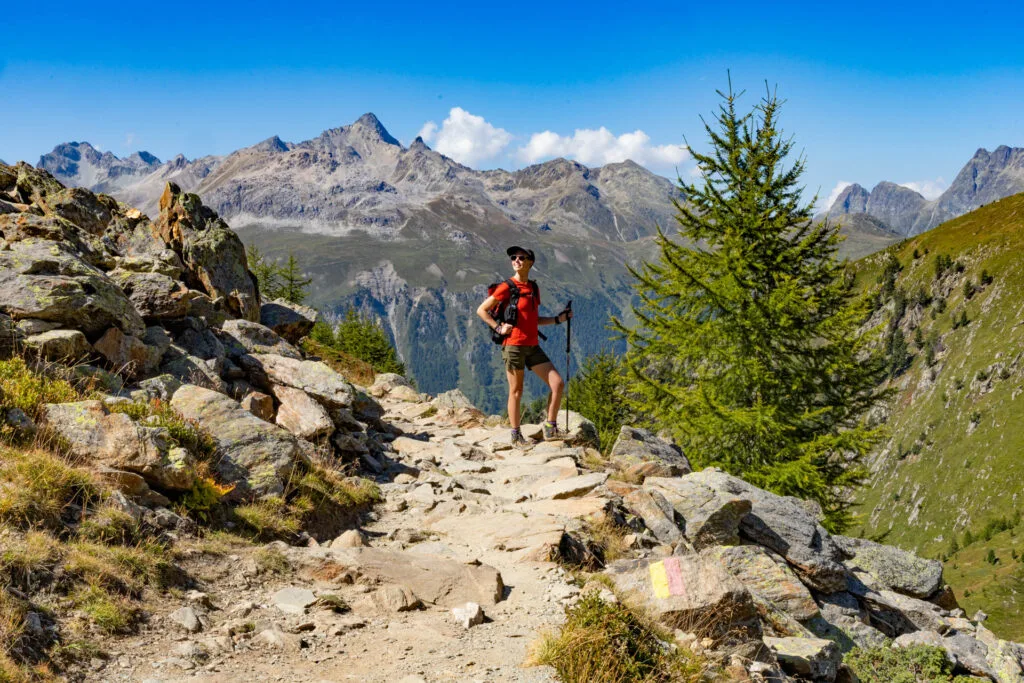 Take a Hike on the Panorama Trail
Or you can take the Muottas Murgal funicular up the mountain and take off on a longer hike. Might I recommend the 7-mile Panorama Trail with a little detour to Lake Muragl where you can-and maybe should–take a dip?
The hike offers stellar views of the valley below and surrounding mountains, even glaciers. Just don't forget your sunscreen. It's one-way, but there's another lift down at the end and you can take a bus back to the trailhead or back to town.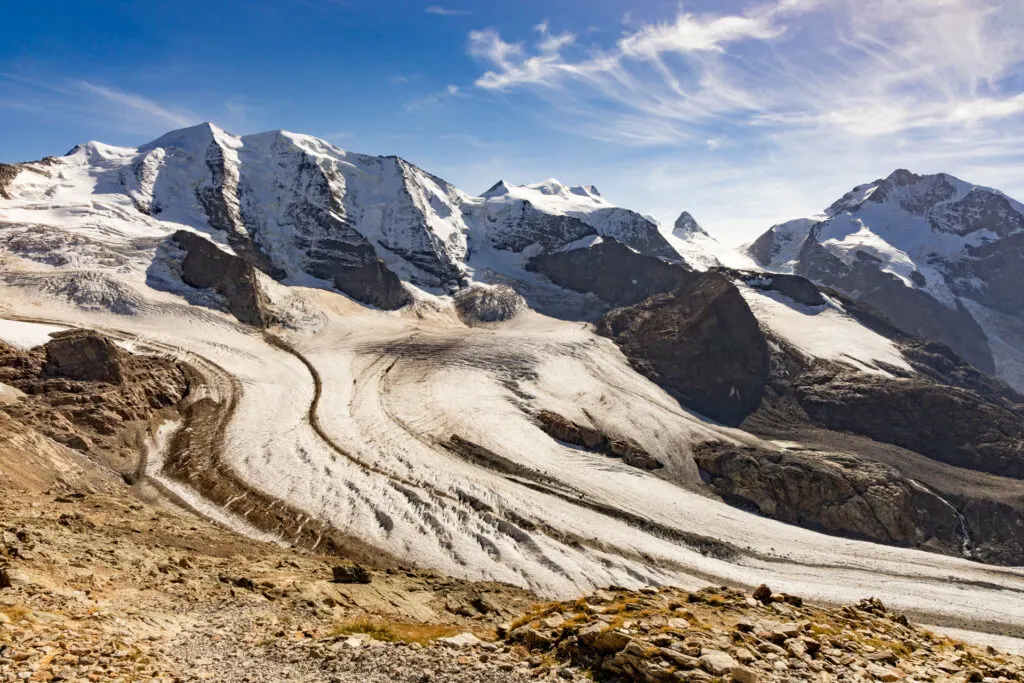 Head up to the Diavolezza Glacier
Speaking of glaciers, drive or take a bus from town to Diavolezza Glacier, hop on the gondola up to the top of the mountain, and then enjoy the view.
You can just sit on the restaurant patio and bask in the glow of the massive trail of ice or take a hike to get a closer look or find a different vantage point.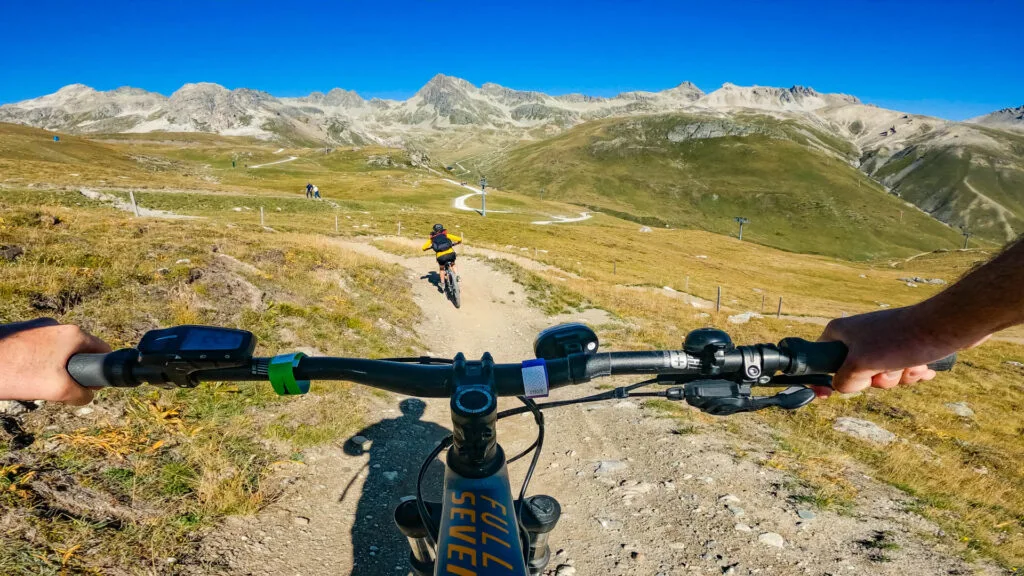 Mountain Bike at Corviglia and Beyond
Then, grab a bike and ride! Chesa Rosatch offers a bike school if you need to brush up on your skills or if you ask in advance, they may be able to rent you an e-bike for the day.
You can also get one at other shops in town, including Chalet Speciale, which is where we located a pair in our sizes. Or close to our sizes, anyway (at the end of the season it was tough to find a small and medium at the same place). Speciale is a more budget-friendly option than other shops, but their bikes aren't as fancy.
Then head to Corviglia, a dedicated downhill mountain bike park. Runs are nice and long, and most days you can take lifts up to just about all the trails, but an e-bike is nice to have, just in case.
Just watch out for free-ranging cows and marmots as you bomb downhill.
You can also ride all the way to St. Moritz on a bike path and explore the more bustling and upscale town.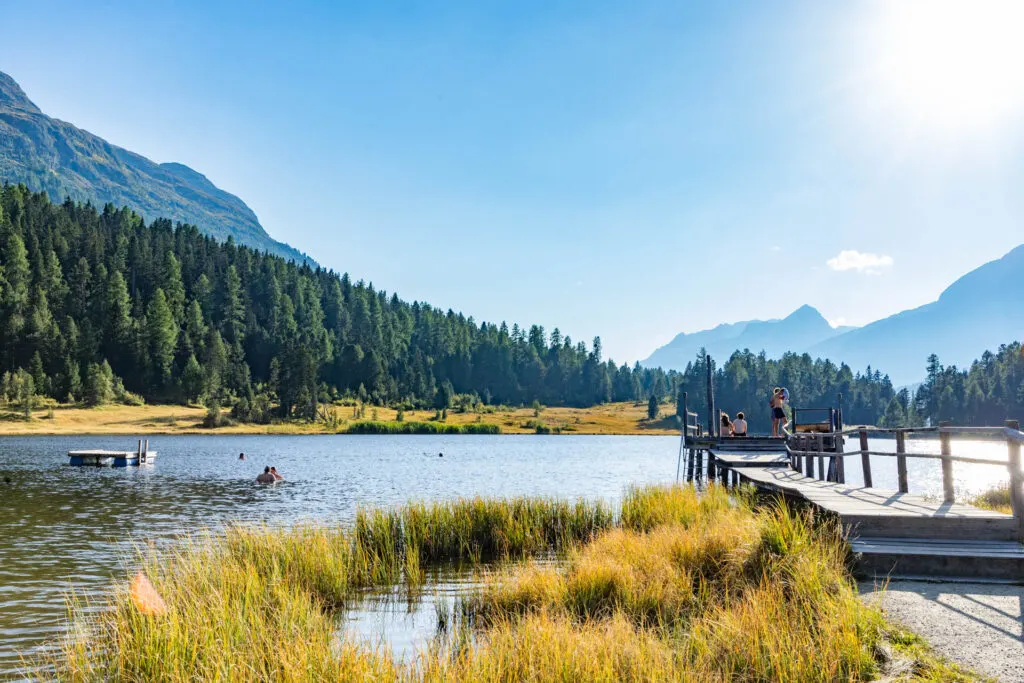 Take a Dip in Lej Staz
When you've had enough adrenaline-pumping action, hit up Lej de Staz, or Lake of Staz, for an afternoon swim. The water is fiiiine–not alpine cold–and it's a chill place to relax, soak up some sun, and enjoy yourself. It's totally worth it and you can hike there or bike on nice wide, easy gravel roads.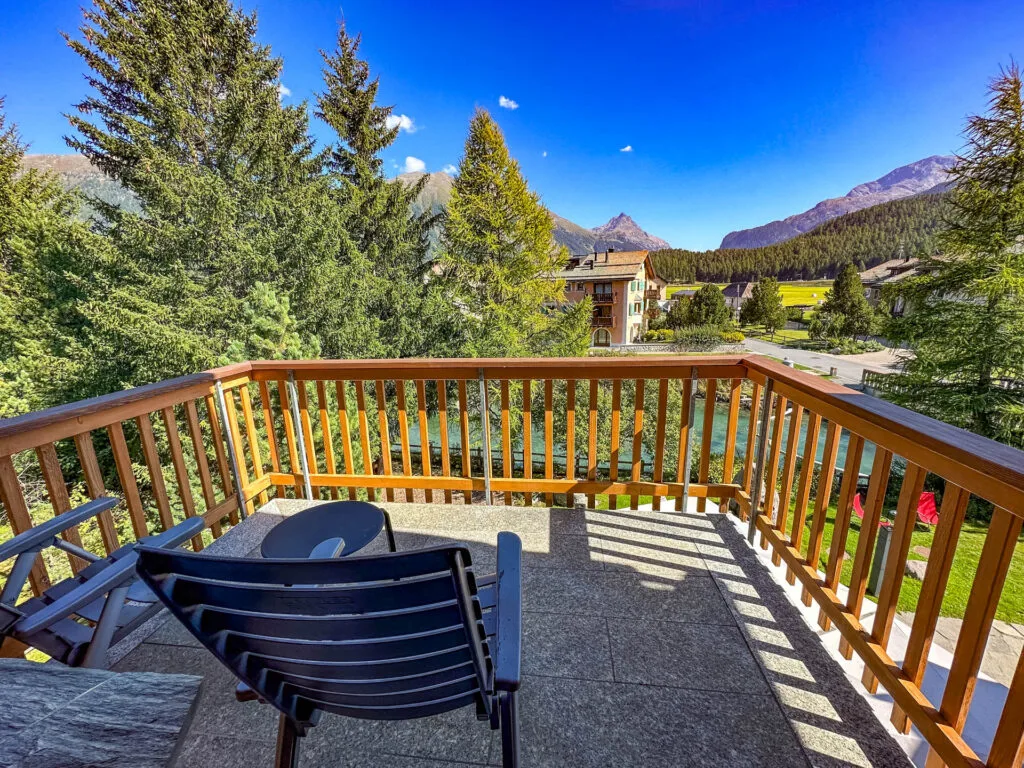 Where to Stay
We stayed at Chesa Rosatch, a lovely hotel with lovely rooms–uh, and quite a few vegan options on their multiple restaurant menus. It turned out to be the perfect base of operations for all manner of adventures as about a million hikes and other activities were just a short walk or bus ride from the front door.
It was also cozy, our room had a balcony with a stellar view, staff was super friendly and helpful, and it just felt so quintessentially Swiss. Would we recommend you book your own stay if you're looking for a posh but comfortable getaway? Abso-freakin-lutely. Book a room at Chesa Rosatch here.
Oh, and pro tip: if you'll be traveling to and from Zurich, Switzerland to get to Celerina, spend a night or two at 25hours Langstrasse for a vibrant and eclectic experience you won't soon forget! Color! Light! Music! Cheeky art! Pawnshop! I'm telling you, this is the place to be in Zurich.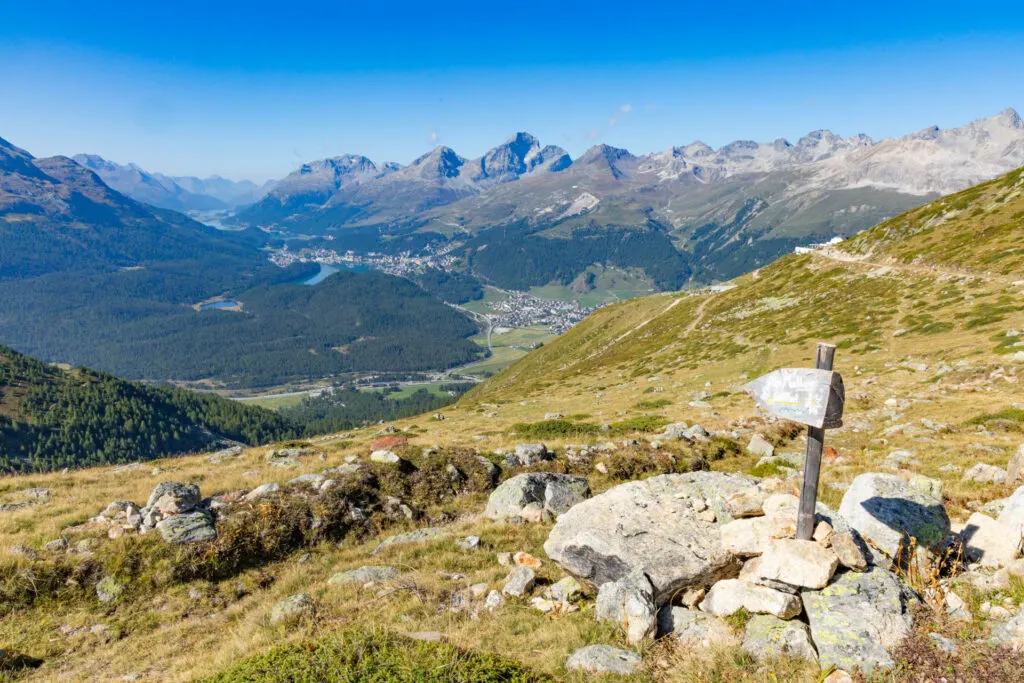 Helpful Information About the Engadin Region
To help you navigate the area, it's helpful to know that Romansh is the commonly spoken, hyper-local language–which is why I'm probably butchering pronunciation, here–but German and Italian are widely understood, as is English.
If you prefer to ski, winter is a great time to visit, but for the rest of us, summer is heaven. Beat the crowds by checking in in early September when the weather is perfect, or enjoy wildflowers in early summer.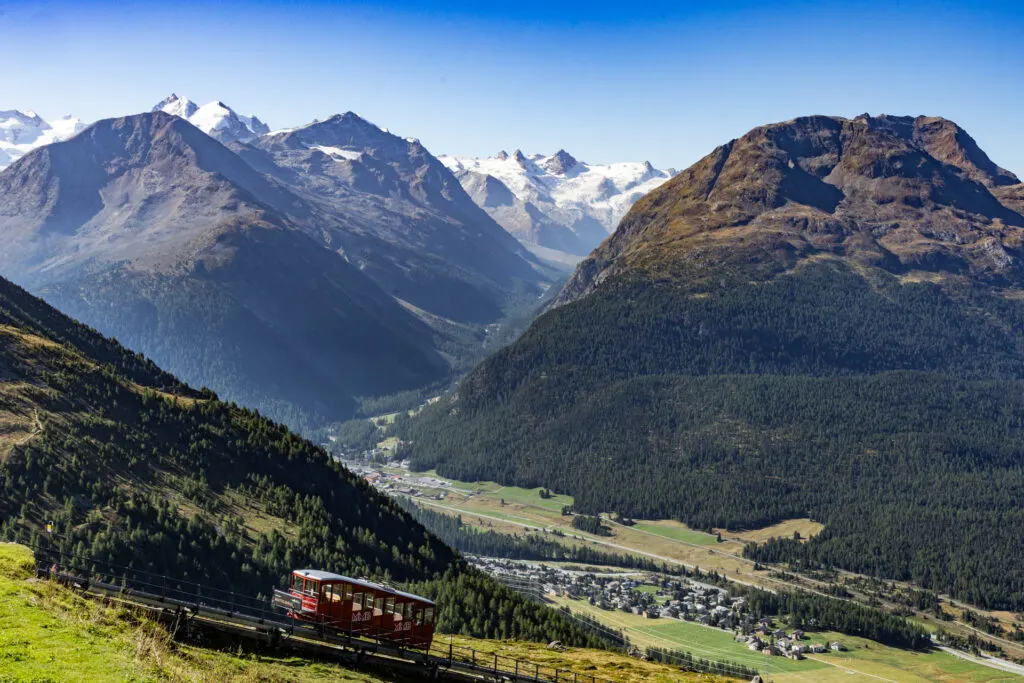 You'll probably want to grab a Mountain Railway Ticket, which will get you access to all the lifts, gondolas, and funiculars in the whole region. If you're taking public transit, you may also want to buy a multi-day guest pass, which gets you unlimited free trips on all buses and trains in the region. You can get to Celerina via road or train, btw. A Swiss Travel Pass is a good option if you'll be traveling by public transit often.
And yes, the region is sustainable. Not only is the area super focused on protecting the natural landscape, but utilizes tons of hydro- and thermal-power to bring light, heat to the region's towns, even make snow on the ski slopes.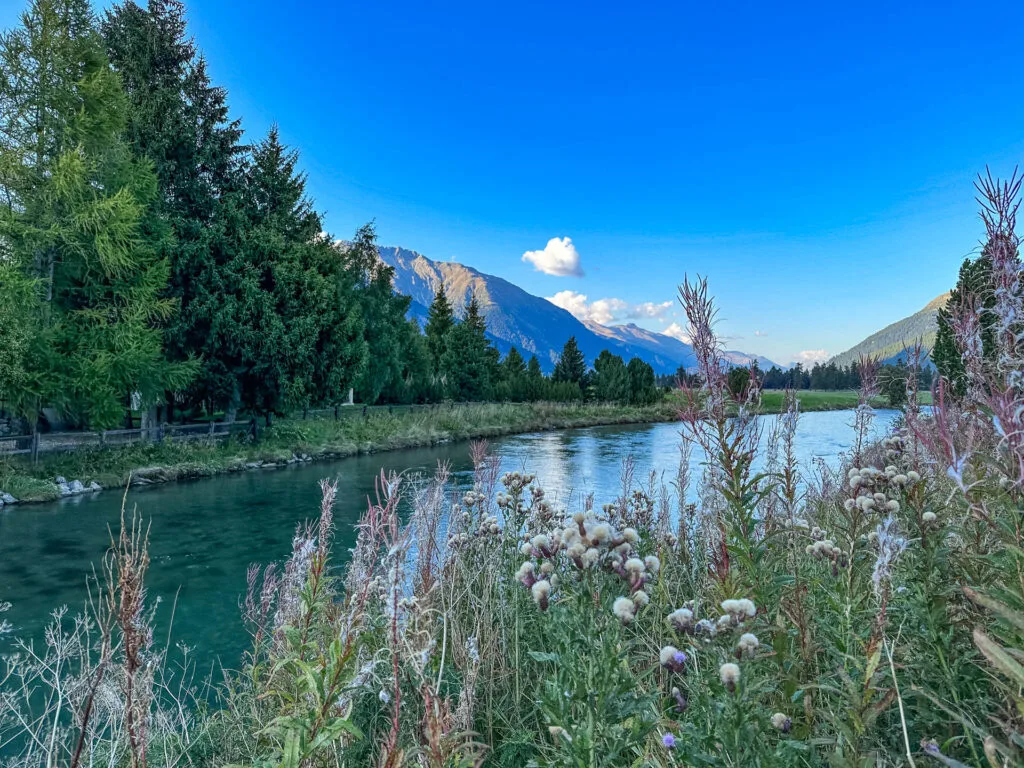 Bottom Line
So when you're ready to spend a few days enjoying epic views, a naturally low-key destination, and participating in rad adventures, then yeah, I'd head to the Engadin. Specifically Celerina for the chillest vibe.
So get thee to Switzerland and wander on already.
•
This post contains affiliate links, which means when you clicky-click and make a purchase, we may receive some compensation. Don't worry, it won't cost you any extra, but you will be supporting Terradrift! That's what we call a win-win!
Alisha is a freelance writer and photographer based in Austin, TX. She loves her tiny house, vegan food and experiencing the community of travel in far away places. She's also pretty sure she's addicted to coffee. alishamcdarris.com