Sports bras. Love 'em, hate 'em, ambivalent to 'em, doesn't matter; sometimes they're necessary. Like when participating in high-output outdoor activities like trail running or mountain biking. Yes, sometimes even when backpacking. Because those tech shirts just seem to be getting thinner and thinner…
Anyway, finding a good sports bra that doesn't make you wanna cut it off after four hours and throw it into the bushes–which you would never do, of course, because that's not Leave No Trace–can be a difficult task.
So I took it upon myself–and I asked several friends to take it upon themselves–to test out a handful of sustainable sports bras during a handful of outdoor activities to see how they stack up, who they're for, what kind of activities they're best suited for, and whether the fact that they're super sustainable makes them worth the cash to stash them in your underwear drawer.
How We Tested These Sustainable Sports Bras
Yup, it wasn't just me testing this time. Why? Because let's be honest, sports bras aren't one-size-fits-all. In fact, they may be the most highly personal piece of clothing you'll own, and what fits me and does the job may not be what works for you.
So I tested all these bras–and I generally wear a small or extra small–as did at least one more well-endowed individual who tested a size large. That way, you get a more well-rounded picture of what works and what doesn't depending on you.
So let's get into it.
Sustainable Sports Bras
Made with more responsible materials by more responsible brands, these are some of the eco-friendly bras we put to the test.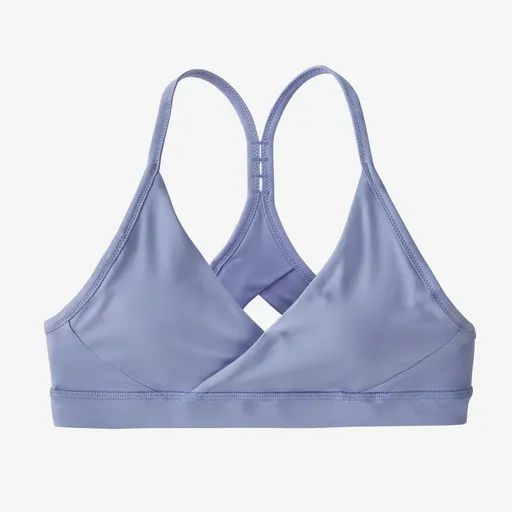 Patagonia Cross-Beta Bra
Looking for a bra that's perfect for more low-impact activities? The Cross-Beta is right on the edge of being more of a bralette than a full-on sports bra, but for some people and some activities, it will do the job quite nicely. Advertised as more of a climber's bra than one for Cross Fit, it's definitely light on support, but is stretchy, comfortable, and was flattering (boobs look great in this one thanks to the combo of low coverage and design).
I, being small, didn't have much of a problem in the support department and could hike, climb, bike, even run a bit in it, but larger testers said they wouldn't do anything more strenuous than take a walk.
There are removable pads, which are welcomed by some and loathed by others, thin straps that don't dig in and are low-profile enough to wear under pack straps, and it does have built-in HeiQ anti-order control.
Who it's for: Smaller-chested individuals.
What it's for: Low-impact activities.
Why it's sustainable: For some reason that probably has to do with fabric sourcing, the recycled content of this bra differs. Solids and prints are 85% recycled polyester and this heather gray is only 43%. But they're still Fair Trade Factory Certified.
Pros
Comfy.
Soft Fabric.
Odor-control technology.
Flattering under day-to-day clothing.
Cons
It doesn't offer much–if anything–in the way of support or holding things in place if you're larger than about an A or B cup.
A thread snapped when first putting in on, but after inspecting and testing, it doesn't seem like anything is unraveling or coming loose, so that's good.
Required adjusting from time to time.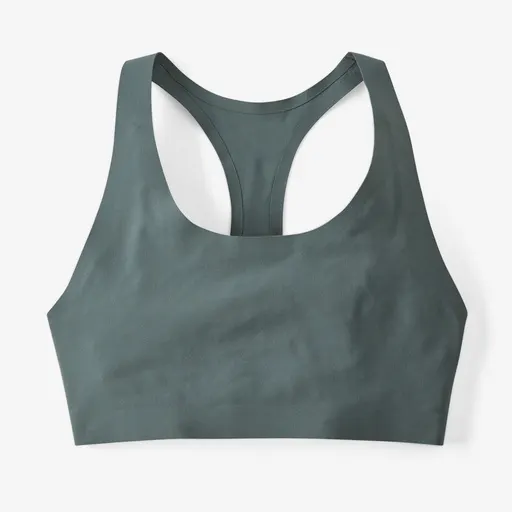 Patagonia Live Simply Bra
This active bra is insanely stretchy and comfortable. Testers all agreed on that point. In fact, I ended up with one that was at least one size too small and still really liked it. That's how stretchy it is.
It's seamless, so feels a lot like you're wearing nothing, it never needed adjusted, and the straps lay completely flat, meaning it's perfect for wearing under backpack straps. Which is awesome, because if there's one thing I hate, it's a bulky strap digging into your shoulders under a heavy pack.
That said, it does run a bit small and one larger tester said there wasn't enough coverage on the sides, so some spillage was an issue. But there were no removable pads to mess with, which all testers appreciated, BUT, because the fabric is so thin, coverage isn't–how should I say this–super discreet.
I don't mind this much, but another tester who often runs in just a sports bra didn't feel comfortable doing so thanks to the nipply-ness. She also noted that the compression, thin fabric, and stretchiness made sweat really stand out and overall it wasn't the best for high-intensity runs. It was a bit too bouncy.
Who it's for: Active outdoorists who want to feel like they're wearing nothing and who don't mind nipples.
What it's for: Backpacking, hiking, and other low-bounce activities like yoga, climbing, etc.
Why it's sustainable: It's made from 52% recycled polyester, which is low for Patagonia, but still acceptable. It's also made in a Fair Trade Certified Factory.
Pros
Super lightweight.
Lay-flat straps.
Seamless design.
Just the right amount of compression without being too tight.
Cons
Not discreet when it comes to nipples.
Not terribly supportive for high-impact activities.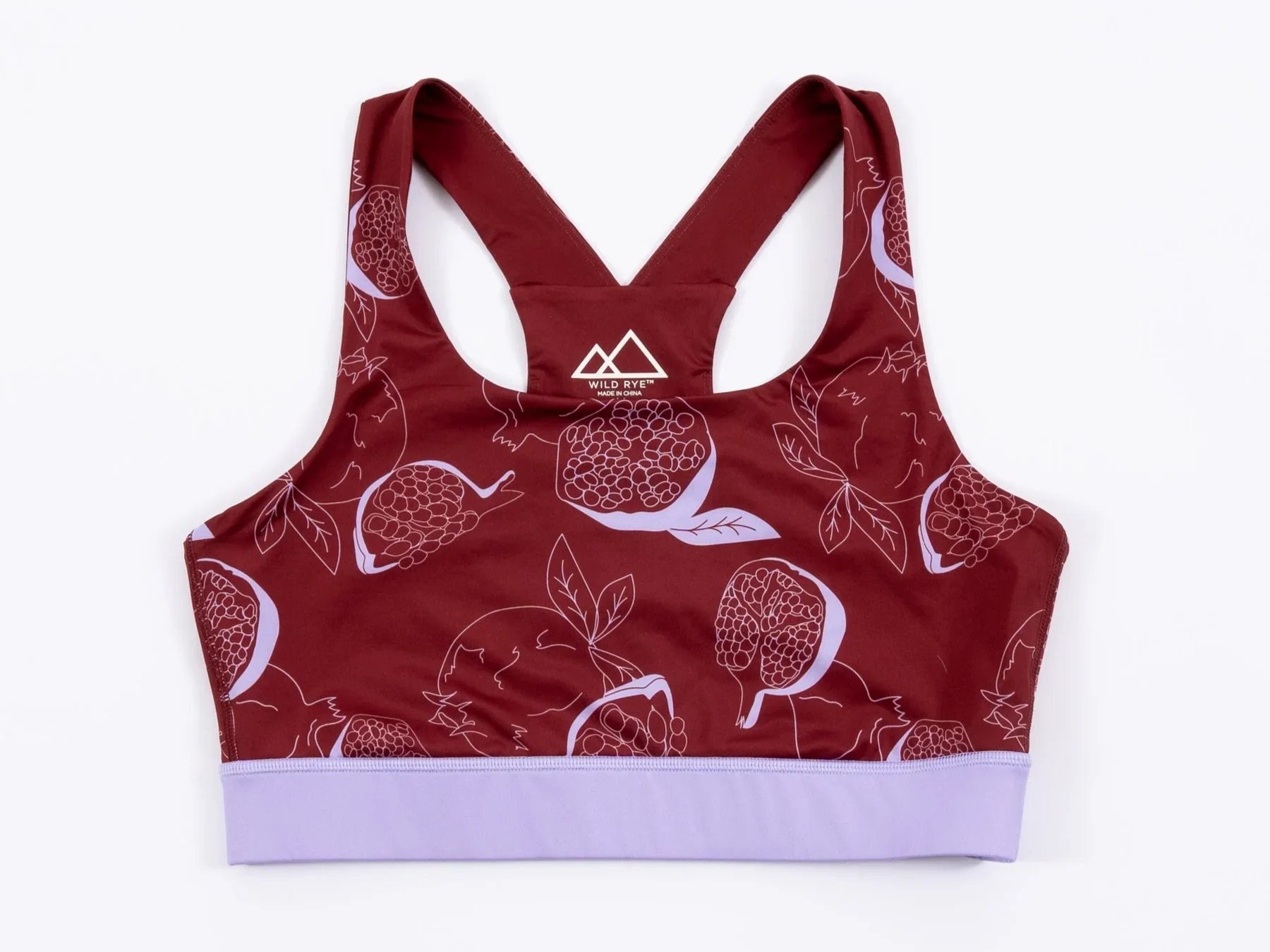 Wild Rye Lucille Sports Bra
If you're not familiar with the brand, Wild Rye makes women's mountain bike apparel and specializes in fun colors and patterns, which made this bra a favorite with one color-loving tester. But right off the bat, let me just say that this sports bra is not for small humans. I tested the extra small–the smallest size available–and it was *almost* too big. As in, it stayed in place, but if I twisted my torso I could feel it shifting around my ribcage.
But the person who tested the large said hers fit perfectly with just the right amount of compression. The fabric was silky-smooth–the only one like it in the lineup. It felt comfortable and durable, and we all loved the absence of removable pads–though there's a space to add them if you prefer them–and found the fabric thick enough to offer adequate nipple-shielding.
It also offers slightly more coverage. It comes up a bit higher and the ribcage band is nice and thick. All together, it prevented bounce on trail runs and didn't need adjusted on long bike rides. The straps all lay pretty flat and it would be just as well suited for hiking and yoga as biking, including if you like to exercise sans-shirt.
Who it's for: People who usually wear a small or larger.
What it's for: Hiking, biking (mountain or road), backpacking, yoga, running, etc.
Why it's sustainable: it's made of 79% recycled poly PLUS the brand is a B Corp AND Climate Neutral Certified, which means they not only offset their footprint, but they're setting goals to reduce it, too.
Pros
Soft fabric.
Stretchy.
Fun colors and patterns.
Cons
More coverage means it can be warmer in the summer.
Not for extra small outdoorists.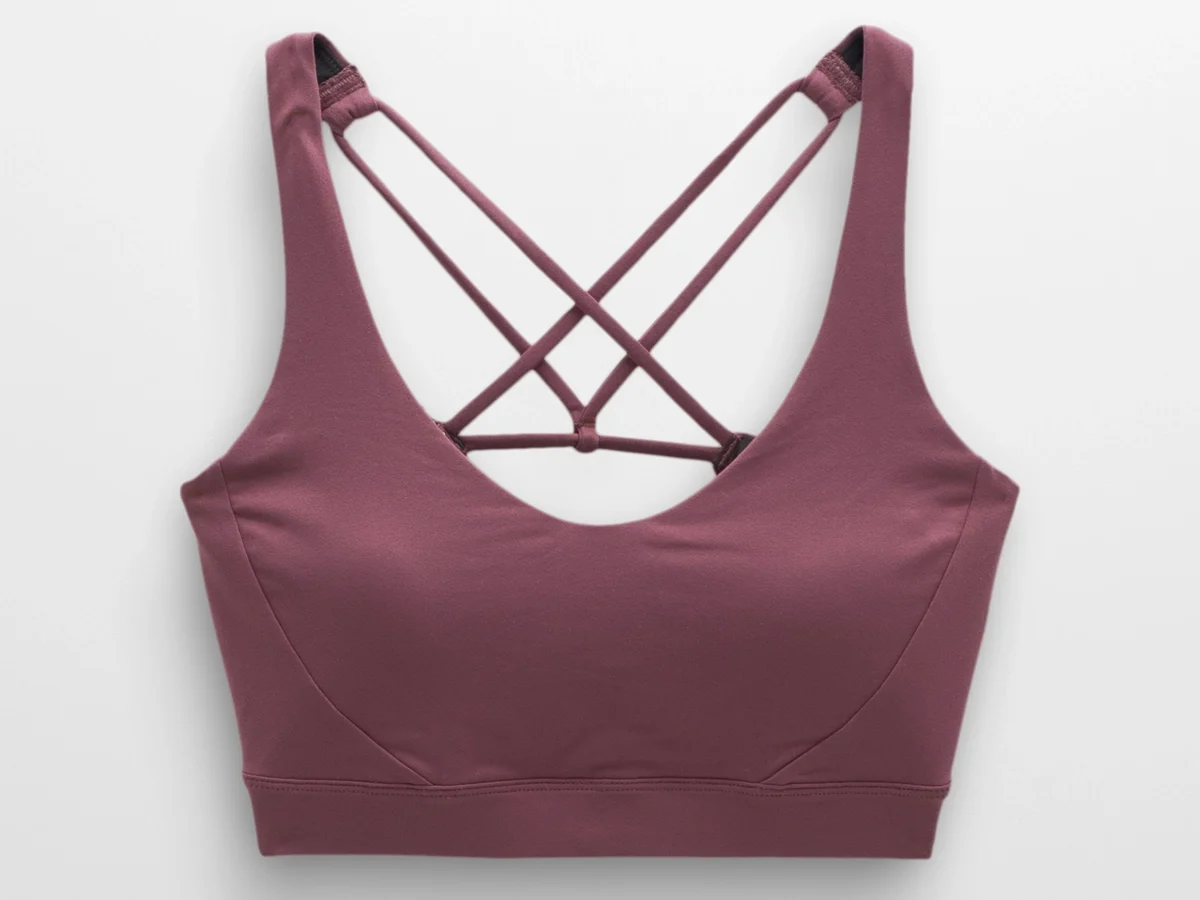 prAna Chakra Bra
This sustainable sports bra was a favorite from a visual, performance, and fit and feel perspective. We all really liked the fun criss-cross pattern on the back and found the fabric supremely soft and stretchy and delightful. It's thick without feeling bulky, supportive without feeling compressive, and comfortable enough to wear all dang day. Plus the V-neck is flattering, especially for more well-endowed humans, and running in 100+ degree heat was a pleasure thanks to how well it breathes.
I didn't love how far it came up into my armpits, though. It's a pet peeve of mine, and likely more of a problem for smaller-chested users, but I did found that I sort of got used to it after a while. What I didn't get used to was the removable pads, which are an oblong shape, so if they shift in the wrong direction, they can make your boobs appear oddly-shaped. The other tester threw out the removable pads almost immediately.
It isn't too hot, not at all restrictive thanks to how crazy soft and stretchy it is (seriously, this fabric was primo), and while it maybe isn't compressive enough for extended, really intense movement like ultra marathons, it was just about perfect for everything else (though the straps may be a bit thick and bulbous for backpacking; a heavy pack could really dig those into your back and shoulders).
Who it's for: Just about anyone and everyone.
What it's for: Hiking, biking, daily use, trail running, yoga.
Why it's sustainable: It's made of 93% recycled nylon, and is Bluesign approved and FairTrade, plus prAna ships using entirely plastic-free packaging.
Pros
Super soft fabric.
Extra stretchy.
Feels breathable.
Removable pads.
Flattering style.
Cons
Bulky straps that don't do well under heavy packs.
Not as well suited for ultra high-impact activities.
On Movement Bra
If there's one do-it-all, perfect-for-just-about-anyone sustainable sports bra on this list, it's the On Movement Bra. Sure, it may not be as cute or flattering as some of the others mentioned here, but it's designed for active pursuits and it does it exceptionally well.
It fit large and small testers well without being too compressive, the fabric was thick and soft but didn't feel smothering, and there were no pads to mess with but it was also surprisingly discreet in the nipple department. Even the inside of the band was comfy–plus it stayed put no matter what.
We all agreed the amount of coverage was just right and the criss-cross pattern of the straps on the back made it feel cute and fun, but they lay flat, so they wear smoothly under a shirt or backpack straps. Honestly, of all the bras we tested, this might be the gold standard for one sports bra that can do it all.
Who it's for: Just about any outdoorist participating in just about any activity.
What it's for: Backpacking, hiking, trail running, biking, yoga, cross-fit, etc.
Why it's sustainable: Only the main fabric is made of recycled materials, but On is seriously a frontrunner when it comes to sustainable material innovation–we're talking designing for circularity and technology to make shoes out of fossil-free materials. So as a brand, On is one we can get behind.
Pros
Comfortable.
Suits just about any outdoorist of any size.
Fun back straps.
Easy and functional.
Cons
No place for pads if you prefer them.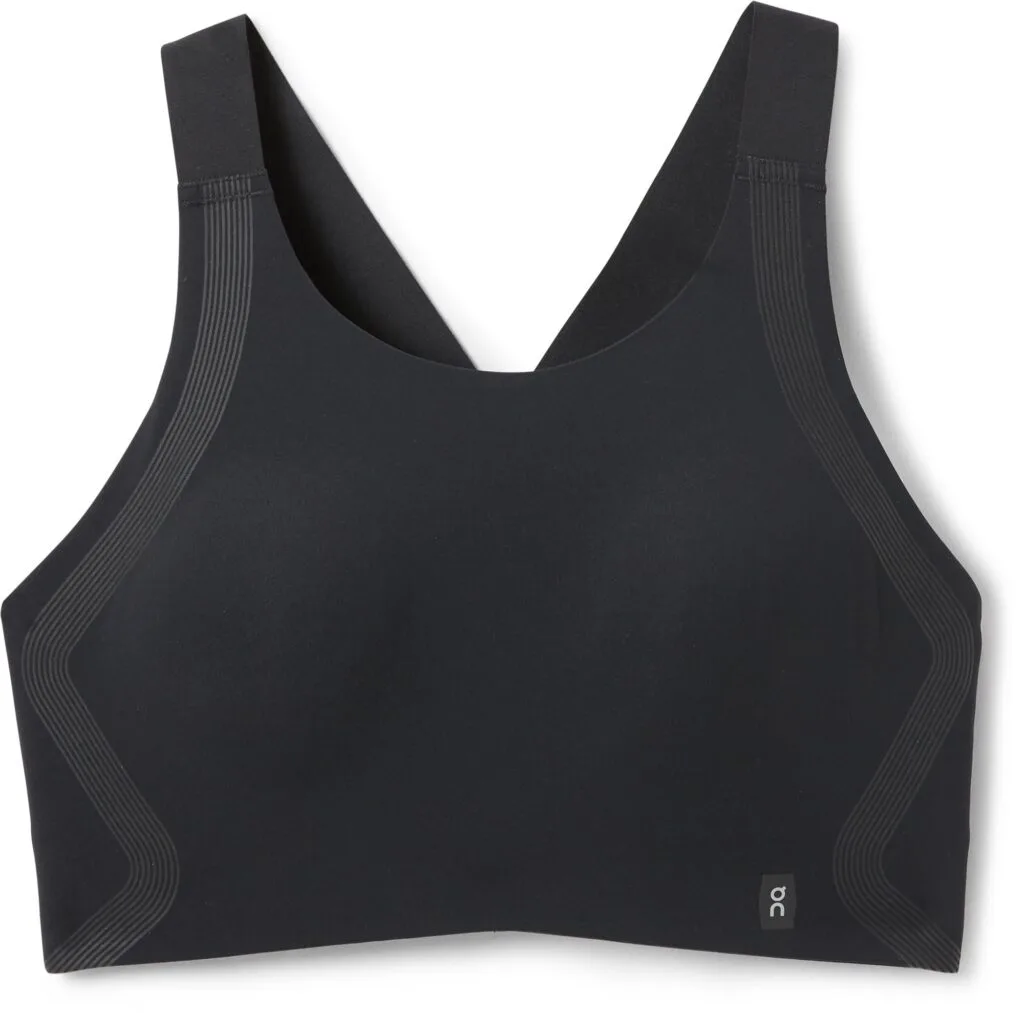 On Performance bra
True to its name, this is perhaps the most performance-ready sports bra we tested. It came up a bit higher than I and other testers personally usually like, but the fabric and fit were both so soft and perfect and breathable and we didn't mind as much as we would have with some other bras.
That said, the cut is a great option for those who prefer to ditch a shirt and workout in just their sports bra. Testers who did so never worried about exposing anything when doing so on hot and sweaty days (the cut-out in the back was a bonus for that).
The band had the perfect amount of soft grip, was comfortable, and stayed put no matter what. It never felt like it needed to be adjusted. Plus it was nice and stretchy and super easy to pull off on and on. The molded, built-in padding wasn't oddly shaped and didn't easily crease, just kept everything discreet and meant there weren't any removable pads to fuss with or immediately throw out like one tester usually does.
There are no weird gaps and since the straps lay flat, it works really well under backpacks. Plus those straps are nice and wide, which helps larger bosoms feel more secure. One tester praised the lack of bouncing during speed interval runs.
Who it's for: Just about anyone who likes a high-rise, longline sports bra style.
What it's for: High-impact workouts, shirtless activities, hiking, backpacking, biking, etc.
Why it's sustainable: It's made of 65 percent recycled materials–btw, elastic and stuff like that that's necessary in clothing like this is rarely if ever made of recycled materials, just so you know–and I already mentioned On's other sustainable innovations, so…
Pros
Comfortable.
Supportive but not overly compressive.
Built-in padding.
Low-profile design.
Cons
Not as multi-functional as an everyday bra.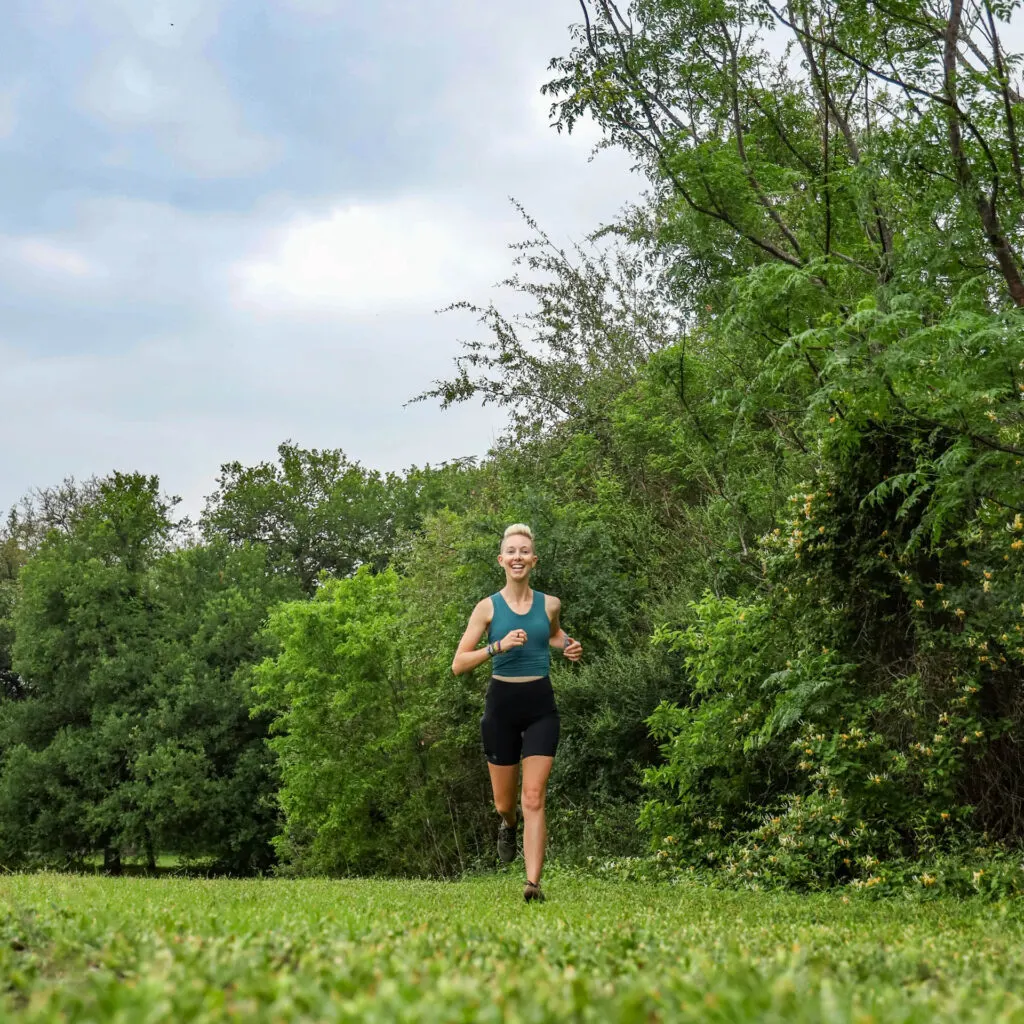 Other Sustainable Sports Bras
I personally tested a few more sports bras recently, including the Janji Long Bra and Tentree InMotion Longline bra, both of which are more crop-style bras, and the REI Active bralette.
I mention them here because they're more sustainable, but honestly, none were my favorite. At least for very long. The Janji bra felt like the brand didn't quite get sizing and proportions right. It simultaneously felt super compressive–just smashed everything down–while still gapping quite a bit under the arms.
Plus, it's super tight, doesn't stretch enough to get it on and off easily, and the thin fabric doesn't do anything to hide nipples.
The Tentree was more comfortable and the fabric super soft and stretchy, but while it was a bit thicker and concealed sensitive areas a bit better than the Janji even without pads, it didn't offer much in the way of support. It would be a decent choice for hiking or yoga, but between bulky straps and a looser-than-normal fit, it wears more like a crop top than a sports bra.
The REI bra I actually loved. For about 9 months. Which is about how long the straps lasted before they were completely stretched out. It was cheaper than a lot of other bras on this list, but didn't last half the time most of these others seem like they will.
Of course, there are lots of other options out there. Which is good to know, because a lot of these aren't terribly budget-friendly. They range from about $49-75. Honestly, one of my favorite sports bras for years was one that I found at a thrift store, where you can frequently find new or like-new sports bras in great condition (and used gear is always sustainable gear).
Wherever you shop, look for an option that feels durable and will last a long time. I'm talking sturdy straps, thick fabric, burly elastic, that sort of thing. That way you can keep wearing it and keep it out of a landfill for a long time (and not have to spend more money on a new bra again in a year).
Have questions? Ask away! Then support your boobs and wander on.
•
Looking for more reviews like this? Find more sustainable underwear for women here.
•
This post contains affiliate links, which means when you clicky-click and make a purchase, we may receive some compensation. Don't worry, it won't cost you any extra, but you will be supporting Terradrift! That's what we call a win-win!
Alisha is a freelance writer and photographer based in Austin, TX. She loves her tiny house, vegan food and experiencing the community of travel in far away places. She's also pretty sure she's addicted to coffee. alishamcdarris.com